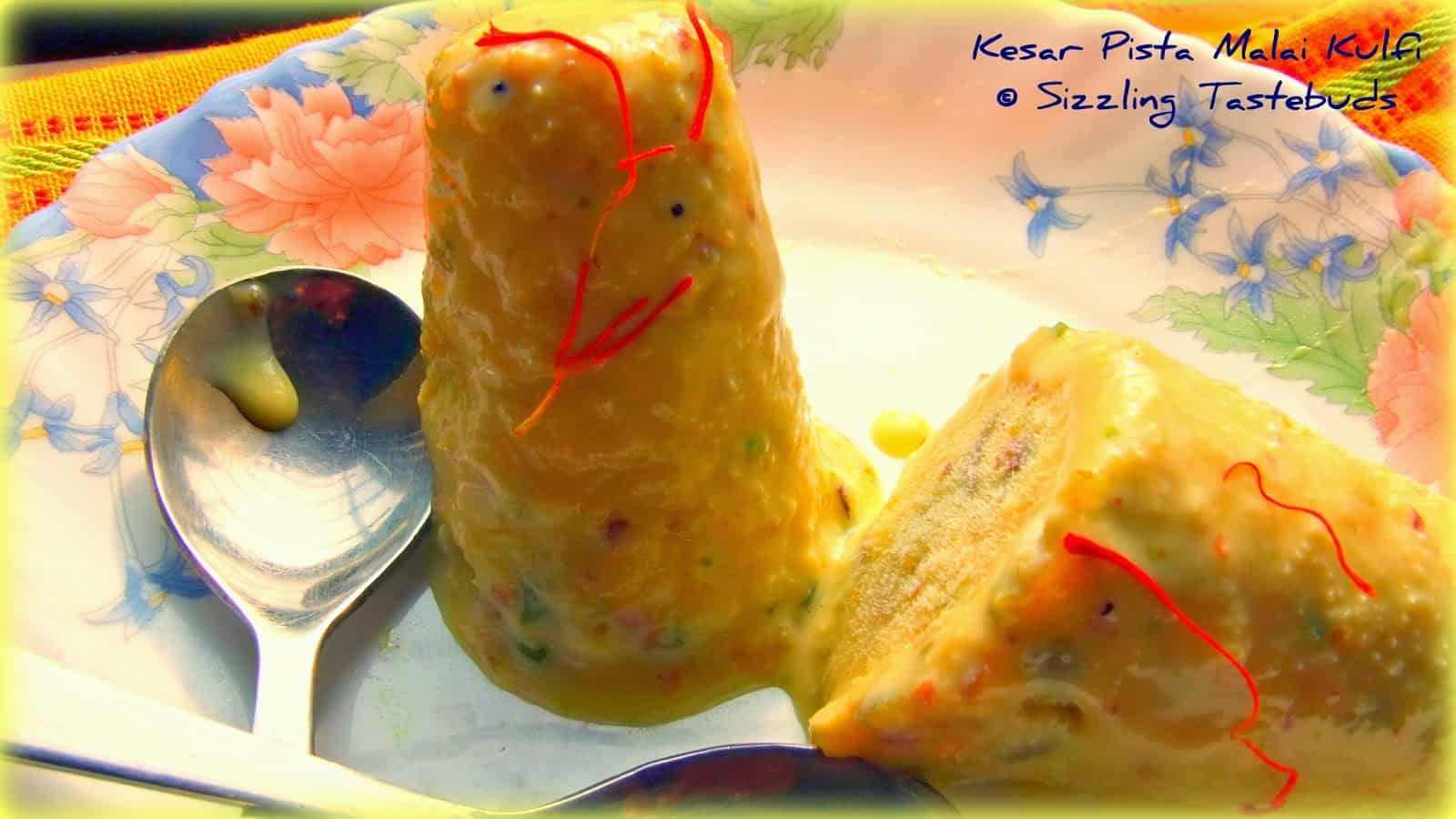 Pin

Kulfi is something I eat very rarely. Somehow the sting of the harsh frozen dessert doesnt appeal to my tooth – I avoid ice creams also for the same reason. But mom and S to an extent like kulfi – in fact at a local restaurant in Mumbai, I saw kulfi served as roundels (frozen, demoulded and cut into 1/2 inch roundels).. I was sceptic at first, thinking the food would have been adulterated. And then as i popped a piece of it into my mouth, I realised that the reason was simple – cuttting it into roundels (just before serving) allows air to permeate around the frozen dessert making it more palatable. It was also a challenge coz I was making this for the first time, and wanted it to be perfect. I was paired with Deepali this Blog Hop, and noticed that she has an interesting array of dishes…

Adapated from Deepali's recipe , and with 5 very simple easy ingredients, I started on my journey to make my first kulfi..
Wikipedia tells me :
Kulfi or Qulfi (Hindi-Urdu: क़ुल्फ़ी or قلفی) is a popular frozen milk-based dessert from the Indian Subcontinent. It is often described as "traditional Indian Subcontinent ice-cream".[1][2] It is popular throughout neighboring countries in South Asia, Burma (Myanmar), and even the Middle East. It has similarities to ice cream (as popularly understood) in appearance and taste, but is denser and creamier.[1][3]It comes in various flavours, including cream (malai), raspberry, rose, mango, cardamom (elaichi), saffron (kesar or zafran), and pistachio, the more traditional flavours, as well as newer variations like apple, orange, strawberry, peanut, and avocado. Unlike Western ice creams, kulfi is not whipped, resulting in a solid, dense frozen dessert similar to traditional custard based ice-cream. Thus, it is sometimes considered a distinct category of frozen dairy-based dessert.[3] Due to its density, kulfi takes a longer time to melt than Western ice-cream.
Hope you would also make this at home and enjoy it.. The only modification I have made from the original recipe is to reduce the condensed milk by more than 3/4 (as I was trying it out for the first time) and also adding a few strands of saffron and some sugar 🙂 Now, off to the recipe, shall we ?
Sending this to :
Last 6 editions of Bloghop Wednesdays saw me dishing out:
Prep time : 35 mins. Chilling time : 12 hours or overnight. Makes : 3 medium sized cones.
Ingredients:
Cow milk – 1/2 litre (500 ml)
Condensed milk – 2 TBSP
Sugar – 3 TBSP
Saffron – a few strands
Elaichi (Cardamom) – 1 no.
Pistachio – a handful
Method:
Pin1) Boil milk on very low flame for 25 – 30 mins stirring continuously till it reduces to half and a light cream forms on top. You may use full cream milk for best results, but I am still watching my waistline.

2) Meanwhile, soak saffron strands in warm milk.

3) Powder sugar and cardamom to a fine powder. Then add half the pistachios and pulse just once to get a chunky coarse powder.

4) When the milk is reduced, add the condensed milk. Stir for 2 mins. Now add powderred sugar + pistachio mixture, saffron strands (along with the soaked milk) into the milk and stir for 3 -4 more mins.

5) Cool completely.

6) Pour into Kulfi moulds. Freeze for 12 – 14 hours (I opted for freezing them overnight as the refrigerator is operated minimally then).

7) Unscrew the Kulfi moulds and with a sharp knife, run it along the inside edges to free up the trapped air.

8) Unmould and serve immediately. yummy Indian frozen dessert is ready to serve.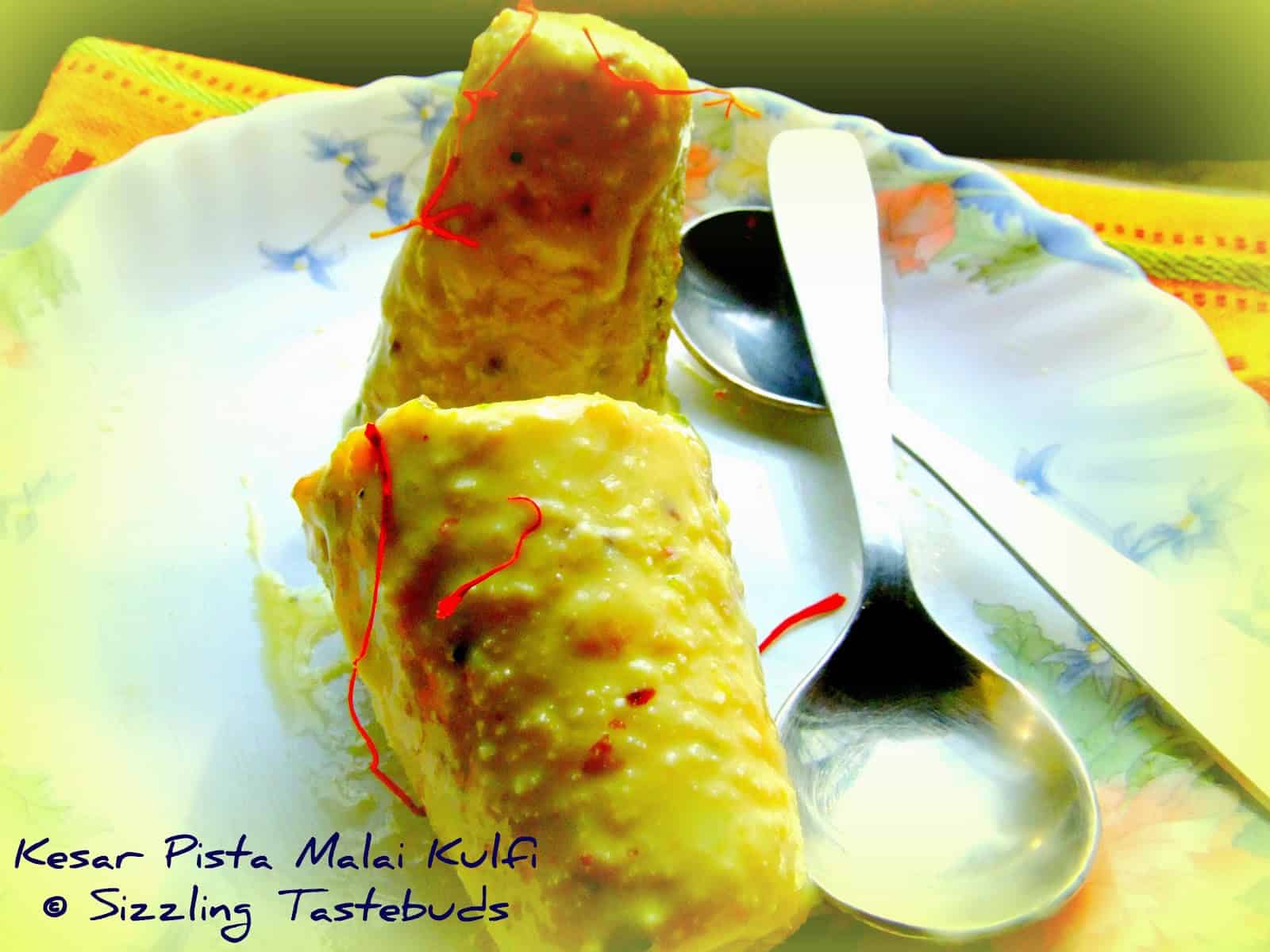 Pin