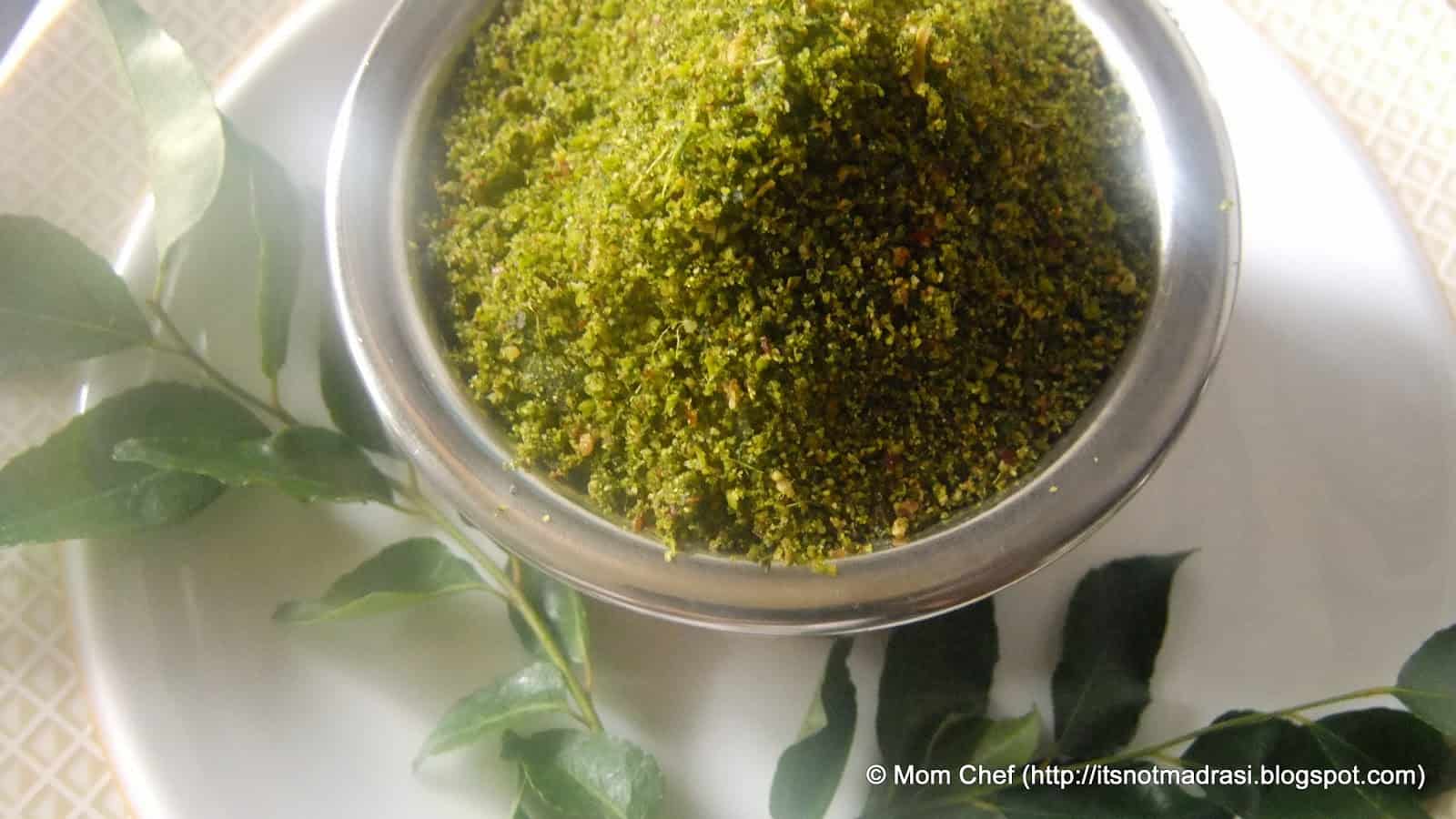 Pin

Like the Chutney Podi (Lentil spice powder) is to Karnataka, this Karivepalai Podi Or Curry leaf powder is to Tamilnadu. I make this infrequently, but the end of last week saw my pantry inundated with curry leaves, and then I decided to make this. Both hubby and me love curry leaf, even in the whole form and I am told regular intake of this leaf reduces greying and hairfall too ! I love the fried and crushed curry leaves in most South Indian Bhakshanams (fried snacks) , Chivda and Neer Mor (Light and frothy buttermilk). More health benefits of this leaf can be found here

Another spice powder we have started to love a lot with our Idli / Dosa is this Flaxseed Molagapodi

Also sending this to Tastejunction's event – cooking with herbs and flowers, started by PJ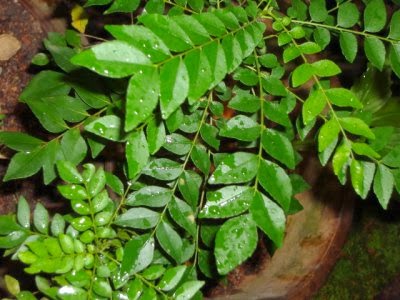 Pin

Shall we go to today's recipe then? Eaten primarily with Steamed rice and sesame oil, you may have it even with Dosa / Idli . Takes under 20 minutes to prepare about 100 gm of this podi (Spice Powder). Only precaution is to wash and dry the leaves thoroughly before roasting and grinding it, else its shelf life will be drastically reduced.

Check out similar spice powders / Condiments here

Prep time : 10 mins. Grinding time: about 10 mins. Makes :approx 100 – 150 gms.

Ingredients:
Curry leaves – about 50 – 75 stalks (or leaves -1 cup pressed)
Urad Dal – 1/4 cup
Channa Dal – a handful
Hing – 2 tsp
Salt – to taste
Tamarind – 1 small lemon sized
Oil – 4 TBSP
Jaggery – 1 TBSP (opt)
Dry grated coconut (Copra) – 1/8 cup
Red chillies – 4 or 5 (not Kashmiri variety)
Method:
1) Wipe the leaves with a soft white damp cloth and immediately with a dry cloth. If you are washing the leaves, ensure ALL water drains off and they are perfectly dry and clean.
2) In a pan, heat 2 TBSP of oil and fry these curry leaves in batches (with stalks if you are using them) thoroughly in the oil till they are crisp to the touch. Add 1 or 2 tsp more oil if required. Transfer and cool in a plate.
3) In the same pan, heat 2 TBSP more oil and fry the Urad Dal, Channa Dal, Tamarind, Red chillies one by one till the dals are golden brown. Cool.
4) Now turn off the hot pan and dry roast the grated copra / dry coconut without any oil for 1-2 mins till they turn slightly brown and crusty.
5) Now, dry grind all the ingredients except coconut in a spice mixture. Add salt, jaggery and hing and grind once more. You may prefer the final texture to be coarse or smooth.
6) Now add the roasted coconut and grind just once, else the oil from the coconut will seep into the mixture and turn it slightly soggy.
7) Check for salt. Cool and store in an airtight glass jar !
8) Keeps well for 4 – 5 weeks without refrigeration.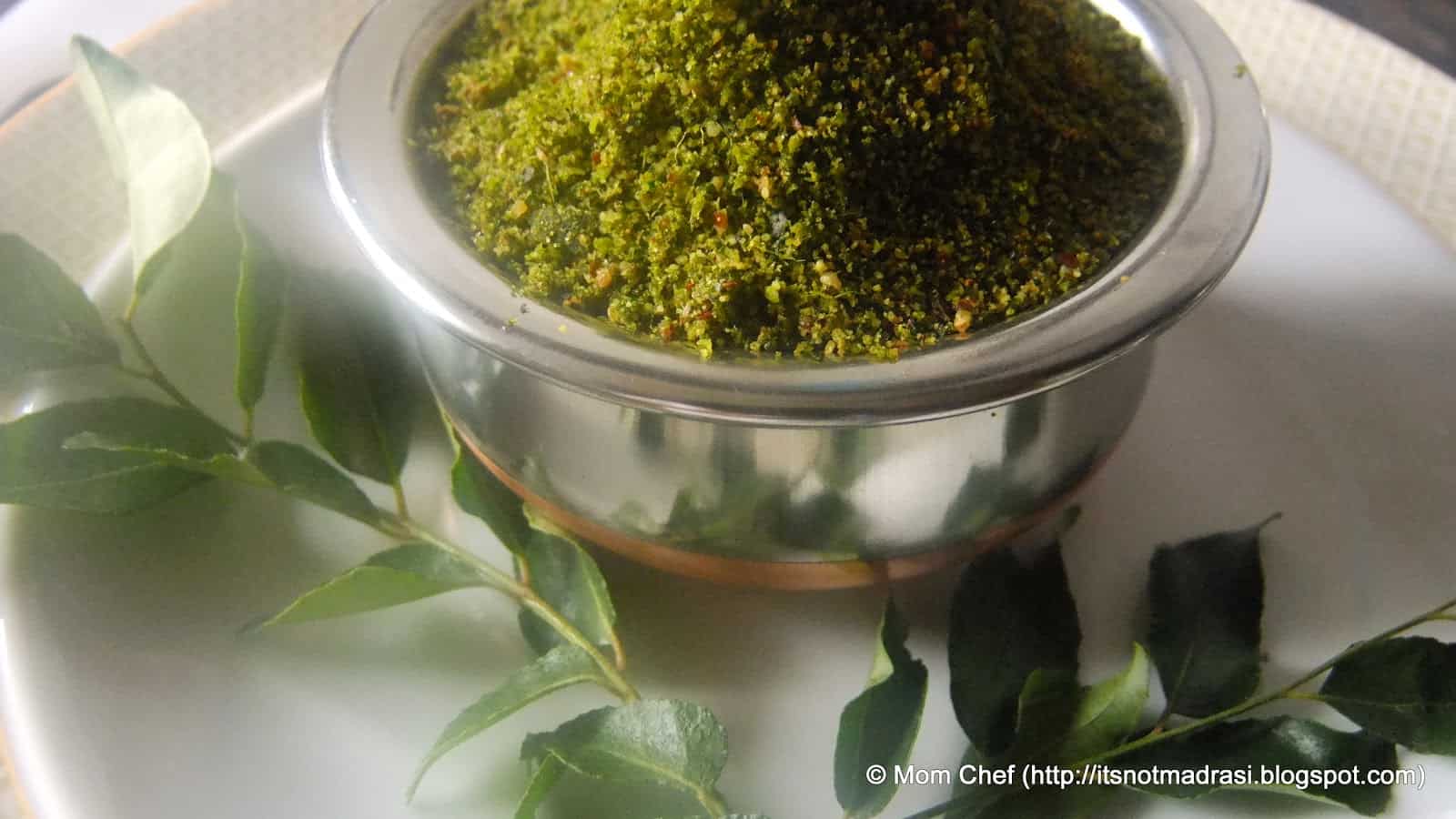 Pin