This Chitrannam (spcied rice) was made for our Ugadi spread this year. I had bookmarked it from a Telugu TV show and found the diary entry most unexpectedly. As we usually make Mavinakayi Chitranna / Mangai Sadam / Raw Mango ricewith Bele Obbattu for Ugadi, this time we tried this and loved it a lot. 
It's a great way to incorporate curry leaves which are picked out of every dish by the kids. But a note of caution is not to go overboard with curry leaves as its 'heat' in nature and could cause internal bleeding. As with most foods, moderation is the key. 
If you are fond of variety rice like me, do try this and let me know how you liked it. Most of the rice dishes I made this BM are for the family, and personally I would like to sub the rice with millets or any low GI grains next time when making for myself.  
Similar quick Rice dishes (no onion and garlic) you may like on the blog: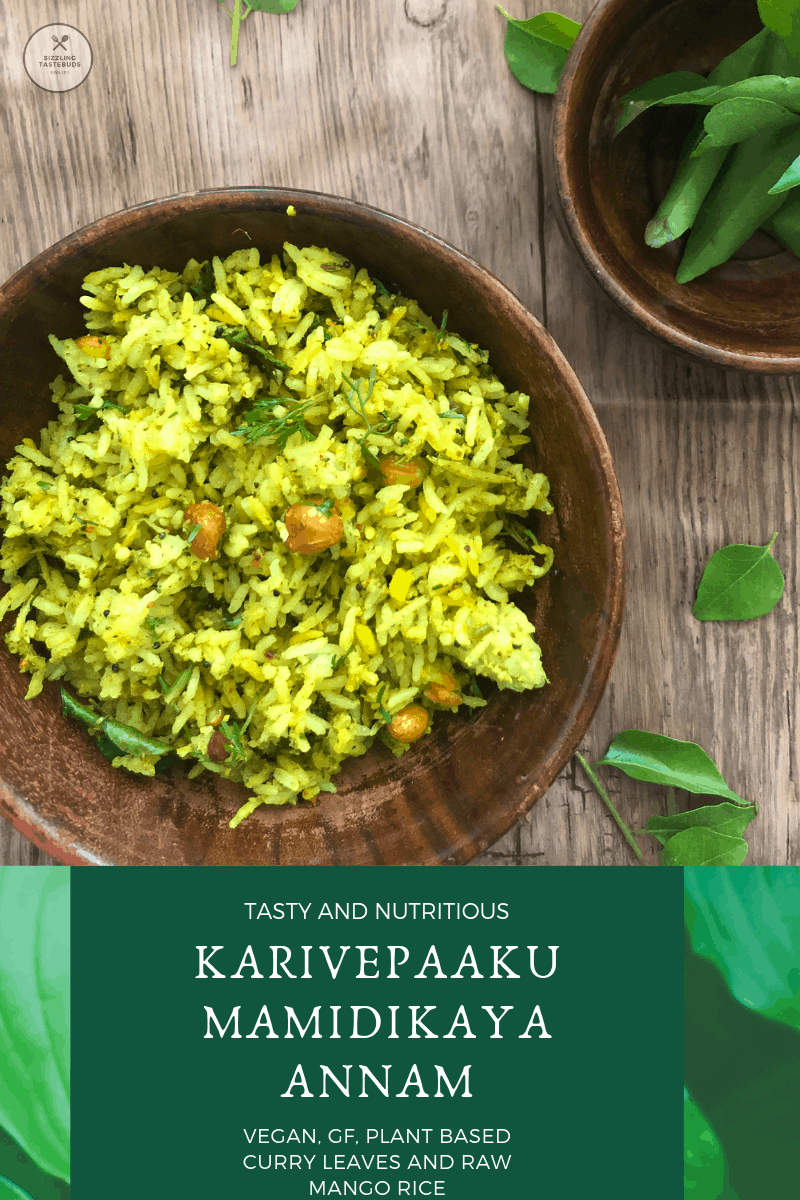 Pin

Let's get to today's recipe:

Karivepaaku Mamidikaaya Chitrannam ~ Curry leaves+Raw Mango Rice-V,GF
Prep time – 15 mins, Cook time – 15 mins, Serves – 2 ~3 

Cuisine : Andhra (Indian), course : Main Course 

Vegan and GF dish

You need:

Short grained rice – 1 cup (240ml)

Oil – 3 TBSP (divided use)

Salt – to taste

Turmeric – 1/2 tsp

To grind:

Curry leaves – 2 large handfuls

Raw mango (tart variety) – 1 medium – grated fine

Fresh / frozen coconut  – 1/2 cup

Mustard seeds – 1 tsp

Jeera-  1/2 tsp

Red chillies – 3 to 4 (adjust spice)

Methi seeds – 1/2 tsp

Green chillies – 1 to 2

Asafoetida (skip for GF)

Tempering:

Oil, mustard seeds, broken red chillies 1 or 2 , Urad dal (1/2 tsp), cashew pieces few (opt.) OR peanuts (1 TBSP)

Notes:
Sauteeing coconut and grated mango increases the shelf life

Don't add water while grinding

 

If the raw mango is not tart / sour enough, add a small gooseberry sized tamarind (saute with to grind ingredients). This may alter the taste distinctly.

   Buy raw, firm mangoes with no blemishes on top.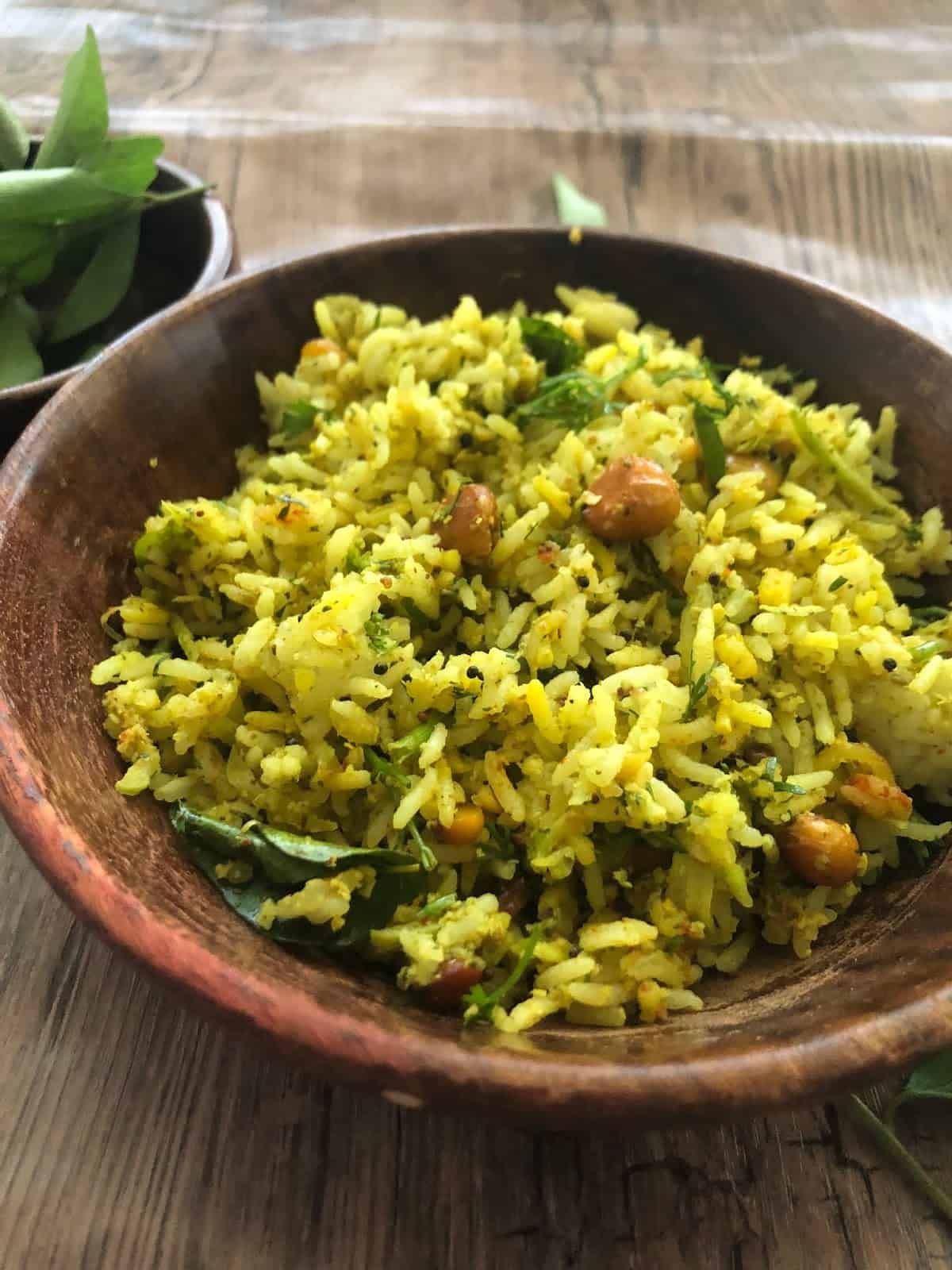 Pin
How to:
Cook the rice with a tsp of oil and a dash of turmeric. fluff them once they are done and cool completely in a large, flat plate. 
In a pan, add 1 TBSP oil, saute all the ingredients for "To grind"  (except mustard and asafoetida) one by one for 1-2 mins taking care the fenugreek/methi seeds and chillies don't burn. Cool completely and grind to a smooth paste without water (it's possible as the raw mango provides enough moisture).
In the same pan, add the remaining oil, splutter the tempering ingredients and fry till the peanuts turn golden brown. 
Remove the peanuts with a slotted spoon. To the remaining, add the ground mango -curry leaves paste and saute well on medium flame for 3-5 mins till oil starts separating (This is an important step as it keeps the rice from spoiling even beyond 3 days), Now add the salt and rice and mix gently. 
Adjust salt and spice and serve immediately.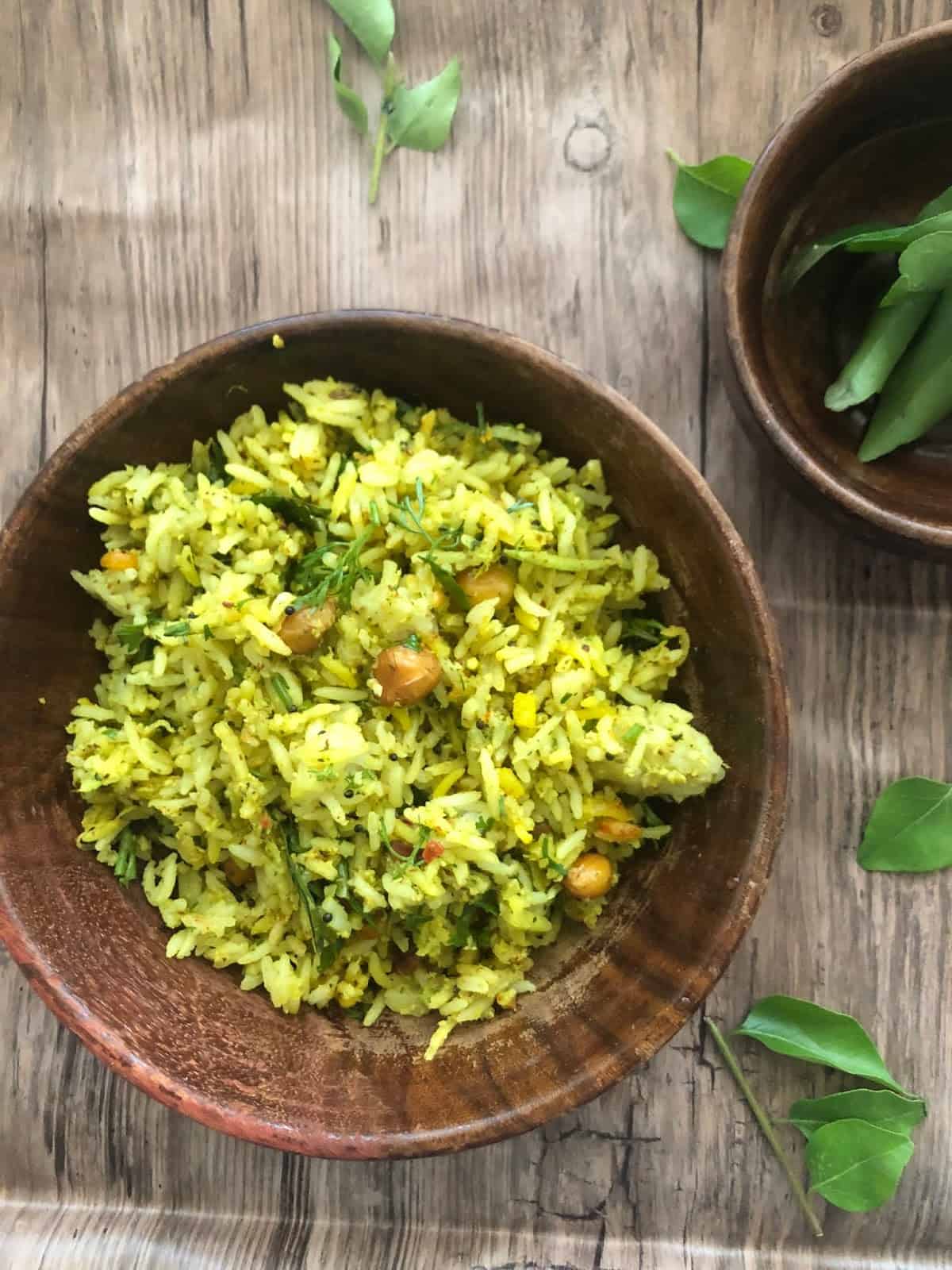 Pin
PinCheck out the Blogging Marathon page for the other Blogging Marathoners doing BM#99