First, a new name for my blog – Sizzling Tastebuds — well, had been tinkering for a makeover for some time now, and decided to launch it today … Friends, do take a look around, and let me know how you liked it 🙂
Today's post – Jaggery Poha (Sweet flattened rice) or Sihi Avalakki (Kannada) is considered Lord Krishna's favourite . In a story from Hindu Mythology, Krishna's friend Sudhama carried this sweet poha with him while he visited his friend in Mathura asking for a favour to rid him of his poverty , and the Lord obliged him so. As the famous saint Purandara Dasa sang 400 years ago in Kannada , "oppiDi avalakkiya tanda avanige/avaninge oppikoTTeyO bhAgyava " (meaning : for the devotee who brought you a handful of flattened rice, you opened up a galaxy of riches).. My grand mom used to make this for Gokulashtami (Janmashtami) as a part of the naivedyam (naivedyam = offering to God) along with 20-30 other bhakshanams (savouries/snacks) ! Hats off to the inimitable energy of that wonderful lady 🙂 On the happy occasion of the forthcoming festival, I present this wonderful and saatvic dish…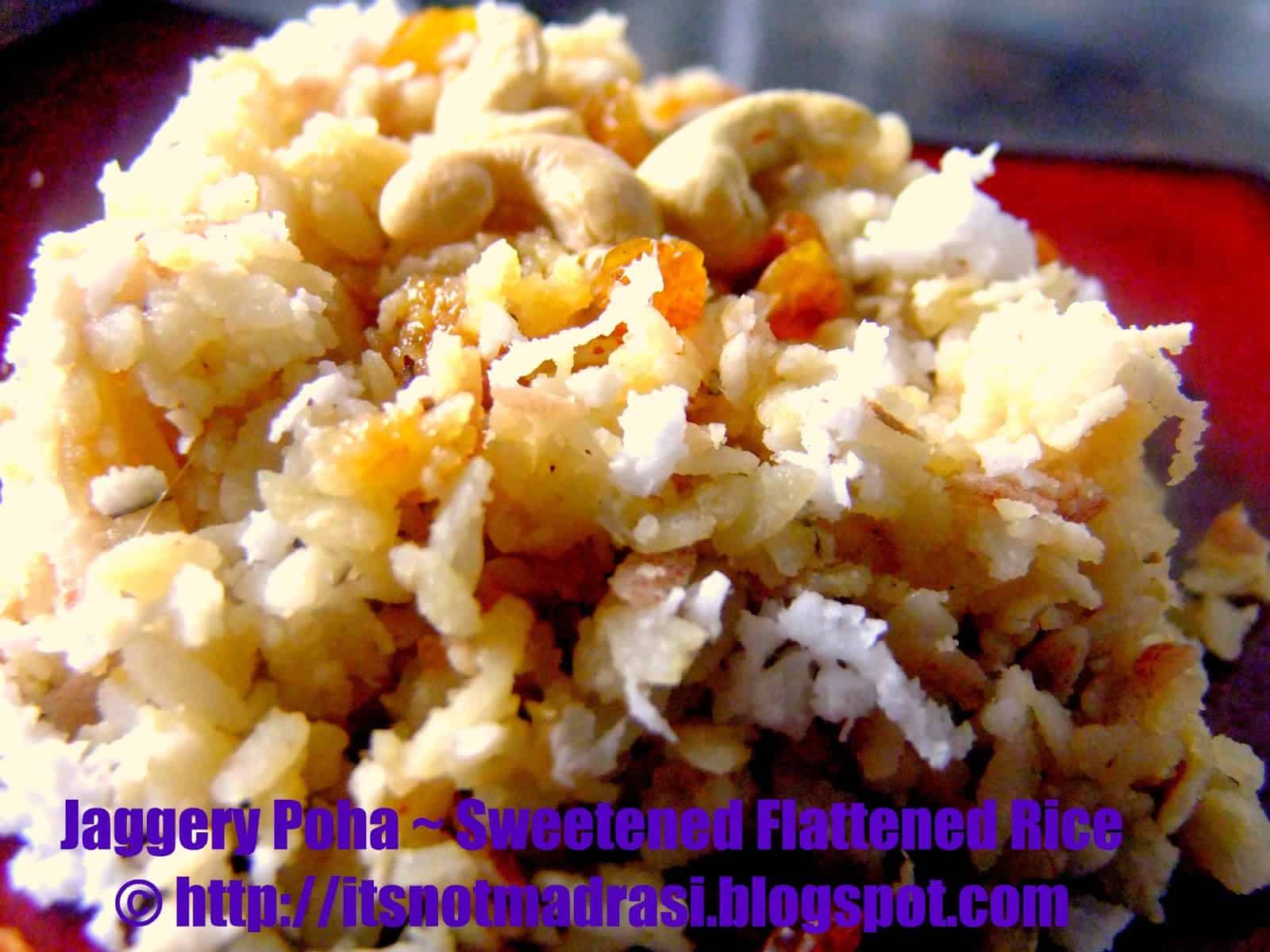 Pin

Its a simple to make, no cook, no fuss recipe that grows on you slowly unless you have had this during childhood. Loaded with Vitamin B12 from the Poha (flattened rice) and iron content from jaggery, I am sure you would enjoy it as an evening snack . I have added freshly grated coconut which imparts a wonderful sweetness and coats the poha like a silky smooth cover. If you prefer, you may also soak the poha with a mixture of water and coconut water which would add flavour to this dish. My kiddo helped me add and mix the grated coconut to the dish and said "she made it all herself" 🙂

Sending this to BM – Day 5 under "No Cook Dishes" theme and also to my own event –Fasting foods – Vrat ka khaana special. You may also serve this  withGojjavalakki or Puli Aval (Tangy and Spicy Poha)– it makes a wonderful combo….

Check my other friends from BMhere. Let's get on to the recipe …

Prep : 10 mins . No Cooking time. Serves : 2

Ingredients:
Poha / Aval / Avalakki – 1 cup
Fresh Coconut water – 1/4 cup (opt.)
Freshly grated coconut – 1/2 cup
Grated jaggery – 1/4 cup (adjust to taste)
Powdered Elaichi / cardamom – a pinch
Raisins – a handful
Roasted / Plain Cashew – few (opt.)
Method:
1) Wash Poha under urnning and drain in a sieve  / colander. (use thick poha rather than paper thin variety for best results). If using coconut water, add the coconut water to dry poha and sprinkle water till it is moist.
2) Rest for 10-12 mins.
3) Mix grated coconut, jaggery and cardamom powder well and mix with the soaked poha
4) Add raisins and cashewnuts and eat immediately.