Bangalore is
dotted liberally with various bakeries, with each of
them having their own claim to fame – VB Bakery or the local iyengar
bakery in every suburb. For those from Bangalore, you might remember the Khara
buns, Masala Toast, Palya Bun and the famous Dil Khush and Dil Pasand. I miss
soooo much of Bangalore these days, especially when mom and sis are there, and
I aint ! To overcome that boredom and nostalgic what started as baking bread turned into an adventure and a totally new bake by itself.
Without boring you with the details, all I can say is that every bite
that we took of this yummy and spicy Khara buns (Khara in Kannada means spicy)
took me back to the leafy lanes of Bangalore and the holiday / weekend
afternoons we spent munching these beauties hot and fresh out of the nearest
bakery 🙂 🙂 The browning on top didnt happen as I expected, but
nevertheless I enjoyed making these. Any pointers on how to perfect that golden brown (what you see commercially at stores / bakeries) will be great. I dont know if this is the oven playing truant or the temperature settings or the milk wash, but am ready to learn from all of you although I followed the steps to the T for this recipe. However, it was extremely soft and yummy to munch on these.
Even kiddo who doesnt take to savoury
bakes managed to grab some on her way out to play. S and me enjoyed this over
the weekend with steaming cups of tea (for him) and lemonade (for me). Adapted
from here, this was one
delightful evening adventure for me 🙂 After the Moongdal Masala Buns & Wholewheat Herbed Buns, I am
sure this is another wonderful addition to the bakes at my home. I would have
gladly traded APF with wholewheat for this, but was in a predicamant how they
would turn out !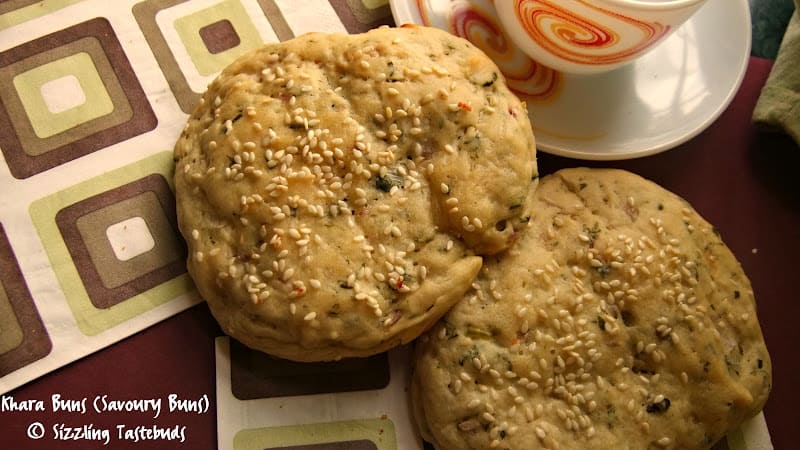 Pin

Sending this to Blogging Marathon and Raji's event Only snacks, event by Pari. Check out the other marathoners here.

———————————————————————————————

Prep time – 25 mins

Fermenting time – 2 hours + 45 mins

Bake time – 20 mins

Makes – 6 medium sized buns

Difficulty level – Medium

———————————————————————————————

Ingredients:

For the buns:

·
Maida – 1.5 cups + extra used for dusting and kneading if
necessary

·
Active dried yeast – 1.5 tsp

·
water – 1/2 cup

·
Milk – 1/4 cup

·
Sugar – 1.5 tsp

·
Butter – 2 TBSP

·
Salt – 1 tsp

For the Khara masala:

·
Onions – 1/2 cup – finely minced

·
Green chillies – 2 to 3 minced fine (or
use 1 tsp red chilli flakes)

·
Curry leaves and coriander – chopped
fine – 2 tsp

·
Cumin seeds – 1 tsp

·
Oil – 2 TBSP

·
Salt – to taste

Topping:

·
Butter – 1 TBSP

·
Milk – to brush the buns

·
Sesame seeds – for topping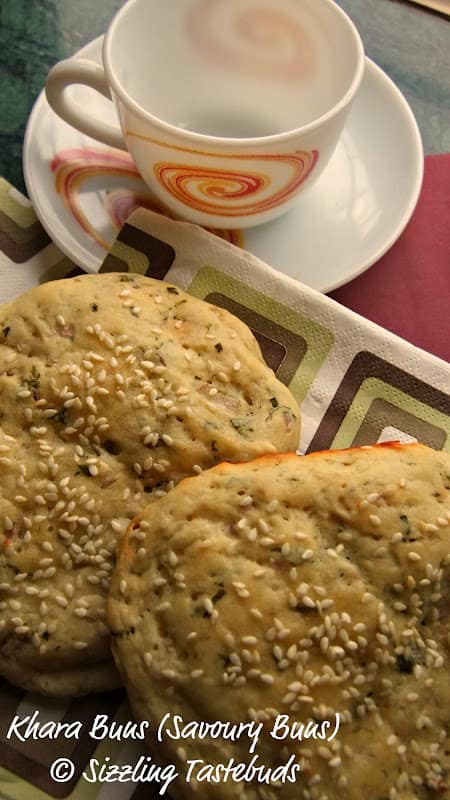 Pin

Method:

1) In a bowl, mix lukewarm milk and water. Add
sugar and yeast and dissolve them. Cover with a cling wrap for 20 – 30 mins.
Let the yeast proof. If the mixture is flat and doesn't turn frothy after 20
mins, throw away and start with a new batch of yeast.

2) In a non stick pan, heat oil. Splutter cumin.
Saute the onions and minced chillies till the onions turn pink and translucent.
Add salt, coriander leaves and curry leaves. Cool the mixture thoroughly

3) Meanwhile. Sift maida and salt together. Add the
melted butter to the proofed yeast mixture and mix well. Make a well in the dry
flour and add the yeast-butter mixture and with a whisk, stir around till you
get a sticky dough. Knead well on a oiled and clean surface for 8 – 10 mins
till you get a smooth dough.

4) Now bring back the dough into the bowl again
and add the sautéed onions. Once again, knead it on the surface for a further 8
mins. If the dough turns sticky due to the onions, sprinkle a little more dry flour
. Line a bowl with oil, and keep the dough in this covered with a cling wrap for
2- 3 hours till it doubles

5) Once the dough doubles, take it out and punch
in for a few minutes to release the air. Make equal portions of the dough and flatten them into quasi flat structures.

6) Line a baking tray with parchment paper.
Grease it well and place the dough balls a little apart from each other. Cover
and let them rise for the second time (approx 45 mins – 1 hour)

7) In the last 10 mins of the 2nd
rise, preheat oven to 190 deg C. After the 2nd rise, gently apply
milk on the buns and sprinkle sesame seeds.

8) Bake at 180 deg C for 15 – 17 mins til the tops turn light brown.

9) Once done, immediately brush them with some
more butter (they stay softer this way). Serve as a evening snack for your family
!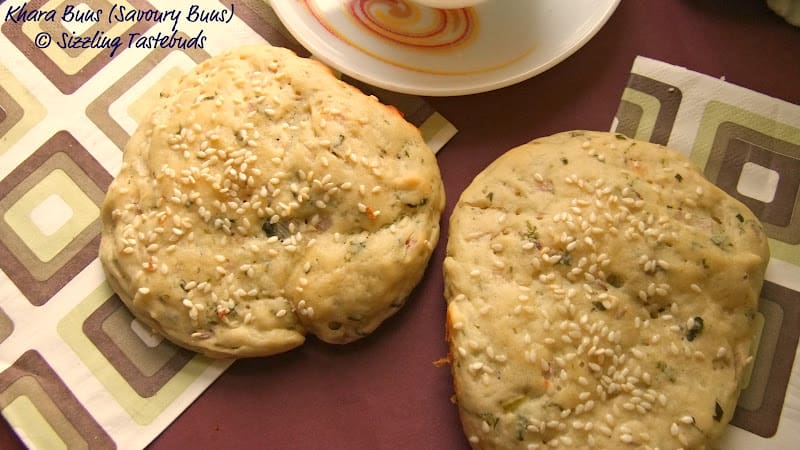 Pin