What's not to like about Punjabi food ? Yes, the grease does get to you sometimes, but thats what winters are for – to be guilt free while munching on fried and other comfort food. And today's dish – Kadhi Pakodi – is one of my personal favourites. I had this first at a friend's place decades ago at Bangalore, and then Kadhi by itself was soo alien ! All I knew then that curd could be used was for raithas/ Pachadisor Morkozhambu(Majjigehuili). But this dish served with Jeera Rice (recipe coming soon!) is the ultimate gateway to the heart of Delhi. Pakodhi (or deep fried fritters) are made of besan only. But I have added chopped radish greens to make them more nutritious. Somehow, after I used these greens as a stuffing for Moong Dal Masala buns, I have liked their crunchy bite and flavour and regularly buy them from my green grocer (actually it comes free with the radishes !! he he !! i use the radish to make sambhar / raitha and the leaves as stuffing etc.) To cut a long story short, this is one dish that is a total crowd pleaser, all the while introducing some of them to the nuances of Delhi cooking .. So, get ready to savour the recipe ! This goes to Day 1 of Blogging Marathon # 11 under "Lunchbox Series". I served this with plain Jeera Rice and Healthy Potato Roast and the combination was awesome – this also goes to husband's lunch box today, and it brought me great reviews 🙂 The way to a man's heart is surely through his tummy …:)
Check out the Blogging Marathon page for the other Blogging Marathoners doing BM#11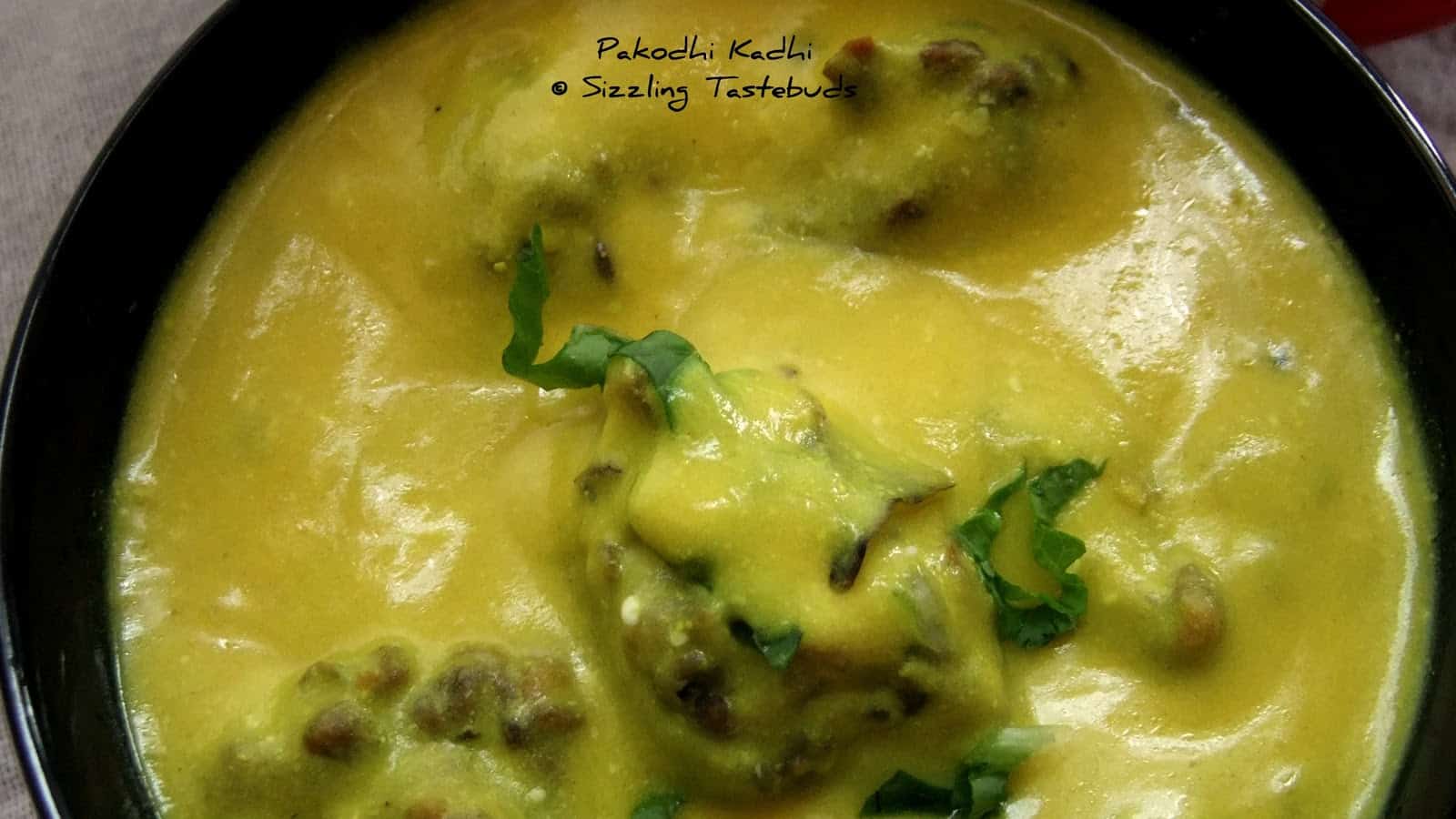 Pin
Prep time : 25 mins. Cook time : 20 mins. Serves : 2
Ingredients
(A) Pakodi:
Besan / gram flour – ½ cup
Rice flour – a handful
Salt – to taste
Radish leaves – 1 cup (washed and chopped)
Ajwain / carom seeds – a pinch
Turmeric – a dash
Green chillies – 1 or 2 minced
Saunf / fennel – ½ tsp
Oil – to deep fry
(B) Kadhi:
Slightly sour buttermilk – 4 cups OR 2 cups curd / yoghurt
Salt – to taste
Besan / gram flour – 3 TBSP
Salt – to taste
Turmeric – a dash
Tempering:
Oil – 1 TBSP
Mustard seeds & curry leaves – little
Fenugreek seeds – ½ tsp
Bay leaf – 1 no.
Broken red chilly – 2 nos
Green chilly paste /minced gr. Chilly – ½ tsp
Asafoetida – a generous pinch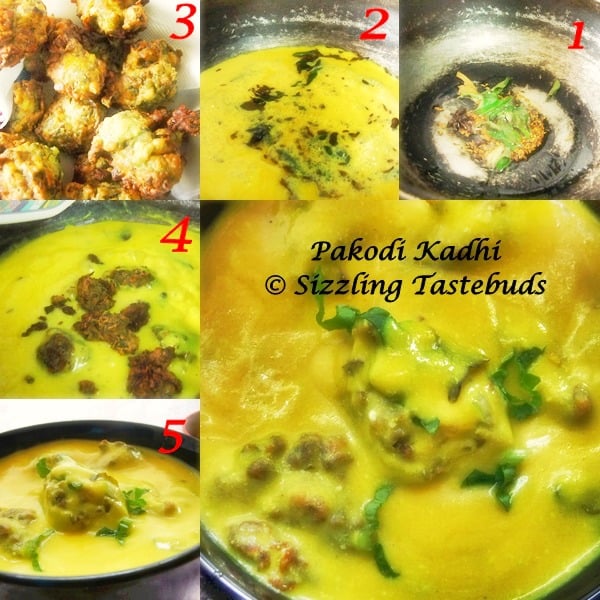 Pin
Method:
(A) For the pakodi :
1) Sieve both the flours. Add salt and 3 TBSP of hot oil and mix well (use a spatula). Now add ajwain, turmeric and other ingredients except the leaves. Mix well and slowly add water to make a dropping consistency like bhajia mix here. Now add the chopped leaves and mix well with your fingers for a fairly thick batter. Do not add water at this stage.
2) Heat oil in a pan, slightly wet your fingers with water and take a tsp each of the batter and drop in the hot oil like you do for normal pakodas. Fry them till golden brown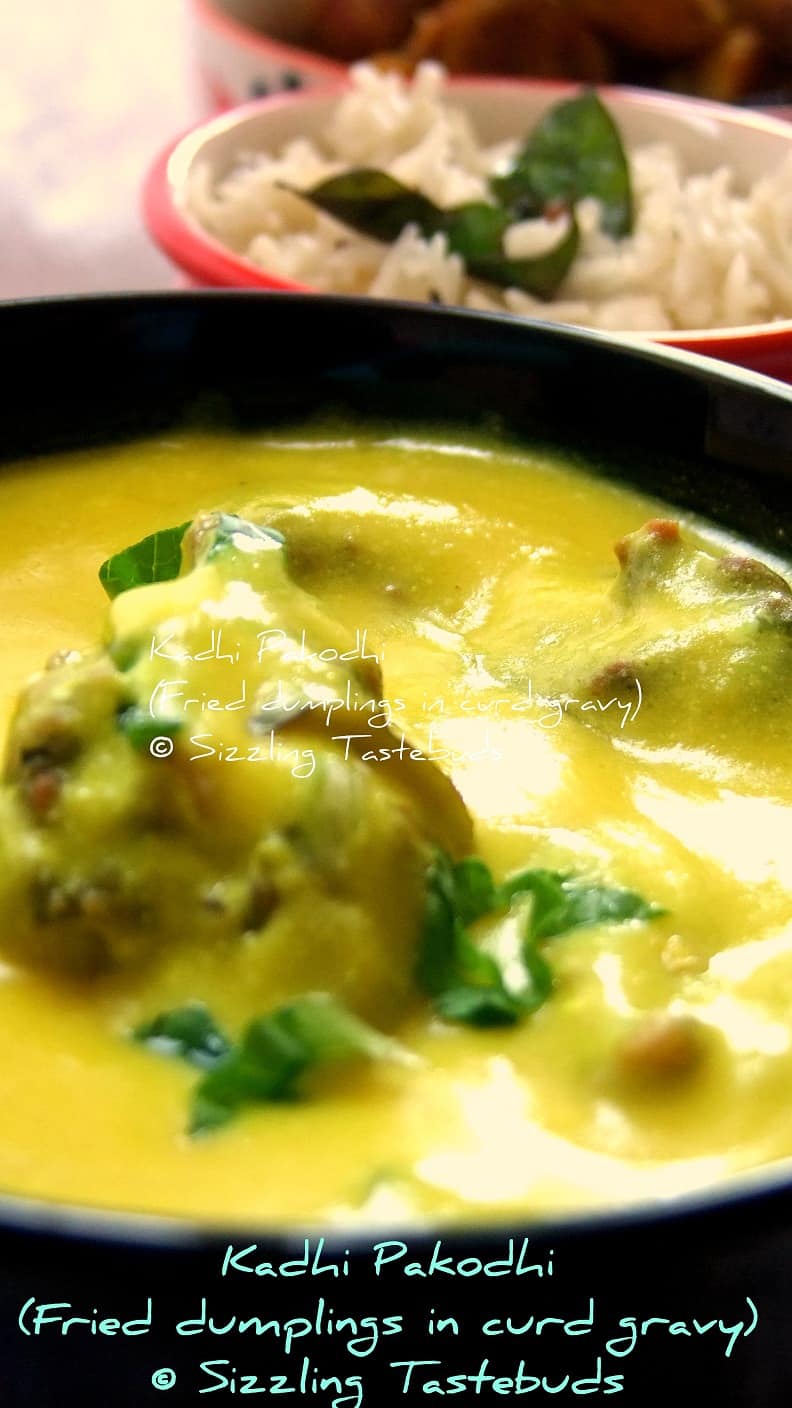 Pin3) Drain on tissue towels and reserve. Warning: you will be tempted to bite into these delightful crunchies, so give in to that temptation : its totally worth it. And as you savour them, you might also forget that you had to get the Kadhi going (which almost happened to me !! 🙂 Cool and reserve !
(B) Kadhi:
1) In a large bowl, sieve besan with salt, red chilly powder. Add 4 cups of butter milk, turmeric, adequate water (if required) and mix well. If using curds, first whisk them free of lumps. Add more water than buttermilk consistency and get the micture ready.
2)In a deep bottomed pan, heat oil. Add the tempering ingredients one by one (be careful to keep this on low flame). Once the chillies turn slightly brown and the mustard stops spluttering, slowly add the buttermilk . yoghurt mixture into the pan along the sides of the pan (take care as any temperature difference between the yoghurt – if refrigerated – and the hot pan might cause some spurting). Mix vigorously.
3)Cook on low flame without the lid on. Take care to see it doesn't burn – stir frequently. Once the raw smell of the besan disappears , about 8 mins, its time to check for taste (salt / tart etc) and drop in the pakodis gently into the simmering kadhi. Garnish with coriander leaves if required. Simmer for next 3-4 minutes only. Serve immediately with plain steamed rice or Jeera Rice & Healthy Potato Roast.
Note:
If you are planning to make the pakodis ahead of time, re-fry them once more in hot oil, drain and then dunk them in the kadhi before serving. Soggy and sad looking pakodis draw down the taste of the dish quite a bit
You may add minced garlic and some more spice to pep up this dish even more. I don't like the smell of garlic in my Kadhi and therefore didn't use them
Its advisable not to re-heat the Kadhi once made. Serve when hot. In case you do need to re-heat it, place the bowl in a vessel of boiling water and indirectly heat it for a while. Else the curd would break (disintegrate) leaving a watery mess. I don't know how Kadhi behaves while re-heated in a microwave, so do let me know if it does hold well.