Yes, you read it right, friends.After announcing the Pickle & preserves fest & giveaway for April, I am hosting another event for April.
This is Priya'sCooking With Seeds – and the theme is Oats. I guess there is no prelude that is required for this super healthy grain. Oats is regularly consumed in most homes and us known to lower cholesterol levels as well as being an excellent source of dietary fibre. Be it milkshakes or parathas or even bakes, Oats is finding immense application in most vegan and vegetarian cooking !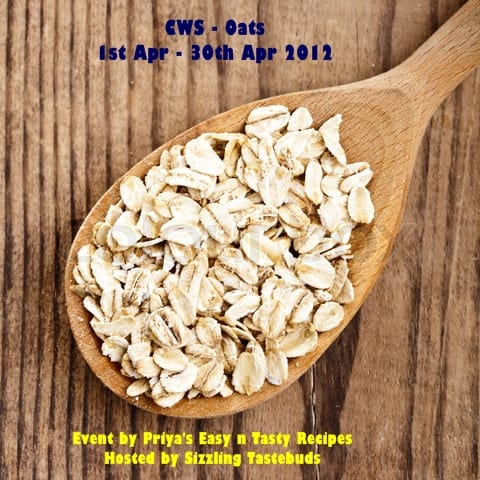 Pin
So, what are you waiting for ? Link all your vegetarian and eggless recipes here. Right from today – April 1st to April 30th 2012. A quick recap of how you can send your entries:
1) Only fresh entries are allowed
2) All entries have to be linked to this announcement and Priya's announcementtoo.
3) Usage of logo is mandatory as it helps spread the word.
4) Use the linky tool (at the end of this post) to link your entries. Non bloggers can also send their entries to [email protected]
5) All entries can be of any course with Oats as a primary ingredient. They need to be vegetarian and eggless too.
Look forward to a deluge of healthy eats from all you friends 🙂
Cheers
Kalyani