Sambhar powder is a lifeline in a South Indian kitchen. Apart from making the Arichuvitta Sambhar (where spices are ground to a paste with coconut) and is eaten with rice, we make the Darshini Style Sambhar also the Tamilnadu Tiffin Sambhar (both eaten  with South Indian breakfast like Idli, Dosa-Uttapams, Pongal or Vadai). 


We also make the easy Pressure cooker sambhar which uses this sambhar powder. Of course, making the sambhar in pressure cooker is optional, but it saves time and fuel while retaining the nutrition. You could also use this spice powder to make it on stove top (without pressure cooker) as shown in this recipe.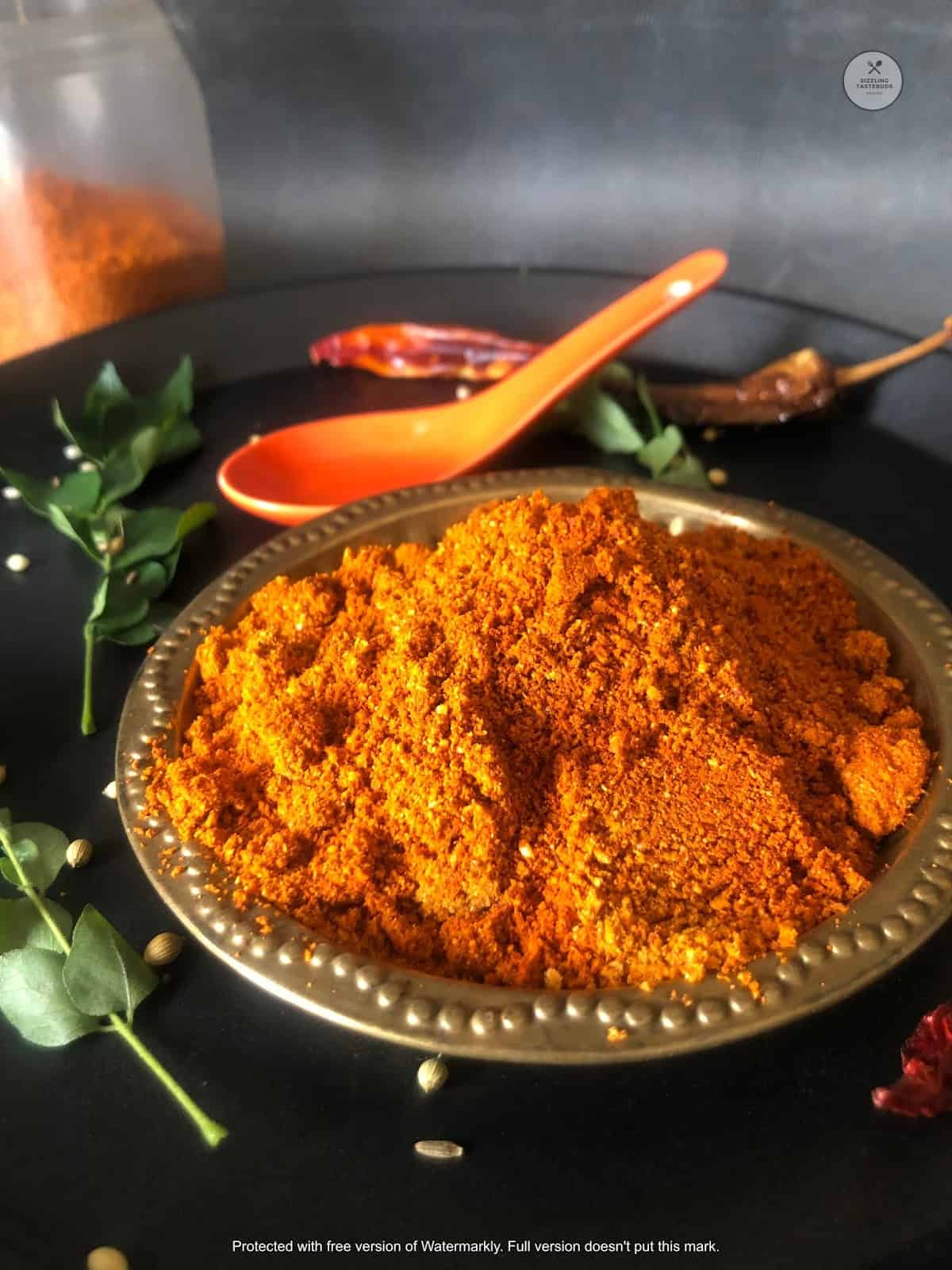 Pin



The sambhar powder recipe presented today is my mom's who improvised on grand-mom's recipe, and this has been our goto recipe for more than 4 decades. Every time Amma makes it, I simply looked on. This time, I took the recipe from her and made it myself a video too. If you are also keen for Amma's Mysore Style Rasam powder recipe, head here.



Preethi has given us a theme to present Homemade spice powders this week and this is my mother's recipe that I would like to share here. Her Vegetable spice powder is so close to our vangibhath, I am definitely going to try it out.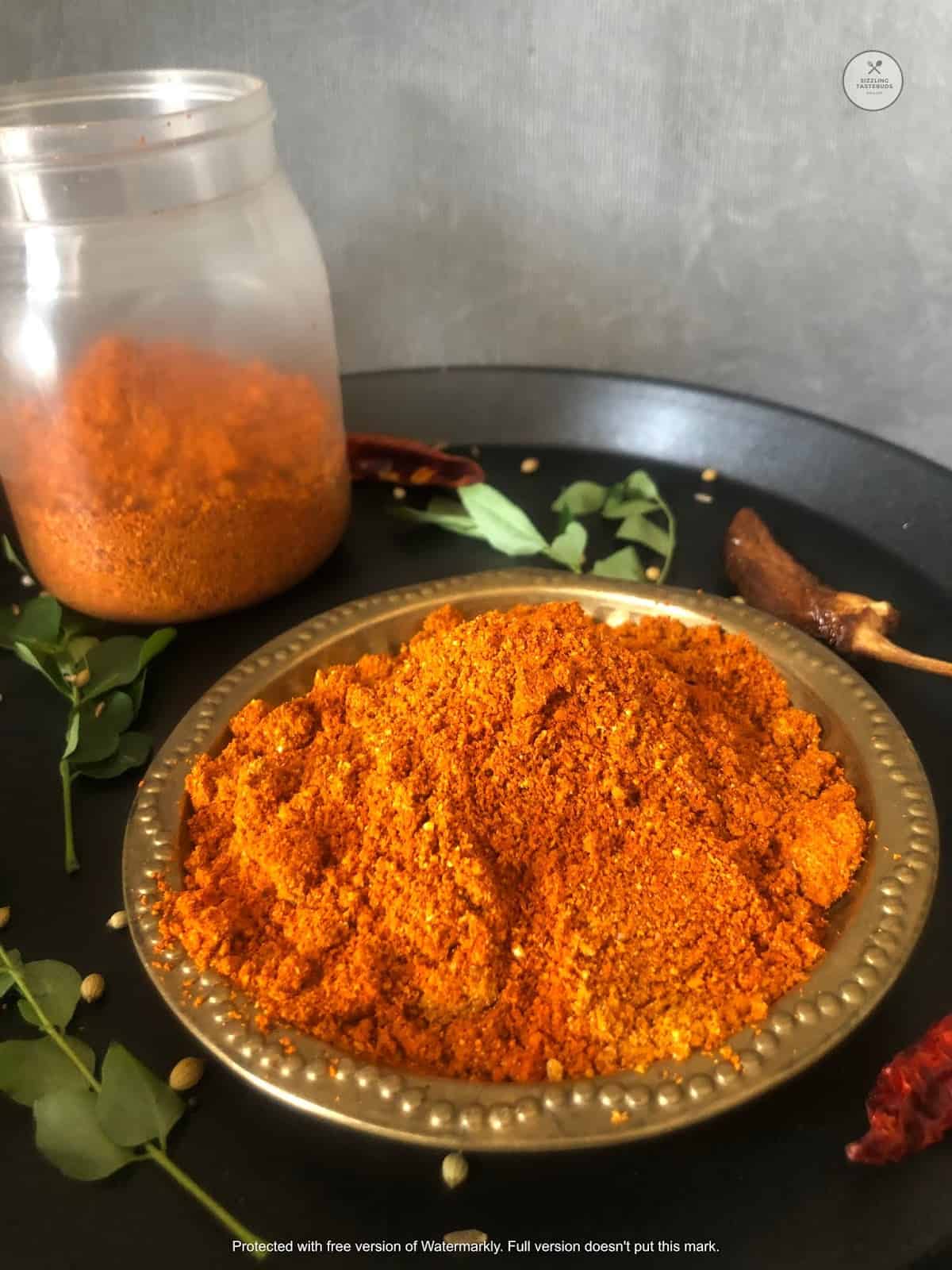 Pin


Other Spice powders that have been heirloom recipes from our family are: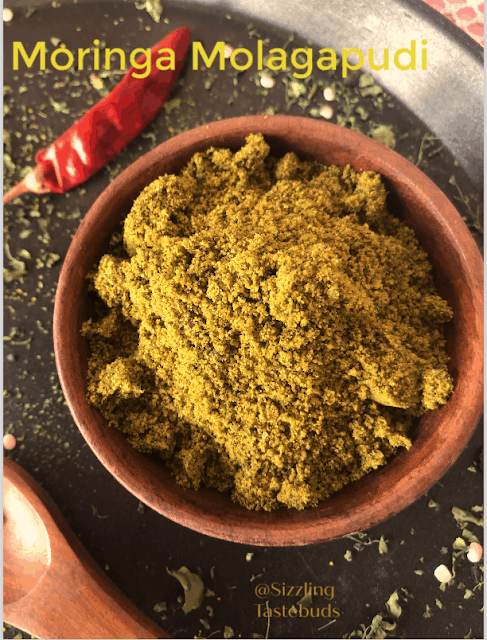 Pin
Bangalore special Chutneypudi*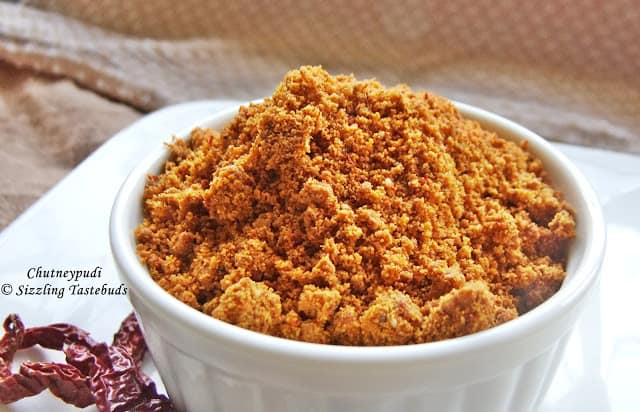 Pin




Godhi Chutneypudi (chutneypudi made with wheat kernels)*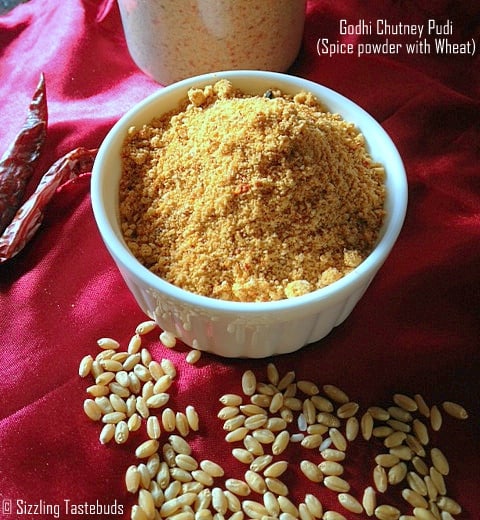 Pin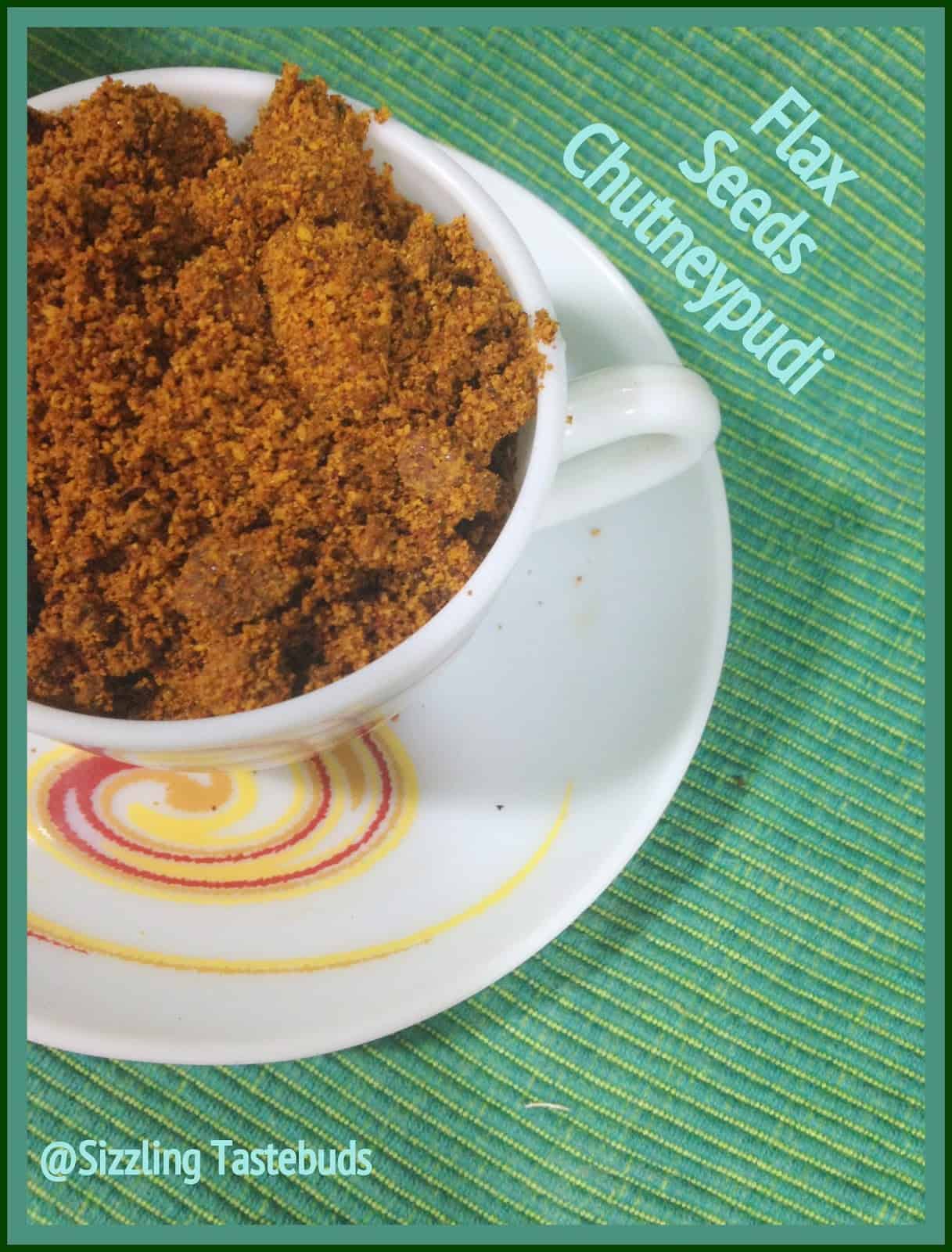 Pin
Poondu Podi (Garlic flavoured spice powder)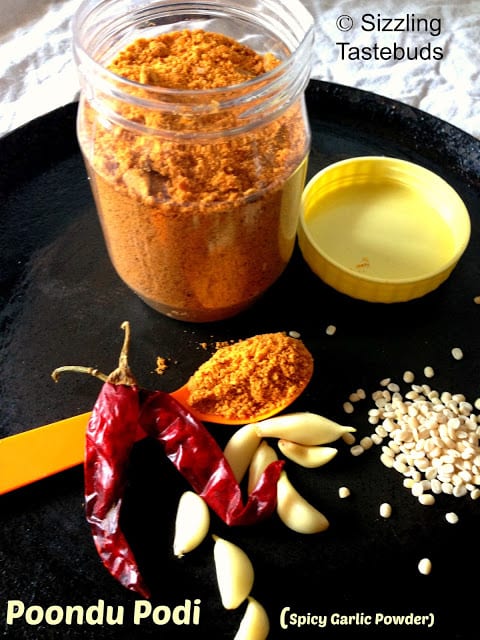 Pin


*Chutneypudi is a generic Bangalore term for a condiment / spice powder that can spruce up anything from Rice to Upma to akki rotti (flattened spicy rice bhakri) to paratha or bread and anything in between :p
Podi / Pudi – spice powder in Kannada / Tamil 


Prep time – 15 mins, Roasting time – 15 mins, Grinding time – 5 mins or less.
Makes: Approx. 500 grams of spice mix


Notes:
Make sure you sun-dry all your ingredients a day or few hours before roasting or grinding it.
In case you have no direct access to sunlight, make sure they are completely fresh and without any moisture. 
Cool the roasted mixture for 30 mins before and after grinding (cover it lightly to avoid any dust settling down). 
Store the spice powder in an airtight container and store the jar in a cool place. 
Like Amma, you may make small batches to retain freshness.  
PIN FOR LATER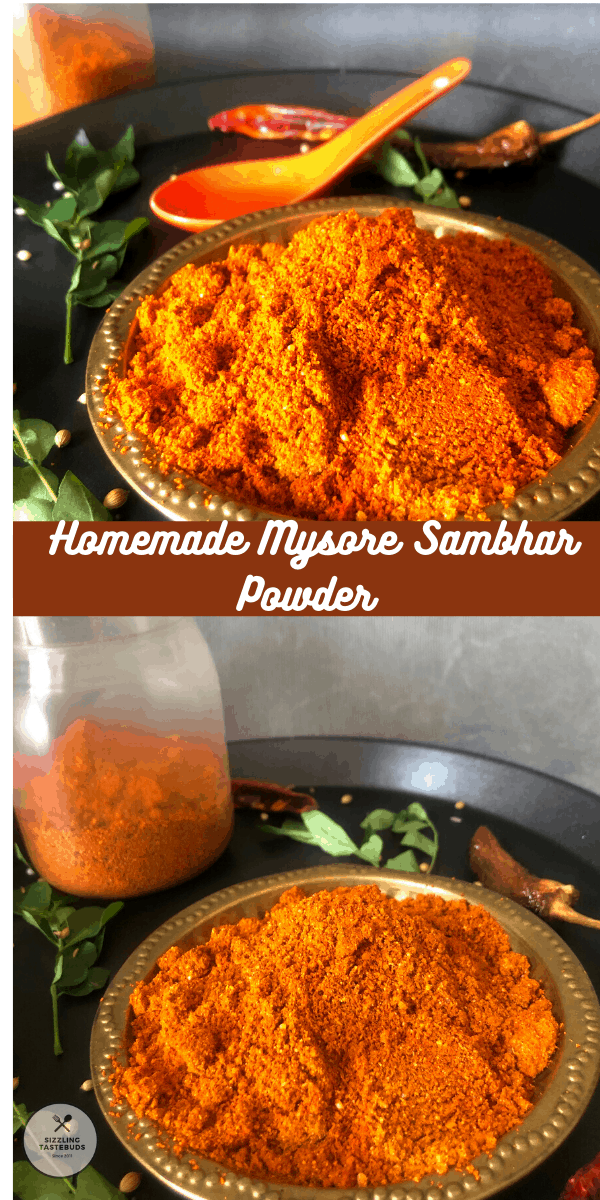 Pin


Ingredients:
Coriander seeds – 400 gram
Red Chillies (spicy) – 200 grams
Kashmiri Red Chillies – 100 grams
Rice (Brown / White) – 1/4 cup
Methi – 1/3 cup
Asafoetida – a generous 1/2 tsp (skip for GF)
Dry Whole turmeric – 1/2 inch (use turmeric powder if you dont have access to whole turmeric, but add it to the grinding mix at the end without roasting it)
Dry Copra – 1/2 cup (desicated coconut or fresh coconut won't work)
Channa Dal – 100 gram
Cloves – 4 no. 
Curry leaves – 4 to 6 sprigs
Oil (to roast the spices) – 3 tsp+1/2 tsp
Method:
Pls find the video embedded below
For the exact method of roasting and in which order of grinding, please head to my youtube video below. Would greatly appreciate if you subscribe, like and share the video along with leaving your valuable comments both on the video and blog !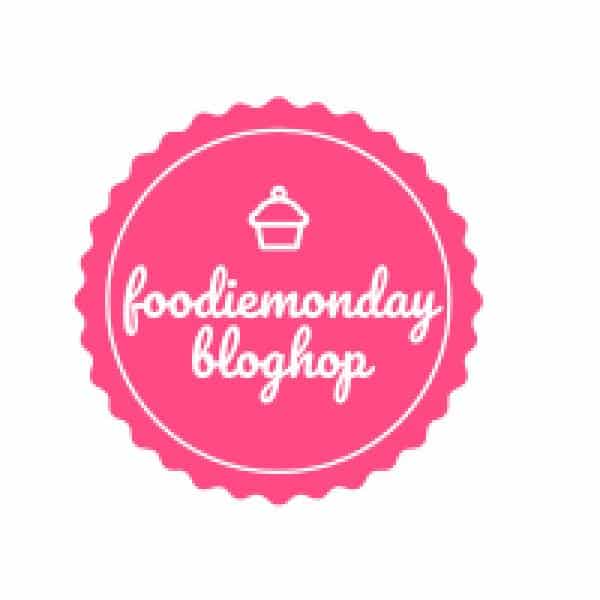 Pin