Inspiration comes from so many corners, I was casually talking to
my domestic help and she was mentioning that they make bajra rotis during
winter to provide heat and warmth to the body along with nutrition. After Pesto Spaghetti and Broccoli Pizza for BM #47, I was stuck between choosing pizza pillows and
pizza muffins for today. But all that can wait. I looked around and landed at
this recipe, from where I made some changes…
For the kid though, she ate reluctantly at first (bajra – black
millet, sorghum, pearl millet and ragi – finger millet are strange on the
palate on the first few times), and needs time to getting used to). But as we
eat Ragi Rotti (flattened finger millet) regularly, this is another healthy
addition to my kitchen, and I am sure DH would also gladly eat a healthy pizza
like this once in a while. Whats more, I was happy as this comes without yeast,
and is almost gluten free (as most millets are), and needs just 5-8 mins of
baking time.
So, if you are looking for healthier alternatives, go ahead and
make these. Your tummy will definitely thank you for that.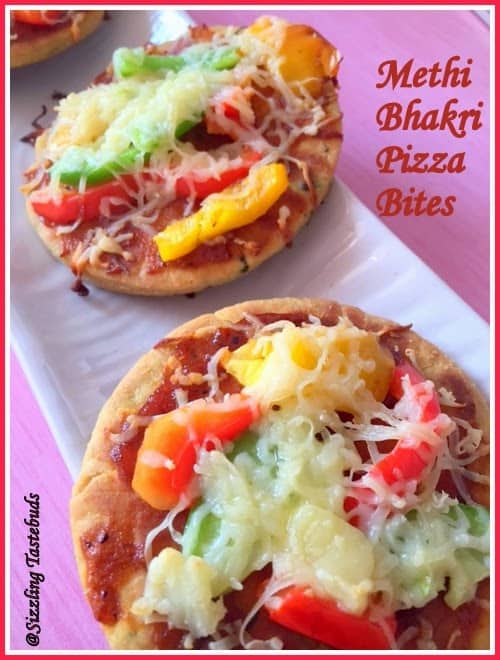 Pin

Prep time : 20 mins | Cook + bake time : 15 mins

Makes : 1 large or 3 mini pizzas (I made the latter)

Original recipe didnt have any cheese, but I added just a tiny bit
along with the methi to get the kiddo to eat this. The next time I make this,
I am gonna skip the cheese entirely and just load it up with just veggies for a
non-cheesy pizza :-))

Ingredients:
Bajra (black millet) flour – 1/2 cup
Wholewheat flour / pastry flour – 1/4 cup
Methi (fresh fenugreek) Leaves – finely chopped – 2 TBSP
Olive oil – 2 TBSP + about 3-4 TBSP for cooking
Salt – to taste
Baking powder – 3/4 tsp
Warm water – about 1/2 cup
Toppings:
Pizza sauce – 2 TBSP
Mixed herbs – 1 tsp
Onions – 1/2 minced
Coloured peppers – 1/4 cup (sliced)
Garlic – 1 or 2 pods (optional)
Shredded pizza cheese – 2 TBSP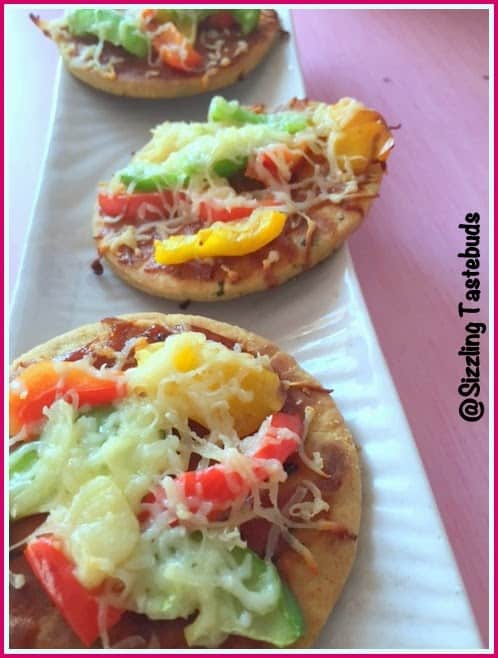 Pin

Method:

Whisk both the flours with salt and baking powder. Add olive and
mix into the flour mixture with your fingertips till it resembles breadcrumbs.
Now add methi (fenugreek leaves), warm water little by little and make a slightly stiff-soft dough
(slightly harder than the chapati dough)

Cover and keep for 10-15 mins. 

Meanwhile, in a pan, saute onions and garlic in 1 tsp oil. Add
spinach and saute for just 2-3 mins till the spinach slightly melts. add half
of the mixed herbs and just a pinch of salt and let it cool.

Pinch out roundels from the dough. and between two sheets of
parchment or plastic, roll them out to desired thickness. Cook them on a hot
grill (I used a Tava) for 3-4 mins till they are well done on both sides.
Meanwhile preheat oven to 160 deg C.

Cool them slightly, apply a layer of pizza sauce, top with veggie-cheese and Bake for 4-5 mins till cheese slightly melts (took just under 6-7 mins).

Serve immediately.