The moment a child is born, the mother is also born. She never
existed before. The woman existed, but the mother, never. A mother is something
absolutely new ~Rajneesh
What does Gobhi Paratha have to do with motherhood, you may
wonder. Today we celebrate with a virtual baby shower for our dear blogger
friend Sapana who is on her way to have a baby soon
! When we discussed this amongst our Blogging Marathon group, we were very
excited to be part of this virtual celebration. Pradnya got out 3 cute options
for a logo, which we were free to choose from, and there was so many whatsapp
and emails going back and forth to discuss the nitty gritty details. Like a
batch of school going kids, we bookmarked recipes quickly and cooked them, and
post them together today:)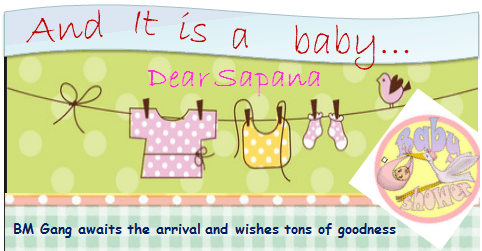 Pin

So, here you are Sapana, with me posting Gobhi Paratha cooked from your blog. Wishing
you a very safe and healthy delivery. We eagerly await the arrival of the
little bundle of joy, and hope you and your family will share this happiness
that we present with this virtual baby shower post.

Without further ado, presenting Gobi Paratha (or stuffed
cauliflower wholewheat flat bread) served with Chole (chickpeas curry) : the
classic Punjabi combo for a true blue Punjabi mom. Check out the linky tool at the end of this post to see what a spread we girls have dished for u, Sapana 🙂 

Enjoy girl !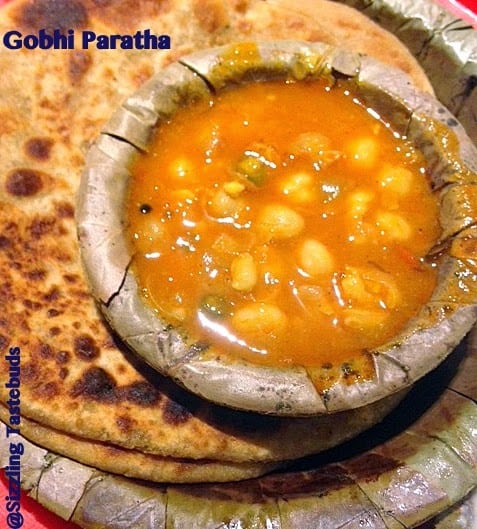 Pin




Prep time : 15 mins | Cook time : 30 mins | Makes : 8 Parathas

Serving suggestions : Chole, Raita, Pickle

Ingredients:
Wholewheat flour – 2 cups
Grated cauliflower – 1/2 cup
Onion – 1/2 cup , finely chopped
Salt – to taste
Dry masalas : Red chilli powder, Dhaniya (coriander pwd), Jeera
(Cumin powder), Amchur Powder – each 1/2 tsp or to taste
Oil – to fry the parathas
Ajwain / carrom seeds – a small pinch
Green chillies – 1 – 2, chopped fine
Coriander leaves –  a few
Anardana powder (dried pomogrante powder) – 1 tsp
Sugar – 1 tsp (optional)
Method:
Covering – dough: Add ajwain, salt, 2 TBSP oil to the sieved
wholewheat flour and make a semi hard dough with warm water, Rest for 15 mins,
covered.
Filling : In a small pan, heat 1 tsp of oil Saute the onions and
cauiflower along with the chillies for 3-4 mins. Cool, and add the salt, dry
masala powders, coriander leaves, anardaana powder and sugar, Mix well, and let
it cool. (Sauteeing is optional, you can omit the onion and add raw grated
cauliflower, but I prefer to saute it a bit)
Pinch out even sized balls from the dough. Roll out to 4 inch
discs, put 2 TBSP of the filling, close it up carefully and roll out gently
again. 
Fry on a medium hot tawa on both sides till they are cooked. 
Serve hot with a dollop of butter, and raita / chole , or just any
pickle 🙂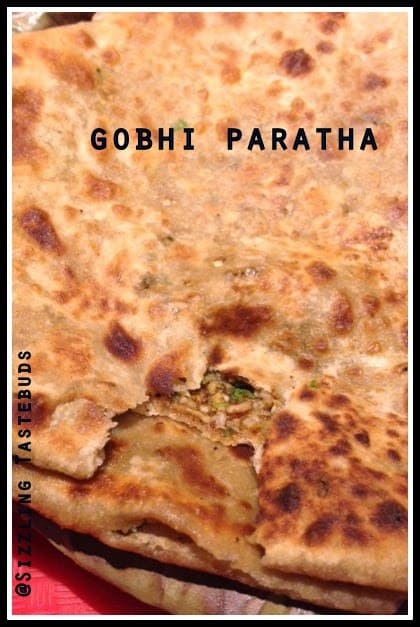 Pin
More paratha options :