Vardhini's very popular Bake Fest is now being hosted all this March here – at Sizzling Tastebuds. This is one such event where baking takes centre stage, and I am delighted to be hosting this event as I love baking. For most of us, baking is therapeutic and allows us to dream away our senses as the aroma of baked goods fill our hearts and hearth. So, what are you waiting for ?? Link up all you sweet and savoury EGGLESS bakes all this March here.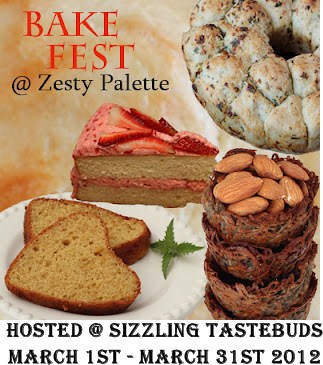 Pin

A brief synopsis of how you could send in your entries as follows:

1. Send in any recipe which has been baked / broiled.

2. Only vegetarian or vegan recipes please. Eggless bakes only please.

3. Usage of the logo is appreciated as it helps spread the word.

4. Link to Vardhini's Bake Fest announcement and this announcement is mandatory. If sending an old entry, it needs to be re-published with the links.

5. You can send in any number of new entries and a maximum of 2 old entries.

That's it folks ! Do link up your favourite baked goodies all this March !!