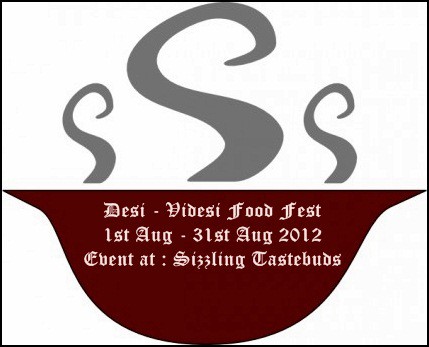 Pin
Desi – Videsi Khana. Or in simple english, fusion / crossover food.
That's the theme of the food fest here at Sizzling Tastebuds, all this August. As India enters her 66th year of Independence, and we have many festivals like Raksha Bandhan, Ramzan, Janmashtami this month, what better way to celebrate than with the festival of food.
With a twist of course.
Desi – Videsi Food Fest encompasses all those foods made with a twist or even fusion food. So fusion and crossover food like Rice flour pancakes, Paneer Manchurian,Rajma burgers, Broccoli samosa, Channa Dal Subway sandwich, Cornflour jalebis, Baby Corn Pakodas, Couscous Koshimbir with Tadka…I am just getting some ideas here…– so think food with a twist,fusion food – and those cooked with a crossover ingredient.
Let your imagination run wild, and send in your entries linking them to the Linky tool at the end of this post. Food can be of any cuisine across courses. But only eggless and vegetarian recipes please.
A small recap on how you can send your entries:
1) Link all entries using the Linky Tool here.
2) Upto 2 old recipes reposted and linked to the event announcement allowed.
3) Mandatory use of Logo in your post
4) Both old and new entries need to be linked to this event announcement Link : Desi-Videsi Food Fest @ Sizzling Tastebuds
5) Last date for entries : Aug 31st
6) Non bloggers can send their entries to [email protected]
Let the imaginations and wild combos begin. Wishing all my readers a very happy festive season ahead !! Look forward to your wonderful and lip smacking entriesJ
Cheers
Kalyani