Ah ! The joys of eating… brings forth so many memories. And Aloo Tikki – Choley is quintessentially Chandini Chowk, in
Old Delhi. Simmering in oil on glistening tavas (skillets), the narrow lanes of
Chandni Chowk are a gastronomical delight come alive. Although I have visited
that place just once, the memories linger on, and I keep making plans to visit
that place sometime when Delhi is a lot more pleasant (Oct – Feb types). Alas,
the plans keep withering down, but given a chance , I would dash to this place
to bite into succulent chaats and fiery parathas that give a run for your money
and tickle your palates endlessly too !
And thus spoke the foodie in me.
Chaats evoke that feeling that no other food cant. And for potato lovers, this
is heaven come alive. Crisp, spicy on the outside and soft and succulent on the
inside , these tikkis are shallow fried and served with varying chutneys
(sauces) on top and drizzled with lemon juice and chat masala. Sure to be a hit
with the kids and adults alike at any party, this goes to BM # 27 under
"Birthday Party Ideas" theme. Suited for potlucks too. Let's get
going then…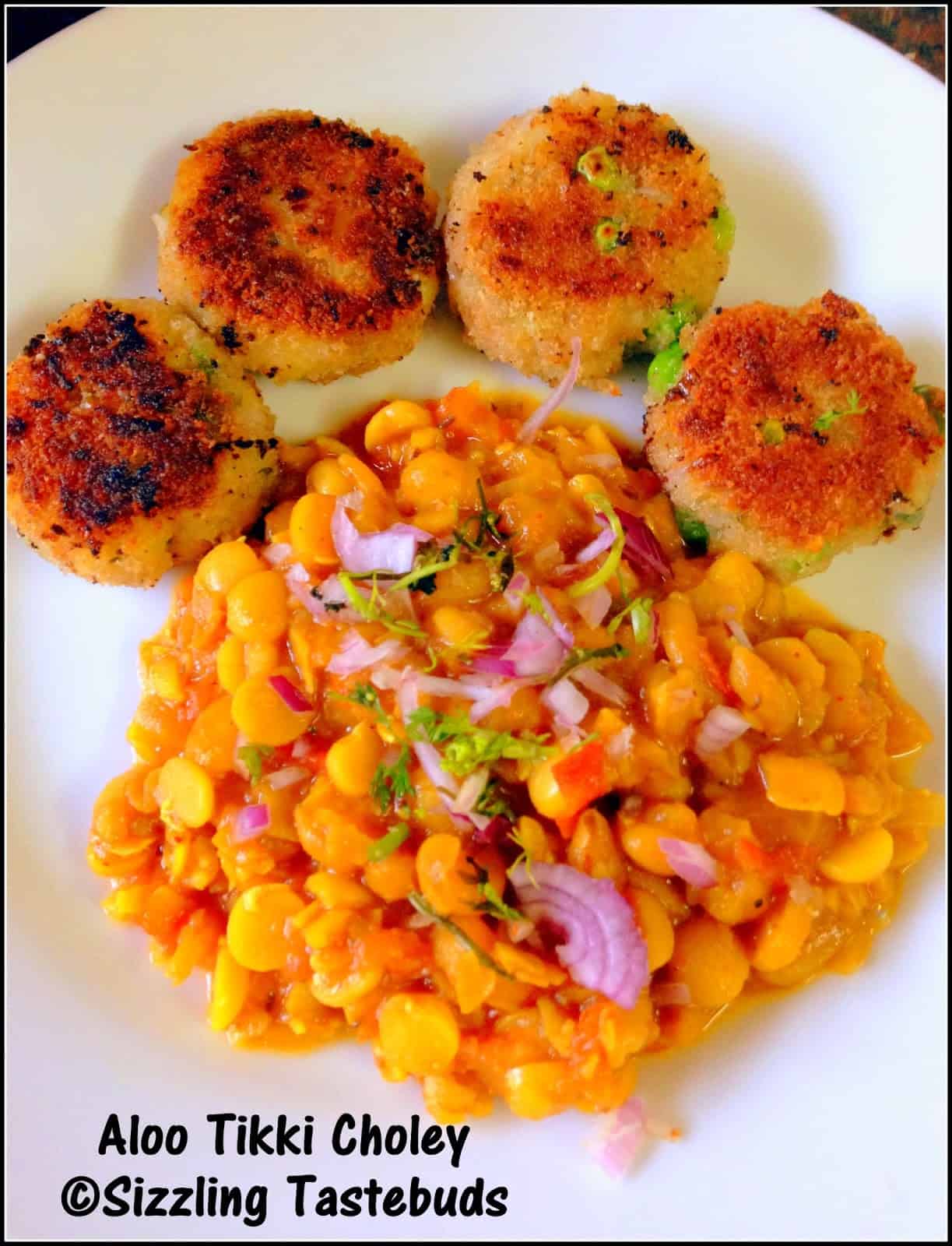 Pin

Tikkis : 1/2 hour prep time + 1/2 hour
fry time;

Choley : 8 – 10 hours soaking, 1/2
hour + 15 mins – cook time

Serves : 6

Spice level : Medium

Spicy Potato Patties
served with White Peas Gravy

Ingredients:

Choley :

Dry peas – 2 cups

Oil – 4 tsp

Soda – 1/2 tsp

Tomato – 4 ripe – pureed

Onions – 2 large – minced

Salt – to taste

Ginger Garlic Paste – 1 TBSP

Minced Green Chillies – 1/2 TBSP

Dry Masalas:

Garam Masala Powder – 2 TBSP

Red Chilli powder – 1 TBSP

Turmeric Powder – 1/2 TBSP

Kitchen King Masala – 1/2 TBSP

Amchur / Dry Mango Powder – 1/2 TBSP

Dry Anardana Powder – 1/2 tsp

Coriander powder / Dhania powder – 2
TBSP

Clove powder – 1/2 tsp

For the Tikki:

Potatoes – 3/4 kg – boiled , peeled
and grated

Boiled Peas – 1/4 cup

Onions – 2 large, minced

Bread Crumbs – 1/4 cup

Salt – to taste

Green chillies – 2 or 3 – chopped fine

Cashews – 4 to5 – broken into
bits

Oil – to shallow fry

Turmeric – 1/2 tsp

red chilli powder, Garam Masala powder
– each 1 TBSP

Coriander leaves

For Topping:

Coriander leaves

Sev / Ompudi

Lemon juice

Minced Onions

Green Chutney

Tamarind dates Chutney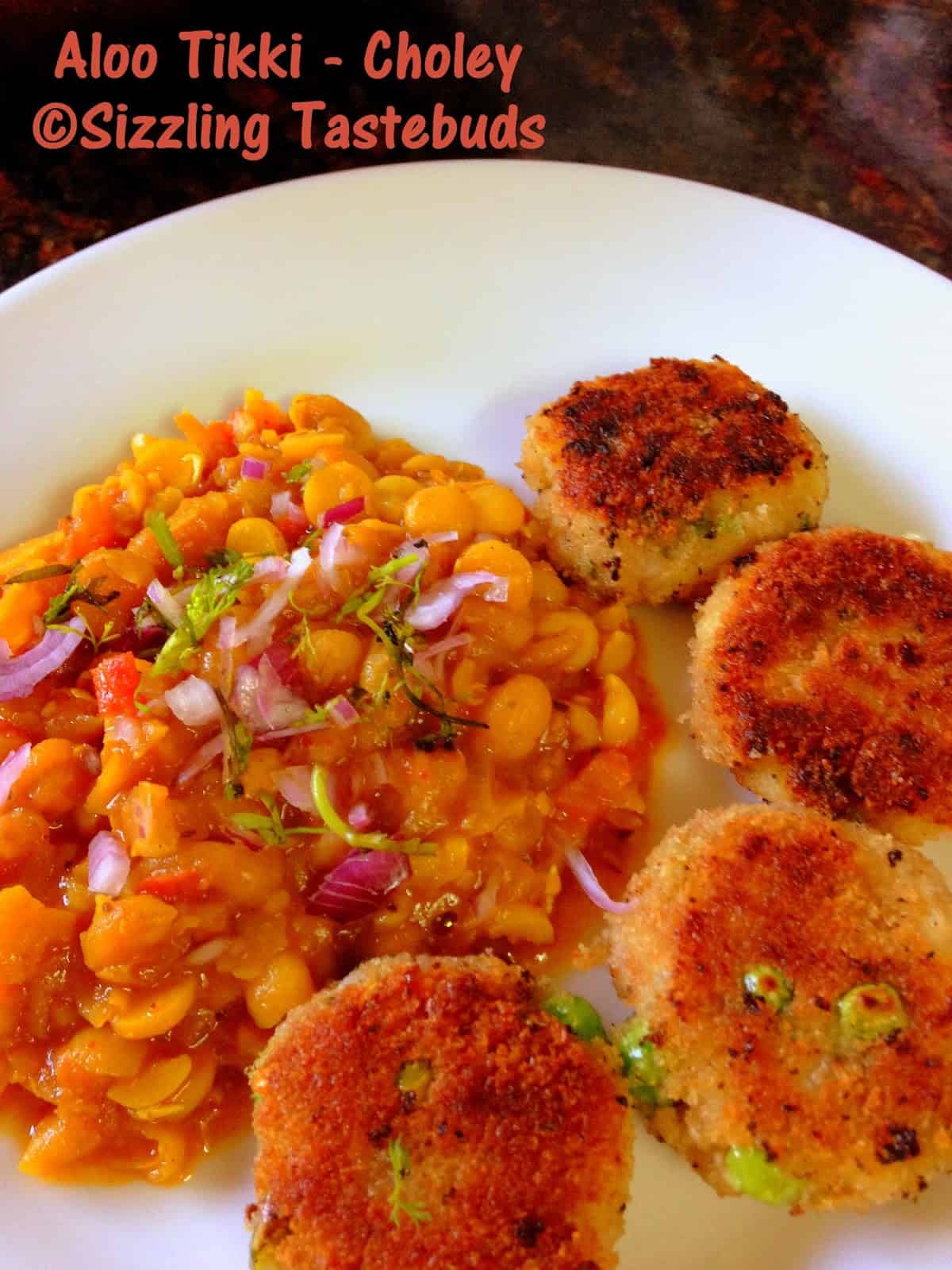 Pin

Method:

(A) For Choley :

Soak white peas overnight. Pressure
cook with little salt and soda for 6-8 whistles or till soft and slightly
mushy. Once cooked, drain the water and reserve.

In the pan, heat oil. Fry Onions till
translucent. Add ginger Garlic paste, chillies, and saute till raw smell
disappears. Now add the tomato puree (For the puree – run the chopped tomatoes
in a liquidiser and strain to remove the seeds) and saute till oil leaves the
sides. Now add turmeric, boiled white peas and the dry masala powders.

Mix well and cook covered for 8 – 10
mins till a nice thick gravy is formed, Add in the reserved water from the
cooked peas if required. If the gravy turns to be too runny, grind a handful of
cooked peas and add it back to the gravy till the required consistency is
obtained. Transfer to serving bowl.

(B) For Tikki:

Grate the peeled and boiled potatoes
into a large bowl.Add all other ingredients except oil. Divide into equal portions
and make small tikkis. Refrigerate for 1/2 hour. Just before serving, shallow
fry them in oil.

Serve hot topped with lemon juice, chutneys, chopped onions along with
Ragda or Chole. Enjoy 🙂