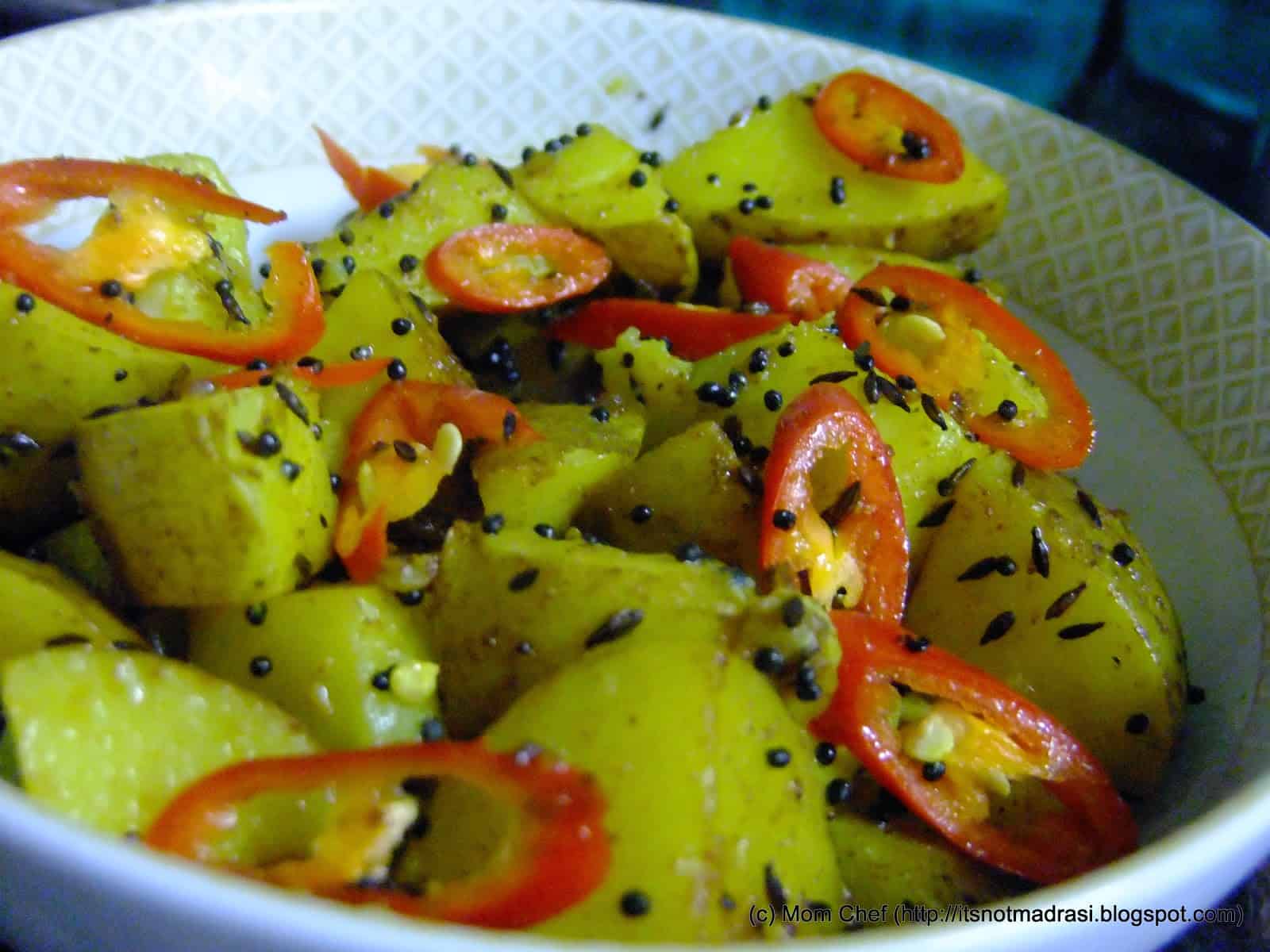 Pin                                            

Potato – the all time comfort food : Wafers,french fries,patties, Batata wada, Burger, Pav Bhaji -all of these popular Indian dishes contain Potato as the major ingredient. The potato originated in the region of southern Peru. Potatoes were first introduced outside the Andes region four centuries ago, and have become an integral part of much of the world's cuisine. It is the world's fourth-largest food crop, following rice, wheat, and maize.

Following the Spanish conquest of the Inca Empire, the Spanish introduced the potato to Europe in the second half of the 16th century. The staple was subsequently conveyed by European mariners to territories and ports throughout the world. The potato was slow to be adopted by distrustful European farmers, but soon enough it became an important food staple and field crop that played a major role in the European 19th century population boom. The annual diet of an average global citizen in the first decade of the 21st century included about 33 kg (73 lb) of potato. However, the local importance of potato is extremely variable and rapidly changing. Not surprisingly, I read somewhere that Indian cooking has some 1000+ dishes that use Potatoes. In terms of nutrition, the potato is best known for its carbohydrate content (approximately 26 grams in a medium potato). The predominant form of this carbohydrate is starch.

Now back to today's dish – Chilly Potato Stir fry. I had a bag of redBhavnagarichillies lying in my refrigerator and I thought I would use them for the stir fry instead of the usual chilly powder or even using green chillies. This dish is quick to make and can be made in under 20 mins and uses very little oil.

Sending this to Charitha's "C for Colourful Curry's event"

Preparation : 10 mins. Cooking : 10 mins

Serves : 4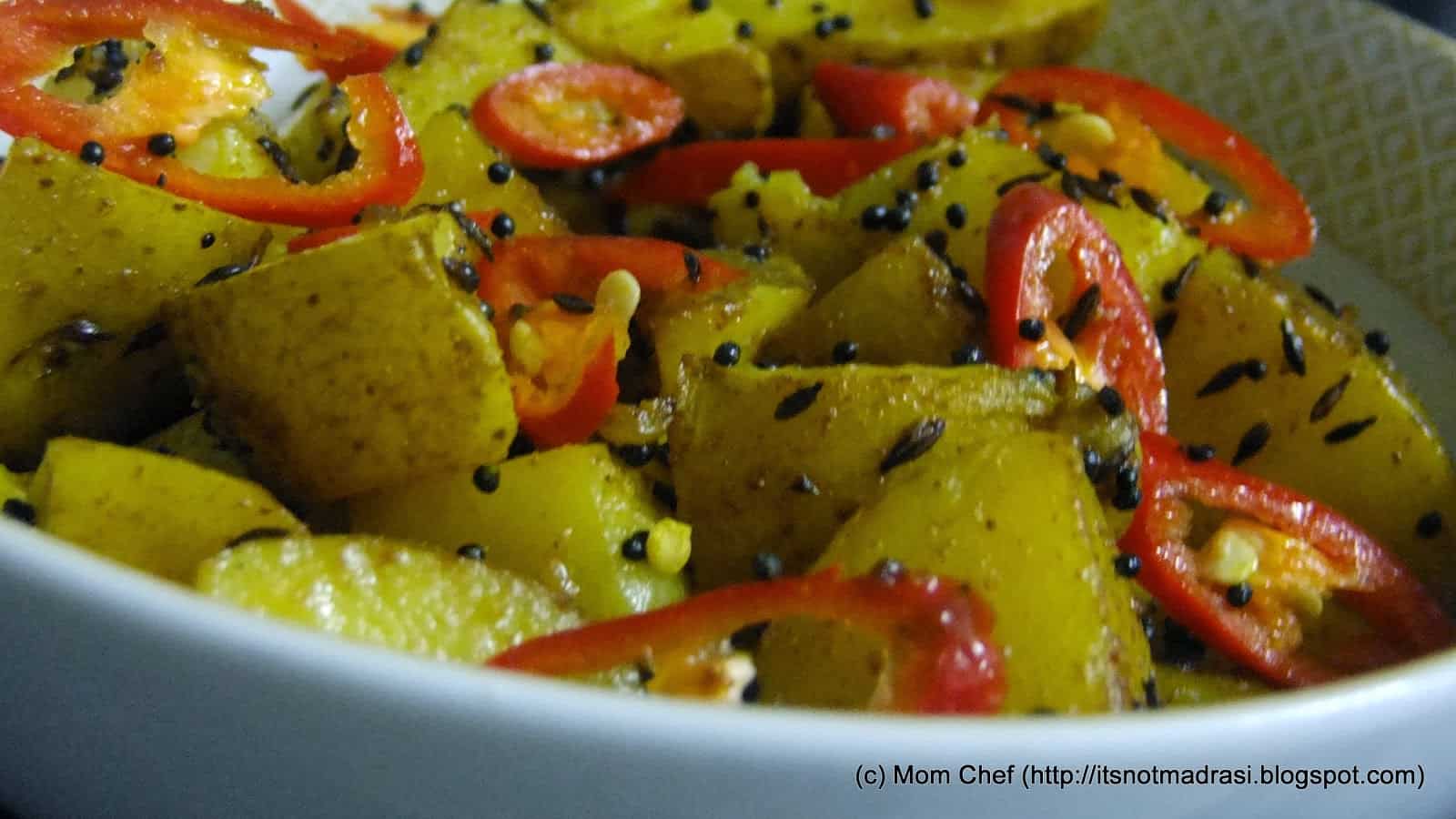 PinIngredients:                                     
Potatoes – 1/2 kg
Oil – 2 tbsp
Mustard seeds  – 1 tsp
Jeera / Cumin – 1 tsp
Sliced Red chillies – 4 or 5
Curry leaves – few
Turmeric – 1/2 tsp
Salt – to taste
Lemon juice – 1 tsp (optional)
Method:
In a microwave, boil diced potatoes in 10 minutes in slightly salted water till done. Drain.
In a skillet, add oil and splutter curry leaves, mustard and cumin.
Add turmeric and the sliced red chillies. Toss
Now add salt, the boiled potatoes and toss again.
Add a dash of lemon juice, transfer to a serving dish and serve hot.
Tips:
a) Use the potatoes with the skin on to retain maximum nutrients
b) If you choose, cut the potatoes into french fries like shapes – am sure it would be a great hit with your kids.
c) Bhavnagari chillies are generally low on 'scoville (spice/ heat) scale, and can be also used as an independent curry with stuffed potatoes too 🙂