Making Chakkarai Pongal is like competing in a marathon everytime. No matter how much the preparation, the end result is something you crave for from memory – a prasadam had on a banana leaf / donnai at a temple, your grandmom's or mom's kaimanam that you desperately try to recreate.S's relating his grandmom's taste only added to the apprehension as you head off to the kitchen to make the Chakkarai Pongal – the modern way (using the Pressure cooker).
You silently say a prayer that it comes close to what you last remember (forget the other people's memories associated with it – it only increases your pulse).. But after all that, am I pleased as punch or what ? My version ofChakkarai Pongal / Sarkarai Pongal / Sweet pongalcame out very well and along with Ven Pongal, MedhuVadai, Mor Kozhambu, Beans-Carrot curry , the menu was a complete festive treat. Even kiddo complemented me on the efforts and licked clean her fingers and asked me to make this for her lunch box sometime..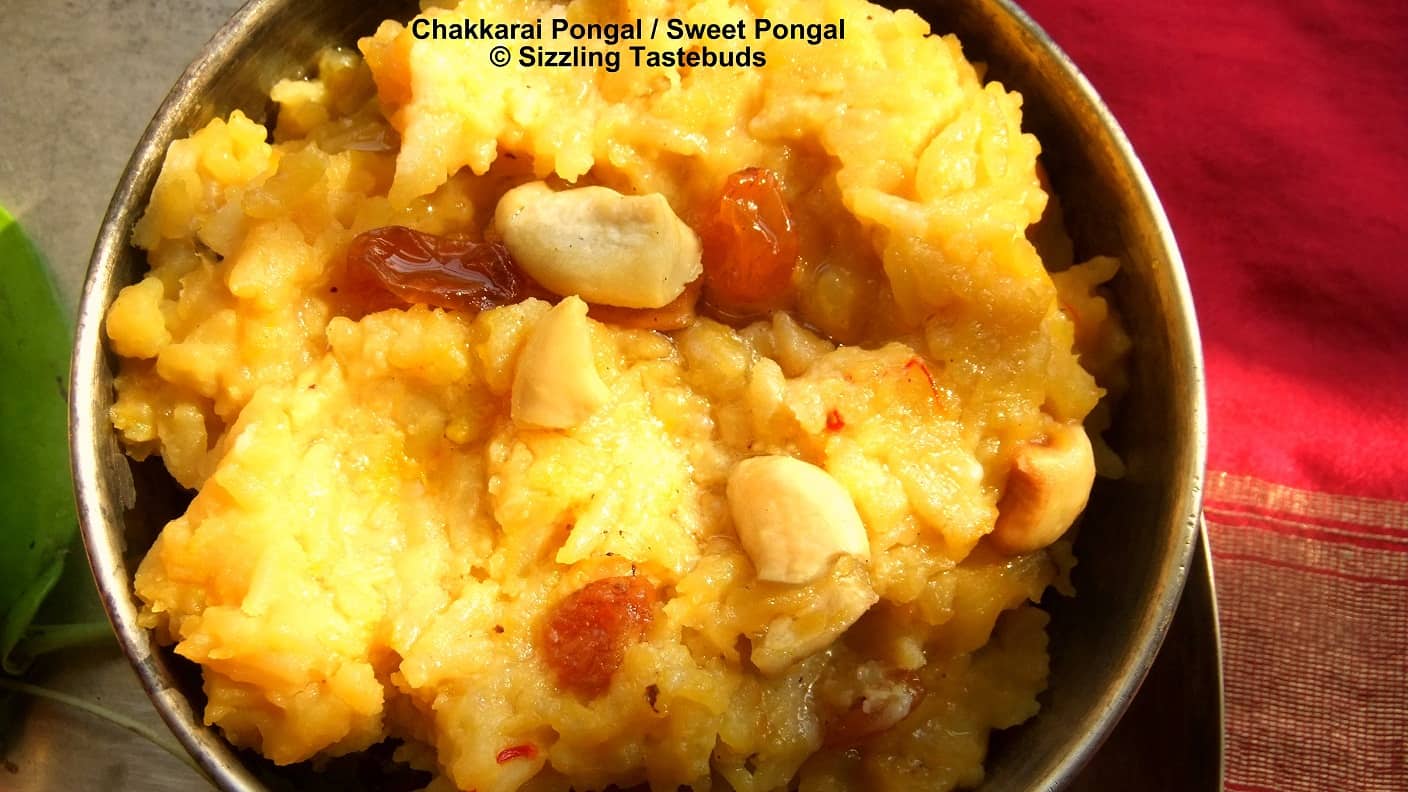 Pin

This goes toRadhika'sLet's Cook – Rice &Gayathri's Walk through Memory Lane

Now off to the recipe…

Prep time : 15 mins. Cook time :20 mins

Serves : 4

Ingredients:
Raw rice (short grained) – 1 cup

Moong Dal – ¾ cup

Jaggery – 1 ½ cup

Milk – ½ cup

Ghee – 5 TBSP (don't scrimp)

Cashew & Raisins – a little

Cardamom powder – ½ tsp

Grated Nutmeg & Salt- a teeny weeny pinch each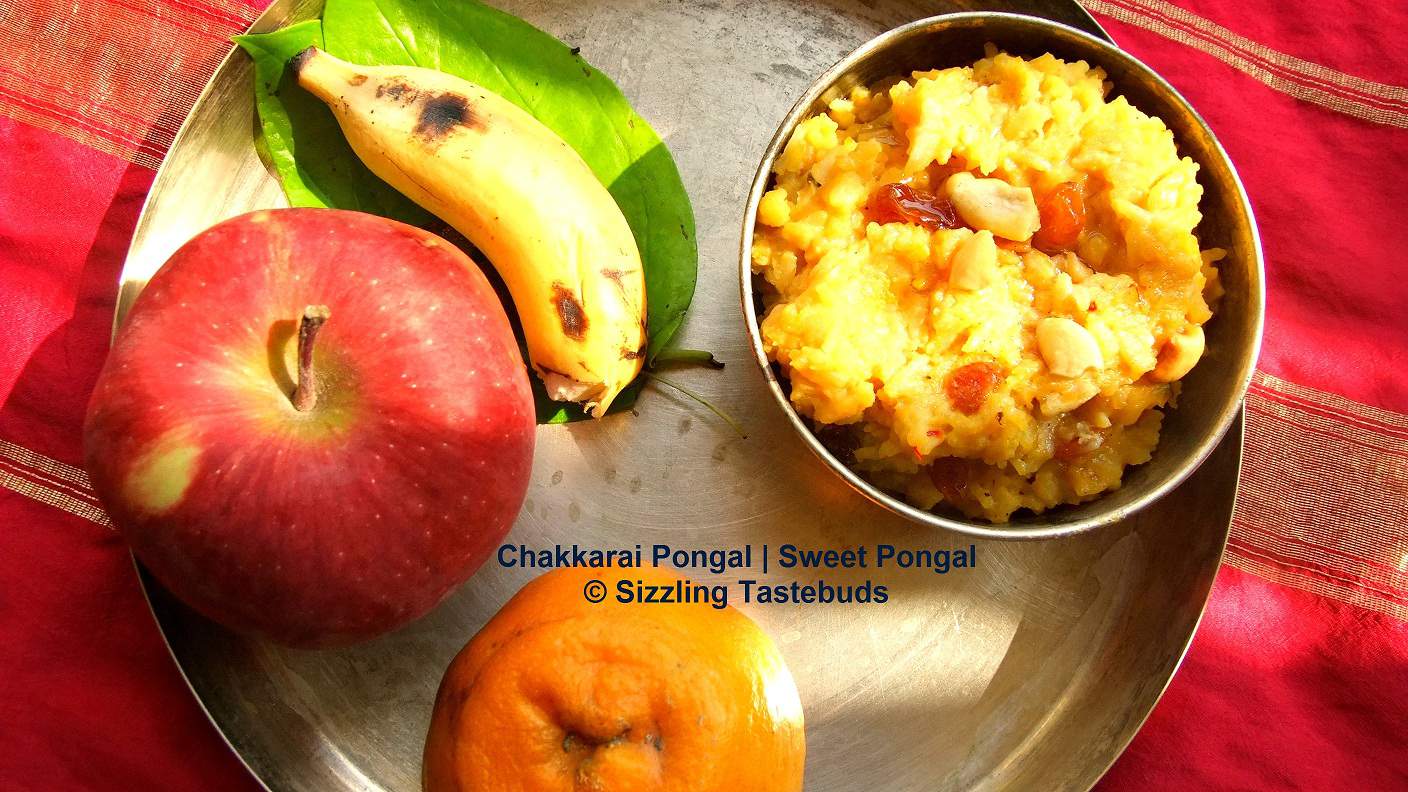 Pin

Method:

Fry the moong dal in 1 tsp of moong dal till it turns golden brown

Mix the fried moong dal, washed & drained rice. Add 2 cups of water, salt, milk and soak for 20 mins.

Cook for 3 whistles and cool gradually. Remove and mash lightly. Add 2 tsp of milk / water if required.

Meanwhile, in a deep bottomed pan, mix the jaggery in very minimal water (just enough to immerse the jaggery). Heat on slow heat till the jaggery dissolves and syrup begins to boil with a lot of small bubbles. Check for one string consistency.

Cool the syrup thoroughly.

Fry cashew and raisins in ½ tsp of ghee. Reserve.

In a non stick deep bottomed pan, heat remaining 4 TBSP of ghee. Add the cooked rice and mix well. Add ¼ of milk (if required) and the syrup . Mix well. On very low heat simmer with lid open for 10 mins.

Add the grated nutmeg, cardamom powder and mix well.

Top with fried cashew and raisins.

Yummy Chakkarai Pongal is ready for naivedyam.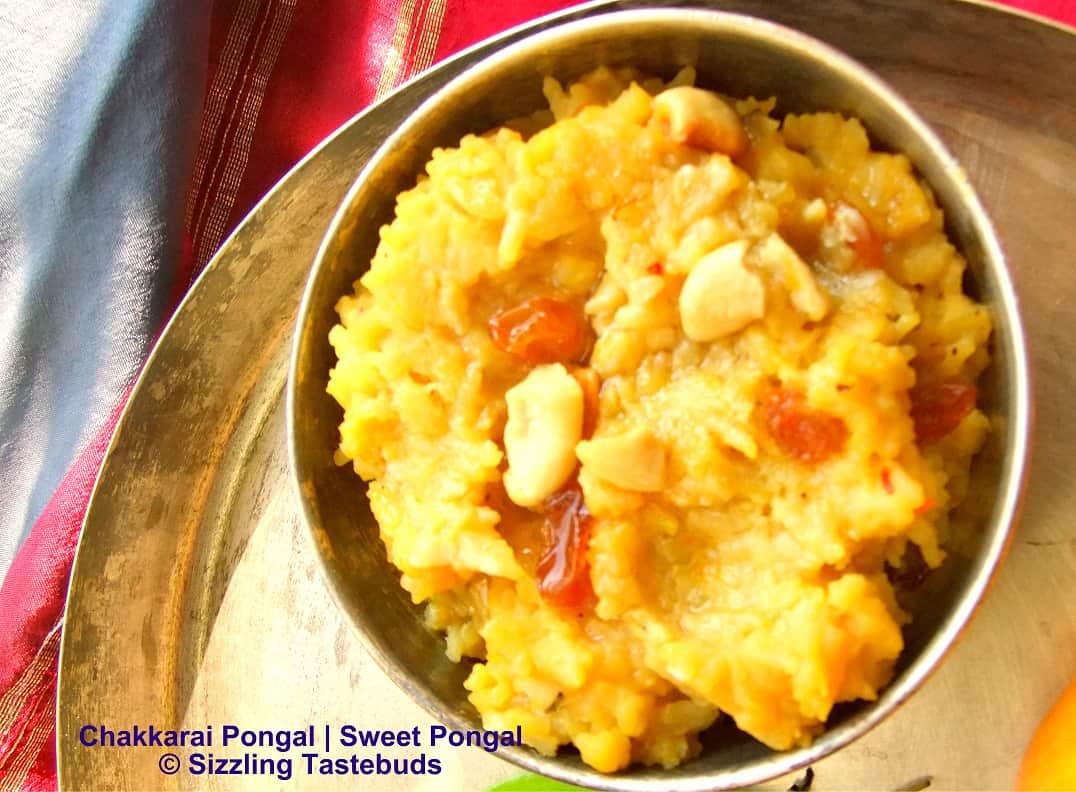 Pin