Making Kulcha and other Indian breads that we often enjoyed at restaurants often eluded me at home. While I thought it was next to impossible to make them without an oven, I never ventured towards it quite so confidently. Till one day my little one asked me why I could not make kulchas (one of her fav breads) to go with our weekly schedule of Sunday Paneer Dishes. I knew I had to learn it fast, and Radhika's recipehelped me quite a bit, as did Nithya's. I combined both the methods not fully sure how the output would be… But the Butter Kulcha turned out to be super soft and delicious to go with Paneer Matar. I was quite let down by the bad light in the pictures, for my SLR gave way, and I had to make do with a P&S in low light (evening fading light). But the taste more than made up for it.. Am planning to make this again and update this post with better pictures 🙂
Check notes for more tips on this dish.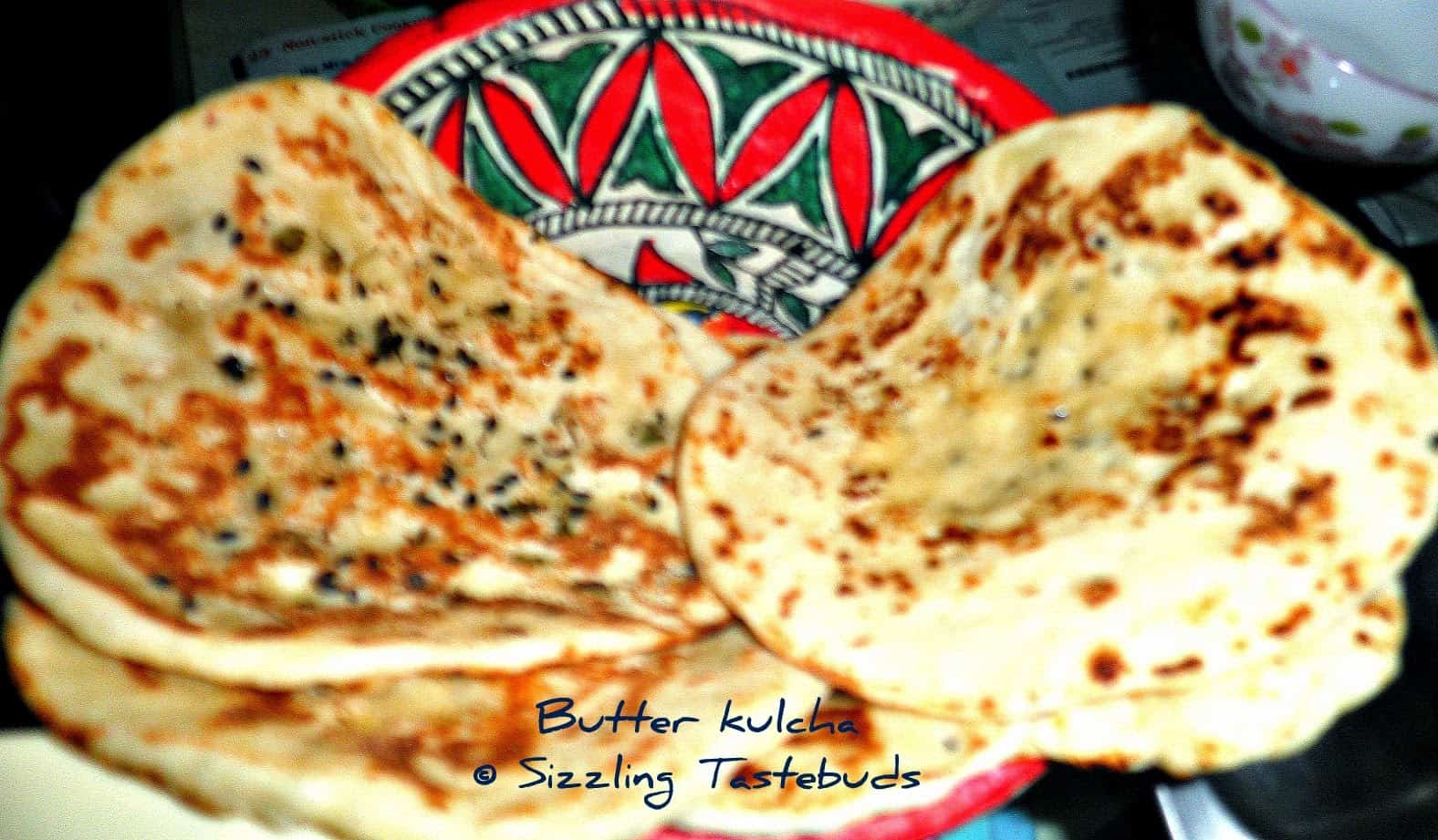 Pin

Sending this to Radhika's Winter Mela, PJ's Back to Basics – breads, event by Jaya. Now off to the recipe..

Notes:

1) 2 1/2 cups of APF makes about 12 medium sized kulchas. I didnt leaven it too much as I wanted to make this on the stove top

2) You may use butter to top them once done for extra fluffiness. But whether using stove top or oven, make sure to wrap the kulchas in a dry soft muslin cloth lined air tight box to preserve the softness till dinner / lunch time. I made these 45 mins prior to our dinner time at around 7:30 pm, and they were supersoft till we commenced our dinner. I am told wrapping them in foil is not that effective at all.

Prep time : 20 mins. Rising time : 1- 2 hours (min). Makes : 12 medium sized kulchas.

Ingredients:
Maida / APF – 2 1/2 cups
Curd – 2 TBSP
Yeast – 1 TBSP
Sugar – 1 TBSP
Olive Oil – 4 TBSP
Salt – 1/2 tsp
Warm milk – 1/2 cup
Warm water – 1/2 cup
Baking Soda – 1 tsp
Kulcha topping:
Sesame seeds – 1 TBSP
Coriander leaves – a handful – chopped
Melted butter – 1 TBSP
Method:
1) In a glass bowl, take the warm water and add yeast to it. Dissolve it completely. Now add sugar to it, and cover it with cling wrap and leave it intouched to proof. Takes approx 20 mins in warm / hot climates.
2) Meanwhile, in another large bowl, sift maida, salt, soda twice over.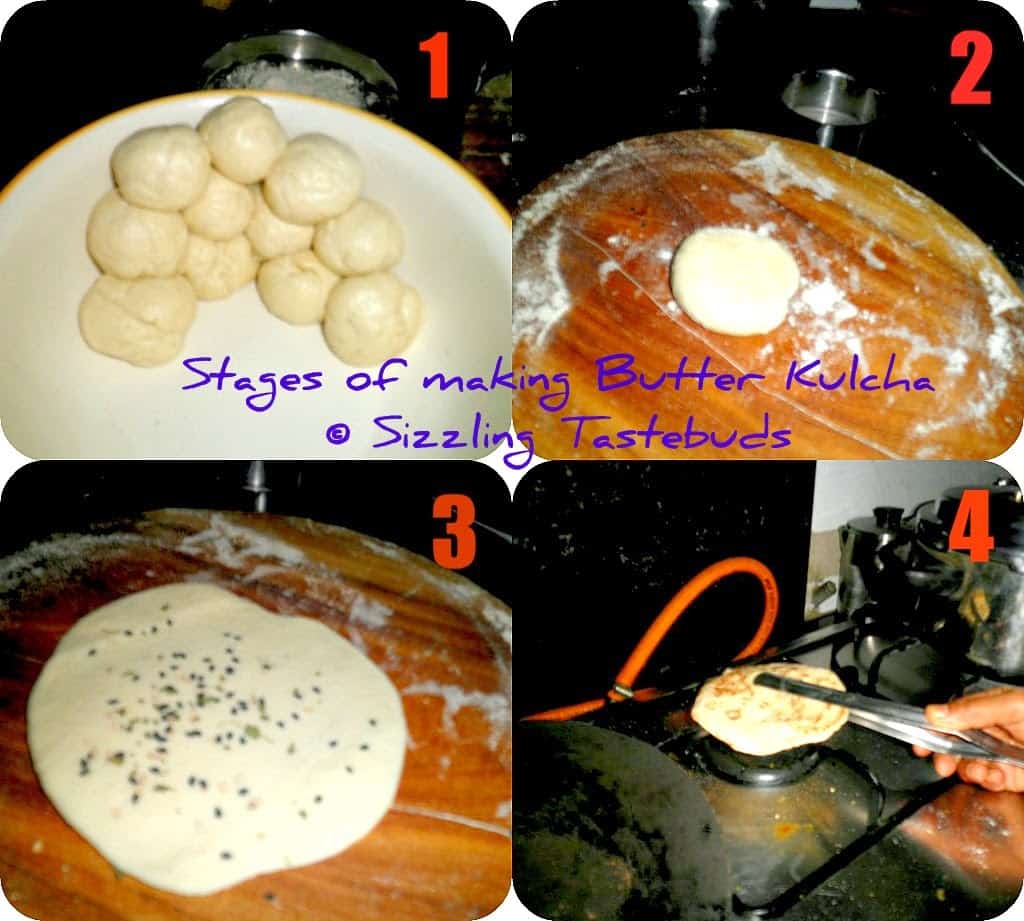 Pin3) Make a well in the flour, add the proofed yeast, yoghurt and half the oil and leave it for 5 – 7 minutes.

4) Now slowly knead the dough. Add milk little by little to make a soft dough. If the dough is too sticky, add oil and knead well for 10 minutes. Cover with a damp kitchen towel and leave untouched for 2 hours or more till the dough doubles.

5) Once the dough is doubled, make equal sized portions of it.

6) Put the tava on medium heat.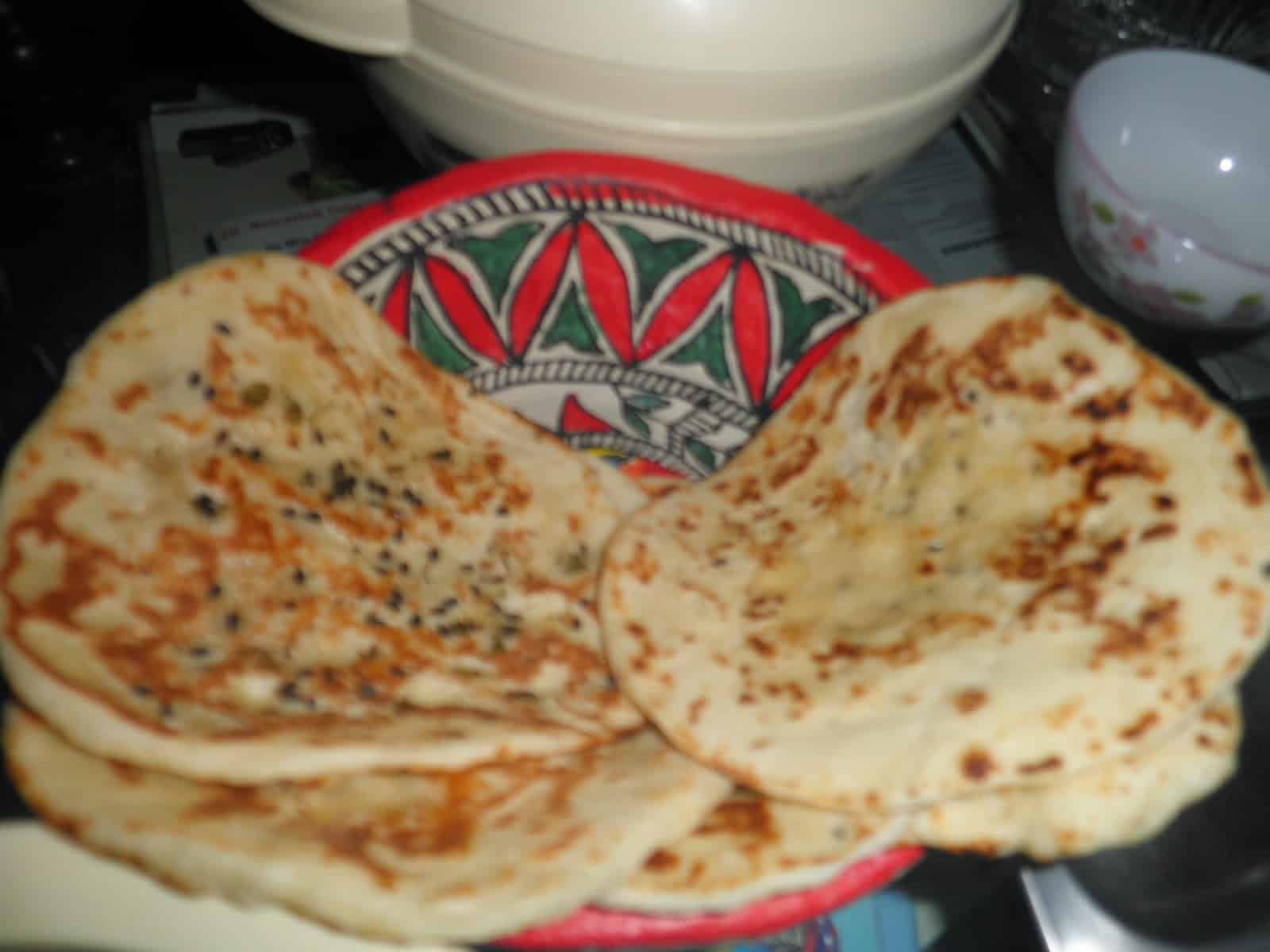 Pin
7) Take one small dough ball, and using flour liberally, roll out into a small circle of 4 inch diameter. Now add the chopped coriander and sesame seeds (you can use either black or white, i had black sesame on hand, so used it). and roll it further till you get a medium sized kulcha. The original recipes called for pulling it to a tear shaped bread, but rolling out seemed easy to me 🙂
8) Apply a little water on the non-topping side of the bread and put the wet side on to the tava. Cook covered for 30 secs – 1 min til a few bubbles appear on the top. Now, immediately flip the top portion on to a an open flame (small burner) and let it puff a little bit.
9) Store immediately in a muslin cloth lined box. Repeat with the remaining dough. Top with melted butter & cnjoy hot soft kulchas with Paneer Matar or any gravybased side dish !!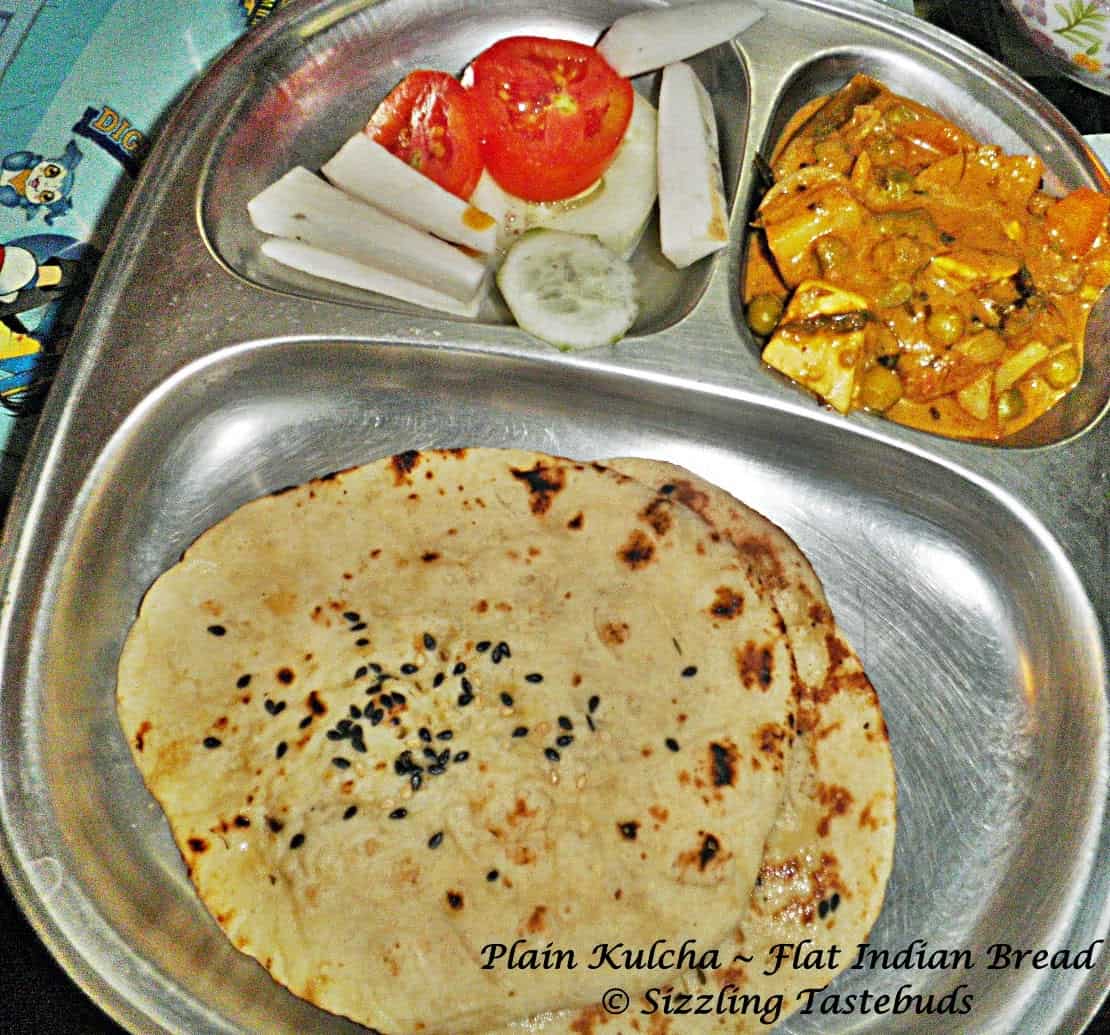 Pin