Salad and summers go hand in hand. Although technically , as I write this post its raining heavily since 2 days where I live. But its summer the rest of the Northern Hemisphere and barbecue and roasted veggies and salads make their appearance. And dishes like this Watermelon Cucumber Salsa and this Citrus Burst Salad making their appearance regularly.
Salads at home are mostly rustled and liked by the better half and I Personally love warm salads like today's Barley Summer Salad with Roasted Veggies. The inspiration to use barley as a diabetic friendly ingredient actually came from my friend Archana's Barley Bhelpuri. Apart from the usual Barley Water , Barley Sattu Sherbet (Summer Drink). Navdhanya (9 – grains) Adai, the Barley-Beet Cutlet on my Instagram feed and Barley Dosa (recipe coming soon!), we pretty much dont use Barley that much – something I am glad that has changed now.
But thanks to a pack that needed using up, I made this salad and another dish that features barley as a star ingredient. Barley as a grain has amazing health benefits as listed here, chief amongst them being diabetic friendly. Barley packs lignans, a group of antioxidants linked to a lower risk of cancer and heart disease. Barley's high fibre content may also help prevent gallstones
If you have cooked pearl barley on hand, this salad takes less than 5-10 mins from start to finish.
TIP: Reserve that cooked water to make a porridge. Or just drink it up as is in small quantities to beat the heat), As this was my main meal, I have used a larger quantity and medium spice. One can always add or subtract ingredients as preferred. 
PIN FOR LATER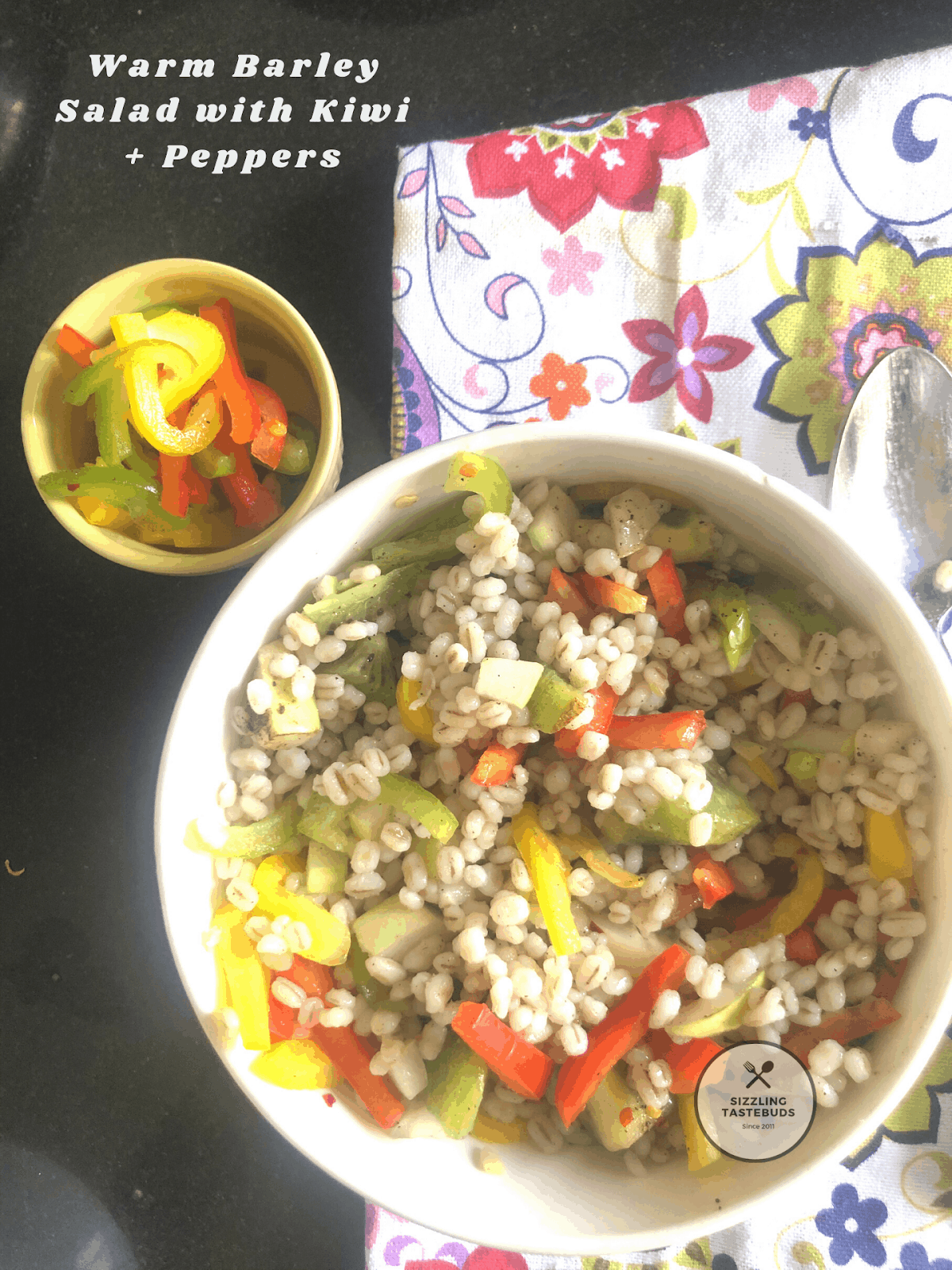 Prep time – 10 mins, Soak + Cook time – overnight + 15 mins. Serves – 1~2
You need:
Cooked Pearl Barley – 1/2 cup (120 ml)
Vinaigrette – lemon juice 1 tsp, Salt.pepper, Red chilli flakes, Olive Oil 1 tsp – whisked well
Bell peppers – 1/4 cup
Onions – 1/2 medium (sliced thin)
Cucumbers – 2 TBSP
Kiwi (orchard fruits like pear / Apples work well) – 4 TBSP
I put together a short stop-motion video below with help from my daughter to assemble this quick and delicious salad. Hope you would also like this!
How to:
In a non stick pan or on an open flame, roast peppers till slightly charred. (or toss them with warm olive oil for 1-2 mins). Cool and chop into bite sized pieces.
In a bowl, add the vinaigrette and the veggies. Mix well.
Add the tossed peppers . kiwi and barley and stir once again
Check for salt and pepper / spice. Serve immediately along side any grilled meats or serve as a meal by itself on a hot summer day!