If asked the question "What's your favourite TV snack?", I bet that 95% of people around the world would answer "Potato Chips." The brands might vary, might even be home made sometimes, but as a popular wafer brand's tagline goes "You just can't eat one" 🙂 So, even as I was wondering what to make for BM's kids' food, this recipe that I had bookmarked came handy. And forget kids, even we adults munched on these delights (so much so I had to make a second batch just for the pics).  
And kiddo made it very clear she wasnt gonna wait for long, so no food styling here 🙂 But this low cal and baked version of this popular wafer (or chips) – Baked Potato Wafers – got finished promptly before I could say "cheese". That reminds me to let you know it tasted great with homemade low fat sour cream dip (recipe coming soon!!).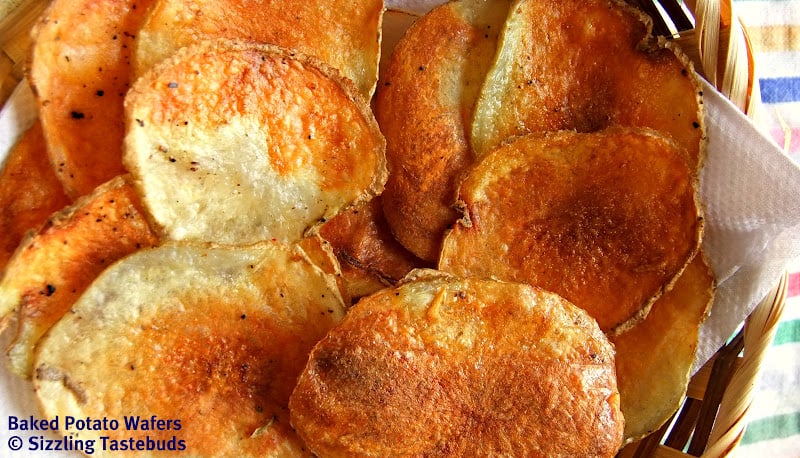 Pin

Sending this meanwhile to BM # 14, event hsoted my blog –  Bake Fest & Srav's Vegan Diet, Rasya's I am the star & Sobha's Just 4 Fun 🙂 Check out the Fellow Marathoners doing BM # 14 here.

Source: Here 

Prep time – 10 mins

Baking time – 18 mins (per batch)

Makes – Approx 150 gms of wafers

Ingredients:
Potatoes – big sized – 350 gms (about 2 or 3 large Russet Potatoes)
Olive Oil – 4 TBSP
Salt – to taste
Red Chilli powder / Black pepper powder – to taste
Asafoetida – a pinch (this is to counter any flatulence caused by the potatoes)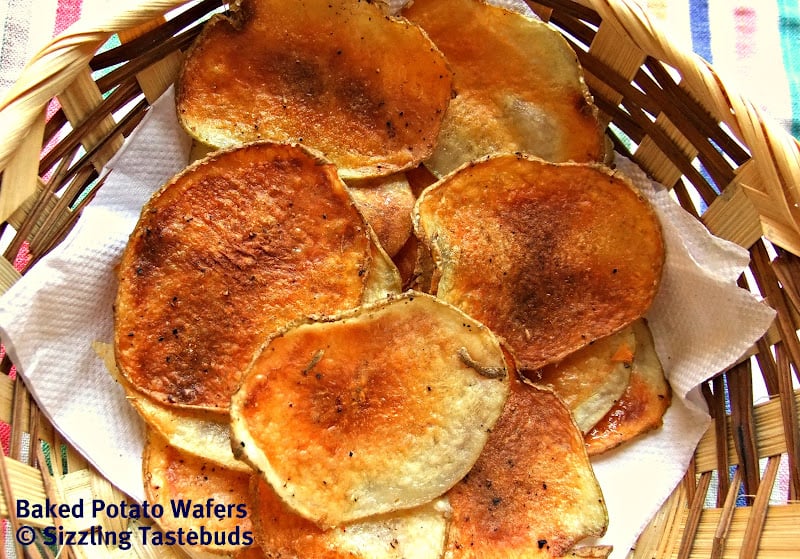 Pin

Method:

1) Wash and scrub the potatoes. Using a mandolin slicer, slice them into thickish roundels (Tip : All slices should be of uniform thickness and size to bake evenly). Dab the slices gently with some kitchen towels / tissue to absorb the superficial moisture.

2) In a large bowl, lay the slices. Apply salt, chilli or pepper powder and oil to the slices and gently give them a rub with your fingers ensuring they dont break. Now sprinkle asafoetida and toss them lightly

3) Meanwhile preheat oven to 200C  / 400 F. Line a baking sheet and spray some oil on the foil. Lay the wafers in a single layer.

4) Bake for 12 – 14 mins till they get crisp. Keep an eye after the 12th minute to prevent browning.

5) Remove from the tray gently after done and repeat another batch till the potatoes are exhausted (Tip : If you are not baking two batches simulataneously, then apply salt to each batch separately just before baking. Else you would end up with soggy wafers).

6) Eat warm and store the rest (if any remain) in an airtight container.