Patties. Tikkis. Cutlets. Kebabs. All interchangeably used, albeit with minor variations but nevertheless palate tickling stuff. I find Tikkis very versatile and reasonably easy to feed my kid with veggies that she wouldnt touch otherwise with a barge pole ! But Paneer !! Ah… thats a totally different story – the princess would eat Paneer everyday without a whimper, and quite likes the texture it imparts – be it in Paneer Gulab Jamun, Palak Paneer, Paneer Tikka Frankie or a Paratha.
By now, I must have all you Paneer lovers out there salivating right? If so, I bet you would love today's post with Paneer and Corn in a delectable tikki – so soft on the inside , almost like silk, and crusty on the outside (well, the paneer- loving genes passed to kiddo from me :D)… Quick to make, its a thorough party pleaser too as you can make the patties well in advance, and just bake them before serving. Do try this out and let me know how you and your family liked it..
Linking this to Blogging Marathon #37 and Baked Treats for Kids, hosted by PJ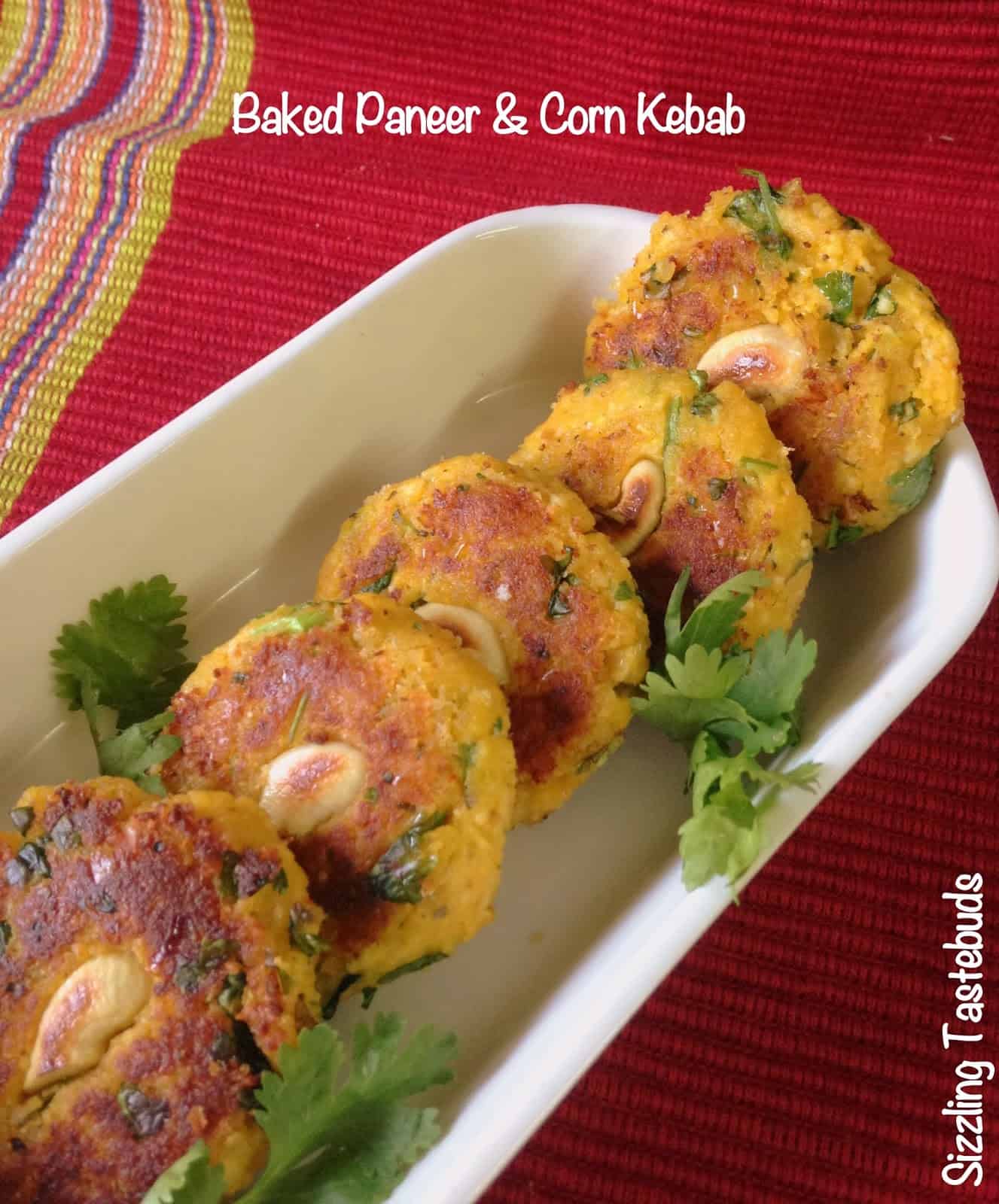 Pin

Prep time : 20 mins | Bake time : 15 mins | Makes : 12 medium sized Tikkis
Spice Level : Medium
Difficulty level : Easy
Ingredients:
Panner – 100 gms*
Corn Kernels – 1/4 cup* (* I used frozen Corn and Panner, but fresh works as well)
Grated Carrots – 3 TBSP
Salt – to taste
oil – to bake
Fresh Coriander – 3 TBSP – finely chopped
Raisins – a handful
Cashews – a handful
Bread crumbs – 1/4 cup (divided use)
Turmeric – 1/2 tsp
Green chillies – chopped finely – 1 tsp
Dry masalas:
Amchur – 1/2 tsp
Red chilli powder – 1 TBSP
Kitchen King Masala -1/2 TBSP
Kasoori Methi – 2 tsp (crushed)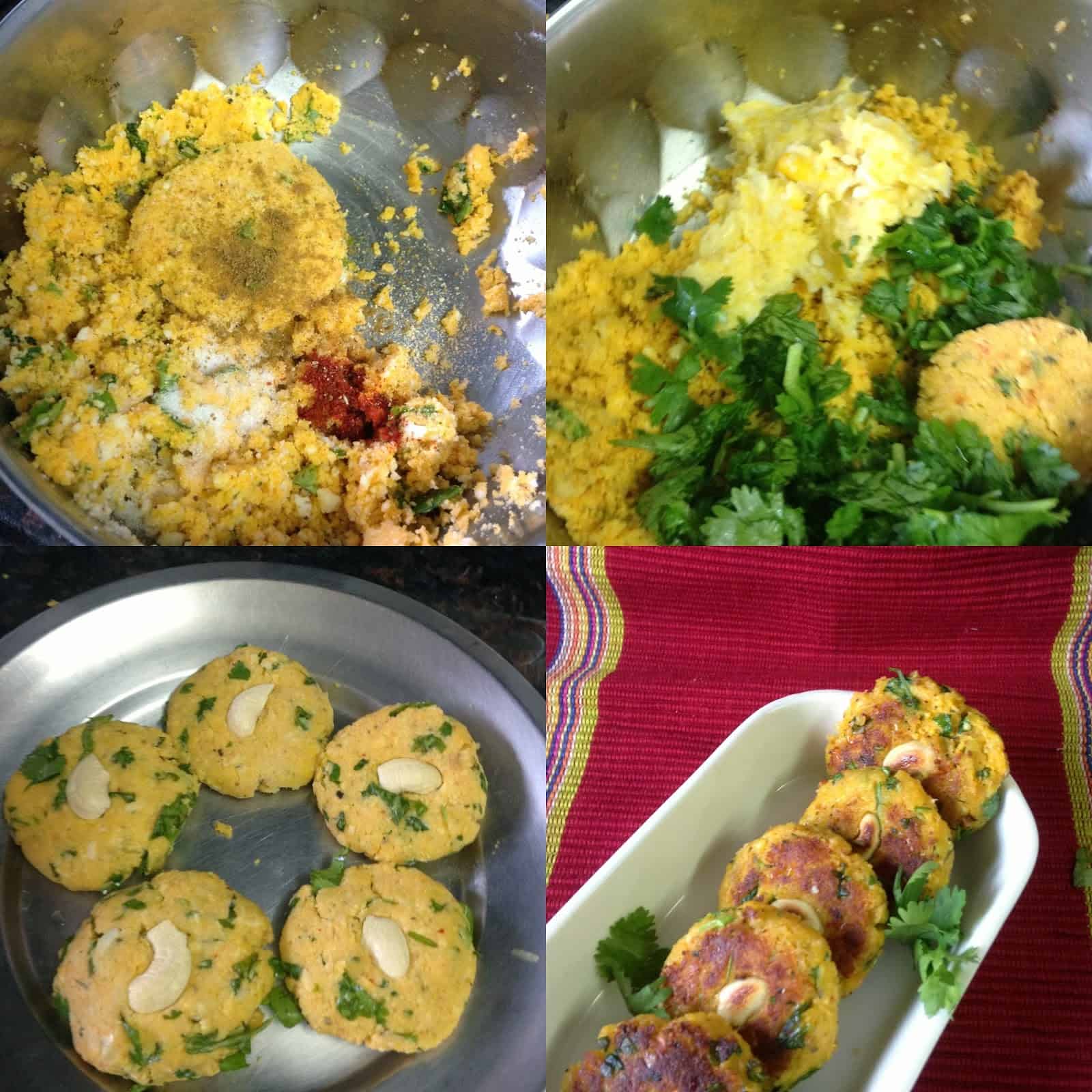 Pin
Method:
Thaw frozen corn for 10 mins and blitz it in a mixer till its powdery, but not pasty. If you are using fresh corn, the process is the same.
If using fresh Paneer, crumble it slightly till it resembles bread crumbs. As I was using frozen, i brought it to room temperature and slightly blitzed it again like the corn separately.
In a large bowl, add all the above ingredients except salt and cashews. Divide into equal sized portions and flatten out like kebabs or tikkis. Press half a cashew (broken lengthwise) on each of the kebabs
Cling wrap them and refrigerate for 25-30 mins.
Meanwhile preheat oven to 160 Deg C for 10 mins
Arrange the kebabs over a greased / lined tray. Spray little oil on top and bake for 12-15 mins till both sides are crusty brown. Rest on a wired rack for few minutes.
Serve with Green Coriander chutney, lemon wedges.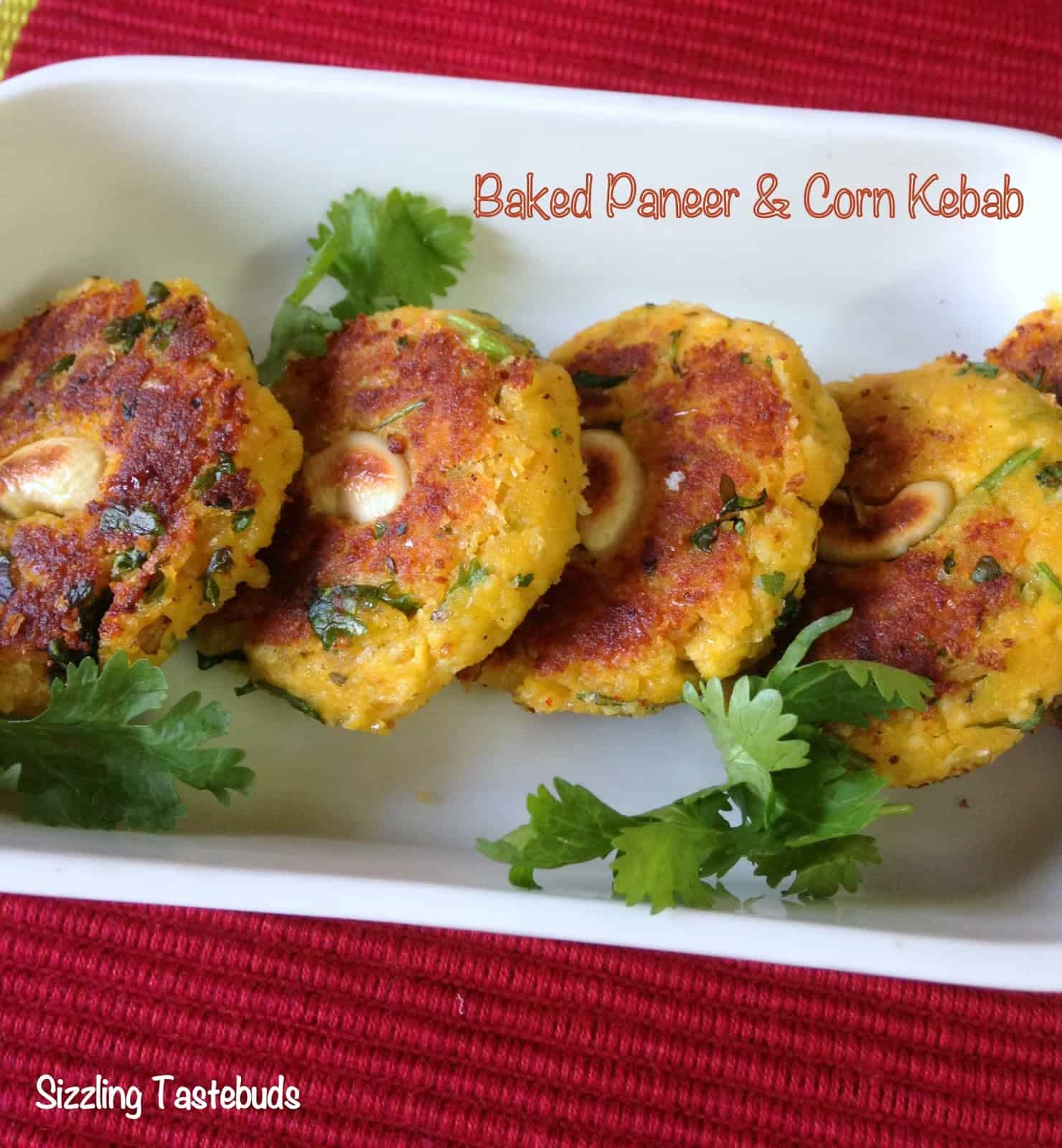 Pin