Its been a great Bakeathon so far and umpteen bakes bookmarked too. As the last bake of the #Bakeathon2018 series, I have a simple yet yummy bake that can be put together in less than 30 mins if you have all the ingredients on hand (and these are simple, everyday essentials too) – Baked Bread Pakoda. 
Given that we are having a slight nip in the weather since a few days, its apt that we dig into something warm and cozy especially as a 4pm after-school snack. I was not keen to deep fry Bread Pakoda so baked it was to be – and turned out yummilicious.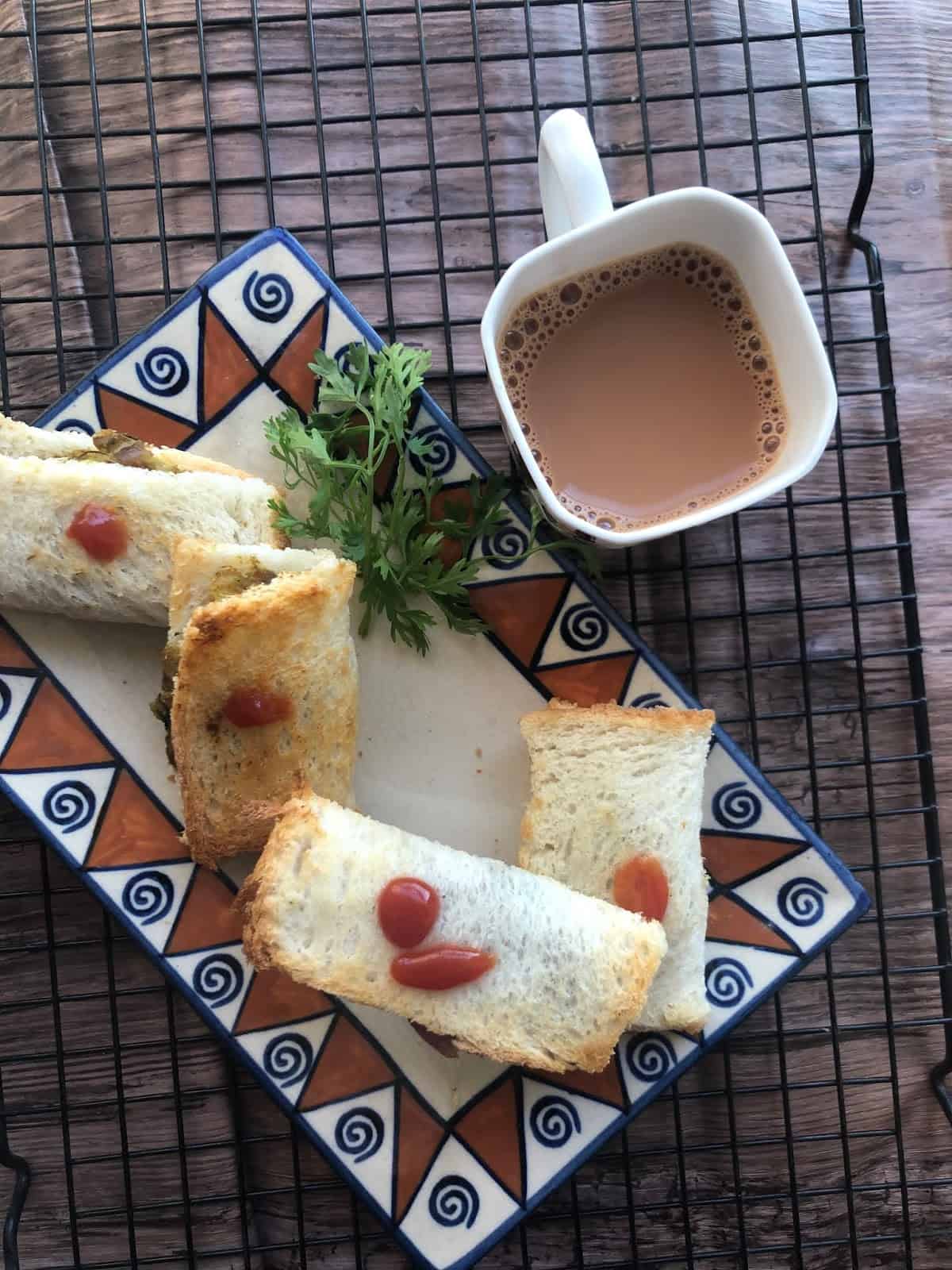 Pin

Let's get to the recipe now 🙂

Prep time – 15 mins, Bake time – 12-15 mins / batch , serves – 4

Course : Snack , Vegan and Nut-free too.

Ingredients:
Bread slices (Use homemade or store bought bread – preferably without any seeds / toppings) – 16 slices
Oil – 3 TBSP (incl used to baste) – can use butter too for a richer taste…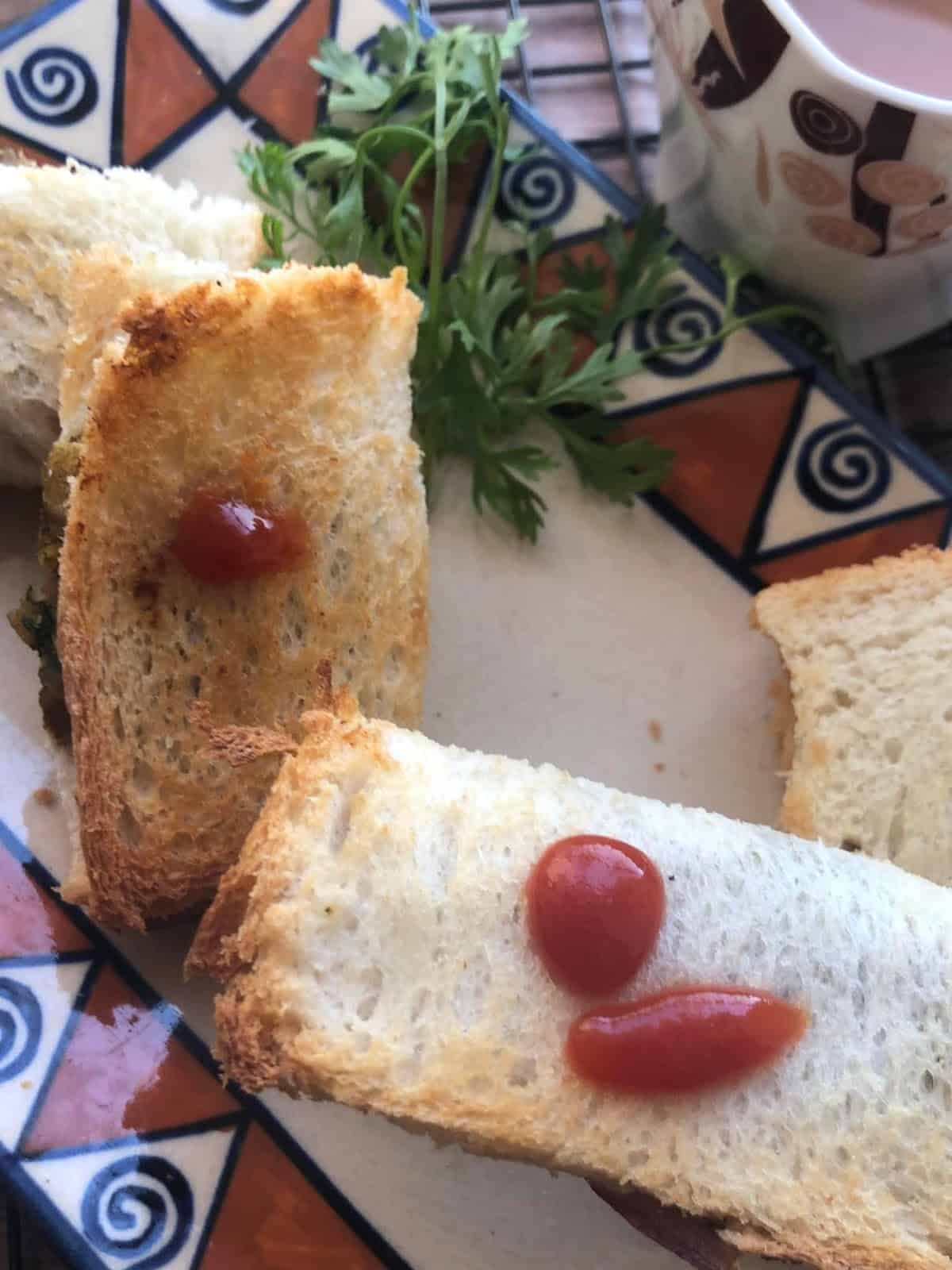 Pin

Filling: (you can use any leftover dry saute or make your own combo of filling)
Cumin seeds – 1/2 tsp
Boiled potato –

 

3 nos (large)
Boiled corn – 1/2 cup
Boiled fresh peas – 1/4 cup (can also use frozen)
Onion – 1 medium (can skip for satvik version)
Minced green chillies – 2 (adjust taste)
Carrots and beans – finely chopped-

 

1/2 cup
Bell peppers – finely minced (opt.)
Salt – to taste
Spice powders (adjust to taste) : turmeric, Amchur (dry mango powder), Garam Masala powder,

 

Pav Bhaji Masala, Coriander powder, Bhuna Jeera (roasted cumin) powder.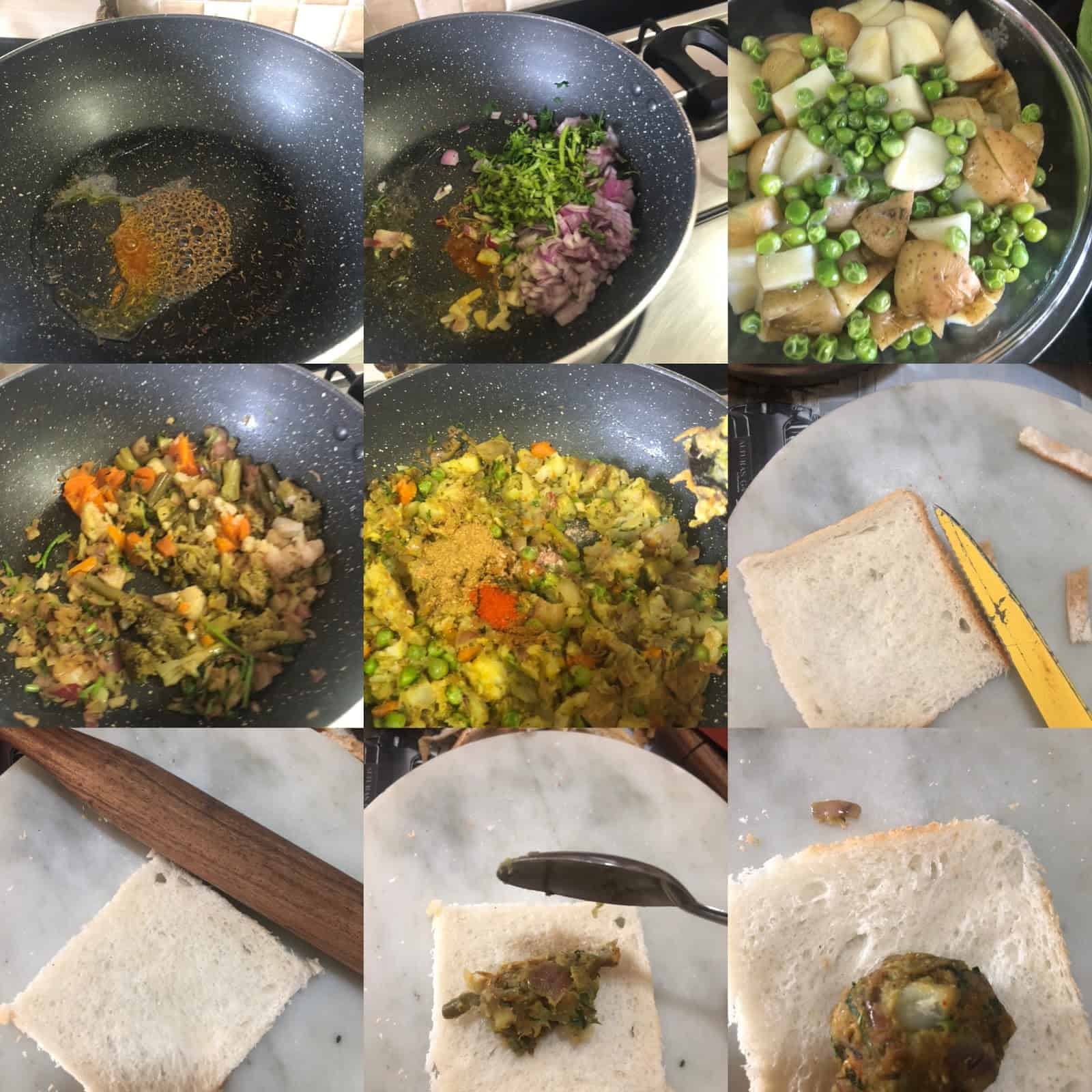 Pin
How to:
Trim the bread slices, cover and keep aside.
In a pan, heat 2 TBSP Oil, splutter cumin, sautè onions, peppers, green chillies  till translucent. Add salt, carrot and beans and sautè for 3-4 mins till soft yet crunchy.

 

Now add boiled and mashed potato and other veggies, spice powders and mix well. Adjust spice / salt and let this mixture cool completely.

 

Preheat oven to 170C, line a baking sheet with foil / silpat/ parchment. Grease the tray well.
With a rolling pin, flatten out the bread slices. place a tsp or two of the filling and gently moisten the inside of the bread on all sides and fold it over in half Place the folded, stuffed bread on the greased baking tray. Repeat for all slices (or till the tray is full with 1/2 inch gap between two pakoras). Keep the bread slices (both stuffed and unstuffed) covered at all times.  
If you are deep frying at this stage, dip the stuffed bread in a besan (gram flour) Pakora batterand deep fry.

 

Else, liberally brush oil on all pakoras on the baking tray. Bake on each side for 7-8 mins, turning them over mid way after 8 mins (or before they turn too crusty!!) – you want them crispy and crunchy but not too hard and dry and crusty. 
Watch the oven once you flip.
Serve them immediately with Tomato Ketchup or Green chutney.
PIN FOR LATER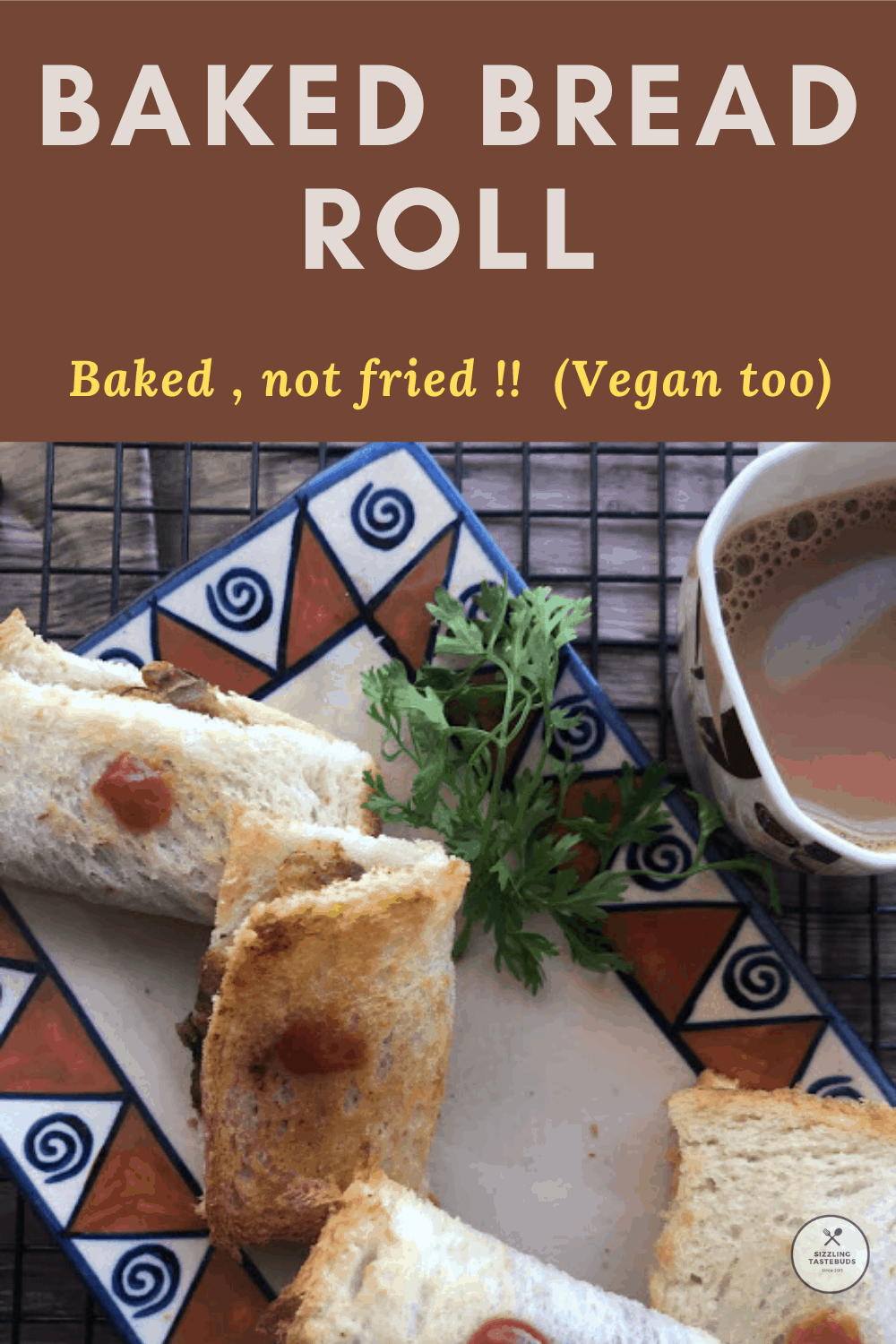 Pin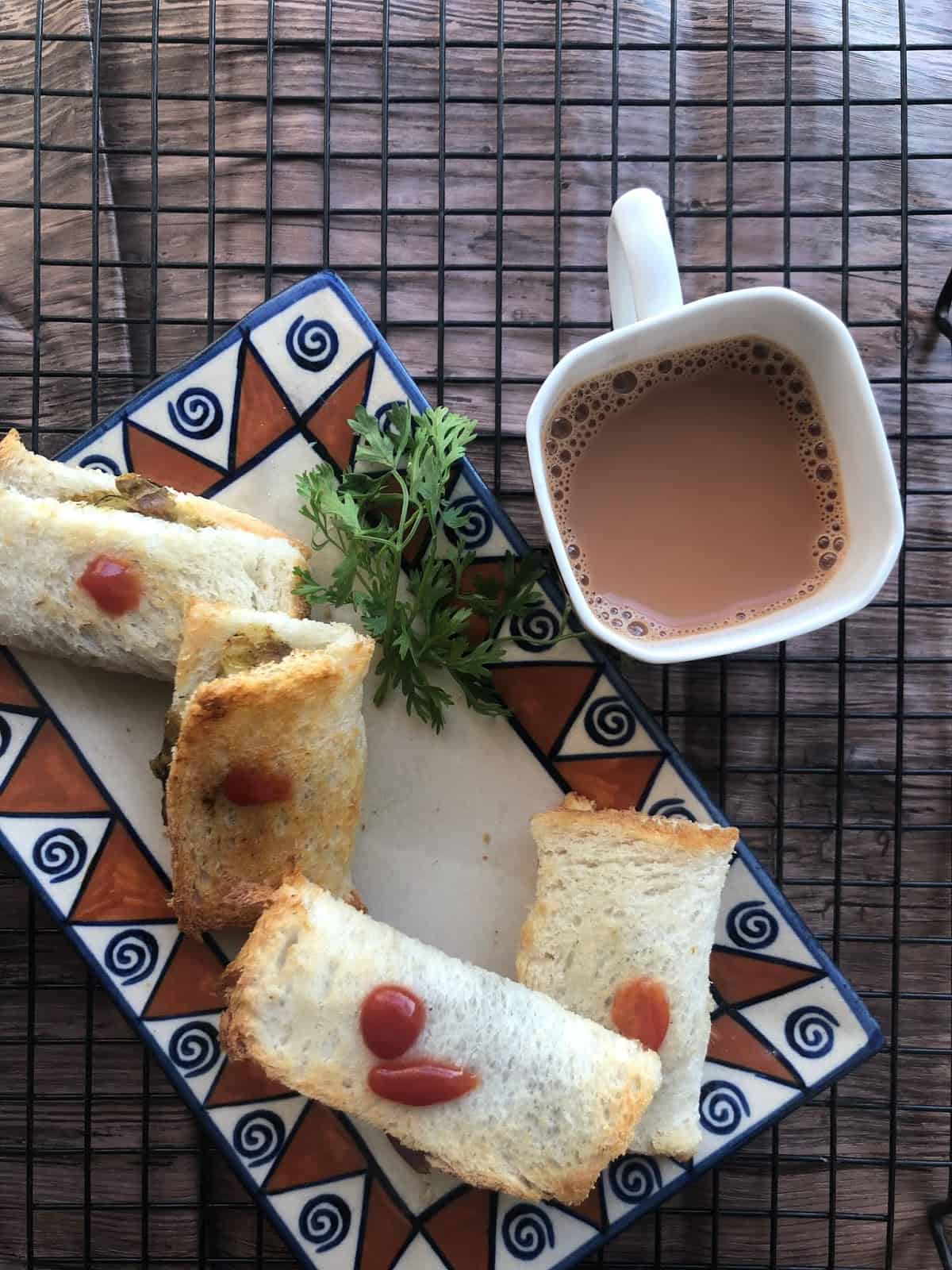 Pin


Notes:
Use large bread slices and trim them to get a handy portion else the bread might tear.
While smoothening the bread slices, apply adequate but not too much pressure else the slice would tear
Do not have any residual moisture apart from the vegetable natural state in the filling else they will turn soggy.
If re-using any dry saute / leftovers, make sure to dry them completely in a pan with some oil before adding the spices.

 
Pin
Check out the other bloggers doing this Bake-a-thon