After yesterday's Azhagar Kovil Dosa, we have for Alphabet B (in the A-Z Dosa series this month), Black Rice Adai or Kavuni Arisi Adai. Black Rice a.k.a forbidden rice became popular in the east, but our own Chettinad Cuisine uses this rice in a very delicious sweet. As with most Adai (thick lentil-based Dosa), this Adai too has a lot of proteins and very little rice.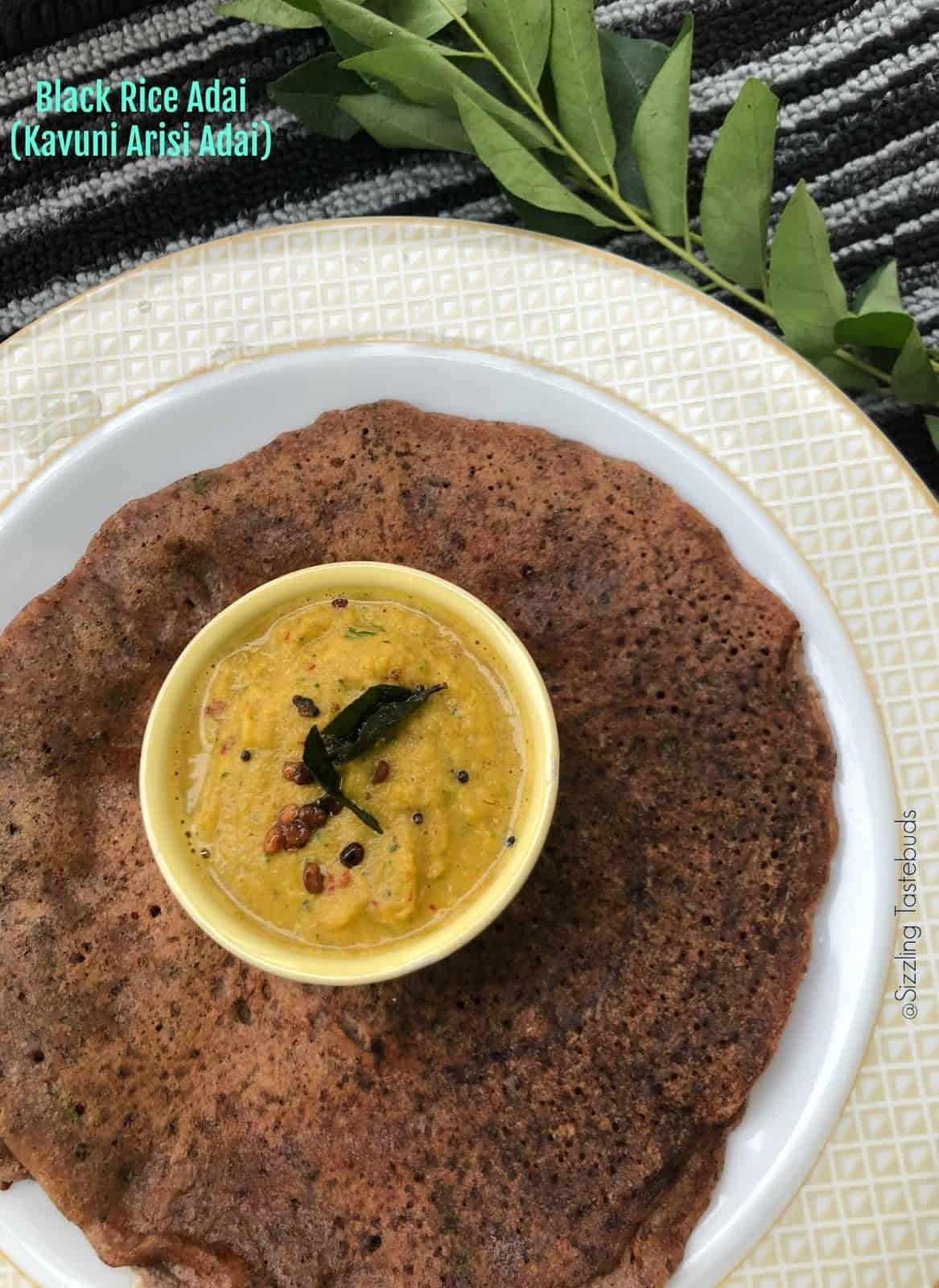 Pin

As I wanted to experiment with Black rice, I tried with a small quantity and was well received by the spouse who liked the nuttiness which came with the black rice. I have had black rice salad as well as a cooked black rice + Thai Red curry Combo (both recipes coming soon !), so I personally liked the glutinous black rice. 

It's worth a try once if one is open to experimenting with new cuisines / ingredients.

Similar Adai varieties on the blog:

Let's get to the recipe now. This is again a fermented Adai (thick Dosa).

Black Rice Adai ~ Kavuni Arisi Adai ~ #26daysofDosa ~ 


Vegan and Gluten Free Indian style savoury pancake.

Served with Raw turmeric-Ginger Chutney

Ingredients: ( 1 cup = 200 ml)

Black Rice – 1 cup

Raw Rice (any short grained variety will do) – 1/2 cup

Toor Dal (tuvaram Paruppuy in tamil) – 1/2 cup

Channa Dal / Bengal Gram / Kadalai Paruppu – 1/4 cup

Masoor Dal – 1/4 cup

Salt – to taste

toppings:

Chopped Coriander leaves – 1 TBSP

Hing / Asafoetida – 1/8 tsp

Turmeric – 1/4 tsp (opt.)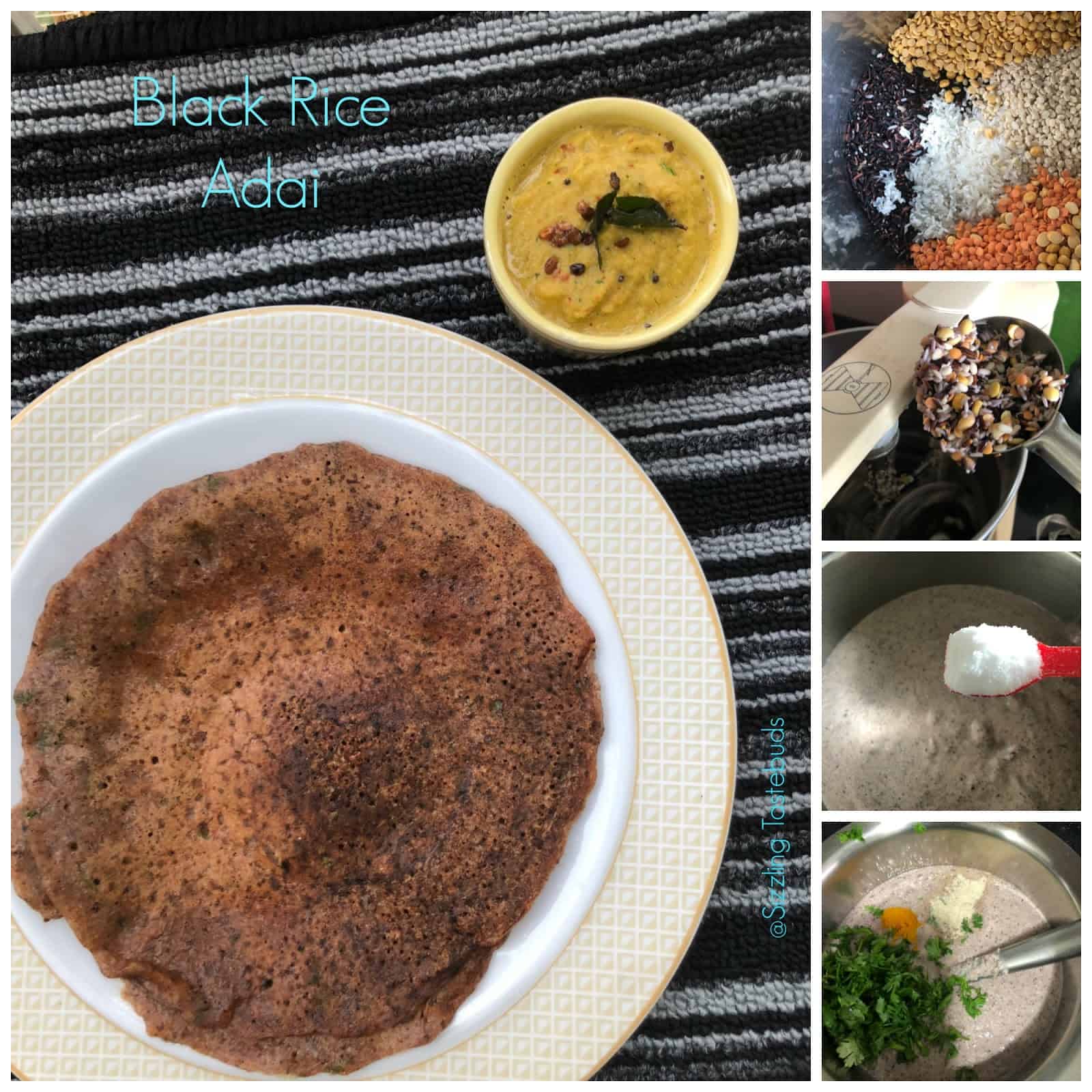 Pin
Method:
Wash and Soak the lentils together for 4-6 hours or even overnight. Grind together to a smooth paste. Add salt , mix well. 
You may prepare the dosa immediately or let it ferment on the countertop for 2-3 hours (I did the latter).
To prepare the dosas: 
Add the toppings to the dosa batter, heat the tava to medium hot, grease it well. 
Pour a thick batter, and drizzle oil around it till its cooked on both sides 
(You may also spread it think like a normal dosa if required – the cooking time per dosa would vary)
Serve immediately. We had with Raw turmeric-Ginger Chutney
So far in the A-Z Dosa Series all this September:
A for Azhagar Kovil Dosa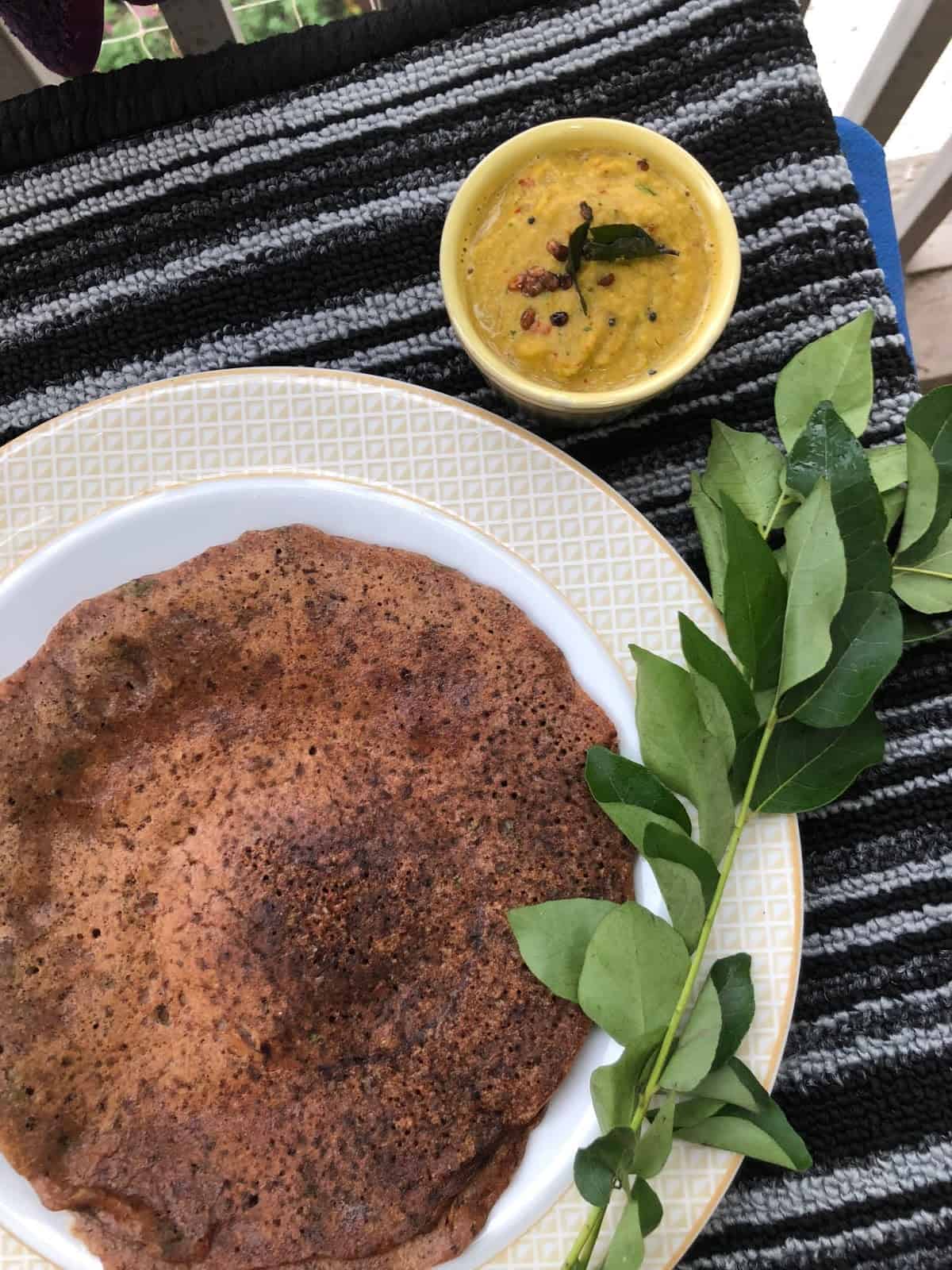 Pin