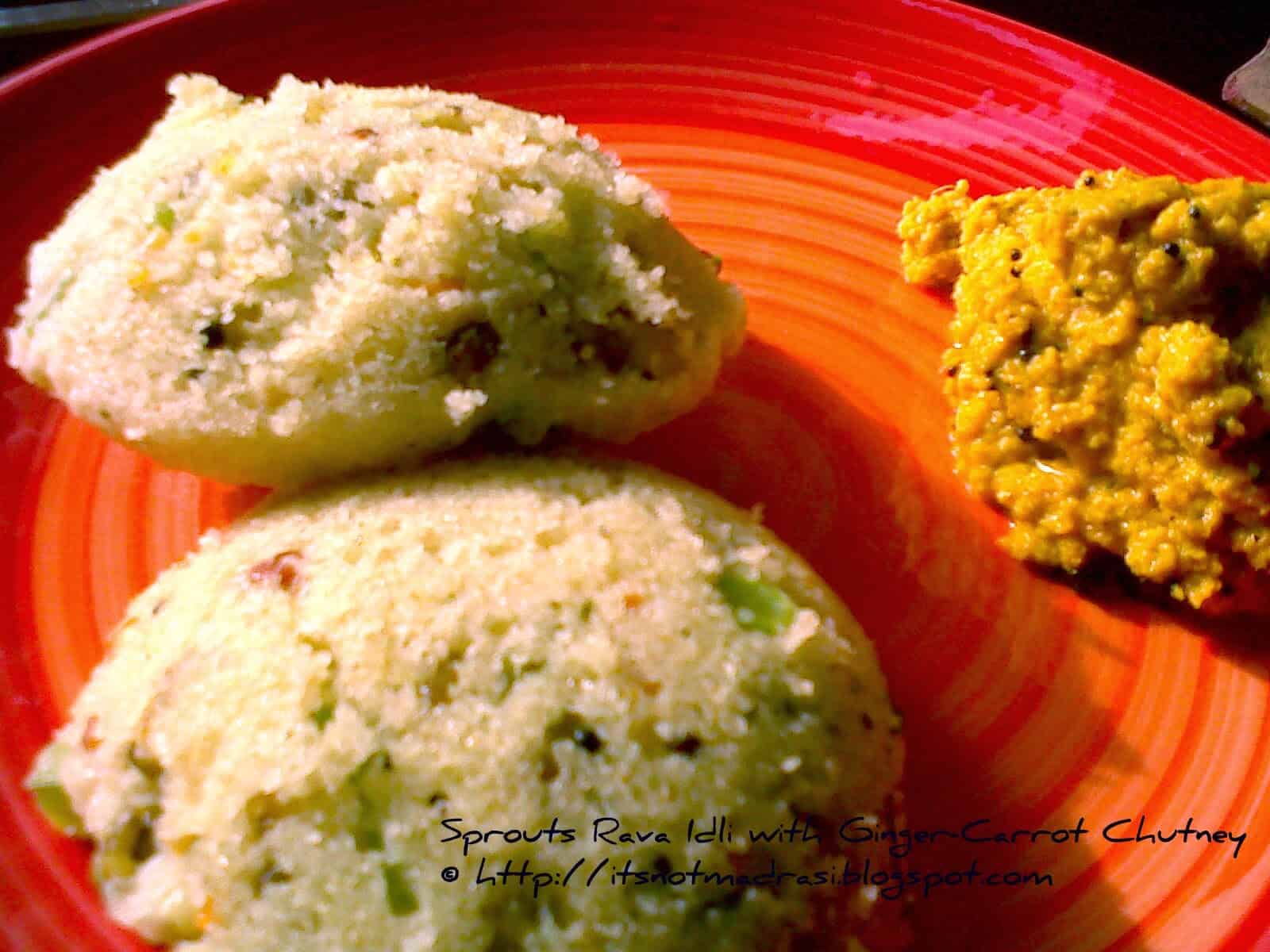 Pin

Day 2 of Blogging Marathon saw me dishing out Sprouts Rava Idli with Ginger-Carrot Chutney for a combo meal. Adding some sprouts + boiled veggies upped the health quotient of this meal quite a bit, and perfect for snack boxes and No Oil cooking options or even for breakfast.. Let's proceed to the combo dish, shall we ?

Ingredients:

For Rava Idli :
Rawa / Sooji / cream of wheat – 1 cup
Moong Sprouts – 1 cup
finely minced Carrots + french beans – 1/8 cup
Slightly sour curd – 1 cup.
Minced ginger – 1/2 tsp
Coriander leaves – few
Salt – to taste
Eno / fruit salt / soda – 1/2 tsp
Tempering for Rava Idli : Oil – 1 TBSP, Mustard seeds & Urad – 1tsp each,curry leaves, cashew(opt)

For Ginger – Carrot Chutney:
Ginger – 1 inch long (peeled and diced)
Carrots – 1 medium
Fried Gram / Hurigadale / Pottu Kadalai – 2 TBSP
green chilli – 1
Tamarind – 1 small lemon sized
Salt – to taste
Grated jaggery – 1 tsp (opt)
Oil – 1 tsp
Method:
For Rava Idli:
1) In a skillet, prepare tempering with Rava idli tempering ingredients.
2) Dry roast rava / sooji till fragrant. Add a tsp of ghee for best results while dry roasting. Cool. Pour the tempering onto the rava and mix well.
3) Boil Moong sprouts and minced veggies (carrots / beans) with a pinch of salt for 10 minutes. Drain and add to the rava mix above.
4) Now add curd, soda / eno, ginger, coriander and mix well. Add more salt (as per your preference) and set aside for 5 minutes.
5) Grease idli trays and spoon in 2 tbsp of this Idli batter into the moulds and steam for 12 – 15 minutes.
6) Unmould and serve with Ginger Carrot chutney.
For Ginger Carrot Chutney:
1) In a pan, heat oil. Fry Grated carrots, minced ginger, chillies. fried gram one by one.
2) Pulse with salt, jaggery, tamarind with 1 or 2 tbsp of water to a thick chutney.
3) Serve with any Rotti / Idli / Dosa of your choice.
Check out other Marathoner'shere
Sending this to Vardhini'sFast food not Fat food, started byPriya and alsoFruit- Veggie of the month – Carrothosted by Reva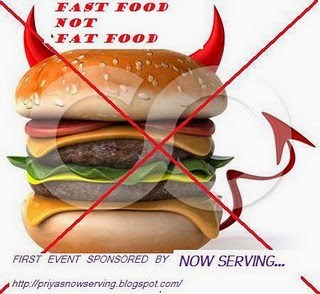 Pin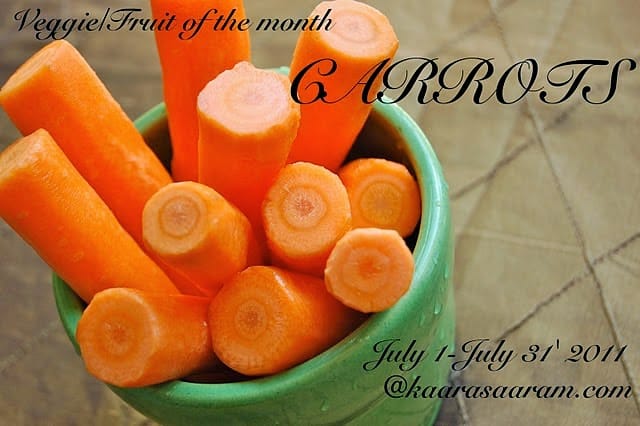 Pin