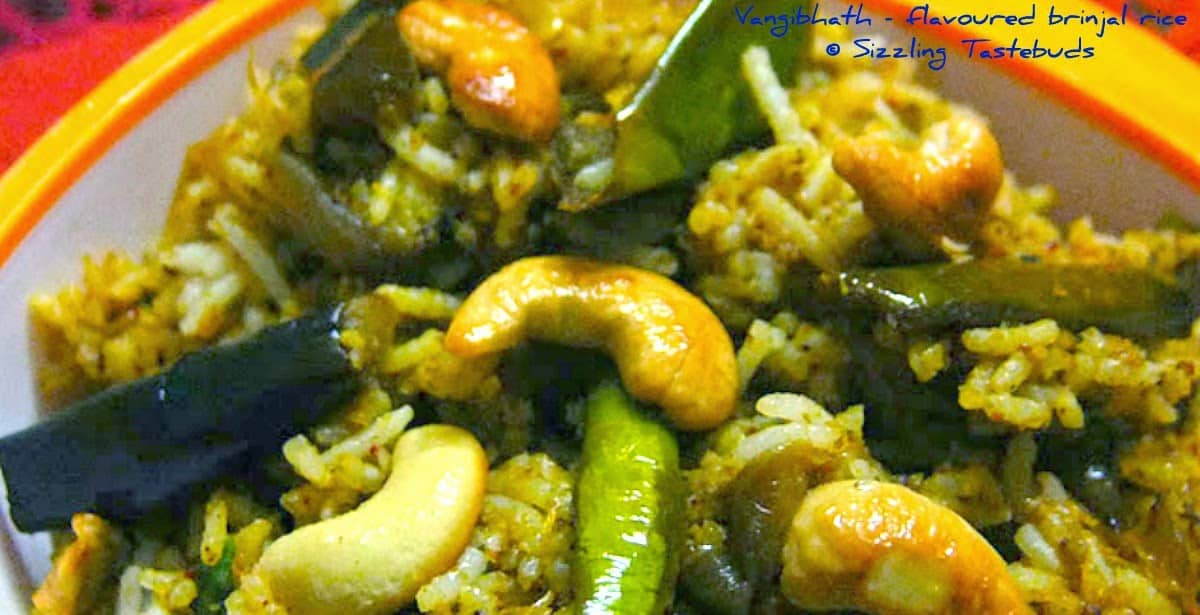 PinPin

First the disclaimer! Vangibhath is not "Katrikka saadam" (Tamil: Katrikka – Brinjal, saadam – rice). This 'inadvertent declaration' that it is, happens infrequently while I serve guests who don't have their origins form Mysore /Karnataka , and it angers me quite a bit for a dish like this to be addressed thus. For the uninitiated, Vangibhath (Kannada : Vangi – brinjal / augerbine; bhath – cooked rice) is this preserve of Karnataka cuisine which has this aroma of freshly roasted & ground spices combined with garden fresh vegetables and cooked rice, lending to this heavenly experience of eating it hot! It forms, as in most South Indian Cuisines, a part of the menu in the mixed-with-spices or garnishing-ready-to-eat rice category , others being Lemon rice, Curd Rice, Vangibhath, bisibele bhath, kadamba saadam etc , some of which find their way to the South Indian meal as main course or as part of the traditional meal served at marriages and functions alike. In fact, there are many people I know whose meal even at home is incomplete without Curd rice J I was also told that some Maharashtrian homes also serve flavoured rice like Masale bhath in their weddings.

So, back to Vangibhath. Although its main vegetable comprises brinjals, its flavor is enchanced with the addition of veggies like capsicum, potato (diced long with the skin intact), fresh green peas ! Adding onions is entirely optional, although some households add onions to almost every dish as if on auto pilotJ Again, my mom makes the bestest Vangibhath (my MS word editor is saying 'bestest' is not part of the English dictionary, but I really don't care J!) In fact, it was a ritual for years to ask mom to make loads of Vangibhath accompanied with semiya payasam(sevai kheer) for luncheons that me and sis used to have with friends @ home – happy days those were !! hey N, hope u remember !! ??

To make Vangibhath, there's isn't too much preparation, unless one wants to make the spice powder ahead and store in an airtight container. My experience is that as we don't make Vangibhath everyday, I use freshly grounded powder every time , unless of course mom happily decides to send me a batch of readymade powder (Am missing my mom too much this morning L)

Update : Sending this to my event HLI – Brinjal, hosted by Priya.

Preparation Time: 10 minutes; Cooking Time: 30 mins

Ingredients: (serves 4)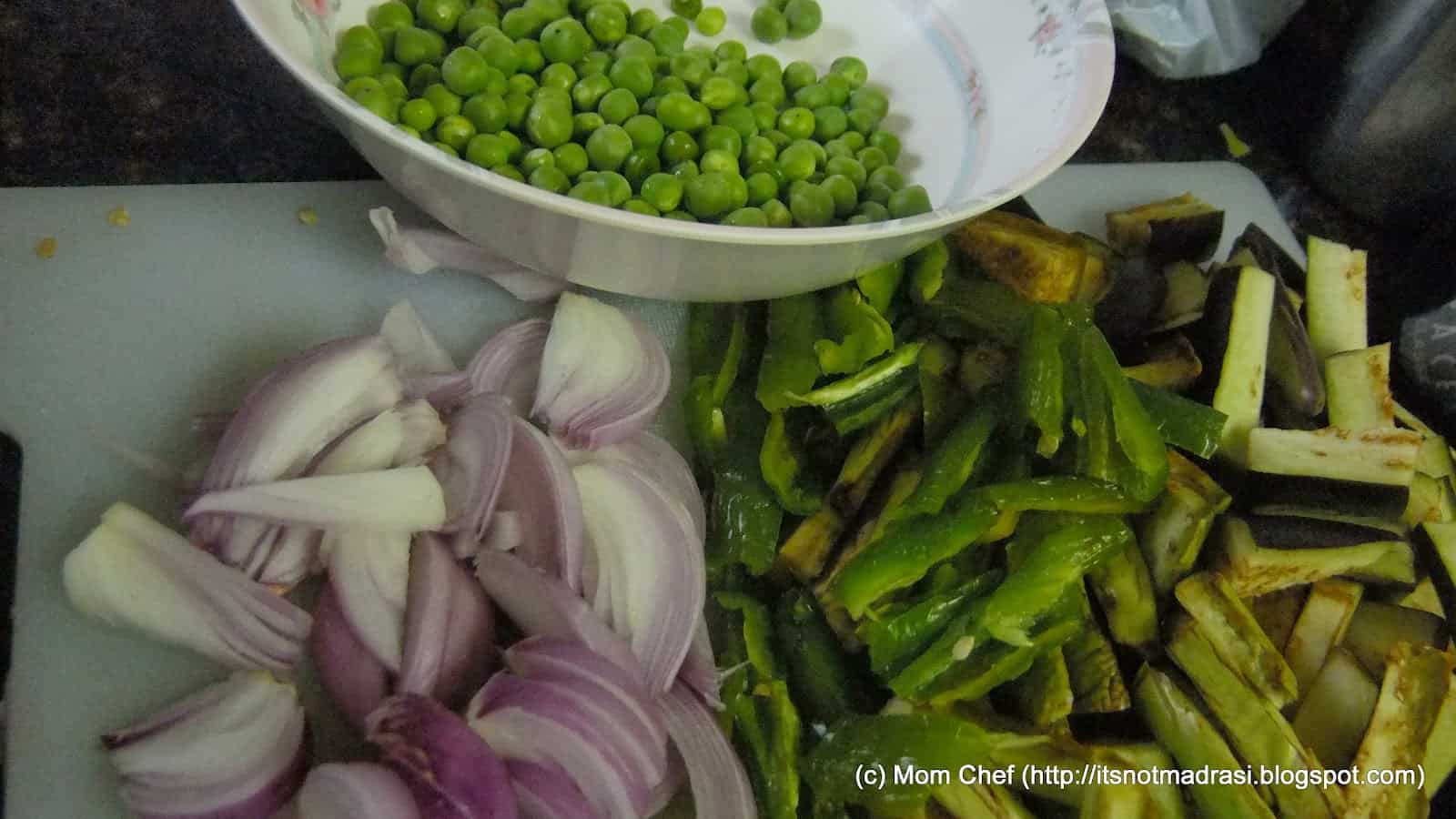 Pin
· Rice (Basmati or any long grained rice) – 2 cups
· Oil – 5 tbsp
· Mustard seeds – 1 tsp
· Curry leaves
· Turmeric – 1 tsp
· Hing – 1 tsp
· Jaggery – 1 lemon sized
· Amchur (Dry mango powder) – 1 tsp
· Chopped veggies ( Brinjals, Potato, Capsicum) + shelled peas – about 2 cups
· Onions – chopped lengthwise (optional)
· Salt – to taste
· Roasted cashewnuts / peanuts – for garnish (optional)
For the spice powder:
· Coriander seeds (dhaniya seeds) – 4 tbsp
· Channa Dal (Bengal gram) – 1 ½ tsp
· Cloves – 1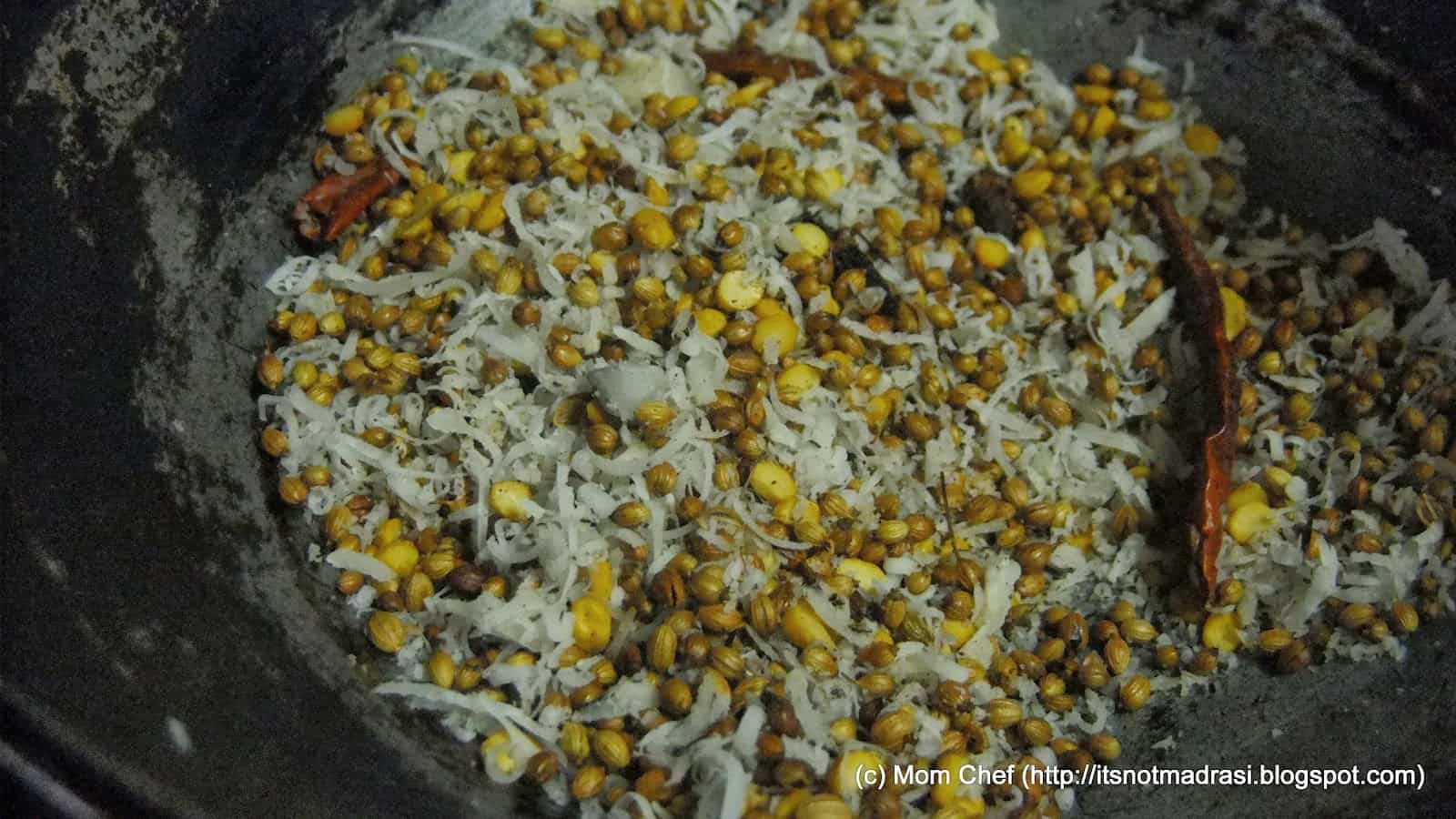 Pin
· Cinnamon – ¾ – 1 inch long
· Marathi moggu – 1 or 2 (optional)
· Red dry chilles – 4 nos
· Kashmiri Mirch – 4 nos
· Oil to fry spice – 1 tbsp
· Dry Copra grated – 3 tbsp (optional, but greatly adds to the texture and flavor)
Method:
1) For the spice powder: In a skillet, add oil. When hot, add channa dal, red chillies, cinnamon,clove,Marathi moggu. When dal turns slightly brown, add coriander seeds and switch off heat. Fry the coriander seeds and in the end, add Dry Coconut (grated). Cool. Grind and rest (see picture)
2) Cook the rice and separate the grains in a large plate. Cool. Drizzle 1 tbsp of oil and a pinch of turmeric so it absorbs the flavours better ( I soaked the basmati for 20 mins, drained and cooked the rice with 3.5 cups of hot water in the rice cooker . If you are using pressure cooker, take care that the rice does not turns mashy : the cooked grains need to be separate)
3) Heat a large pan. Add oil, mustard seeds, curry leaves, turmeric , hing. When the mustard starts spluttering, add the onions, veggies (chopped lengthwise) + peas. Add salt . Sprinkle very little water. When the onions turn translucent, cover tight and cook till the brinjals and capsicum shrink about 75% and the potatoes and peas are done. It is important to use the steam of the oil and not add any extra water.
4) Now add the jaggery, amchur, ground spice powder and mix the veggies till the powder gets coated all over the veggies. You might feel the powder is a little more than required, but it is required to coat the rice as well.
5) Once done, add the cooked and cooled rice and toss slightly taking care not to break the grains. Check for salt once more, add if necessary. Drizzle 1 tbsp more of oil if required to get that glossy texture to the rice.
6) Transfer to a serving bowl, add roasted cashew nut / peanuts. Serve as it is or with raita / curd.
Tips:
1) For best results , use fresh green capsicum and preferably long purple brinjals . The large brinjals used for 'baingan bhartha' are not suited for this dish. Also, frozen or fresh peas will do. Dried peas soaked in water will not be suitable.
2) If you are left with extra sabji (vegetable), do not fret. Stuff in chappathi / phulkas and use as rolls as a snack / breakfast item. You may even add grated cheese and lightly grill them for rolls in children's lunch boxes.
3) Marathi moggu is optional, but gives that high aroma and spice. If you don't find it, increase cinnamon quantity slightly.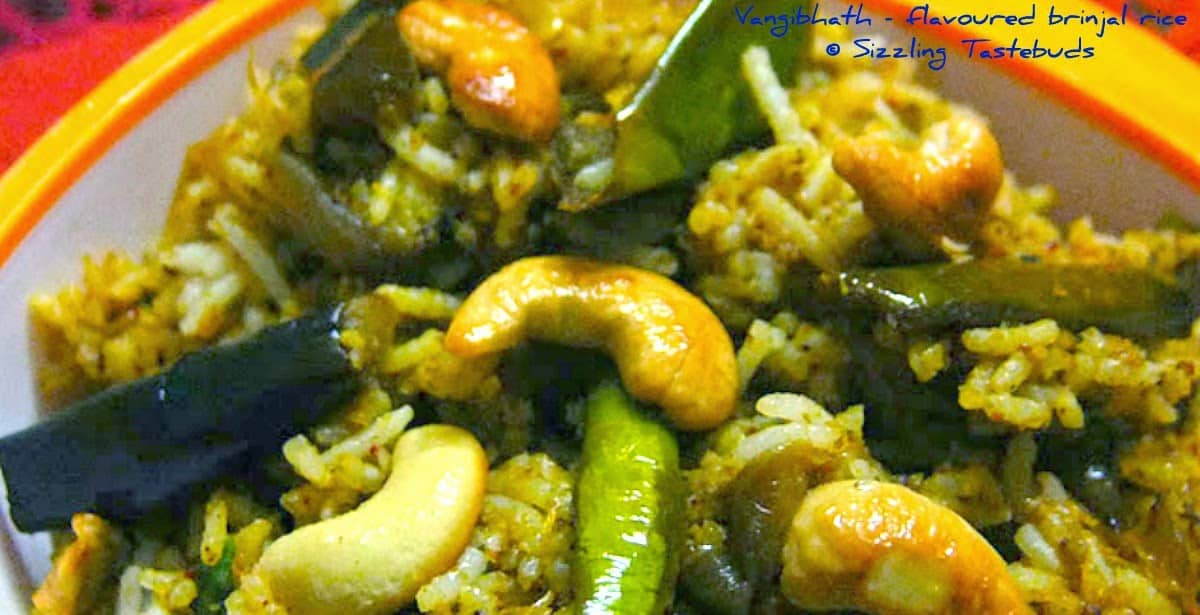 PinPin