Nuchina Unde or Nuchinunde is a healthy snack from Karnataka. Thogari in Kannada means Toor Dal. It is a protein packed and steamed food  which is often served with Coconut Chutney or Majjigehuli .
It makes for a sumptuous evening snack and we often skip dinner after this. Its very easy to make with a combination of Toor Dal and Channa Dal (split pigeon pea and split bengal gram respectively). I choose to make it with the former as its light on the tummy. This snack is generally shaped into oblong dumplings and
steamed, but at home we prefer to make it as a flat cake so that the steamingprocess is uniform and also easy to serve.
Dont scrimp on the ghee before serving – that addition takes it to sublime high levels when eaten hot 🙂
Addition of onions and fennel , as done here is purely optional. It tastes just as yummy without these too. Do
give it a try and let me know how you liked it. The step by step pics are also given here for easy reference.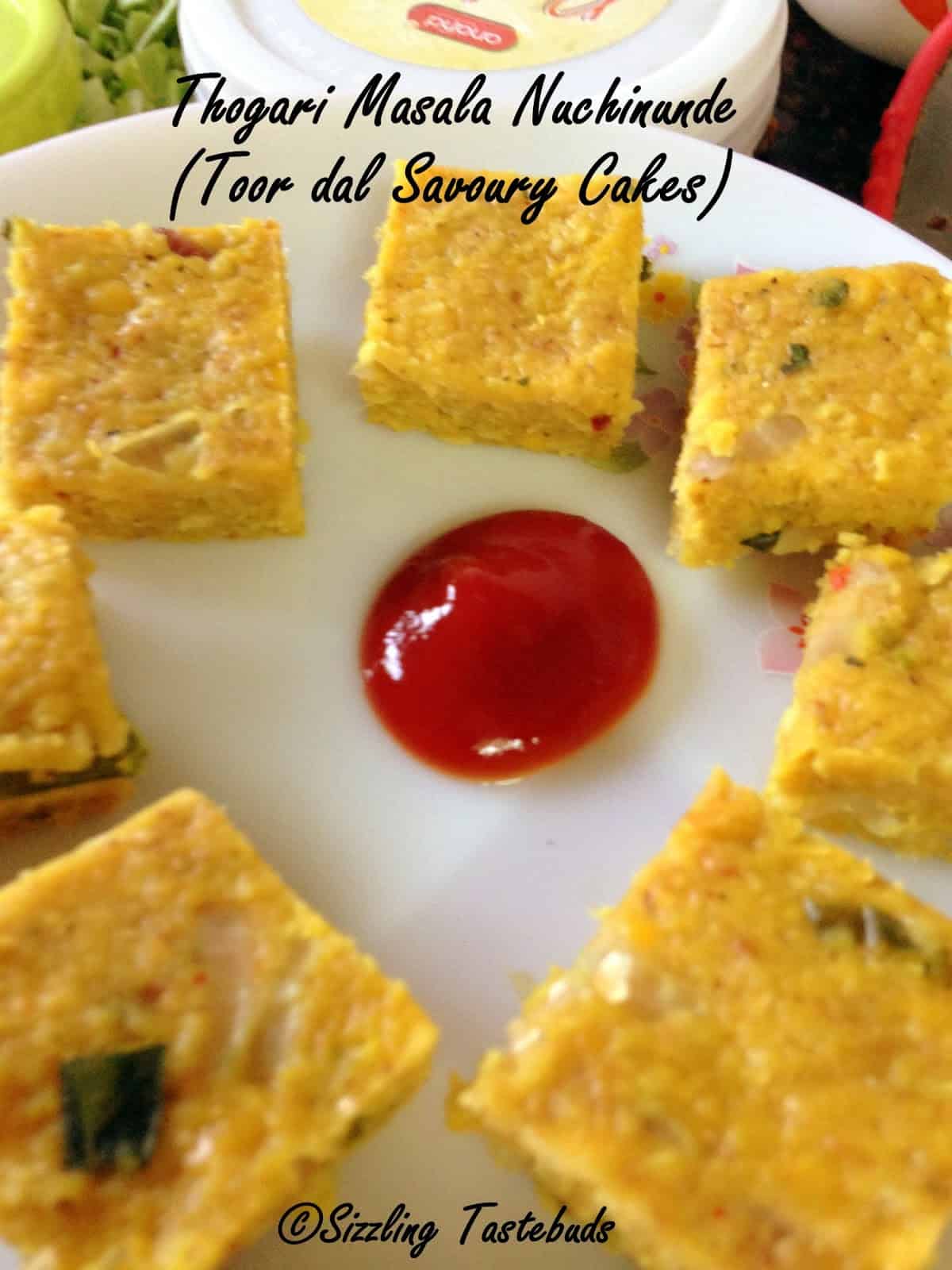 Prep time : 15
mins + 2 hours soaking time | Steaming
time : 12 – 15 mins
(depending on quantity)
Makes : 20 – 25 medium sized pieces.
Spice level : Medium
Difficulty level : Easy
Serving suggestions : Any chutney / Tomato Ketchup
Ingredients:
Toor Dal / Split Pigeon Pea – 2 cups
Red chillies – 4 to 5 (adjust spice)
Turmeric – 1/2 TBSP
Salt – to taste
Ghee / clarified butter – 2 TBSP
Onions – 1 medium (chopped)
Fennel / Saunf seeds – 1 tsp
Grated ginger – 1 TBSP
Green chillies – 1 to 2 (optional)
Fresh Grated coconut – 1/4 cup
Chopped coriander and curry leaves – 2
handfuls
Method:
Wash and soak the lentils for 2 hours. Soak the red chillies also along with the lentils
Drain and grind to a coarse paste adding all ingredients except salt, onions, ghee and coriander-curry leaves.
Use little or no water at all.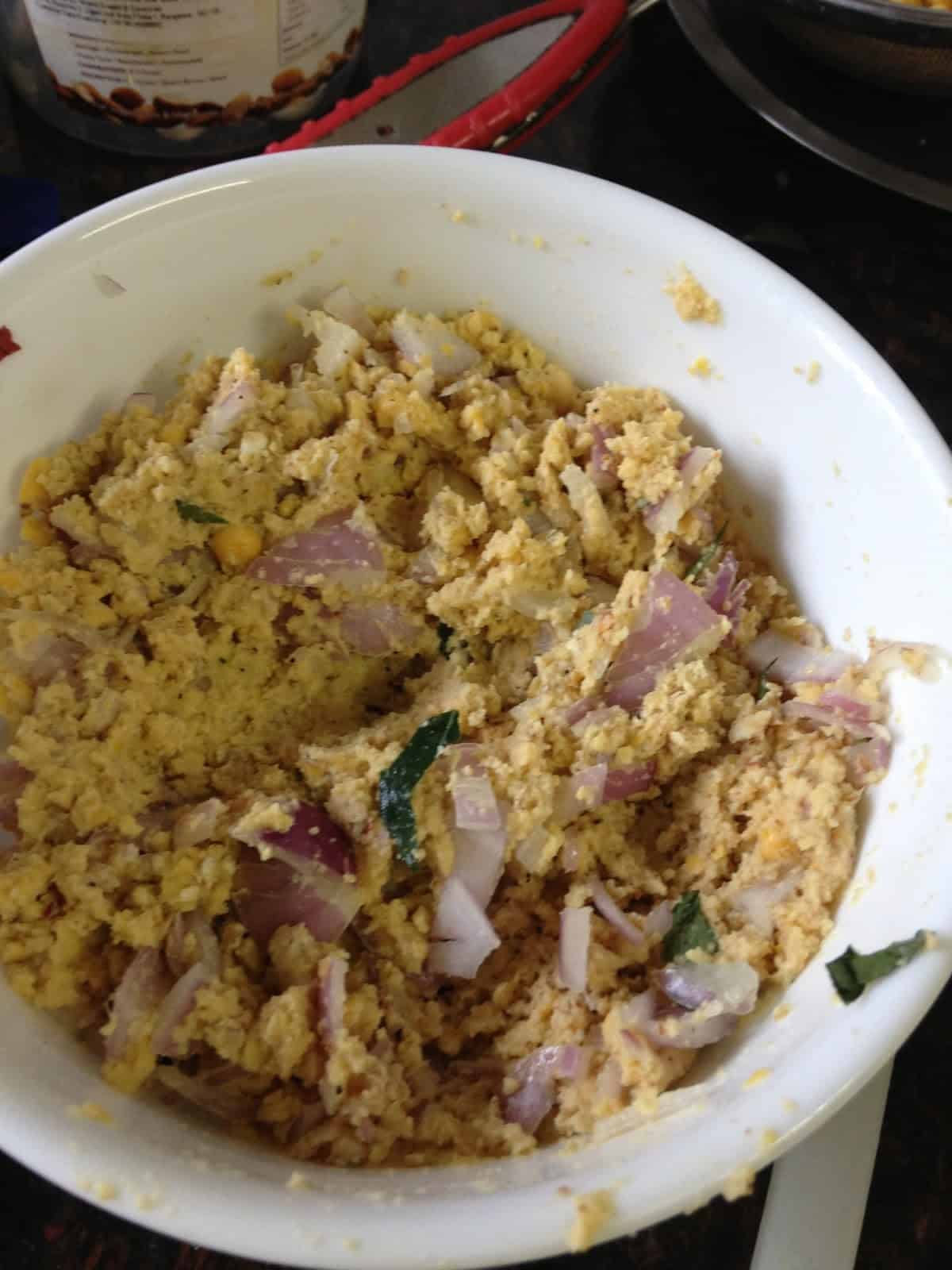 Transfer to a large bowl. Add the rest of the ingredients and mix well.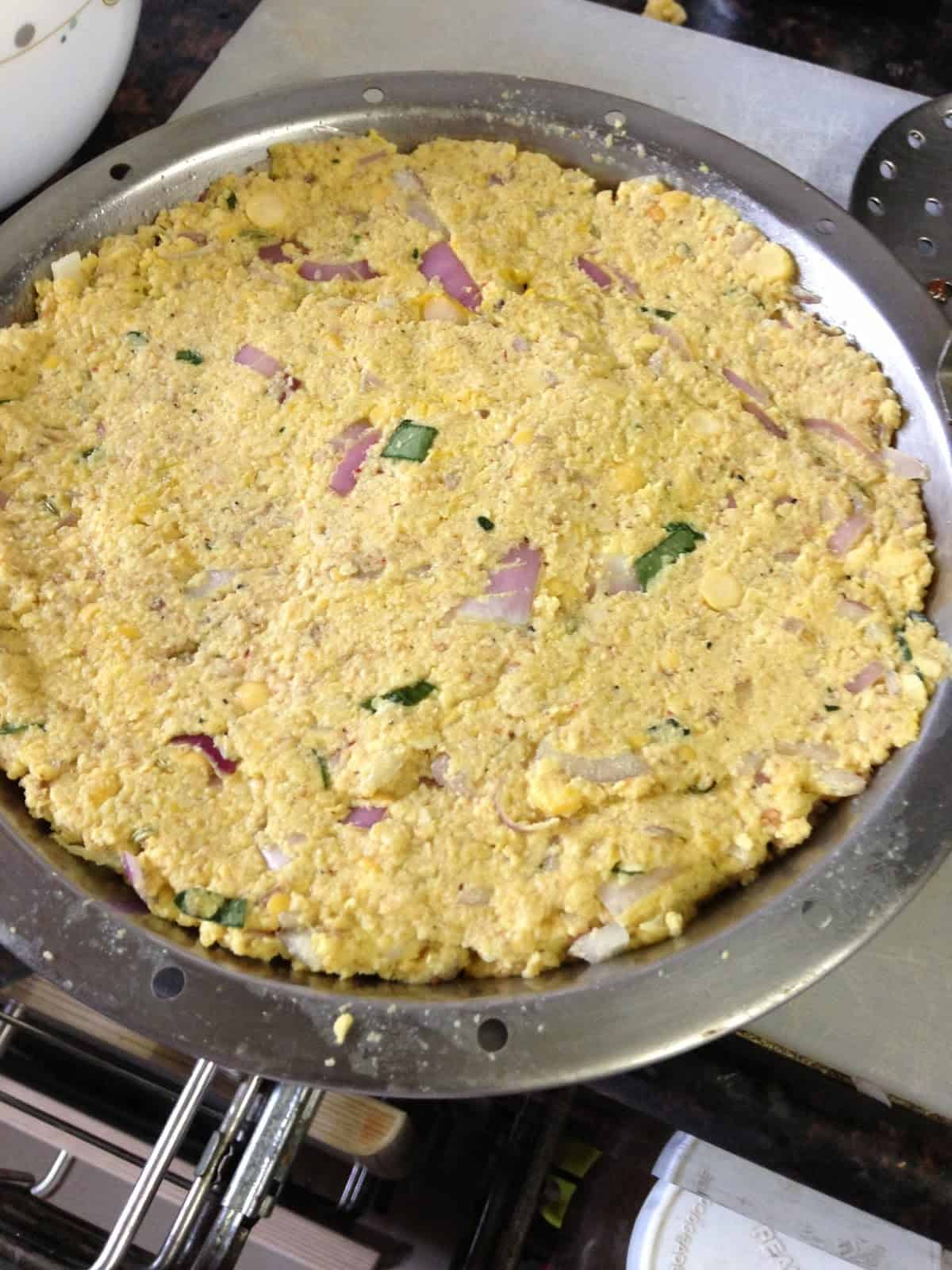 Grease a steamer plate and flatten out a cake like patty.
Cover and steam for 12- 15 mins or till a fork or toothpick comes out clean.
Dont over steam else it will turn rubbery.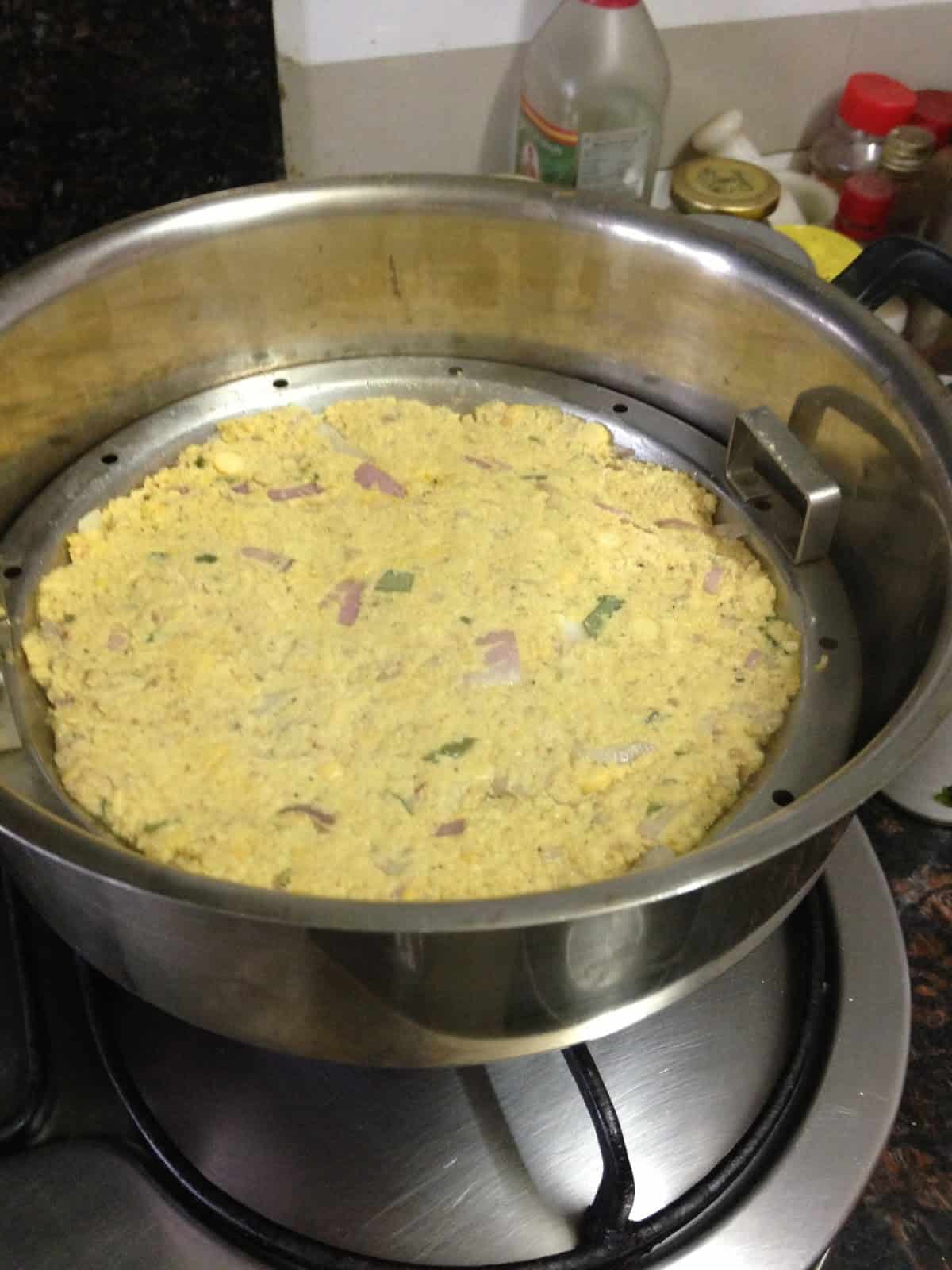 Cool for 5 mins. Cut into required shapes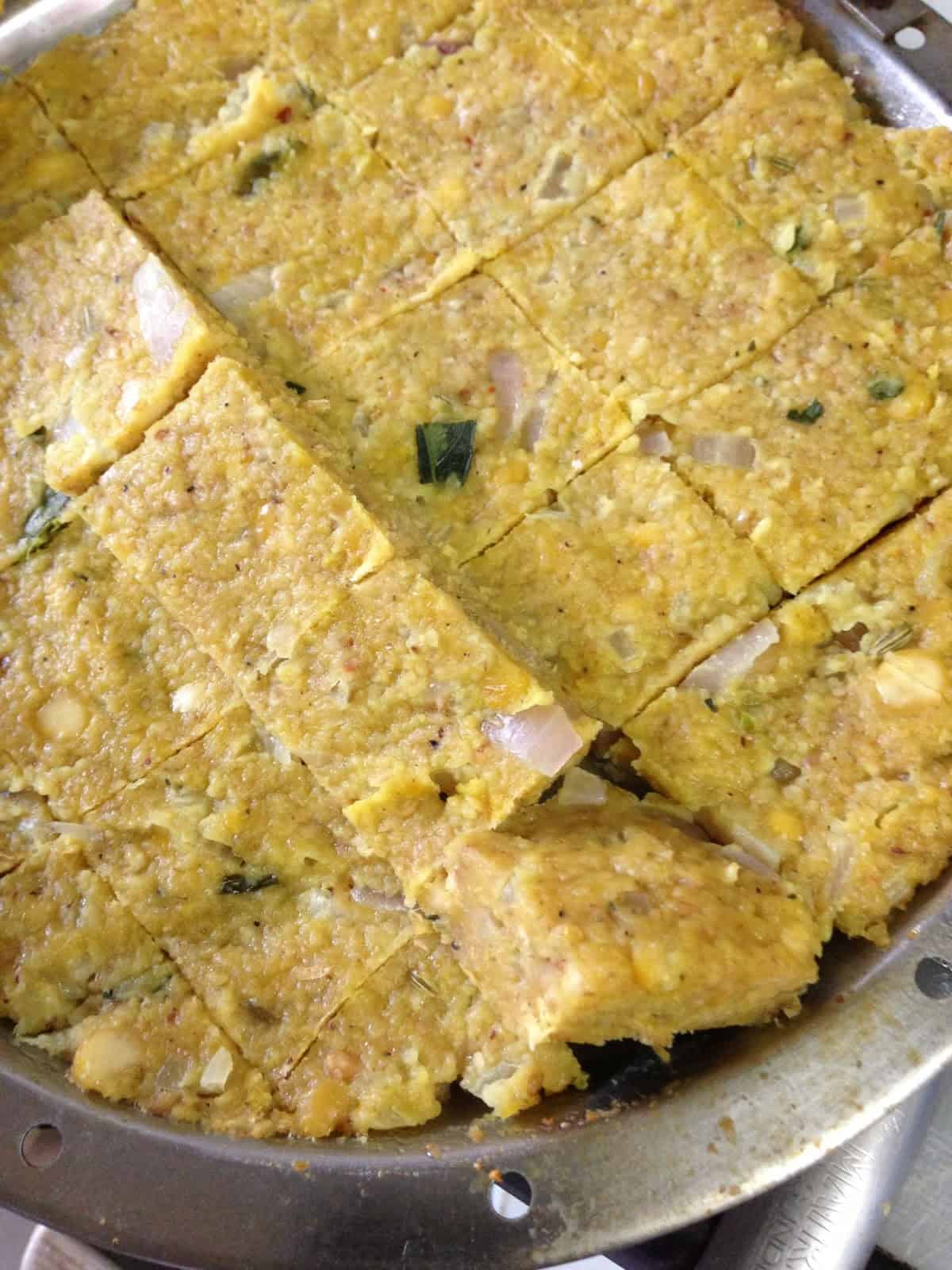 Top with ghee and serve immediately with chutney / ketchup / Majjigehuli