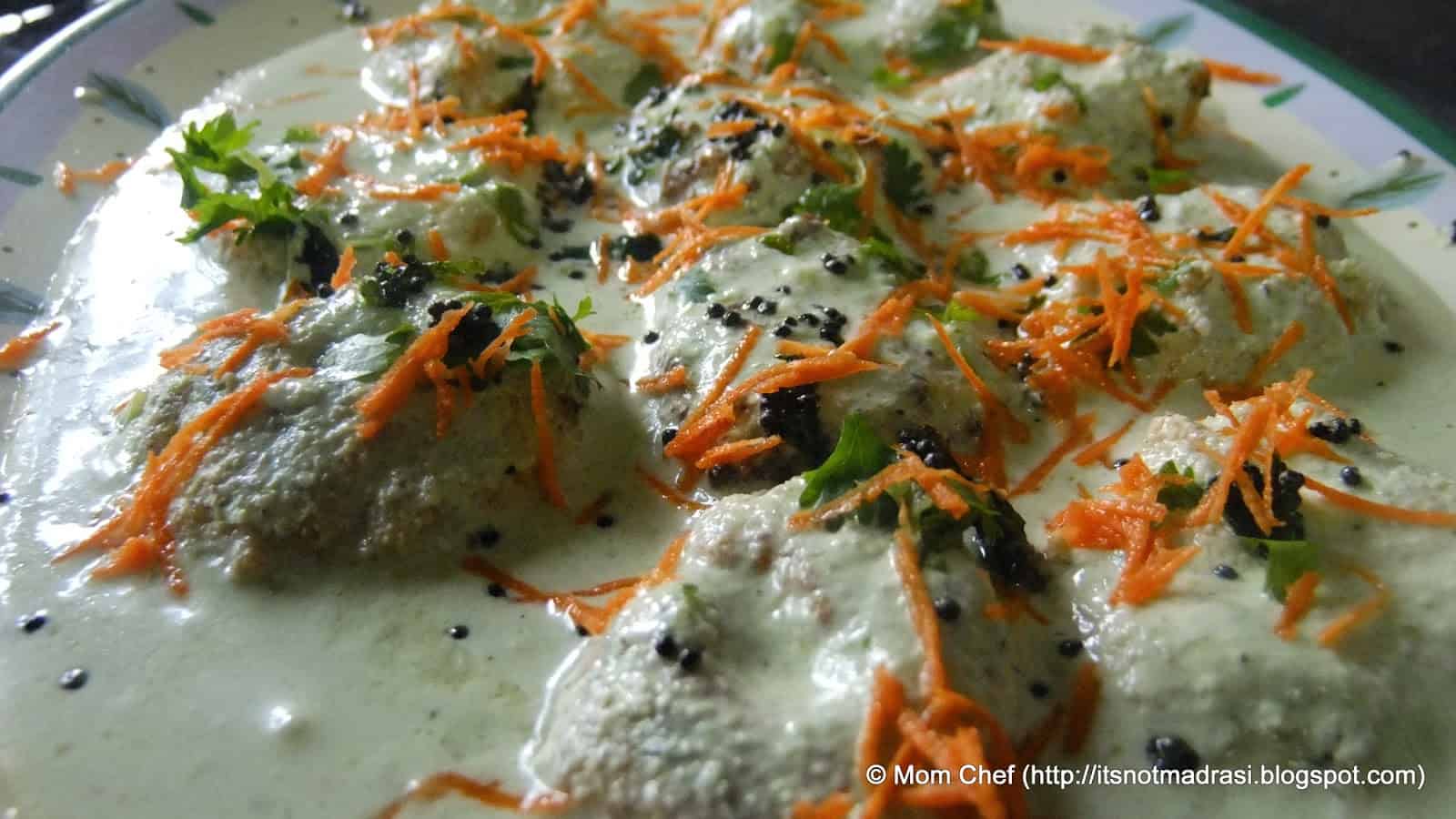 Pin

 Thayirvadai / Mosaruvade /Dahi Vada  (curd – Dahi / mosaru / Thayir ;Vada / Vadai – Lentil deep fried fritters ) is a dish that is popular with the young and old alike. Sis and husband love this dish – chilled and served. In Bangalore, its popularity is measured by a whole lot of Darshinis (self service eateries) that serve this dish and a lot of caterers doing the rounds of NRI weddings serve this delicacy abroad too. Soft and gooey to the touch and bursting with the flavor of mustard-hing tempering, Thayir vadai can also be made in advance for a party too. For the perfect vada, see tips at the end of this post J

Sending this to Blogging Marathon Day 6 under "Regional Specials".

In case you have missed out the earlier 5 days, here they are:

Day 5 – Mavainakaayi Chitranna (Raw Mango Rice)

Day 4 – Kosambari (Soaked Dal Salad)

Day 3 – Soppina Huli (Greens Sambhar)

Day 2 – Ragi Rotti (Finger Millet Roti)

Day 1 – Bisibele Bhath (Rice – Lentil fragrant rice)

Preparation time : 20 mins (plus 45 mins Soaking time). Cooking time : 20 mins.

Makes : 10 vadas

Ingredients:

For the Vada:

·         Urad Dal / Split black gram – 1 cup

·         Raw rice OR Moong Dal (Split green gram) – 1 tsp

·         Ginger chopped – 1 tsp

·         Green chillies – 1 tsp

·         Fresh coconut – cut into small bite-sized chunks

·         Cumin – 1 tsp

·         Black pepper – 1 tsp

·         Salt – to taste

·         Curry leaves – few

·         Oil – to fry

For the Masala gravy:

·         Curd – 1 ½ cup (split use)

·         Fresh milk – ¼ cup (opt)

·         Freshly grated coconut – ½ cup

·         Ginger and green chillies minced – 1 tsp (together)

·         Coriander leaves – 3 tbsp

·         Salt – to taste

Tempering:

·         Oil – 1 tbsp

·         Mustard seeds +Hing (1 tsp each)

·         Grated carrot / Boondi + coriander leaves – for garnish (opt)

Method:

Stage 1

1)      Soak the Urad dal with rice / Moong dal for 45 mins. Drain. Grind into a very smooth paste using very little water.

2)     Add the seasonings listed above – cumin, pepper, ginger, coriander, curry leaves, salt, coconut chunks – into this batter.

3)     Wet your fingers and take a big lemon sized ball of this batter. Roll in your hands and with your thumb make a hole in the centre of the ball.

4)     Slowly slide the vada into the oil which is medium hot. Add 4 – 5 such vadas at a tme

5)     Fry till golden brown. Drain on absorbent paper

                                

Stage 2

1)      Meanwhile, grind all the ingredients under Masala / spicy mix to a smooth paste.

2)     Beat curd smooth and add this spice mixture into this.

3)     Check for salt and beat well to a nice gravy. Add ¼ cup water if necessary.

Spice mixture (divided use)

Stage 3

1)      Take the vadas one at a time when slightly warm and slightly dip it in a bowl of cold milk for about 10 – 15 seconds (this will help make it soft). Do this to all vadas

2)     Now arrange all vadas in a large flat plate. Pour the curd gravy on top.

3)     Make the tempering and pour on the curd + vadas.

4)     Let the vadas soak the masala curd gravy for at least an hour more to serve.

Tips:

1)      Don't oversoak the dals as it will absorb more oil.

2)     Don't let the oil smoke or overheat. It will make the vada look browned on the outside, but undercooked on the inside. Test a small droplet of the batter into the oil to see if the droplet comes up to the top – this is the perfect temperature

3)     Wet your hands everytime before making a vadai – the water film will prevent the batter from sticking to the kadai or your hands.

4)     You may just add well beaten curd on the vadas. The masala gravy is just optional.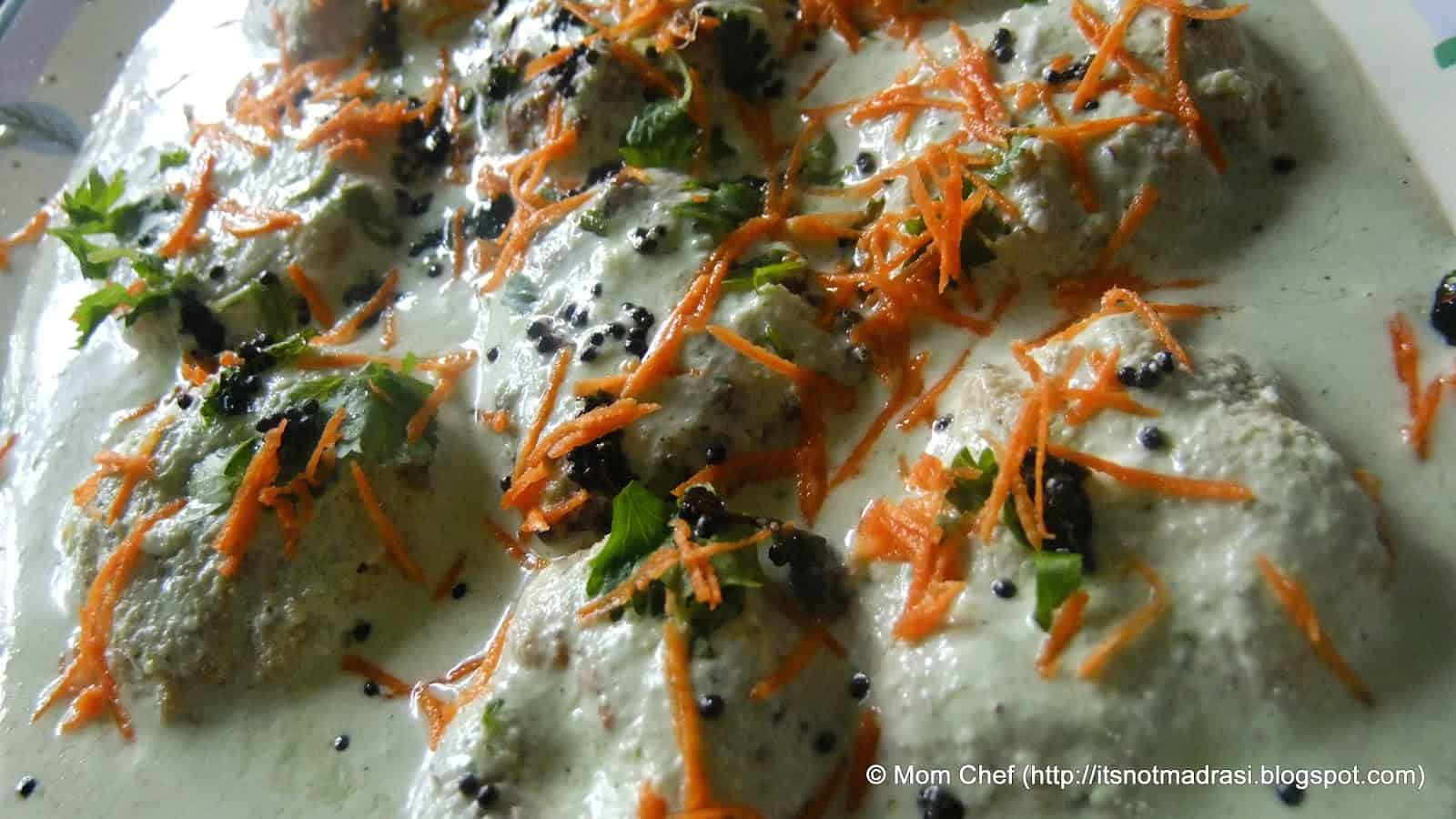 Pin
Check out the Blogging Marathoners doingBM#5along with me
Curry in a hurry under 30 min:Priya Suresh,Srivalli,Usha
Seven Days of Colorful Dishes Kid's Special:Vardhini,
Seven Days of Indian Sweets: Harini,Suma,Veena
Seven Days of Regional Specials: Aarthi,Kalyani,Pavani,Shylaja
Under 15 mins Quick Breakfast:Sushma Pinjala,