Sprouts Adai must be the healthiest breakfast option that is dished out at my place. A healthy twist to the usual Adai (lentil crepes), this is one sure shot way to get kiddo to munch on sprouts and is a very healthy breakfast for diabetics too. You can make it with normal soaked moong dal too, but I had some sprouts leftover after making Moongachi Usal. so made it with sprouts. Try it out, am sure you would love this. You may also use mixed sprouts, but as I had moong sprouts prepared it with the same.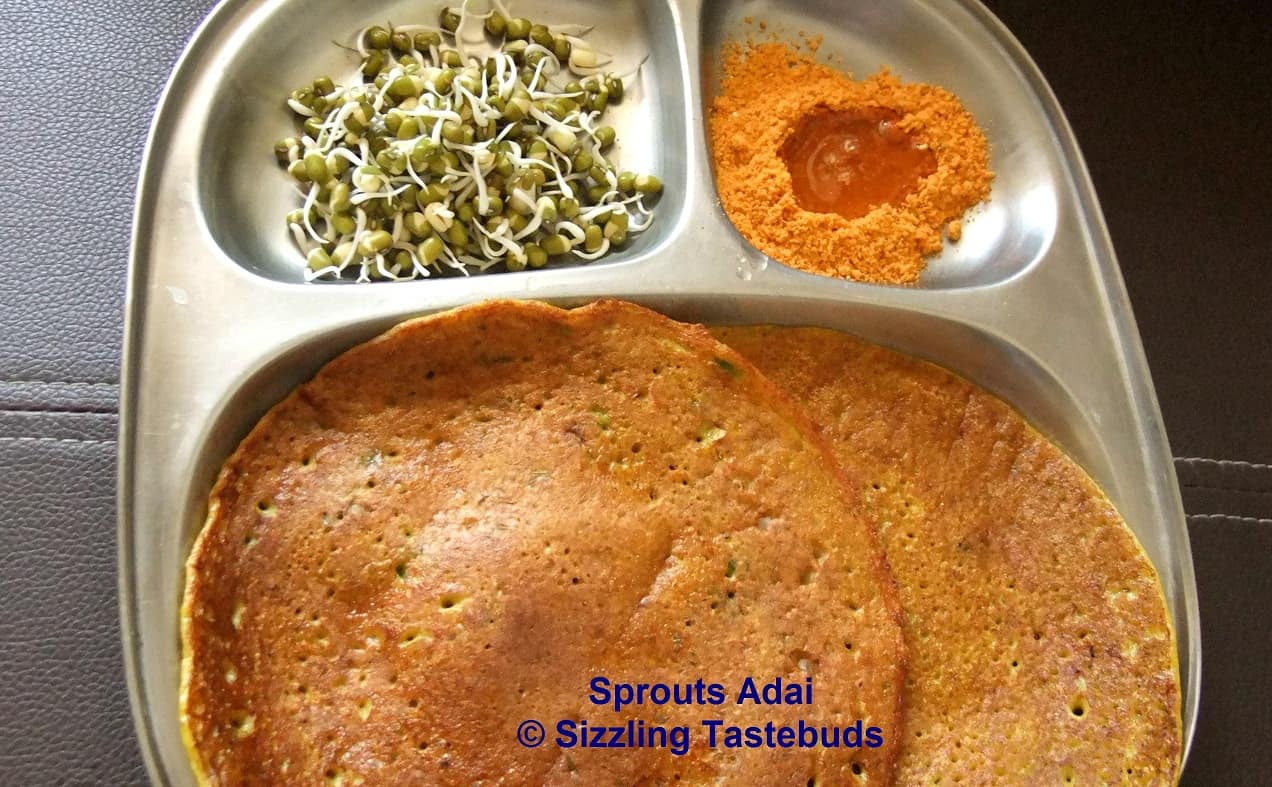 Pin
Soaking time : 4 hours
Prep time : 20 mins + grinding time
Makes : 20 adais
Ingredients:
White rice – 1 cup (you may also use brown rice here, but soak for 2 hours longer if doing so)
Toor Dal / split pigeon pea – 1/3 cup
Channa Dal – approx 1/2 cup
Sprouted Moong sprouts – 1/2 cup
Red Chillies – 4 to 5 (suit your spice)
Curry leaves
Salt – to taste
Turmeric – 1/2 tsp
Jaggery – half a lemon sized
Ginger – 1/2 inch grated
Hing / Asafoetida – a generous pinch
Oil – to fry the Adai
Method:
1) Wash and soak the rice and dals separately for 4 hours. Add the red chillies to soak along with the dals.
2) Grind the rice first. Then add the dals, chillies, sprouts and grind to a smooth paste.
3) Add salt, curry leaves, hing,grated ginger, turmeric, jaggery and mix well.
4) Give it a standing time of 1 – 2 hours (I soaked the dals / rice overnight, and made the adais with the batter ground the next day)
5) To make the adais, heat a tava. When moderately hot, spoon a ladleful of this batter onto the middle of the tava. Spread like a dosa, but slightly thicker than normal dosa
6) Drizzle oil around the sides. Cook on both sides and serve with Molagapudi and any chutney.