in the first of Gluten free / Vegan / Paleo dishes (the theme for this week) , we have Coriander Poha (or green poha as my little one calls it). Adapted from Anusha's recipe, we made our little tweaks to suit the family's preference. Poha or Aval Upma is so much a favourite at home, we have so many varieties already:
Poha / Beaten Rice / Aval / Avalakki is rich in B12and so good for growing up kids , so its always part of my weekly menu rotation. This version of Coriander Poha is fortified with the Vitamin C rich fresh coriander leaves. Do make this as a variant and let me know how your family likes this.
Prep time – 10 mins, Cook time – 10 mins, Serves : 2~3
Gluten free and Vegan Coriander Poha (Can be nut free as well if you wish).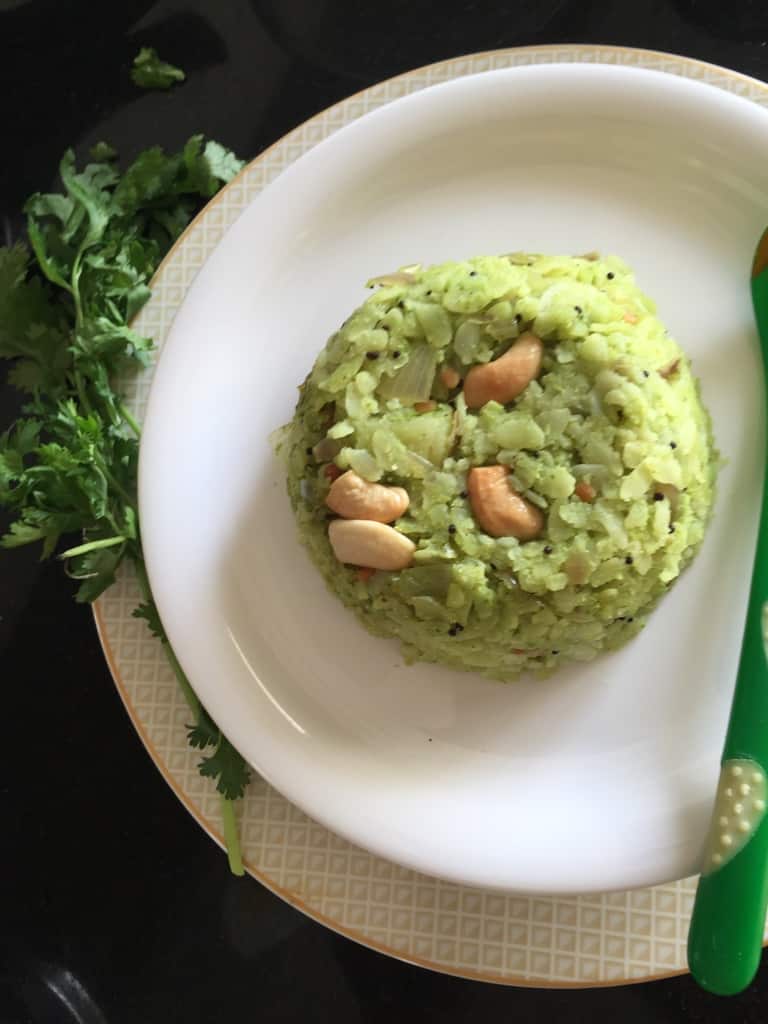 Pin
Ingredients:
Thick poha – 1 cup (250 ml)
Salt – to taste
Oil – 2 tsp
Tempering : 1/2 tsp Urad dal, 1 tsp mustard seeds, 1/2 tsp Cumin (opt.), Few Peanuts or Cashews (opt.) , Few curry leaves
To grind:
Fresh Coriander leaves – 3 handfuls (or about 1/2 cup pressed)
Medium Onion – 1 (opt.) – I didn't use
Fresh Coconut- 1/4 cup
Green chillies – 1 to 2 (adjust spice, I used really hot chillies, sautéed in 1/2 tsp oil)
Cashews – 5 ~6 (skip for any nut allergy)
PIN FOR LATER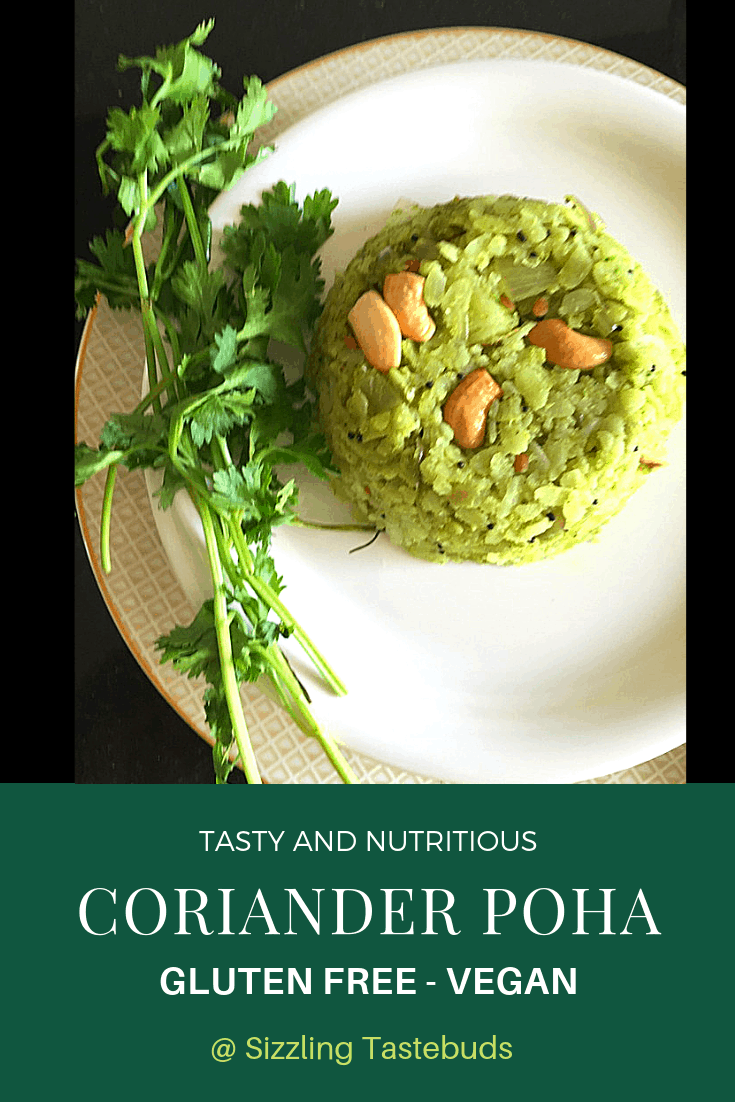 Pin
How to:
Wash poha under running water and drain in a colander. Cover and keep aside.
Meanwhile, blend all the to-grind ingredients to a smooth paste with 3-5 TBSP of water.
In a non stick pan, add il. splutter mustard seeds, curry leaves, peanuts (if using) , urad dal and cumin seeds. Now add the ground paste and saute for 4-5 mins till raw smells disappears, add salt at this stage.
Sprinkle few drops of water if its evaporating too fast . Add the soaked and drained poha and toss very well.
Sprinkle little more water to make it slightly moist. Cover and cook for 1-2 mins more.
Serve hot as is.
Sending this to BM#97 under Paleo/Vegan/GF foods theme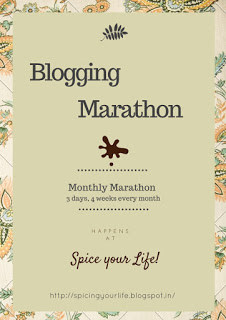 Pin