Parathas are welcome anytime,any day. My self confessed love for a particular Alu Paratha that I ate eons ago is well documented. Although we make Palak Parathas & Methi Parathas quite regularly at home, I was wanting to make Spring Onion Parathas sometime soon, and BM # 14 under wholegrains theme gave me that right opportunity. Team this flatbread with any spicy chutney / pickle & curd, and you have a winner on hand. Great for kids' lunchboxes too,. I added some grated cauliflower & Kasuri Methi to this (whose textures blended so well with the Spring Onions), so it was a wholesome and healthy meal to say, the least 🙂 Do try it out and let me know how you liked it 🙂 Meanwhile, I am sending this to my own eventHoliFest running at this blog. If you want to know what the other members have dished out for BM#14, head here.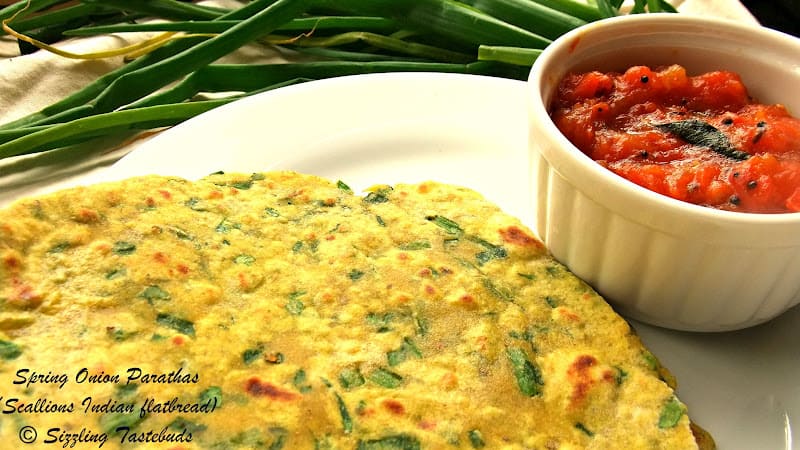 Pin
Prep time : 20 mins
Cook time : 20 mins
Makes : 6 Parathas
Ingredients:
Spring Onions – 1 cup – washed, pat dried and chopped fine
Cauliflower florets – 1/4 cup (totally optional, but a nice add on)
Kasuri Methi (dried fenugreek) – 1/2 TBSP
Onions – 1 medium – minced very fine.
Wholewheat flour – 2 cups
Salt – to taste
Turmeric powder – 1/2 tsp
Oil – 2 TBSP + to shallow fry the parathas
Ghee / clarified butter – 1/2 TBSP
Dry spices : Red Chilli powder, Garam Masala, Jeera Powder – all to taste
Ajwain (Carrom seeds) – 1/4 tsp (crushed)
Green chillies – 2 (minced fine) – adjust spice
Coriander leaves – a handful.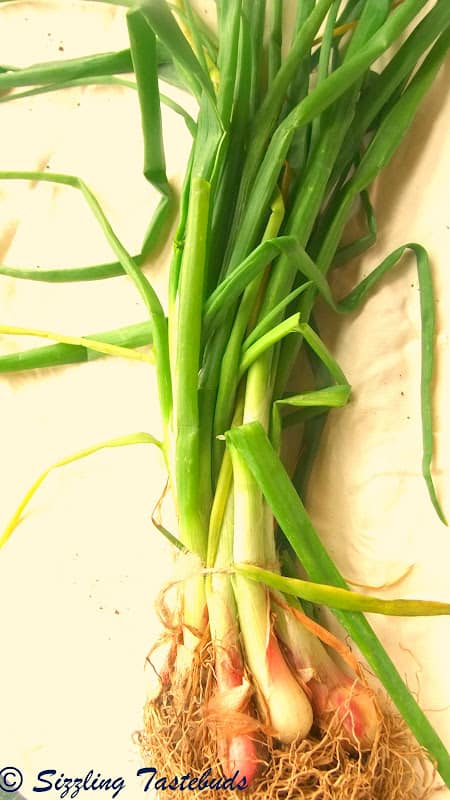 Pin
Method:
(A) FILLING:
1) Blanch the cauliflower in slightly salted water for 10 mins. Drain thoroughly and grate the cauliflower.Squeeze and remove excess water (very important step)
2) Slightly crush the Kasuri Methi between your palms.
3) In a pan, heat 2 TBSP oil. Add minced onions (if using) and saute till they turn pink. Now add grated veggies, spring onions and fry slightly till the raw smell disappears. Add salt, turmeric, dry spices and mix well till you get a nice dry mixture. Finish with crushed Kasuri Methi , coriander leaves and cool the mixture thoroughly.
OUTER COVER ( PARATHA DOUGH) :
Meanwhile, rub the ghee into the wholewheat mixture and adding salt and water, make it to a soft dough. Let the dough rest for 10 – 15 mins. You may also make the dough before making the filling.
MAKING THE PARATHA:
1) Divide the filling to equal lemon sized balls.
2) Pinch out a nice big ball out of the dough and roll out to a 4″ roundel. Put the filling inside, cover & wrap, dust in flour and roll out to thick parathas
3) Cook on a medium hot tava (skillet) with oil on both sides till finely cooked.
4) Serve hot with Tomato Pachadi (recipe coming soon!!) for a yummy wholesome meal !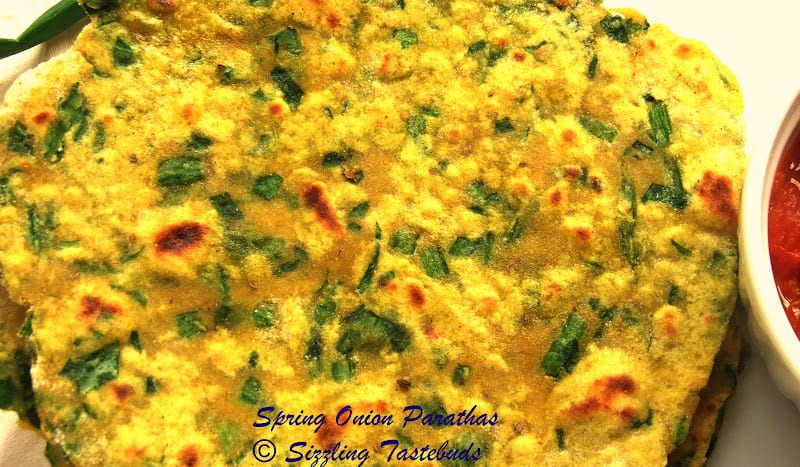 Pin