Its amazing how a simple Pizza dough can give rise to so many yeasted breads– in as many forms and shapes. While I am yet to post the basic Pizza dough / Bread dough, this is one take on it . Flavour and topping courtesy are the dear Husband who,although isnt into too much (read any) bread,he does like an occassional Focaccia / Turkish Pide / Pizza on a lazy weekend brunch.
Today's bread is quite simple, and as I mentioned in my post on the Baked Karela Chips, I am quite drawn to the oven often than I thought, and always have a small batch of processed dough (pizza dough thats risen once or twice) in my freezer. Today was one such experiment which we all rather liked…Goes very well with a bowl of warm Carrot – Tomato soup…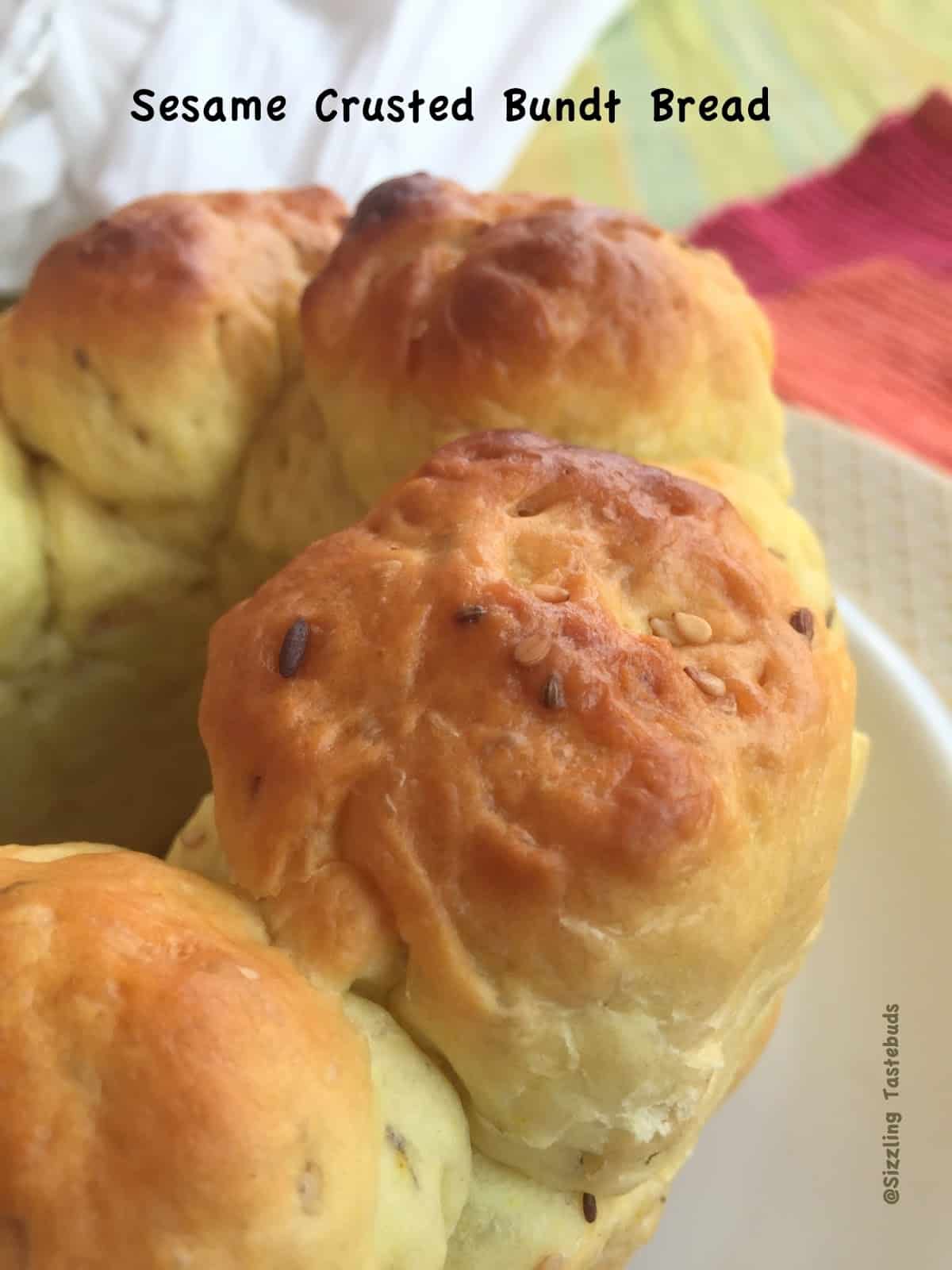 Pin
So, if you are keen on a weekday / weekend Lunch or dinner with bread and soup for this #Xmas or #Newyear2016, do try this out and let me know how you liked it..While this goes to Day 10 of Bakeathon.
Prep time : 15 mins | Rise / Standing time : 90 mins + 25 mins | Baking time : 25 mins
Makes : 1 loaf


Ingredients:
Bread flour – 2 cups
Instant Yeast – 1 pkt (7 gms)
Warm water – 1/2 cup + 3 TBSP (or as required)
Salt – 1/2 tsp (or to taste)
Oil – 3 TBSP (2 TBSP+ 1 TBSP – divided use)
Honey – 1 TBSP (omit if vegan)
Red chilli flakes – 1/2 tsp
Roasted Sesame – 1 TBSP – for topping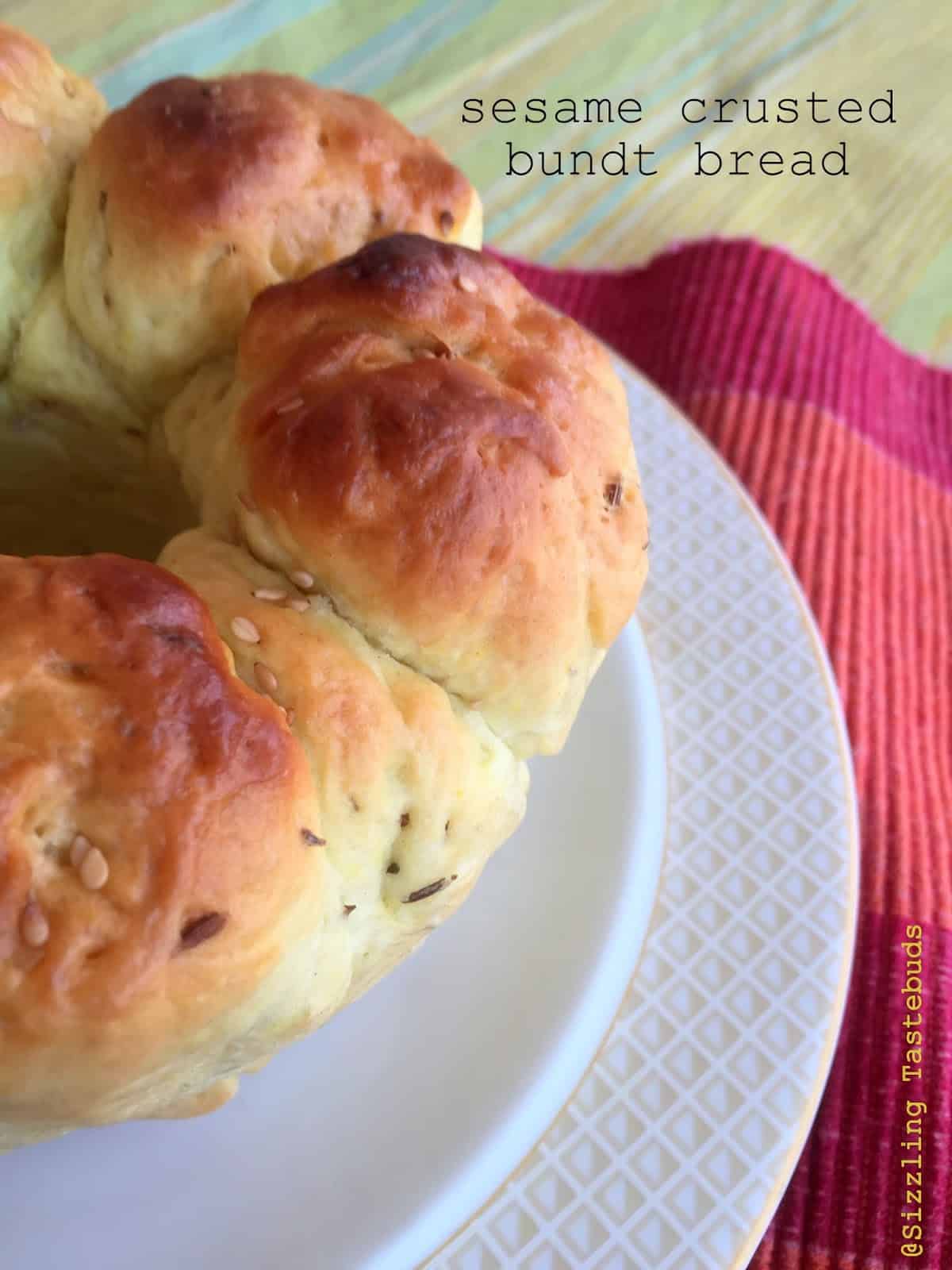 Pin
Method:
In a stand mixer, mix all ingredients except sesame and knead to a smooth pliable dough. If kneading by hand, add as little or more water as required. It took me 8-9 mins to knead with my #Kitchenaid Stand mixer.
Shape the dough, and place covered in a greased bowl for 90-120 mins to double.
Once risen, punch the dough lightly, divide into 12 equal portions. and with slightly greased hands, make them into small roundels
Grease your bundt pan (I used a silicon quick release pan, so didnt grease), place these small roundels in two layers, lightly brush with 1/2 tsp oil (which was remaining) and top with roasted sesame.
Cover and let it rise for further 30 – 45 mins till fluffy.
Towards the end of the 2nd rise, preheat oven to 180 C.
Bake the bundt bread for 23-27 mins till bread is baked, and the tops get a golden top.
Cool on wire rack, unmould and serve warm or at room temperature as it is or with any soup.
This is part of the
Bake-a-thon 2015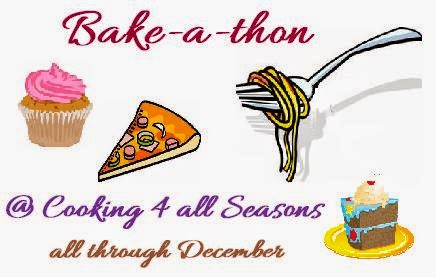 Pin