Northern Parts of
Karnataka especially Belgaum, Gulbarga districts share their culinary tastes
with parts of Maharashtra. And therefore some recipes are overlapping. One such
dish is the Thalipeeth (in Marathi) called Thalipitta. Today's dish is from the
border region of Karnataka with its flavour of the flat bread from Maharashtra,
but with its unique twist.
This was a hallmark
dish that my grandmom's dear friend and neighbour Shanthamma Ajji (ajji
means grandmom) used to make so well, and she was a wonderful lady who taught
us all so many unique dishes from that region. We make it usually for breakfast
or an evening snack but it augers well for even a heavy lunch.
A couple of these
flatbreads with some curd or pickle and it fills you up for hours. Do try it
out as this dish goes to BM Buffet under Karnataka cuisine. Presenting Sabbakki
Soppu Thalipitta (Dill leaves flatbread with mixed flours). Another traditional accompaniment to this Thalipitta is Huchchellu Pudi (recipe soon!)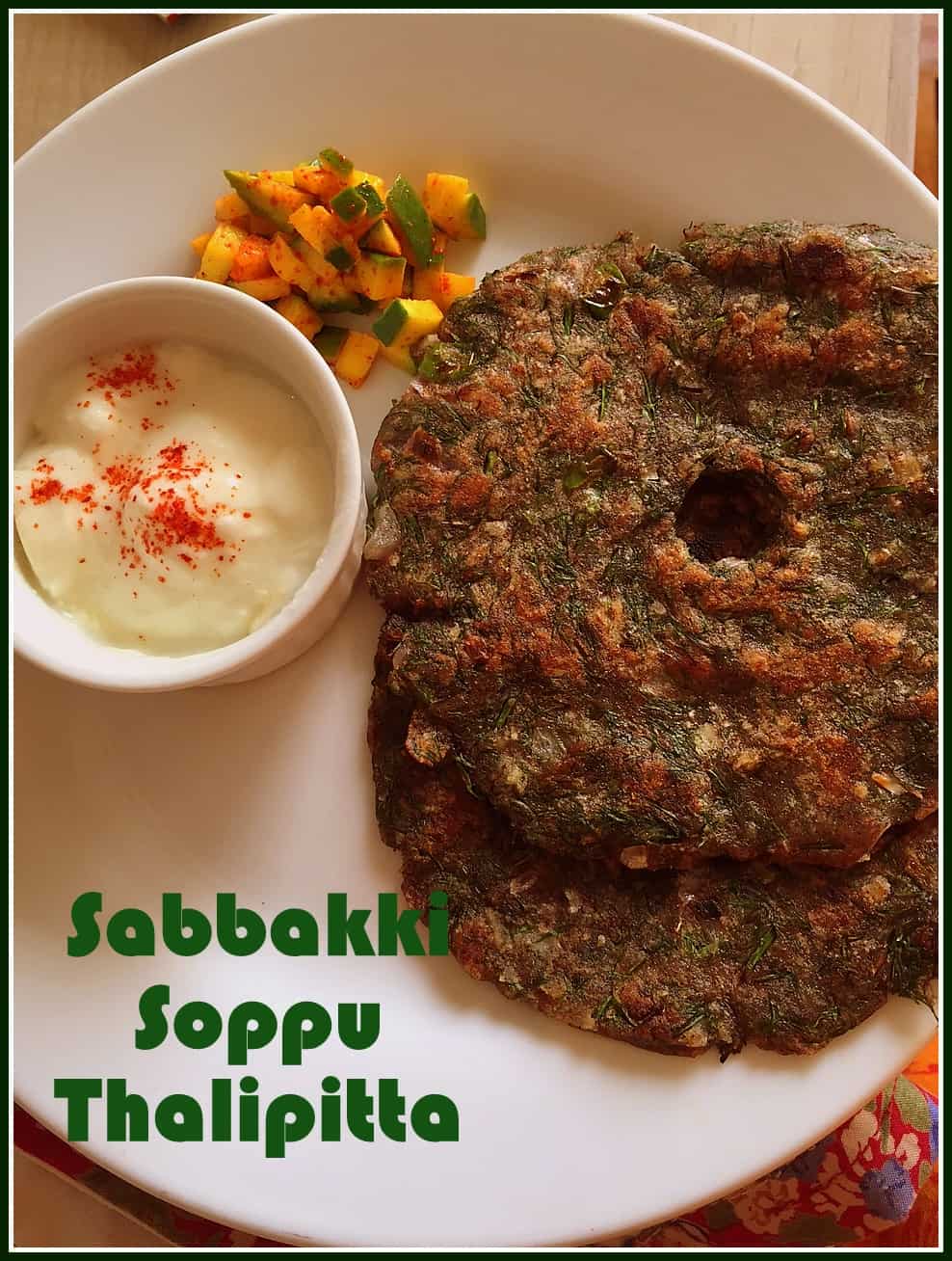 Pin

Prep time : 25 mins |
Cook time : 15 mins | Makes : 8 – 10 medium Flatbreads

Serving suggestions :
Curd / Yoghurt and any pickle. Jaggery also works.

Cuisine : South
Indian, Spice level : medium – high, course : breakfast or snack

Ingredients:
Dill leaves (finely
chopped) – 1 large cup
Rice flour – 1 cup
Ragi / Finger millet
flour – ½ cup
Jowar (sorghum flour)
– ¼ cup
Onions – 3 medium,
minced fine
Cumin / Jeera seeds –
½ TBSP
Fresh or frozen Grated
coconut – ½ cup
Hing / Asafoetida – a generous pinch
Green chillies – 6 to
7 (adjust spice) – finely minced
Jaggery – 1 TBSP
(grated)
Warm water – to make
the dough (use as little water as reqd)
Salt – to taste
Oil – to pan fry the
flatbreads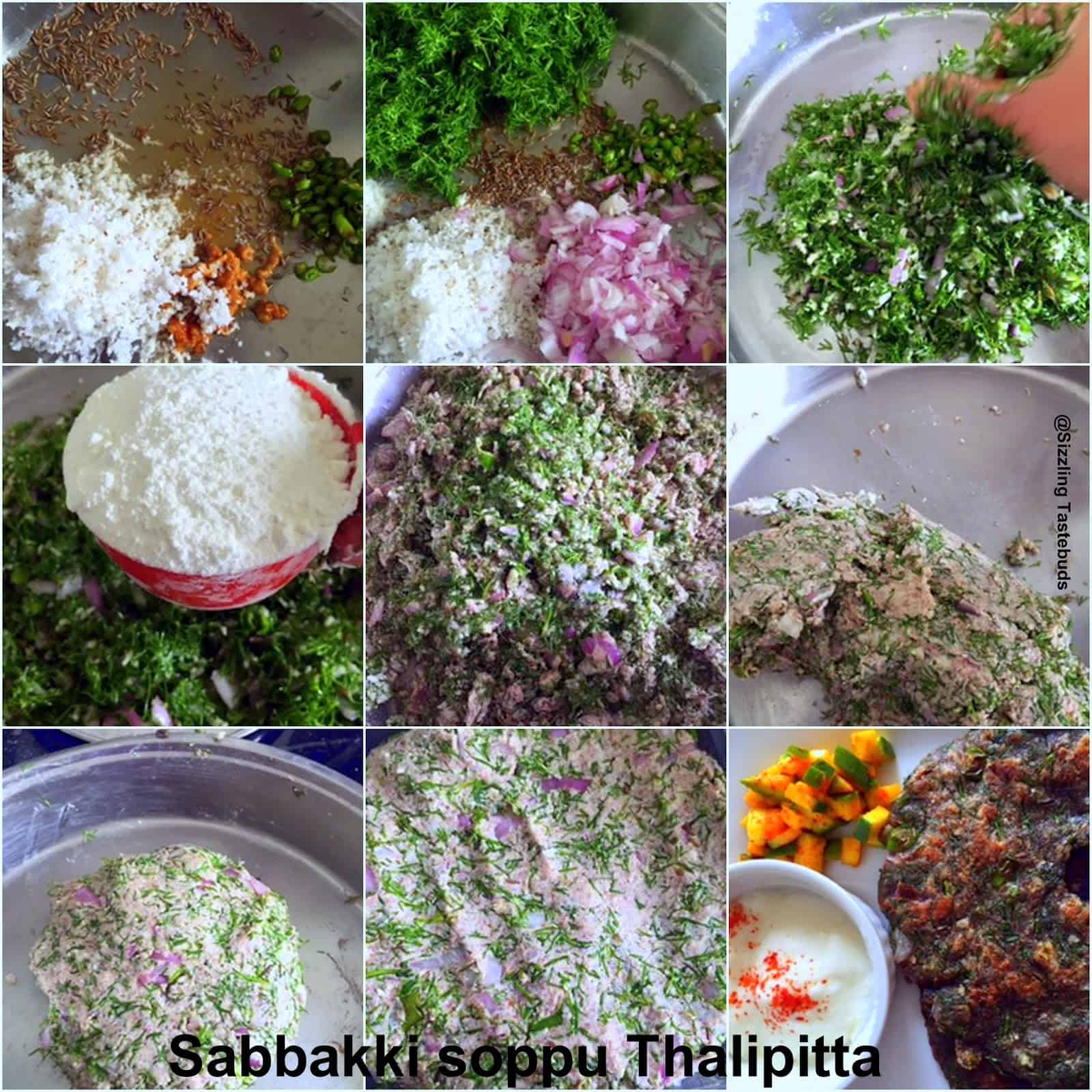 Pin

Method:
Wash, drain and
finely chop the dill leaves. Ensure it has no extra water. Dry on kitchen
towels if required.
As shown in the
picture, in a large flat plate, take 3-4 TBSP of water, add cumin, hing, jaggery
, salt and mix well. Now add the coconut, onions, dill leaves, mix well and
leave for 5-6 mins. The salt and onions will leave some more residual water.
Now add the chillies,
flours one by one and start kneading, taking care to only sprinkle warm water
as you work on the dough. As you start kneading the onions will leave some more
water so it will make kneading easier. Make it to a pliable dough – neither too
soft or hard. Cover for 8-10 mins.
Take small portions
and with the help of greased fingers, flatten the bread on an oiled ziplock
(plaintain leaves work best for this). Slowly peel out the flatbread and place
on a hot tava (skillet) and drizzle oil in the centre and around, cook on a
medium flame on both sides (about 2 mins per flatbread).
Remove to a plate and
serve hot with yoghurt, pickle, jaggery on the side.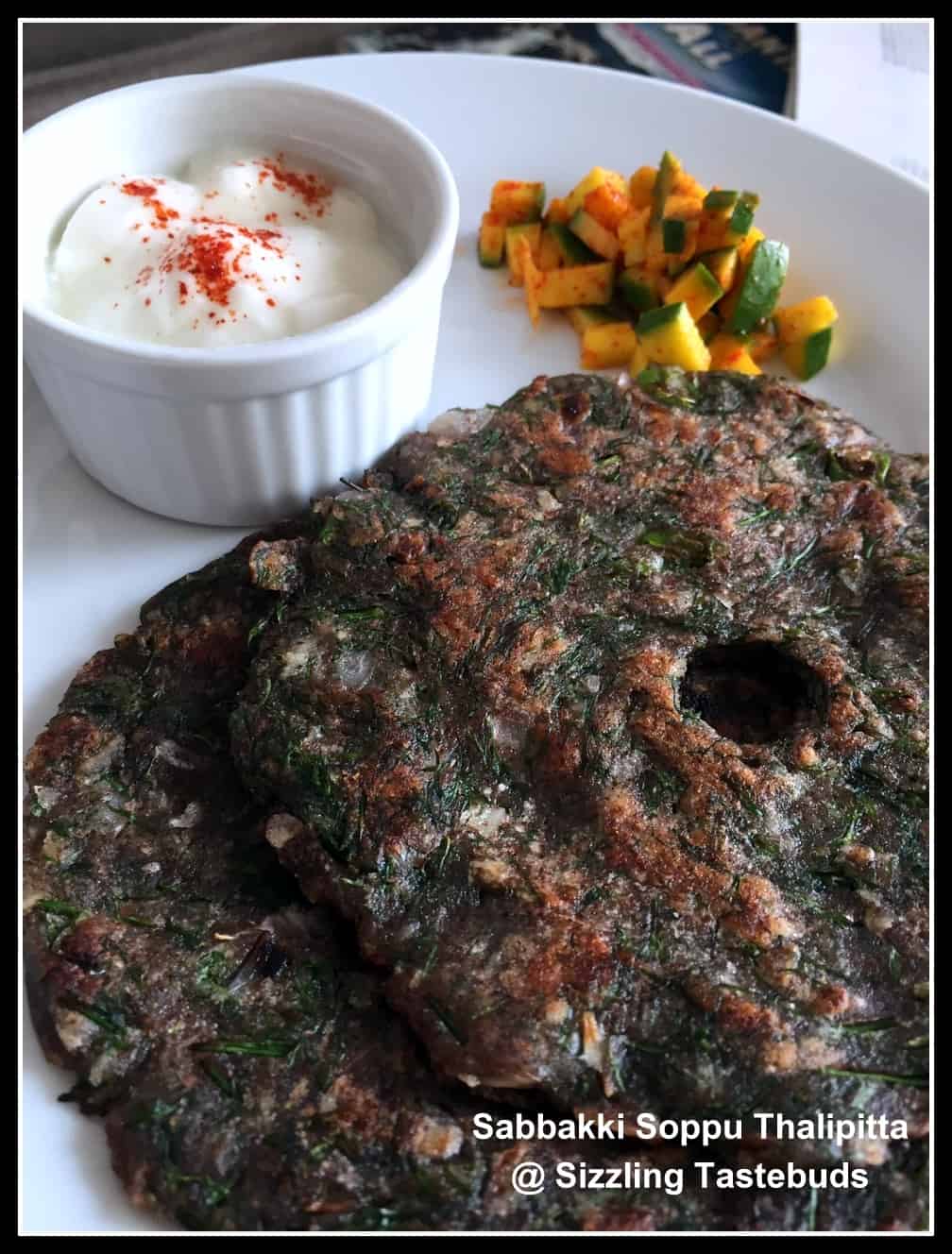 Pin
Notes:
1)    Don't
skip the grated coconut – it balances the heat from the chillies and the dill leaves
2)    if
you want to refrigerate the dough, keep in an airtight container. Make sure to
bring to room temperature before flatten the dough.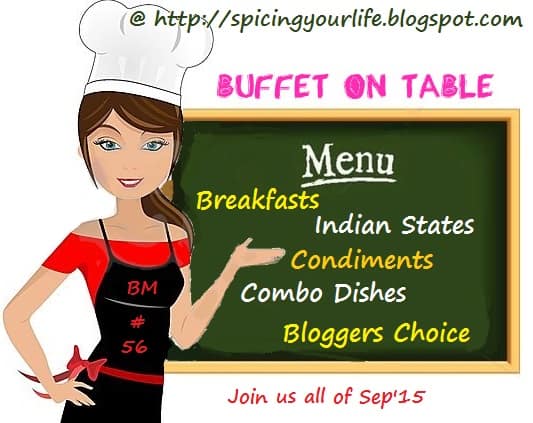 Pin
Check out the Blogging Marathon page for the other Blogging Marathoners doing BM# 56