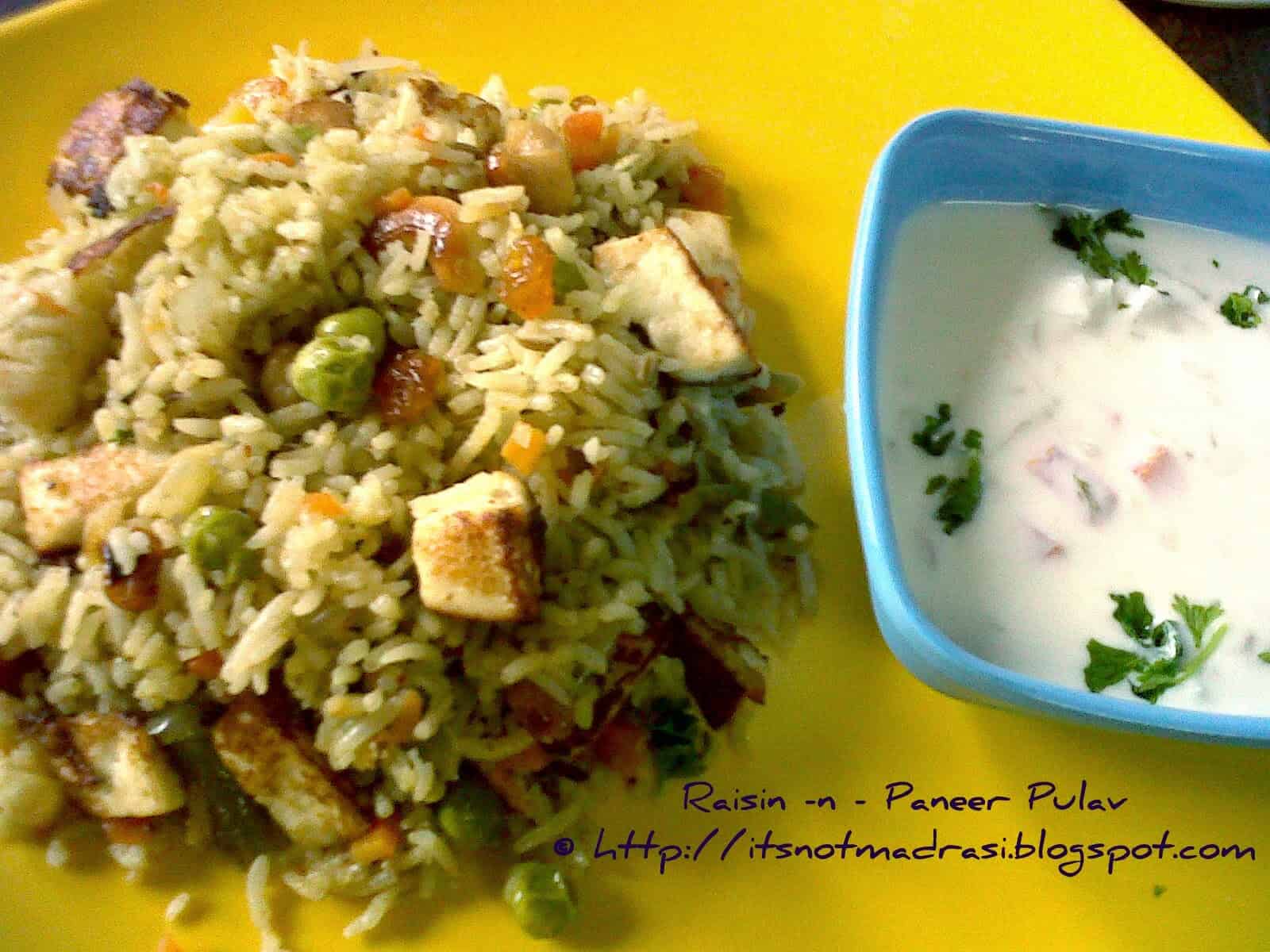 Pin

One of the quickest things to put together as a One Pot Meal is Pulav. But last night, I was shortchanged as I discovered that halfway through my preparation, I had run out of veggies, save for a carrot and some frozen peas. Quickly rustled up some raisins, cashews and paneer, and voila, it was a scrumptious twist to the usual which transformed itself as Raisin n Paneer Pulav. Indeed a nice discovery, err, accident that gave me a new dish 🙂
Served this with Cucumber – Onion Raita, and there we had a great combo meal ! We enjoyed the crunchy nuts along with super soft paneer and this was a healthy lunch box idea too !

Sending this to Day 5 of Blogging Marathon and also to Jayashree hosting my event –Healthy Lunchbox Ideas–Paneer theme dishes. 

See what my friends in Blogging Marathon are doing.

Prep time : 10 minutes. Cook time : 20 minutes. Serves : 3

Ingredients:
Long grained rice / basmati rice – 1 cup
Onions – 1 large
Frozen peas – 1/4 cup (you may use fresh too)
Cauliflower florets – 1/4 cup (opt)
Carrots – diced
Paneer chunks – 1/2 cup
Raisins – a handful
Cashewnuts – 5 – 8 (opt)
Oil – 2 TBSP
Salt – to taste
Garam Masala / Biryani Masala – 1/2 TBSP
Dry masala :
Elaichi / Cardamom – 1 or 2
Bay leaf / Pulav patta – 1 or 2
Cinnamon – 1/2 inch
Masala to grind:
Onion – 1 large
Garlic – 2 pods
Ginger – 1/2 inch
Green chillies – 1 or 2
black pepper – 5 – 8
Jeera / cumin – 1 tsp
Method:
1) Wash and soak rice for 20 mins. Drain.
2) Meanwhile, pulse all ingredients under "masala to grind" with little or no water.
3) In a rice pot, heat oil Fry the dry masala ingredients till slightly browned. Add the masala paste (step above) and fry till the oil separates.
4) Now add the rice and veggies and fry well.
5) Add salt, garam masala / biryani masala and stir once more.
6) Add twice the water and bring it to a boil.
7) Cover and cook till done.
8) In another pan, fry the paneer chunks and raisins separately in a tsp of oil.
9) Once the rice is done, mix in these paneer chunks and raisins/nuts and serve hot with Onion – Cucumber raita and / or roasted papad.
Note:
Please adjust the spice according to your palate.