Pachadis and Chutneys are my family favourites anytime. And they save valuable time while adding a dish to go with Chapatis or rice. And today's dish – Quick Tomato Pachadi – is here. As promised while making the Jowar Mooli Rotis, I am giving the recipe here. This can be made in less than 15 mins and goes well with Akki Rotti, Ragi Rotti or even Chapathis and Dosas too.
Addition of garlic is optional to this, and the taste is awesome. This is the second Tomato based dip after the Quick Tomato Chutney. Be sure to use only ripe tomatoes for this dish. If you are looking for a long shelf life dip, you can also check thisTomato Thokku(or tomato pickle).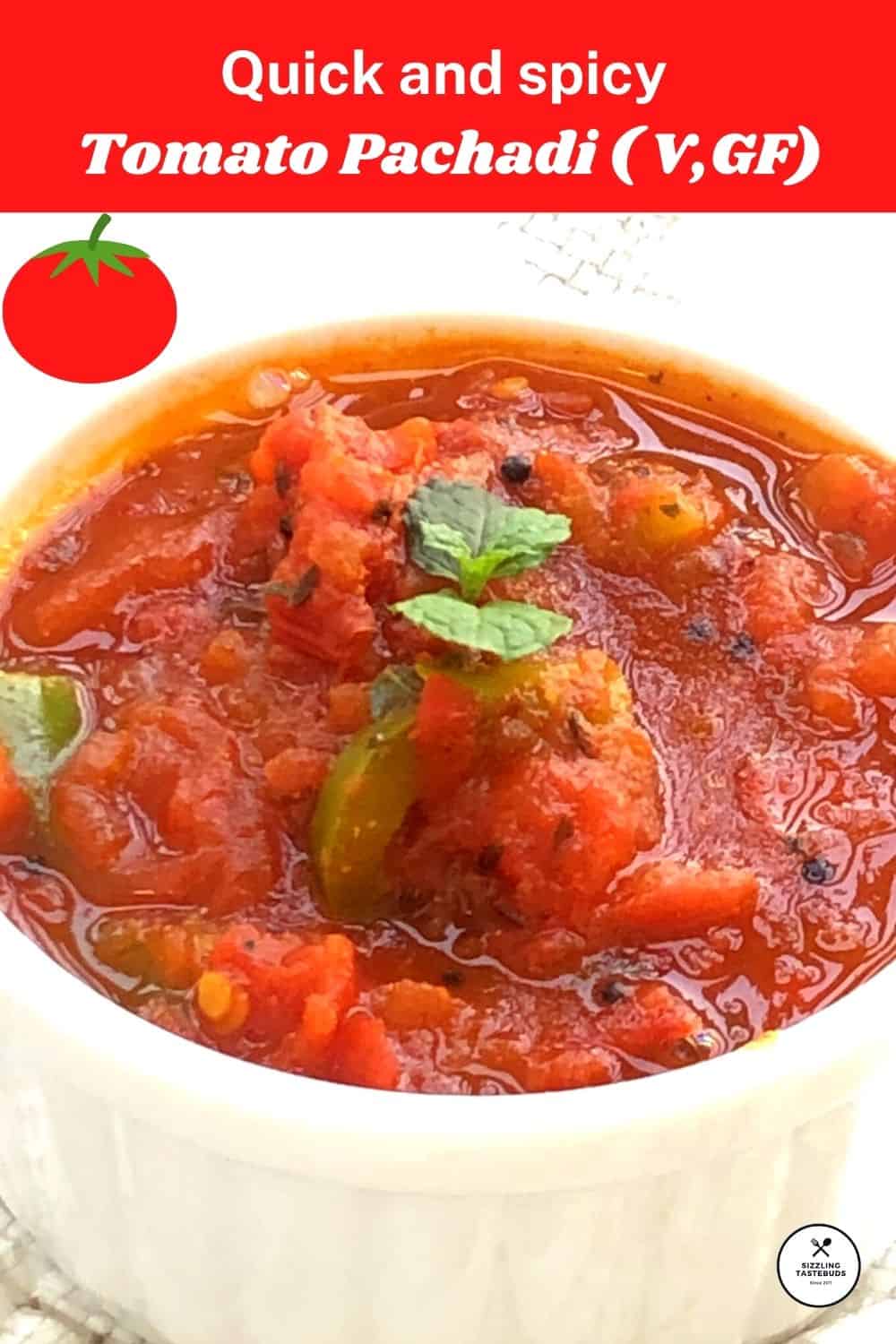 Pin

———————————————————————————————————-

Prep time – 10 mins

Cook time – 10 mins

Serves – 2

Serving Suggestions : Any Indian breador Steamed rice or Chapati or Idli/ Dosa

Difficulty level : Easy

———————————————————————————————————-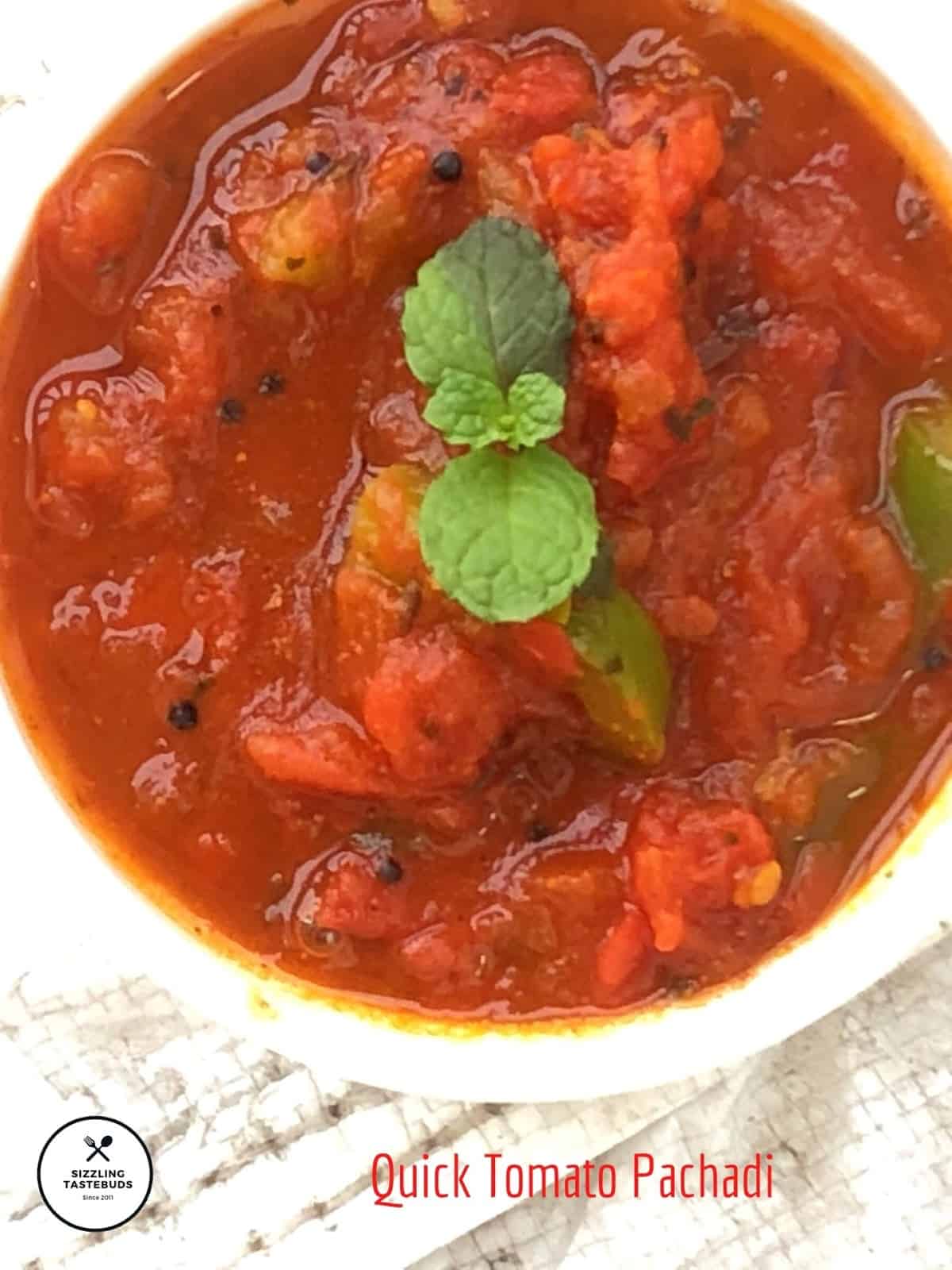 Pin

Ingredients:
Ripe Tomatoes – 400 gms
Oil – 2 TBSP
Garlic – 4 to 5 pods
Bell Peppers – 1/2 medium (optional but recommended)
Turmeric powder – 1/4 tsp
Green chillies – 2 nos
Red dry chillies – 2 nos (Kashmiri variety)
Tamarind – a small lemon sized ball
Fenugreek seeds – 1/2 tsp
Asafoetida – a generous pinch
Salt – to taste
Tempering : Mustard seeds,curry leaves
Coriander leaves – for garnish
PIN FOR LATER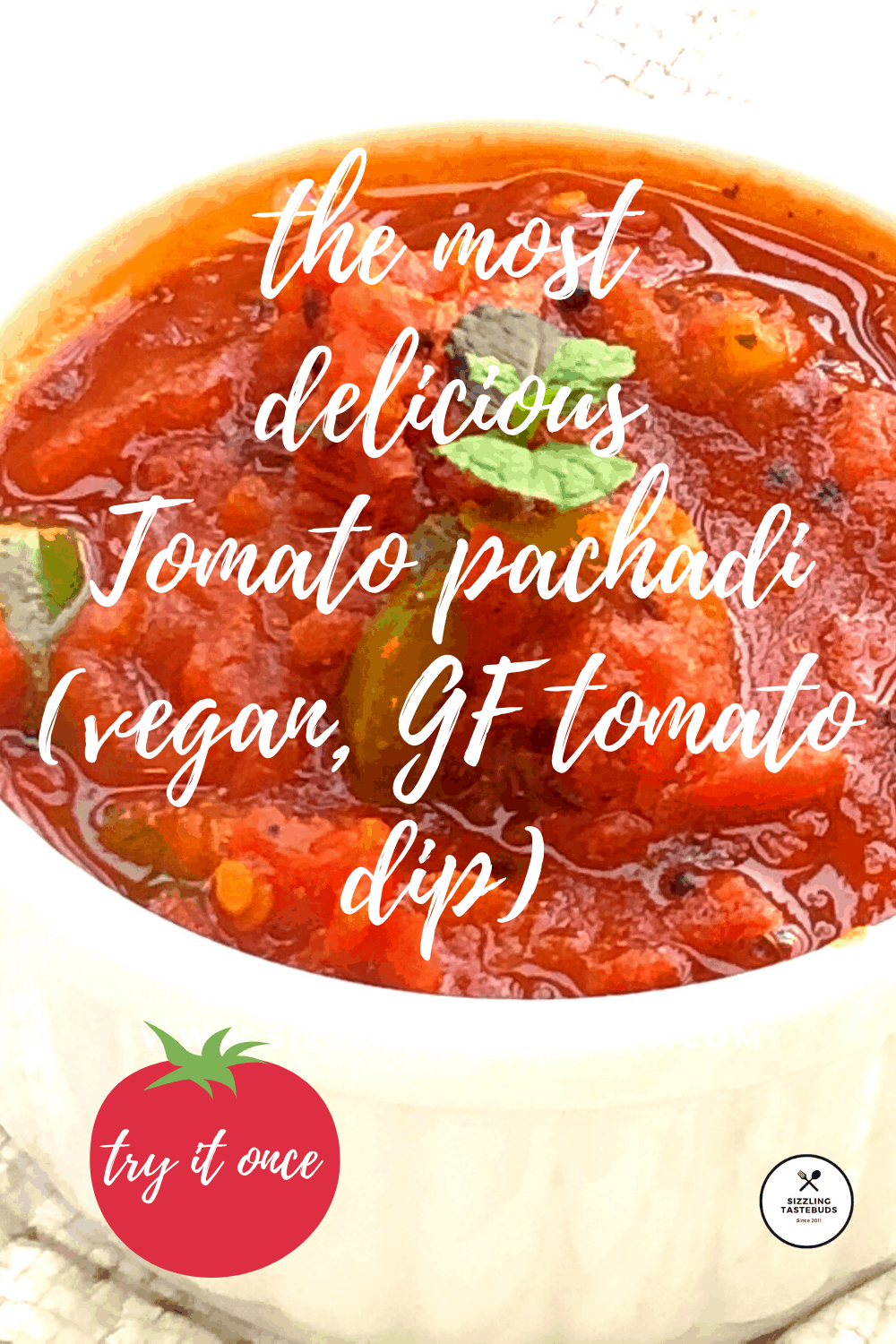 Pin
Method:
1) Dry roast red chillies & fenugreek (methi seeds) separately & keep aside.
2) Now add 1/2 TBSP of oil. Saute green chillies, tamarind and garlic till the garlic turns slightly brown and the chillies shrink a bit while burnt a little on the outside. Cool
3) Now grind the dry ingredients first (chillies and fenugreek seeds) to a coarse powder. Add the fried and cooled chillies, tamarind and garlic and grind again – first without any water, and then add 2 – 3 TBSP of water to a thick paste.
4) In a thick pan, heat remaining oil. Splutter mustard seeds, asafoetida and curry leaves. Add turmeric powder and diced tomatoes and bell peppers. Fry well till the oil coats the tomatoes. Add salt and 1/4 cup of water and cover and cook till the tomatoes turn mushy.
5) Now add the ground masala and fry till raw smell disappears and the gravy turns thickish. Adjust salt and seasonings.
6) When you get a thick gravy, turn off fire. Transfer to a serving bowl, and add coriander leaves for garnish. Serve with Idli / Dosa / Uttappam or any flatbread.
Notes:
1) Tamarind is added to give it a tangy twist. If the tomatoes you are using are sour enough, skip this
2) You may not temper this dish, but use it as a dip for vegetable crudites and bread sticks for any party too. In that case, chill well before serving.
Redoing this post as part of updating the older posts with newer text and pictures for Foodies_RedoingOldPost challenge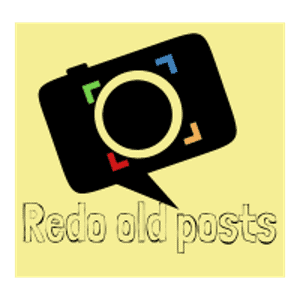 Pin