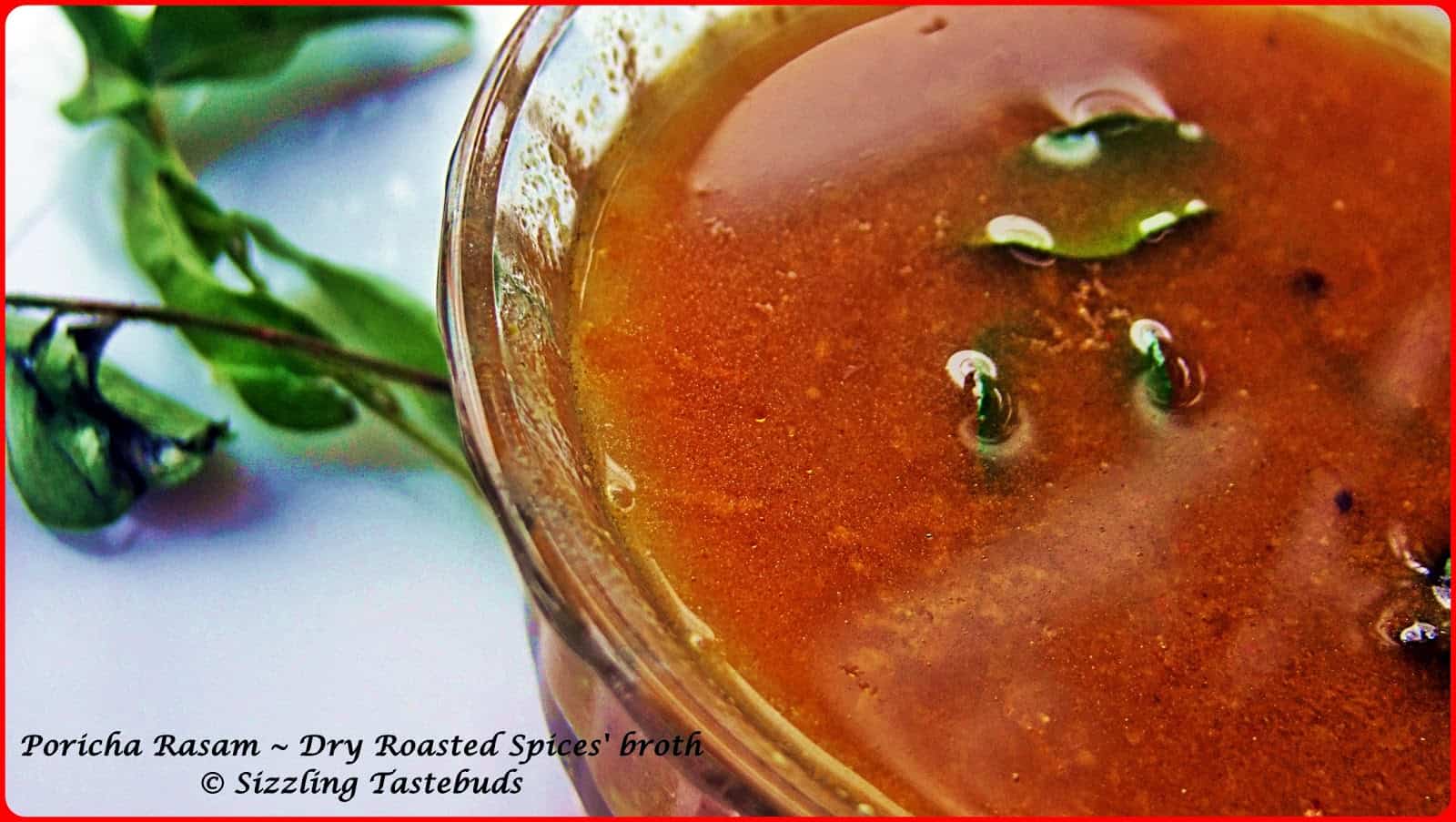 Pin

If I were to choose one signature dish by mom that is extremely comforting, I would choose today's dish – Poricha Rasam (or Poricha Sathamudhu). For the linguistically challenged, this is rasam without tamarind, and loaded with protein and ground masala and is a super combo with hot rice, ghee and roasted papad.. I can almost smell the aroma of this Rasam as I write this post- some dishes cannot be explained in mere words : its got to be experienced at the dining table 😉 I am not a great fan of tamarind in any form. So, while I do make Mysore Rasam and Tomato Rasam regularly, today dish – Poricha Rasam – is something I ask mom to make . Yes, I have learnt it too, but there is something about her 'kai manam (maa ka haath ke khaana) ) that makes me yearn for that special taste and flavour. And I hope to recreate that magic everytime I make this 🙂 Like other rasams, this too can be made with Toor Dal, but mom and me both prefer this with soaked and cooked Moong Dal that lends itself so beautifully to the texture of this rasam. Like most South Indian recipes, each household has its own method, but this comes directly from mom's cookbook and goes straight to :

Suma's MLLA, event by Susan, Healing foods – Coconuts @ Saffronstreaks, event by Siri & also Priya's Fruit / Veggie of the month- Coconut

Woo hoo ! I am almost writing an ode to this humble yet sublime rasam – something like a heirloom recipe.Without any more prose, lets get quickly to the recipe.

Prep time : 15 mins. Cook time : 12-15 mins. Serves : 6 adults

Ingredients:
Moong dal (split green gram) – 1/4 cup
Salt – to taste
Turmeric – a dash
Oil – 1 tsp
PinPinTempering: ghee (1 tsp), Curry leaves, mustard seeds

Spice Masala paste:
Coconut – 1/4 cup
Jeera / Cumin – 1 TBSP
Coriander seeds / Dhaniya – 1/2 TBSP
Channa Dal / Bengal gram – 1 tsp
Red chillies – 2
Asafoetida – a generous pinch
Raw rice – 1/4 tsp
Black pepper / Molagu – 6-9 corns
Method:
1) Wash and soak moong dal in warm water for 10 mins.
2) Meanwhile, in a skillet, add 1/2 TBSP of oil and fry all the masala ingredients (except coconut) one by one till the dals turn golden brown along with the coriander. Cool and grind along with coconut to a smooth paste.
3) Pressure cook the moong dal along with turmeric and salt for 3 whistles. Slowly release the pressure and mash the dal thoroughly adding requisite water (and consistency)
4) In a deep bottomed pan, add the mashed dal, ground masala paste and let it come to a rolling boil (covered) for 8 – 12 mins.
5) Once the rasam is ready, transfer to a serving bowl. Prepare tempering with ghee, mustard seeds, asafoetida (hing) and curry leaves. Pour onto the rasam and enjoy supreme bliss 😉
PinPin