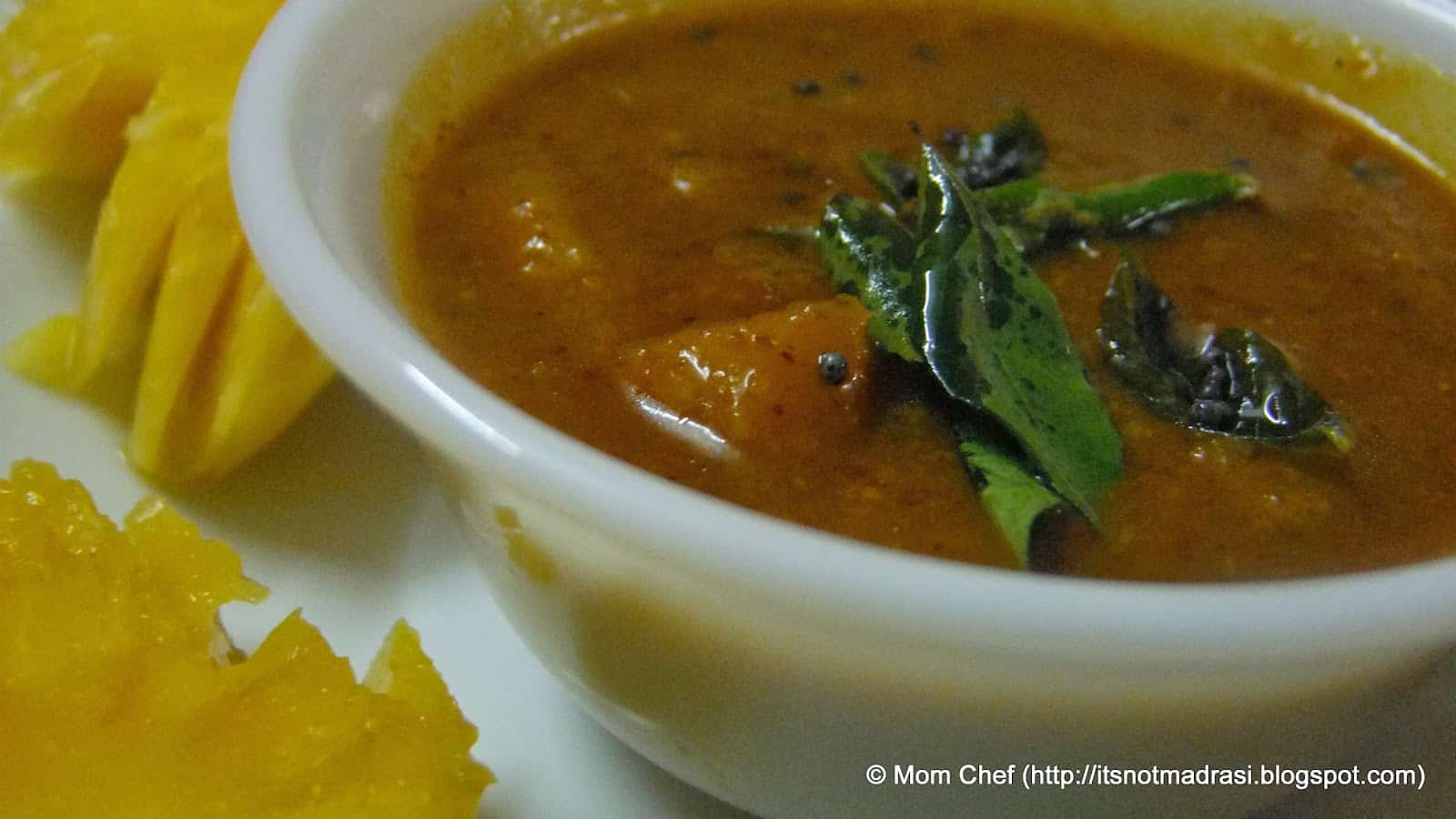 Pin

 A classic Kannada dish, Pineapple Gojju is a slurpy tangy curry and is a standard fare in weddings across South Karnataka especially. As kids, we used to look forward to invites to weddings / functions where this would be served 🙂 In Tamil, gojju is called 'gothsu', but  I was wondering what the 'english' equivalent would be – may be a tangy sauce 🙂

This is a superquick gravy to put together, especially in the summer season when this fruit is available in plenty. Do ensure you ensure sweet pineapple to get best results. If using canned fruit (which I quite don't prefer), ensure you drain out the extra syrup from the chunks. This curry goes well with chapathi, but can be also mixed with plain steamed rice and tastes heavenly with chilled yoghurt rice (mosaranna in Kannada). Slurp ! This goes to Blogging Marathon's Day 3 of "Curry in a hurry"

Preparation time: 10 mins. Cooking time: 10 mins. Serves : 4

Ingredients: 
Pineapple Chunks (1-inch cubes) – 3/4 cup
Tamarind – 1 lemon sized
Jaggery grated – 2 tbsp
Salt – to taste
Turmeric – 1/2 tsp
Oil – 2 tbsp
Mustard seeds – 1 tsp
Curry leaves – few
Masala Powder:
Fenugreek seeds – 1/2 tsp
Raw rice – 1/4 tsp
Dhaniya / dry coriander seeds – 1 tbsp
Red chillies – 2
Kashmiri chilli – 1 no
Urad dal – 1 tsp
Channa dal – 1/2 tsp
Hing / Asafoetida – 1 tsp
Dry grated coconut – 2 tbsp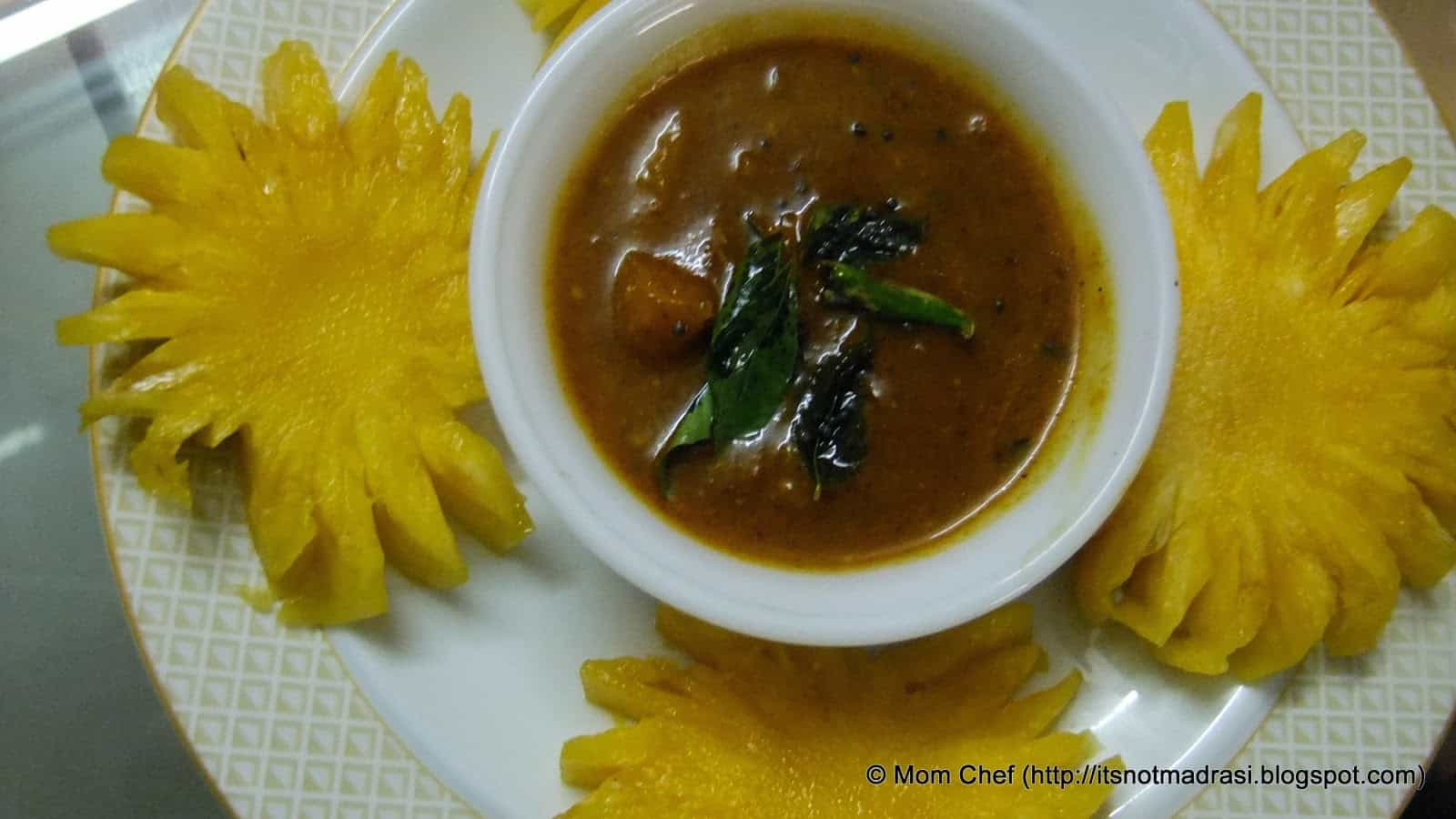 Pin
Method:
1) Boil the pineapple chunks in 1 cup of water and turmeric for about 5 – 6 mins. Cool.
2) Soak the tamarind in 1/2 cup warm water and extract the juice. If using tamarind extract, the required quantity is about 1 tbsp.
3) Meanwhile roast all the masala powder ingredients separately, one by one , in about 1 tbsp oil. Cool and powder into a fine powder.
4) In a pan, heat 1 tbsp oil. Splutter mustard and curry leaves. Add tamarind extract, boiled pineapple chunks (along with the water). Add salt.
5) When it comes to low boil, add the masala powder and stir well. Add grated jaggery at this stage. Cover and simmer on medium heat till you get the required consistency (pulikachal / pizza sauce consistency).
6) Check and adjust seasonings (spice / salt / jaggery ) according to taste.
7) Serve with curd rice / chapathi / plain steamed rice.
Tips:
1) Do use ripe sweet pineapples only for this.
2) The masala powder may be made in larger quantities and refrigerated to be used as and when required for the gojju.
3) If you are pressed for time, use a combo of 1/2 tsp of chilli powder + 2 tsp of Rasam powder instead of the masala powder. However, the proportion of other spices will need to be adjusted proportionately (esp. jaggery / tamarind)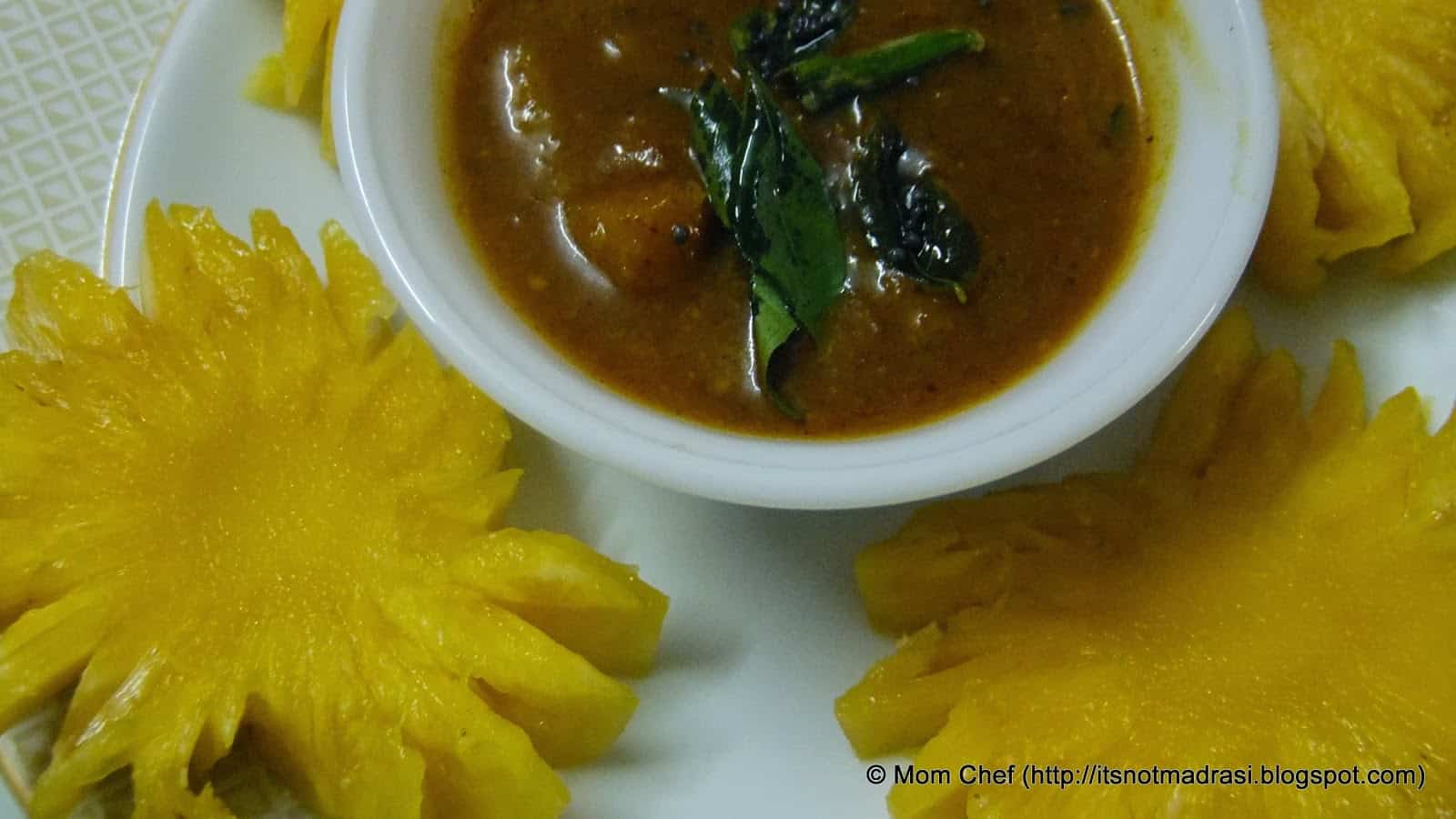 Pin
Check out the Blogging Marathoners doingBM#5along with me
Curry in a hurry under 30 min:Cool Lassi(e),Harini,Kalyani,Priya Mahadevan,Suma
Seven Days of Colorful Dishes Kid's Special:Priya Suresh,Veena,
Seven Days of Indian Sweets:Shylaja,Srivalli
Seven Days of Regional Specials:Priya Yallapantula
Under 15 mins Quick Breakfast:Aarthi,Vaishali