Pear is a common fruit found
throughout the year. While there are the indian and imported varieties, I am
personally fond of this low sugar fruit – the burst of mild sweetness combined
with the juicy flavor makes it a on-the-go snack too, especially after a
workout.  This salad today with fruits
came about after my elder kid came back from school after a long sports practice at school,
and wanted to have a quick snack, but no cooked stuff.
I pretty much added all that I had
in my refrigerator, and it was a great salad to tuck into. So here goes – Pear and Pomogranate Salad With Apple Cider Dressing…
Addition / deletion
of any of the other stuff here is totally optional – see what works for your
family 🙂 The next time on I am sure
to add some more nuts to give it an added crunch and texture.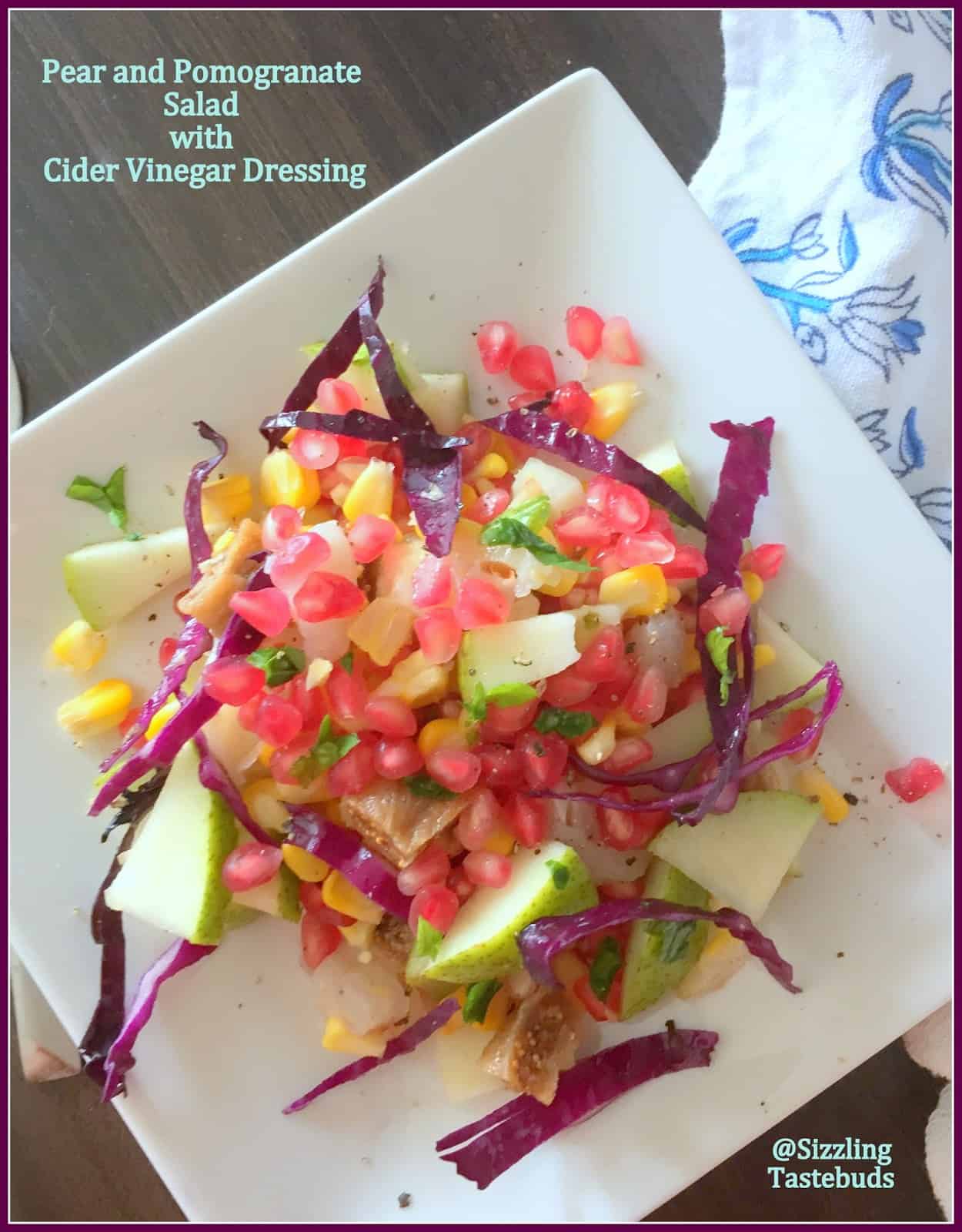 Pin

This goes to Harini's Fruits Theme – Kids Delight, event by Valli, and also to Blogging Marathon.

Prep time : 10 mins, zero cook,
serves : 2
Pear – 1 large – cubed without peeling
Boiled corn – ¼ cup
Shredded red cabbage – a handful
Pomogranate pearls – 2 handfuls
Chopped dried figs – 1 TBSP
Chopped mint leaves – few (opt.) 
Dressing :
Apple Cider vinegar – ½ TBSP
Salt and pepper – to taste
Olive oil – ½ tsp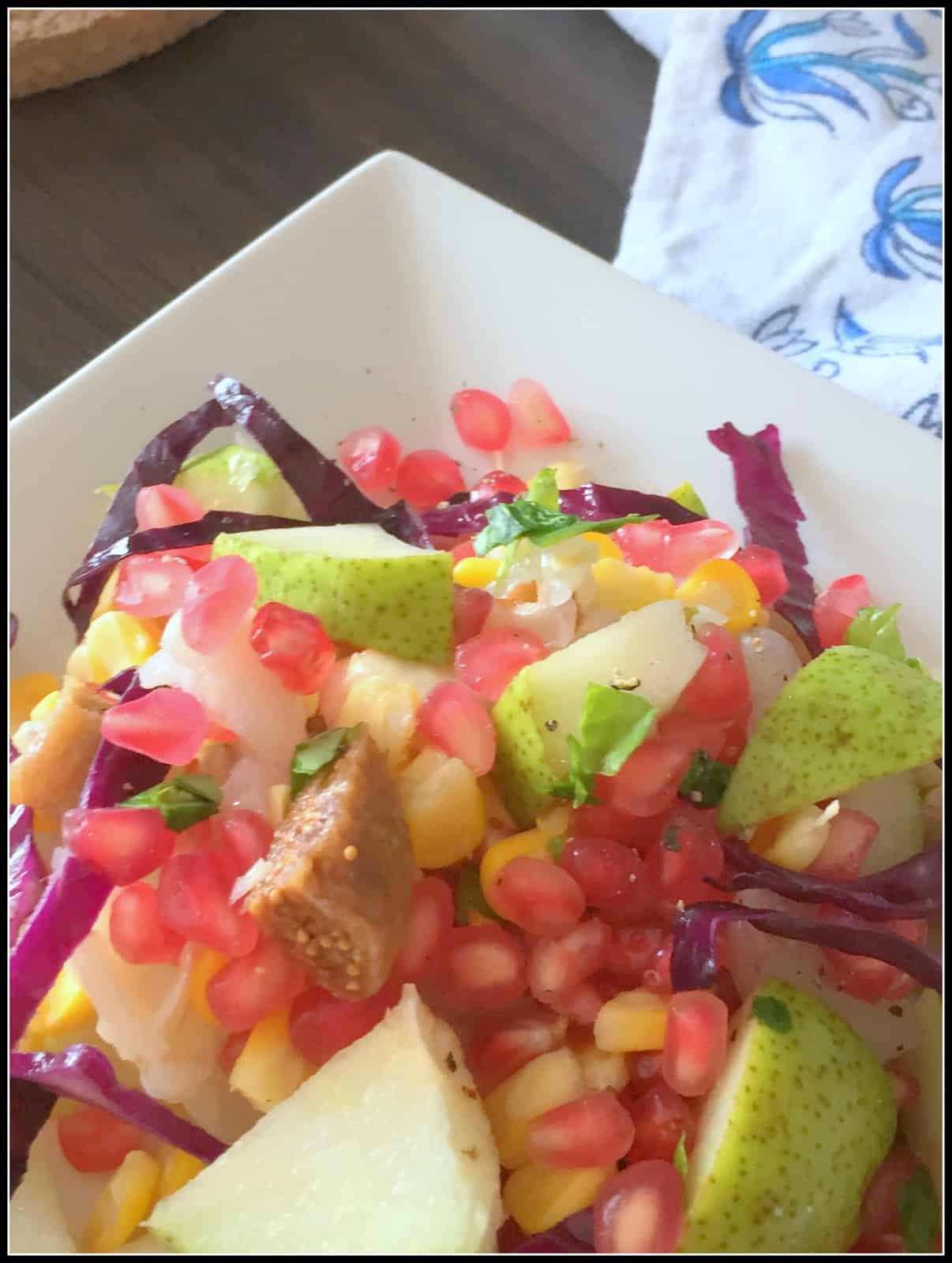 Pin
Method:
Mix all ingredients and
refrigerate for 15 mins minimum. (I used previously chilled veggies and fruits
and served it immediately).
Whisk all the ingredients of the
dressing.
Just before serving, add dressing to the salad,
toss well and serve immediately.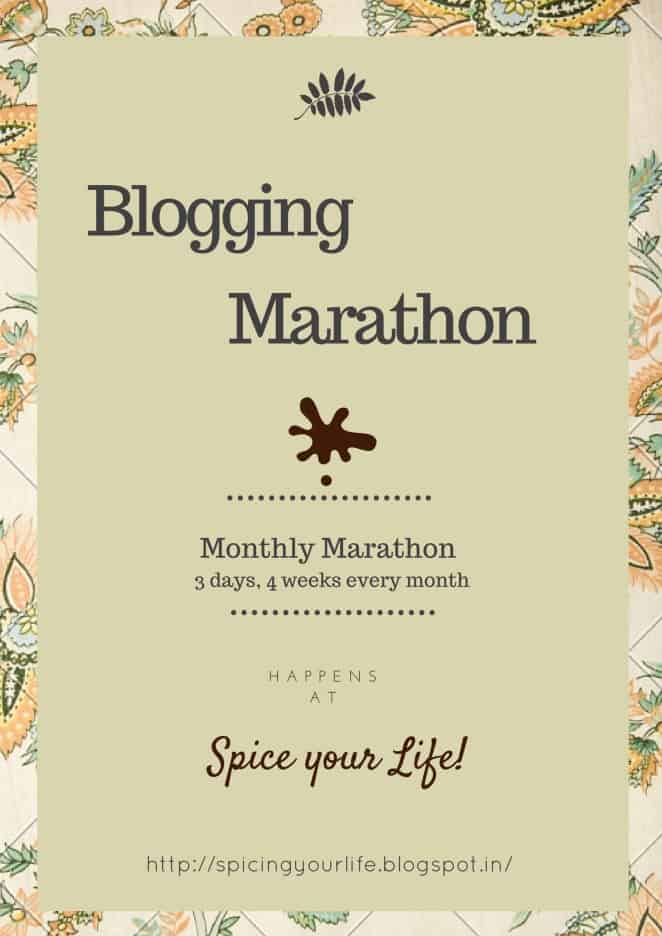 Pin
Check out the Blogging Marathon page for the other Blogging Marathoners doing BM#54