In the world of Virtual friendships, its often assumed tht the real is virtual and the virtual is real. Blogging since 2011 has taken me virtually to so many cuisines, so many kitchens and so many hearts. 
One such amazing person is Rafeeda who shares her lip smacking heirloom recipe – Pazham Vaattiyathu – with us on this month's edition of Guestposts here at SizzlingTastebuds. If you are a newcomer to this blog or curious to read earlier heirloom Guestposts by many of my wonderful blogger friends , head here.
Rafeeda is a wonderful blogger bringing both world cuisine and her family style Malabar style cooking at her blog –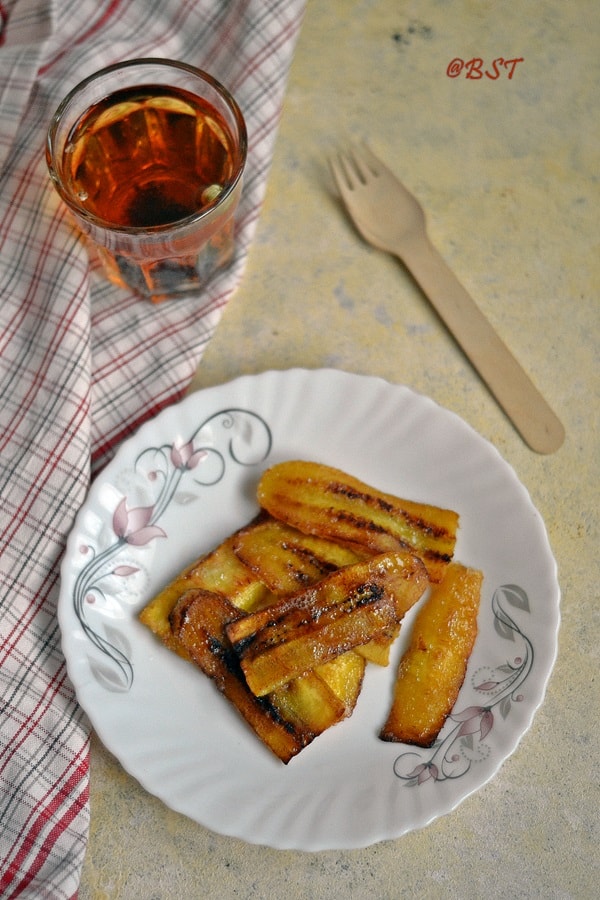 Pin

She so kindly consented to do this amazing recipe and guestpost and shares with us some wonderful memories in her inimitable, friendly banter. Thank you Rafeeda for doing this.. Over to her in her own words…

***********************

A very big hello to the readers of "The Sizzling
Tastebuds"… 




I am excited to be on Kalyani's spaceas a guest
this month. Kalyani's is one of the earliest blogs I had followed when I was
hit by the cooking bug, way back in 2012, if I am not mistaken. I had
bookmarked a lot of interesting vegetarian recipes during that time from her
blog and even cooked some. In fact, I must say that hers was among the handful
of blogs which actually motivated me to start my little space. When her email
came with an invite to be a guest on her space, I blinked tw-ice, just wanting
to believe that I have actually received an email! So here I am… :-




A little about myself – my name is Rafeeda, a
Keralite who has been bought up in UAE, which is literally my second home. I am
a working mother of two fast growing girls. My blog, "The Big Sweet Tooth"
was started just to keep my interest in cooking, since I am a very lazy cook
and can get bored very fast. I have been blogging for five plus years now and
it has been a roller coaster ride so far. My blog, though has variety of
recipes, tries to focus of keeping a note of Malabar recipes as well as Emirati
cuisine as well.




Kalyani had mentioned that she would like me to
bring along a forgotten/ rare recipe that my family cooks. I had a hard time
trying to figure out what I would give her. After brainstorming lots of ideas,
my mind suddenly went to this super simple dish umma used to make when we had
impromptu guests. Now, every Keralite home would have stock of nenthrapazhams/
ripe plantains at any given time. It serves as a quick breakfast if you wake up
late, a perfect snack for afternoon tea-time or even a filling dinner if you
are not in a mood to feast! We either boil our plantains till soft, or make
them in this form,
or fry them up –
an international favorite! The recipe is actually too simple, that I was a
little ashamed to give this as a post. But thinking about it, I realized that
sometimes it is the thought and feeling that matter behind a recipe, more than
the recipe itself at times!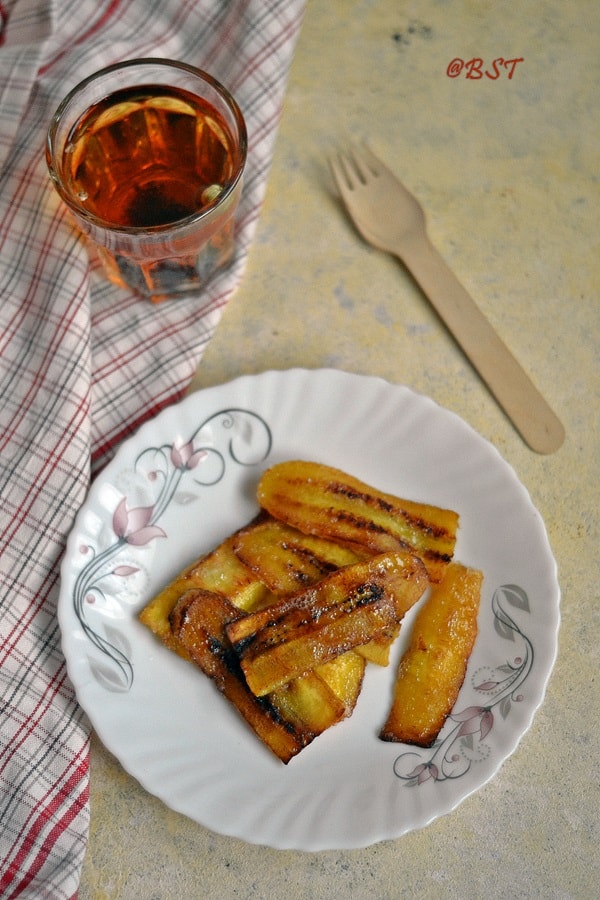 Pin
Umma would cut the nenthrapazhams into strips.
She would then heat up generous amount of RKG ghee or coconut oil, depending
upon what is available. She would fry up both the sides, sprinkling sugar as
she goes till it gets a very caramelized appearance. I have noticed that
nowadays people post this recipe calling them banana coins, where the pazham is
sliced into roundels or if sliced long, then rolled up in a fancy shape and held
on with a toothpick. Whatever it is, the method of making still remains the
same. Super simple, yet so addictive…
I sincerely have no clue what this dish is
called, so I call it Pazham Vaattiyath for naming sake. We would call it
"naavu", which means "tongue", since they do look like them. And like all kids,
we would wait for the guests to return back the plate with something in it so
that we could attack it. Alas, it would come back empty because the combination
of it hot with a cup of sulaimani is unparalleled! We would then nag her and
then she would lazily make some just for us. Despite being really simple, umma
would refrain making it for us citing how unhealthy it is due to the amount of
ghee and sugar that goes into making this. 😀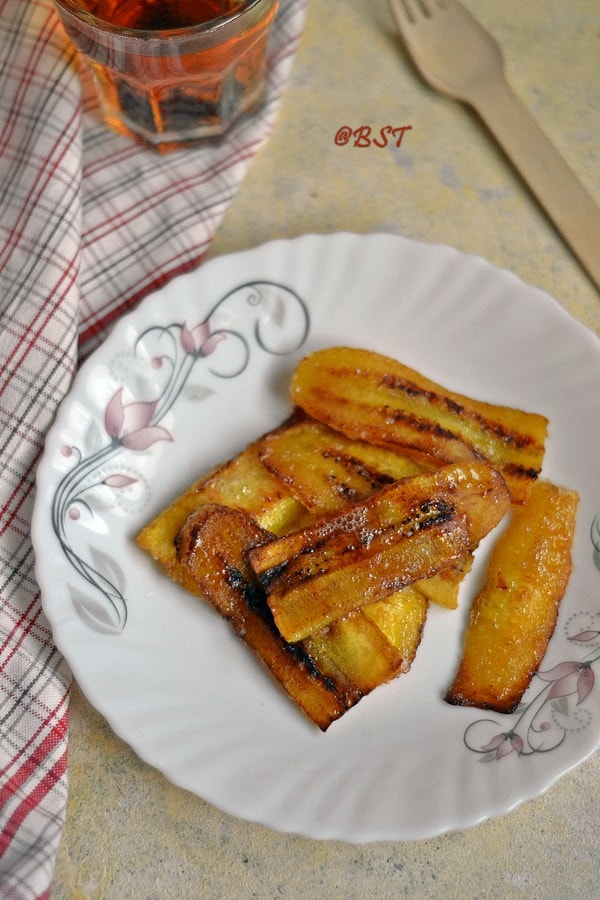 Pin
Lurking for some time in my thoughts, I decided
to make this for the girls and HD. Thank God for instant home delivery, I
landed up with a couple of nicely ripe plantains and quickly made them. As soon
as the shot was done, the plate was wiped clean by them. HD then remarked, "I
remember umma making this very long back. Why haven't you made it in such a
long time?" I gave him the same response that umma would give us. 😉
Pazham Vaattiyathu – Caramelized
Plaintains
Serves
2
Ingredients:
2 ripe plantains
1 tbsp ghee
Sugar as required
Method:
Peel the plantains and cut them into long strips.

Heat the ghee in a frying pan and layer one side
of the plantains. Sprinkle some sugar on the top side and flip after a minute.
Sprinkle some more sugar on the flipped side and
cook both sides till sufficiently caramelized.
Drain onto a plate and serve hot.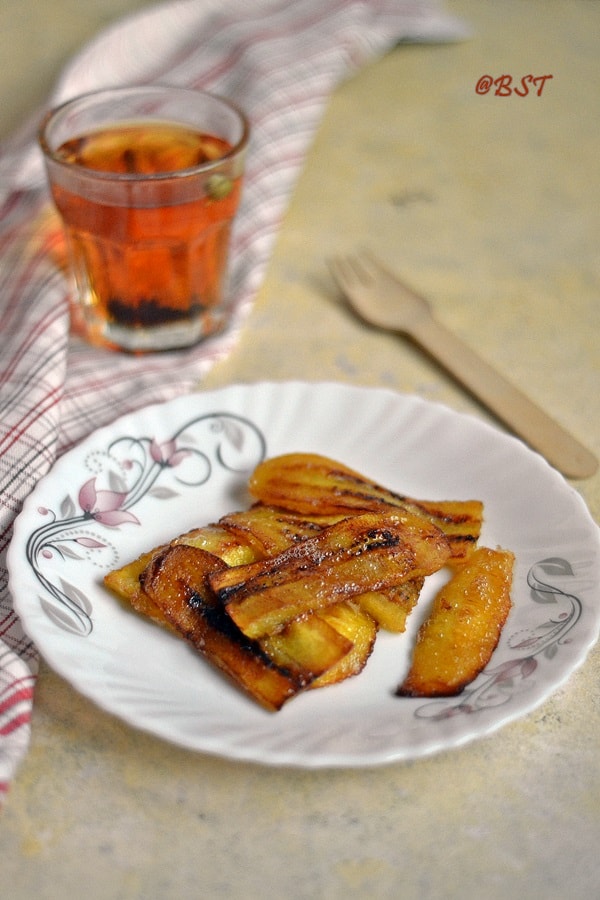 Pin
Notes:
You can use ghee or coconut oil for frying.
We sometimes sprinkle some freshly grated coconut
and a sprinkling of cardamom powder for added flavor.
Thank you so much Kalyani for waking up something
that was so conveniently forgotten… J I
am still feeling guilty of keeping it really simple, but I sincerely hope you
will like this post. Wishing you only the best in your blogging journey
forward, and once again thank you for having me around here…