Perhaps no relationship comes as close
as a sisters. Today's post is a celebration of sisterhood, for all the pains and thrills of
growing up with a sister younger to me by just two years who was as different from me as chalk and
cheese. We were thicker than thieves, but so different : She was (is) taller than
me, always in jeans and a T shirt, passionate about rock music and technology and very convinced
what she wanted early on in life, and has now graduated with an MBA recently. What better way to celebrate with one of
her most favourite desserts. I am so so so proud of her achievement that she
took a sabbatical from her job to complete this prestigious course with top
honours !! Way to go sis, and although the distance may be only a simple reason
why I couldn't be there for her D-day, nothing brings me more joy
than to prepare this favorite sweet for her – virtually though, with
this Paneer Gulab Jamun!
In fact,
there is another reason why I made this for her : decades ago, while mom was
working and it was her birthday and we siblings decided to celebrate her
birthday at home with a simple Upma and Gulab Jamun (don't ask me why that
combo – it just popped into our heads). So, while I was ok with making Upma,
the Gulab Jamuns fell on sis' platter to do the needful. While I heated the oil
and prepared the syrup (mind you , she wasnt even allowed to go anywhere near
the stove at that age, then), my sis gingerly rolled up the dough, and make mid
sized jamuns while she instructed me (to the T on how to get the perfect
syrup).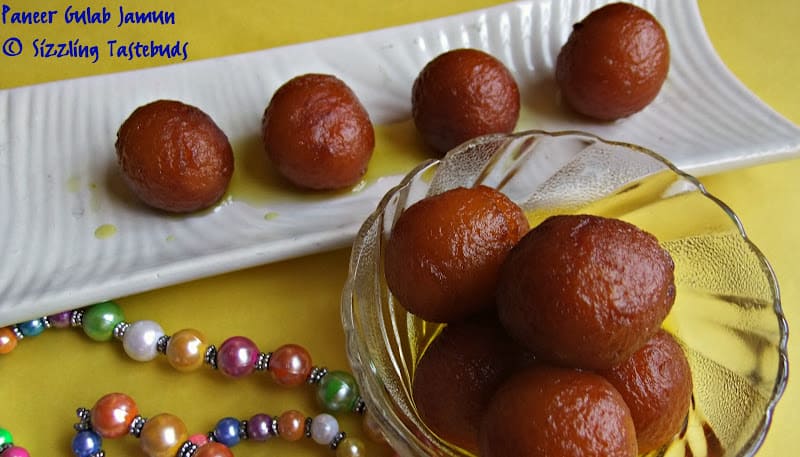 Pin

  

We had to
make these by the time mom came back from work, and although mom could smell
something nice, we didnt tell her anything. Somehow, the upma got eaten, and we
were too petrified to even look at what was our first attempt at making these
Gulab Jamuns. But mom (and us, later) discovered that the whole jar of Gulab
jamuns late in the night that had swollen to such perfection that we were stumped
to even call us amateurs. So much so, we had a midnight feast of these in the
small glass bowls fished out from the cupboard, and what a night it was!! The power went off, but we polished off those bowls in the candle light
🙂 Mom just couldnt believe that we (read sis) had made this to such
perfection that she said she might as well crown sis the jamun-maker for the
family 🙂 Good old memories, those 🙂 Wish those innocent and simple pleasures
of life strike us again.. 

Till then,
this recipe goes to Blogging Marathon under Fermented Foods, and I have also
stuffed some raisins / dry fruits to make it more festive 🙂 Check out the other marathoners here. Actually this was to be a post for Day 7 of BM week 1, but couldnt resist posting this for Day 3 itself as a mid week treat. Celebrations cannot wait, isnt it?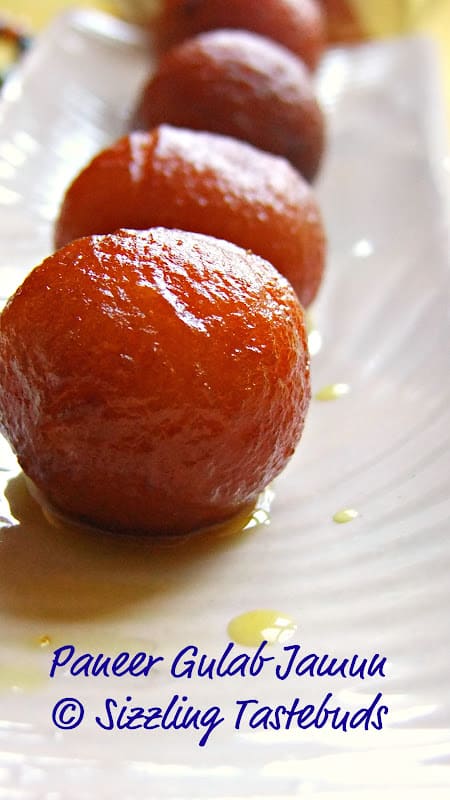 Pin
—————————————————————————————–
Prep time – 15 mins + 1 hour to make
the paneer
Cook time – 15 mins
Serves – 4
Difficulty level – Easy
—————————————————————————————–
Ingredients:
To make the Paneer:
Milk – 1 litre
Lemon juice – 1 TBSP
For the Gulab Jamuns: 
Khoya (or fine ricotta cheese) – 1 3/4
cup
Paneer – 1 cip
Maida / APF – 1/8 cup
Cardamom powder – 1/4 tsp
Raisins and cashews – few – finely
chopped
Oil – for deep frying
Ghee – 1 TBSP
Milk – 1 tsp
For the Sugar syrup:
Sugar – 2 cups (adjust to taste)
Water – 4 cups
Vanilla Essence – 1 drop
Pin
Method:
(A) Syrup:
Boil water, and add the sugar. Make 1
string syrup, and cool thoroughly. Once cool, add the vanilla essence and keep
aside.
(B) To make Paneer:
Boil milk, and once it starts boiling,
add lemon juice and stir. When the milk curdles, and the whey starts separating,
transfer to a vessel lined tightly with clean white muslin cloth. Let the water
seep into the vessel. Collect the paneer on top in a muslin cloth. Tied the
muslin cloth tightly and keep between weights for an hour. Once solidied,
refrigerate till further use (that is, till you make the syrup)
(C) To make the Gulab Jamuns:
Mash or crumble khoya and paneer
together. Add cardamom powder, APF and knead till smooth. Add a little milk if
the dough is too dry. Rub half of the ghee onto the dough and mix knead once
last time. Make equal sized ping pong ball sized portions (ensure the surface
of the jamuns are smooth) and stuff with a 1 pinch of the chopped
raisins-cashew mixture. Cover with a slightly wet muslin cloth for 4 – 5 mins
Heat oil for frying on medium heat
only and add the rest of the 1/2 TBSP of ghee (this is to get that ghee aroma
without actually having to fry totally in ghee). Roll in a teeny weeny bit of
the dough to test if the roll comes up slightly browned. That is the oil test.
Fry the jamuns on low-medium heat till
they turn golden brown. Please note the jamuns continue to brown even after
taken off the oil, so take them out when they are just golden and not totally
dark brown. Drain to absorbent paper towels. Repeat for the rest of the batch.
Once the fried jamuns reach room
temperature, gently roll them into the prepared sugar syrup and do not stir
 them. Close the utensil / bowl and leave untouched for 2 – 3 hours till
they soak up the syrup and fluff up into juicy morsels.
Serve warm or chilled 🙂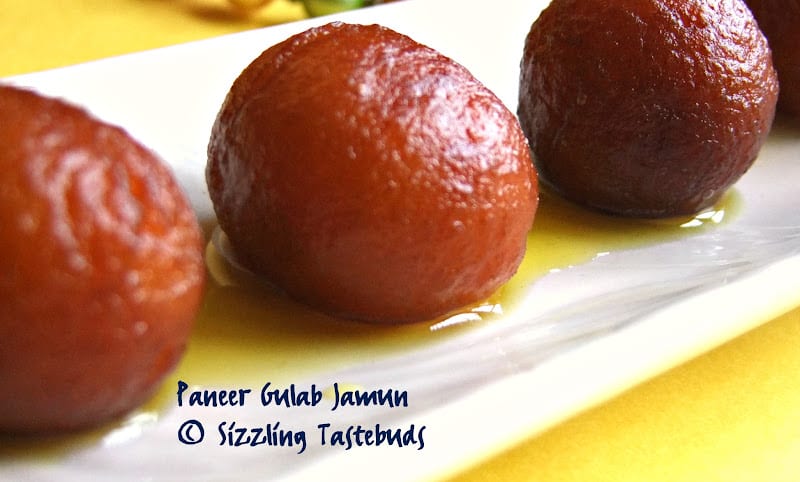 Pin