When Valli announced
Lunchbox recipes for this Blogging Marathon, I recalled that most of the times
the lunch box gets rejected at school is because the food gets cold or someone
else has brought something more attractive. While there is the cafeteria at
school, everyday fare there wouldn't be prudent to health. So, somedays itsPaneer Frankies, some days its Coconut Rice or Curd Rice. And Sandwiches which
kiddo loves. Of course, Pav Bhaji always comes back finished.
I am sure you
have also experienced that the same dish gets eaten at times, and comes back unfinished
at some other time – there are somethings that work, some that don't.
Most of the time I do
try giving her a combo meal as far as possible, and that ensures that even if
50% of the combo meal is eaten up, its still not a bad idea. Yes, there is a
little bit of prior planning require, but its healthy, relatively oil free and wholesome. (See Preps below)
Today is one such Combo
Meal –Palak Theplas & Alu Bhaji
(Indian Flat bread with spinach- gramflour & Potato dry curry) accompanied
with yoghurt (which I generally sweeten a bit with few crystals of sugar). Let's
get cracking then. This is linked to BM # 24. Also to my event Winter Foods – 30 min Challenge, PJ's hosting Valli's Lunchbox Recipes , Sumee's Healthy Appetite, Vardhini's New U, Nayna's Healthy Breakfasts & finally to Soumya's Mission Breakfast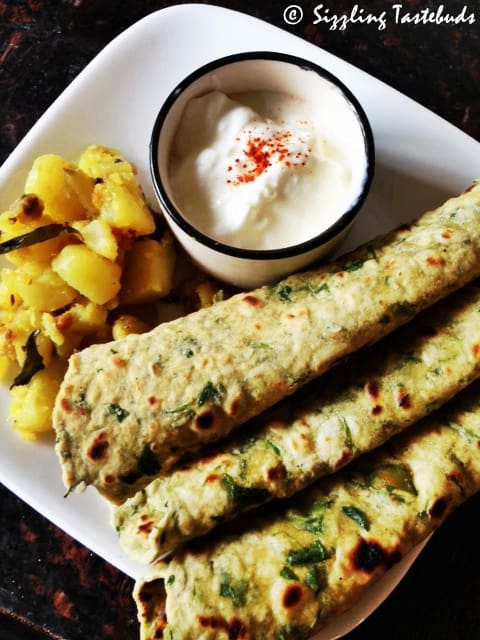 PinPin

Prep time – 30 mins |
Cook time : 15 mins | Makes – 8 Theplas and 1 cup of Dry curry

Difficulty level : Easy
| Spice Level : Mild

Serving suggestions :
Tomato Chutney / Plain yoghurt / Pickle

Ingredients:

(A) Palak Thepla (Spinach Flat Bread)

Gramflour / Besan – 4 TBSP

Wholewheat
Flour – 1 cup

Spinach
leaves – ½ cup (washed, sorted and packed tight)

Dry
masala powder (1/2 tsp each) : Red chilli powder, Jeera Powder

Salt
– to taste

Yoghurt
– ½ cup (a little more or less depending on dough)

Turmeric
– ½ tsp

Kasuri
Methi (Dried fenugreek leaves) – ½ TBSP (optional but recommended)

Oil
– to pan fry the Theplas

(B) Alu Bhaji (Potato Dry curry)

Potato
– 2 nos (Medium)

Onion
– 1 small

Oil
– 1 tsp

Jeera
/ Cumin seeds-  ½ tsp

Salt
– to taste

Turmeric
– ½ tsp

Lemon
juice – ½ TBSP (adjust to taste)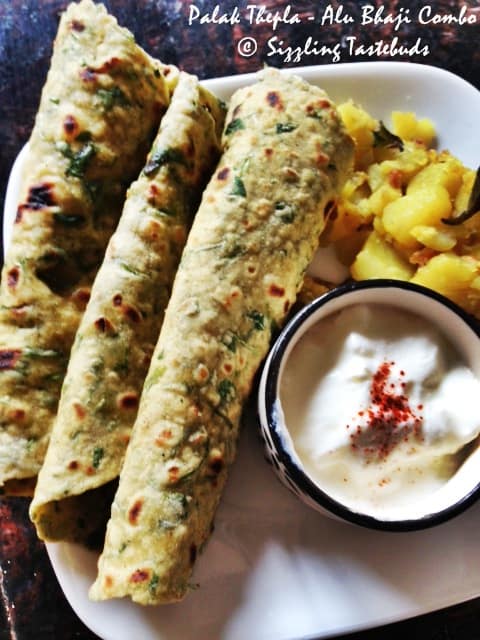 Pin
Preps:
As
this is a lunch box prep, I make the dough and boil the potatoes the previous
night. It helps save lot of time in the morning.
To
make the dough :  Wash, sort and chop the
spinach very fine (Unless your child is very young, do not puree the spinach).
In a large bowl or flat plate, sieve together wholewheat flour, salt, gramflour
(Besan), Turmeric twice over. Make a well / indentation in the middle. Add the
yoghurt and rest of the ingredients
including the chopped spinach and make a slightly stiff dough. Add 2 – 4 TBSP water
if required. Once the dough comes to hold, add 3 tsp of oil and knead for
further 1-2 mins..If not using immediately, refrigerate this dough in an
airtight container overnight.
Boil
the Potatoes. Store them too in an airtight container overnight.
Method:
(A) To
make the Theplas:
Pinch
out equal portions of the dough. Roll out on a dusted surface like Paratha or
Chapatis. Use very little flour for dusting towards the end as the Theplas turn
out hard and brittle. Roll into medium thickness – neither too thin or thick.
On a hot tava / skillet, place the rolled out Theplas and let light brown spots
appear on both sides (fry on medium heat). Once done, drizzle 1 tsp oil on both
the sides, cook further for 30 seconds and remove. Repeat till end of dough
(B) To
make the Alu Bhaji :
Cube
or mash the boiled potatoes. Dice onion finely. In a non stick pan, add oil,
splutter cumin. Now fry onions for 3-4 mins till pinkish brown. Add the
turmeric, salt and potatoes. Give a quick stir to it. Once mixed, turn off the
flame. Finish with lemon juice.
Optional
Addons to this stir fry are : Ginger,Curry leaves, Coriander, Chillies and even
Garlic.
Pack
the Combo Meal along with yoghurt / Sauce / Chutney for a wholesome mealJBon Appetit, and hope and pray that
after all these efforts, the child eats the lunchJJ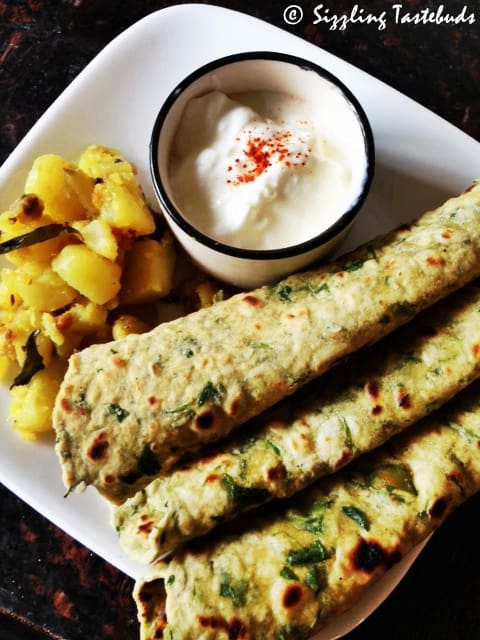 PinPin