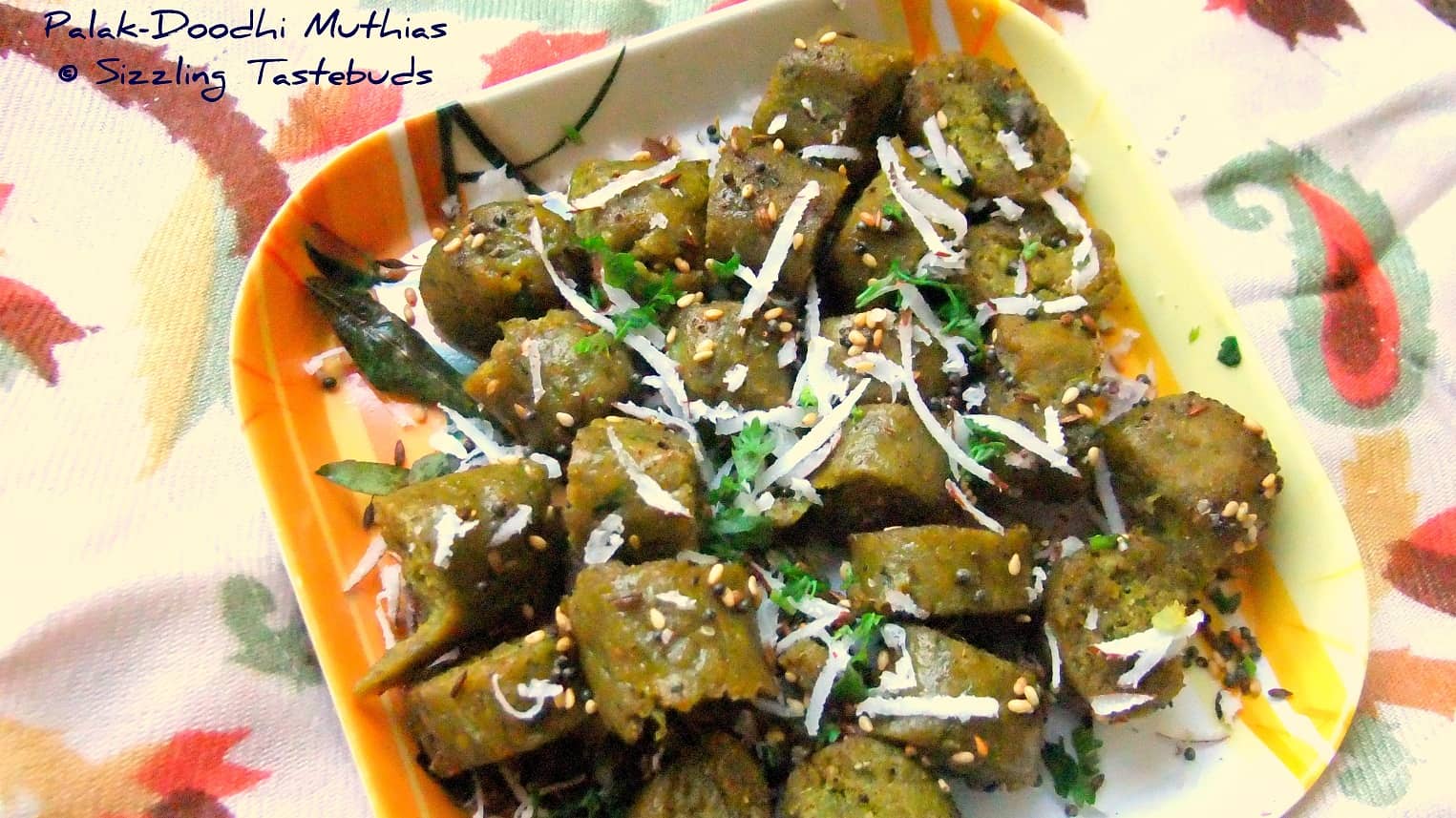 Pin

Muthias are basically savoury dumplings, steamed and pan-fried. They can be eaten as snacks and also serve as toppings for pulaos too. Extremely healthy as they are steamed, you may also slightly shallow fry them to get a crispy snack. The ingredients for muthias remain the same, but the addition of veggies can be quite interesting. Today I made it with bottle gourd, and also added blanched baby spinach for extra punch. The name "muthia" apparently comes from the Gujarathi word "Muthi" which means fist and these dumplings are made into cylindrical rolls using the fist. You can serve Palak-Doodhi Muthias as it is or with Green chutney or Meetha (sweet) chutney. Its quite a healthy tea-time snack and you can play around with the toppings too. I used sesame seeds for topping, and it was very crunchy. Se

Update : Sending this to Vardhini's Cooking with Whole Foods – Spinach, event by Kiran




Prep time: 15 mins

Cook time : 20 – 25 mins

Serves : 3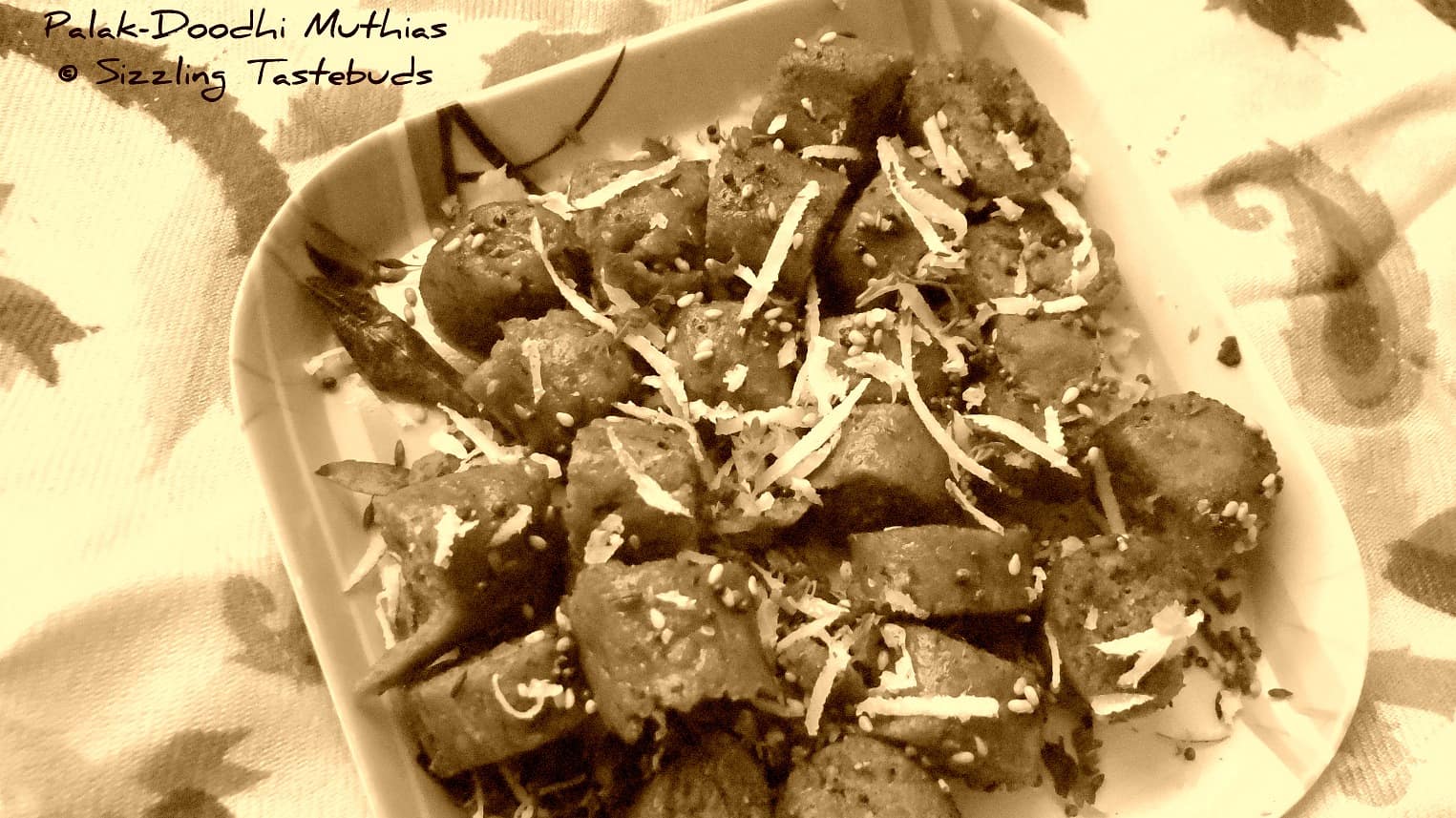 PinIngredients:
Bottlegourd – 1/4 kg (or 1 medium sized bottle gourd)
Baby spinach / normal spinach – 1/2 cup, packed
Besan / Gram flour – 1/4 cup
Salt – to taste
Wheat flour / atta – 1/4 cup
Jeera / Cumin seeds – 1/2 TBSP
Semolina – 1/2 cup
Fennel seeds / Saunf – 1/2 tsp
Oil – 4 to 5 TBSP
Lemon juice – 1 tsp
Sugar – 1/2 tsp
Tempering : Mustard seeds, sesame seeds, curry leaves, asafoetida
Garnish : Coriander leaves + freshly grated coconut
Method:

Pin
1) Wash, peel and grate bottlegourd. Squeeze out all the water and add to a large mixing bowl.
2) Wash, blanch,drain and chop the spinach. Add to the grated bottle gourd.
3) Add the rest of the ingredients except oil, tempering and garnish. Add the flours little by little and with NO additional water make into a smooth dough (Bottlegourd has a lot of water, so please be careful not to add any extra water).
4) Add 1 TBSP of oil and punch it in the dough. Rest for 5-10 mins.
5) Using both your hands roll them into long cylindrical rolls
6) Steam them for 20 – 25 mins till then turn slightly white and cooked.
7) Cook, and cut them into 1/2″ thick slices.
8) In a non-stick pan, add the oil. When hot prepare the tempering and once the sesame seeds has stopped crackling, add the cooked and cut muthias into that and saute a bit
9) Garnish with grated coconut and coriander and serve immediately.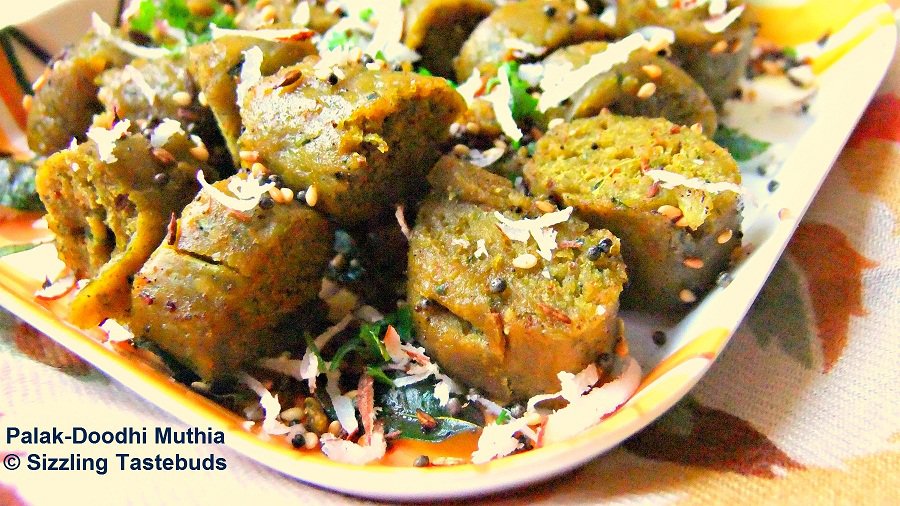 Pin