As part of the week 172 for #FoodieMondayBloghop, Mayuri suggested a unique theme of #InternationalFeast with the caveat that your dish (irrespective of cuisine / course) must come from a letter of a country that begins with the alphabet of your first name.
So, for K I had only 5 countries – Kazakhstan, Kenya, Kiribati, Kuwait & Kyrgyzstan – out of which I chose Kenya.
I looked at some dishes and was surprised that they had a lot of similarity with Indian dishes / Condiments, and the more I looked, I was tempted to make a small Kenyan meal. The first dish I liked was Ndengu (or stewed Moong Dal Curry) bookmarked from here.
I kept bookmarking dishes and looked for salads which would serve as a snack and a meal, and imagine my surprise when every google search threw up the name Kachumbari Salad. Having stayed in Mumbai long enough, I knew Kachumber to be a Gujarati Salad featuring Onions, Cukes and Tomatoes in a tangy mix.
And again Kachumbari had the same combo, although some versions added Avocados as well.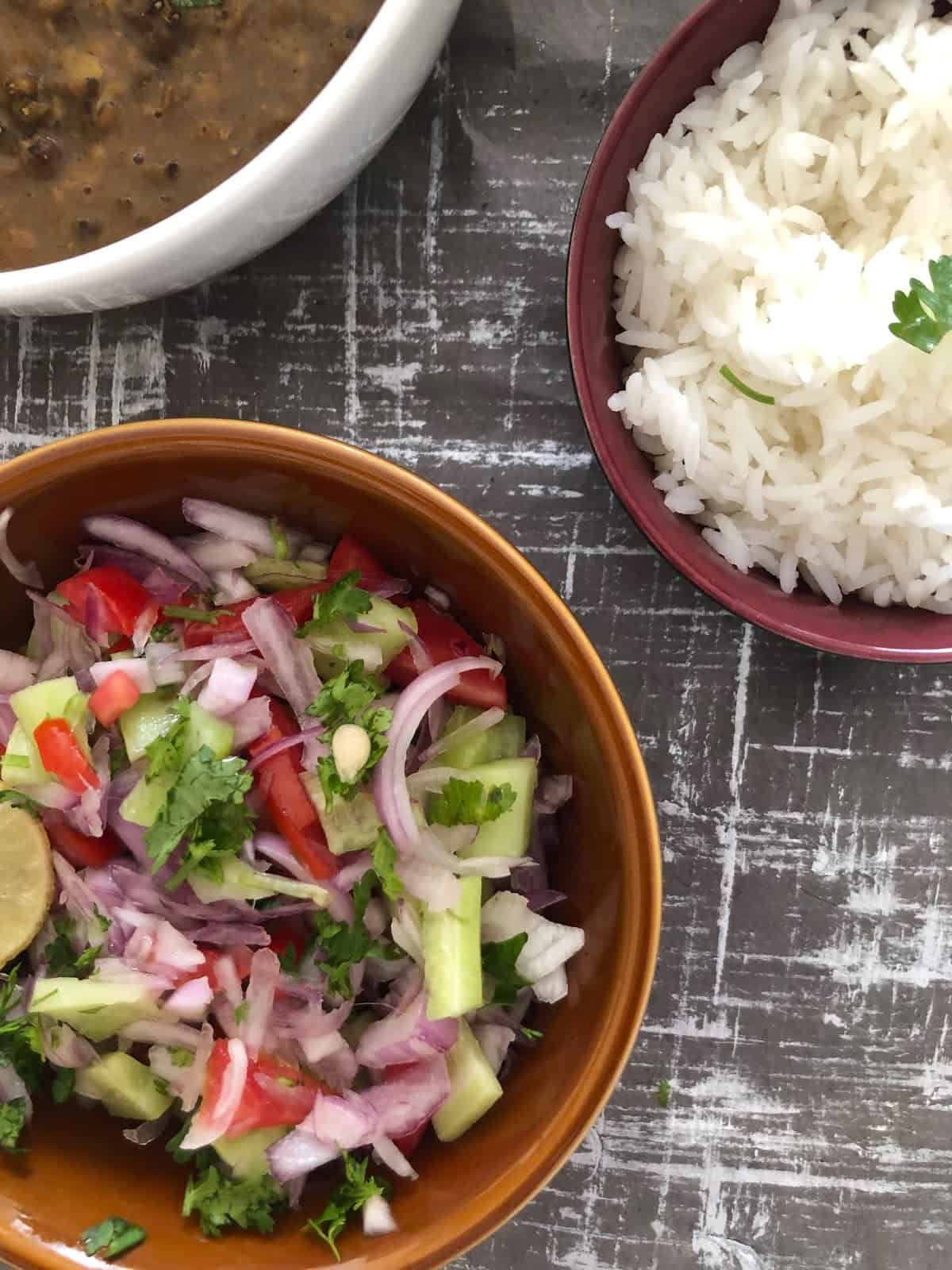 Pin


Well, avocados are not in season right now (and trust me where I live, they are sold for the price of Gold through the year !, so I decided to skip it) . But there was an interesting way to use the copious amount of onions that went into this salad, so if you are intrigued so far, check out to make this yummy crunchy salad, and also some ways to incorporate them as an appetiser.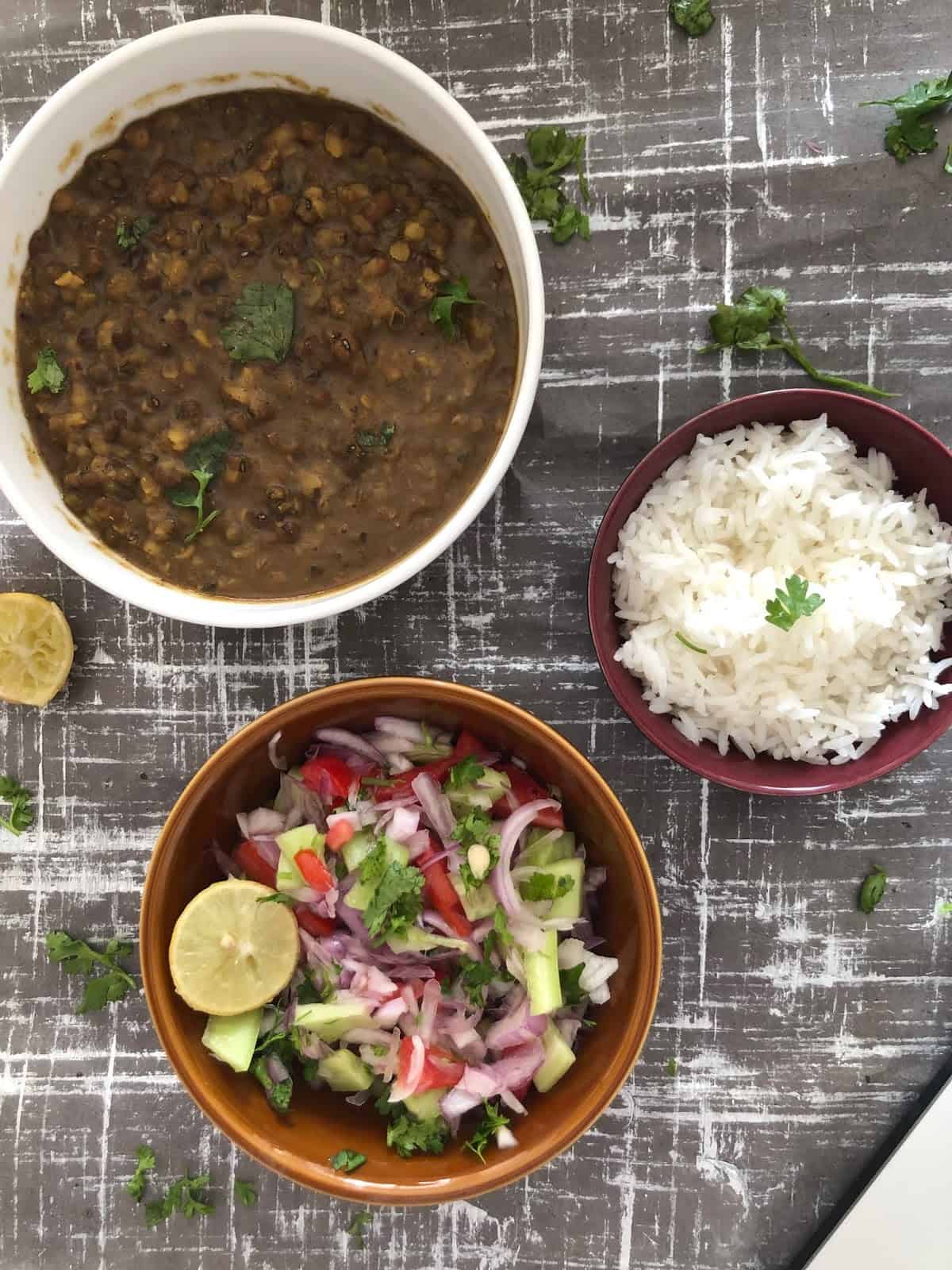 Pin
Sending this Combo Meal to FoodieMonday Blog Hop Week #172 themed #InternationalFeast and #MLLA hosted by Renu.
Let's look at the recipes one by one:
(A) Salad / Kachumbari – Vegan, GF Salad
Prep time – 10 mins , Serves – 2, Zero Cook


What you need:
Red Onion – 1 large – sliced thin
Ripe Tomatoes – 2 medium – sliced
Cucumber – 1 medium – sliced
Salt – to taste
Lemon juice – 1 TBSP
Chopped Cilantro – 2 tsp
Avocado – 1/2 (optional – I didn't use)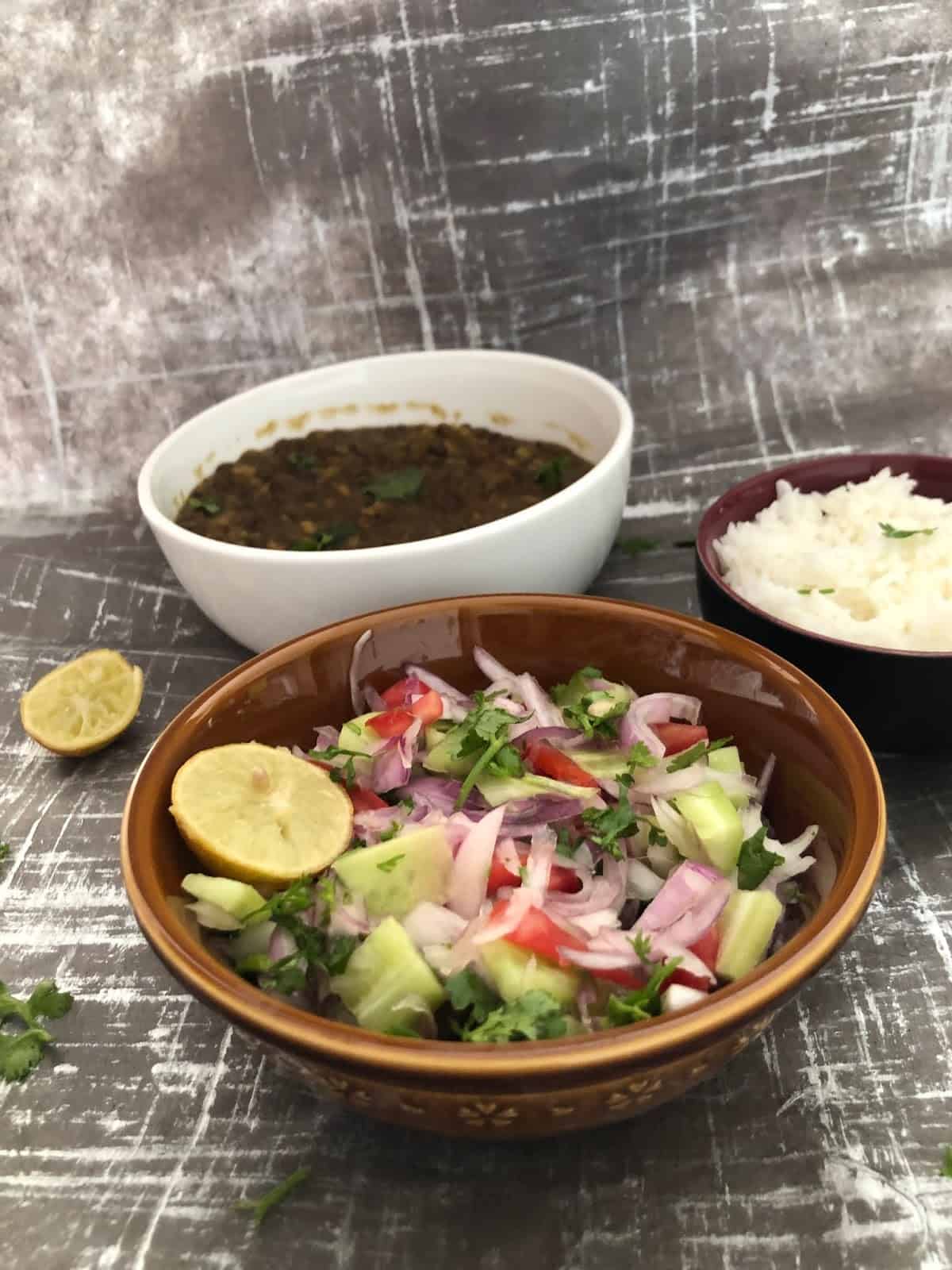 Pin


How to:
In a bowl, add onions and a generous addition of salt, 2 TBSP hot water and mix well. Keep aside for 10 mins in the fridge. Squeeze the water from the onions, add the rest of the ingredients excluding salt and toss well. Serve immediately.


If serving as an appetiser, squeeze out the onions and lay on an absorbent towel for 5 mins, then add the rest. Place on toasted french bread / baguette slices with or without a smear of mashed avocado and serve as finger food.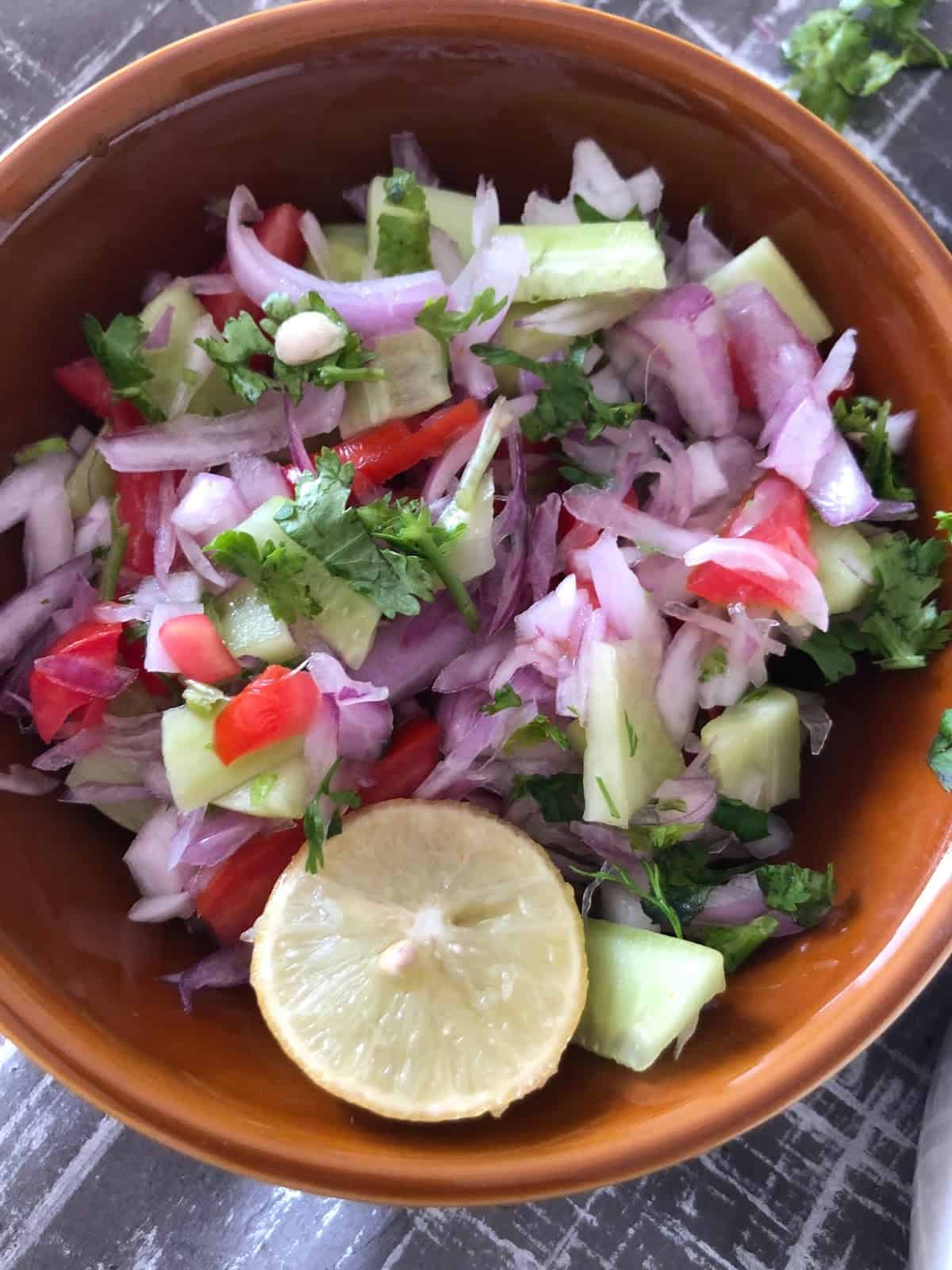 Pin
(B) Ndengu – GF, Vegan Whole Moong Stew
Notes – I made this satvik style as mom prefers it that way. But you can always use onion, garlic and ginger as per the original recipe (which I modified with some tweaks).
Prep time – 10 mins , Serves – 3, Cook time – 10 mins + 2 hours soaking time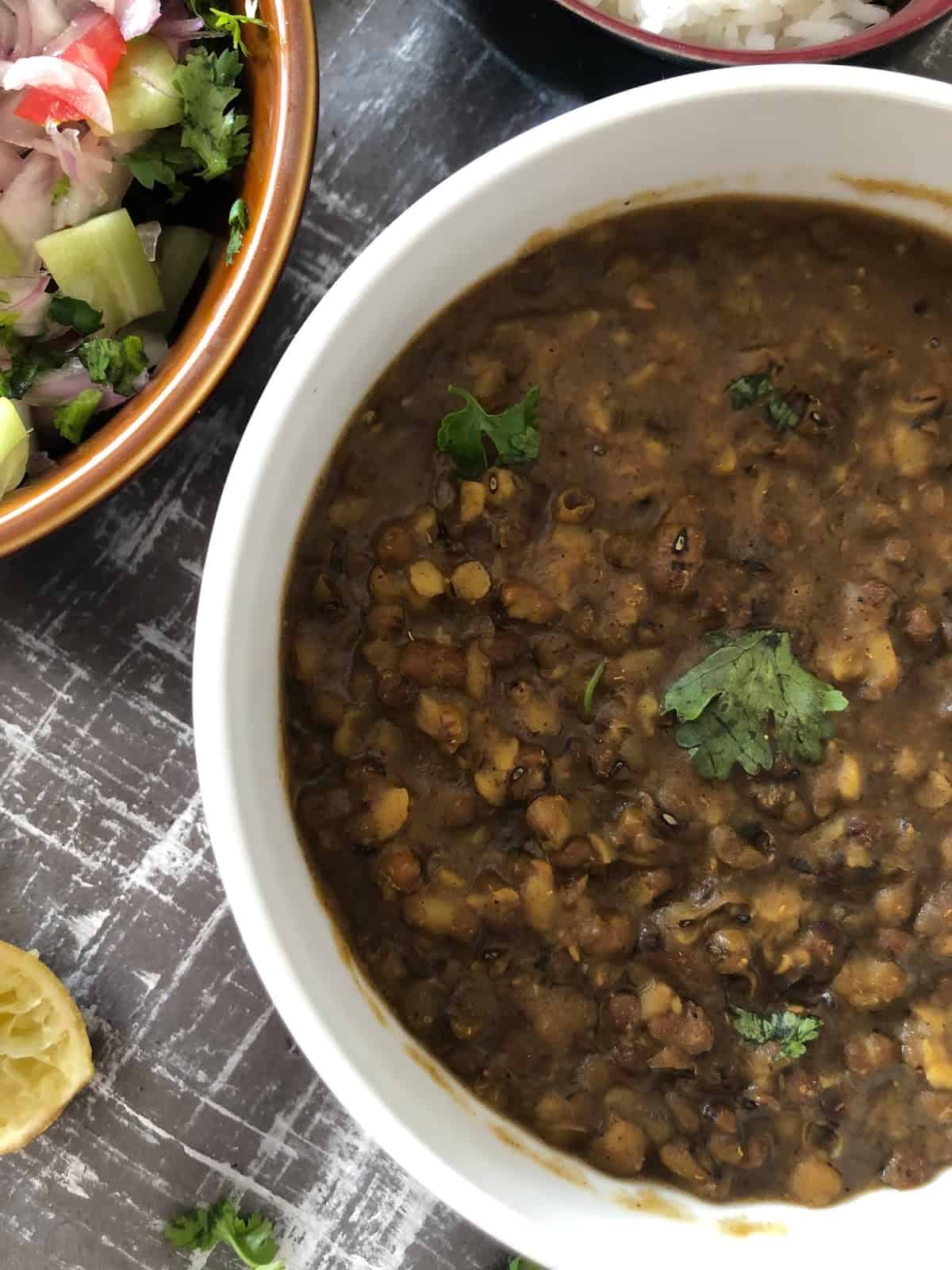 Pin

What you need:
Dry Whole Moong Dal / Green Moong – 100 grams
Onion – 1/2 medium (large)
Tomatoes – 2 nos
Carrots – 1 medium (diced)
Ginger – 1/2 inch
Garlic – 2 pods
salt – to taste
Red chilli powder – 1/2 tsp
Curry powder – 1/2 tsp (I used Madras Curry powder)
Turmeric / haldi – 1/4 tsp
Coriander powder – 1 T (T = tablespoon)
Jeera / Cumin powder – 1/2 T
Dry mango powder (Amchur) – 1/2 tsp (or to taste)
Oil – 1 tsp
Coriander leaves & lemon juice – for garnish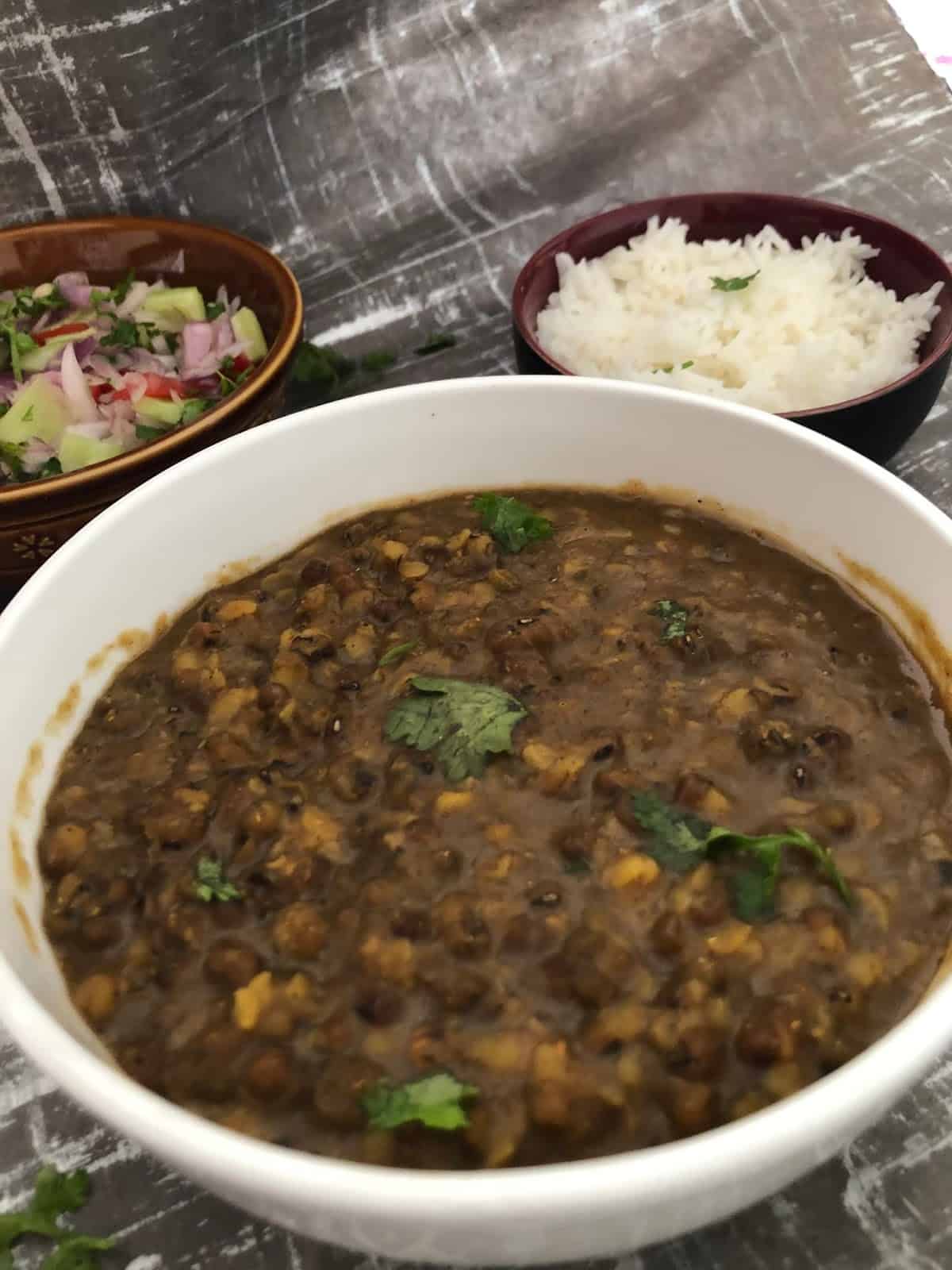 Pin
How to make Ndengu:
Wash and Soak Moong Dal for 2 hours. Pressure cook it with chopped carots till soft but not mushy. Let the pressure come down on its own (alternately, you can also cook the soaked and drained moong till al dente). Drain the water if any and reserve.
In a pan, heat the oil, sautè the onions, garlic, ginger till onions turn translucent and slightly brown. Now add the tomatoes and cook till mushy. Add the spice powders, and saute again. Add the moong+carrot and mix well. Add any drained water from the moong (if any) Or add veg stock or warm water to the curry. Let it simmer on a low flame for 8-9 mins till the stew is thick
Add coriander leaves and lemon juice and serve with steamed rice. I added Kachumbari as a salad / side and we loved the entire meal.