We see shapes everywhere in nature, but we don't stop to look at them specifically as geometric / abstract shapes. Once we mindfully start doing that, the shapes that nature (and food) present to us are immense.
The theme idea for this week's #GetInShape at @FoodieMondayBloghop actually came from my kids. For years, as a health-seeking parent, we have tried making stuffed parathas in triangles, idli cut into cubes / squares , kite shapes dosa and the like (including the evergreen favourite paneer tikka)… when it's in an appealing shape, kids and adults alike reach out. I have seen that the elder girl doesn't eat idlis by itself, but a baked idli / idli chilly / Idli Manchurian is so welcome. I have so many fond memories of Amma making the Triangle stuffed chapati and me and sis enjoying it hot off the stove.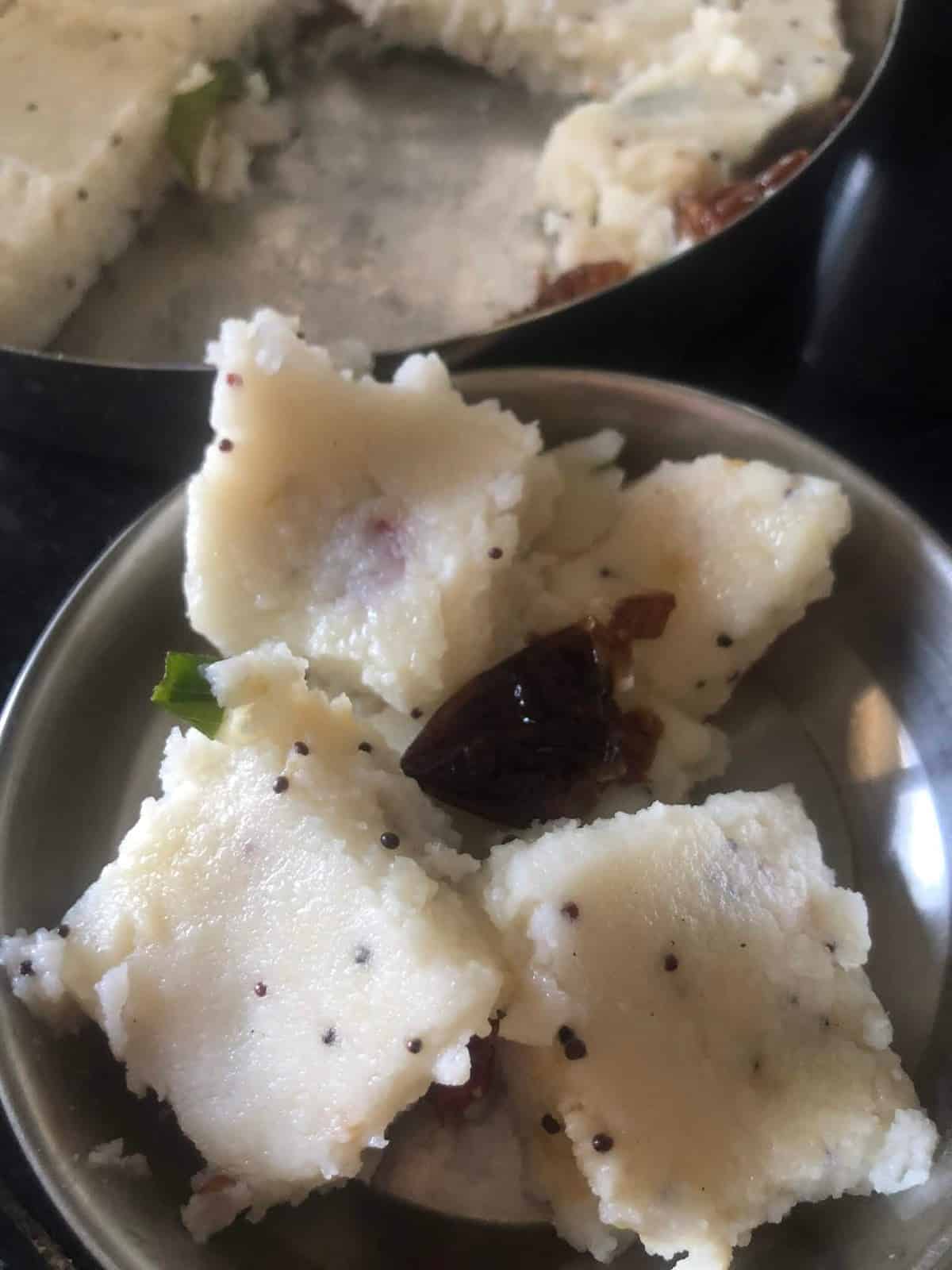 Pin
Today's dish – Morkali (Mor = buttermilk, Kali – soft pudding) – is a recipe that I learnt from my maternal grandma , and altho it was made like upma, it was never presented in a shape – it was just a mass of gooey savoury pudding which was a hit or miss with those who loved it (like me and dad) or hated it (my sister). I have already posted a version learnt from my grandma here.
In Tambrahm households, Morkali is had generally as an evening snack (called Tiffins in Tamil parlance) or even for Palaharams (light dinner). The consistency of this dish was / is ideals for senior citizens who may have lost their teeth / with dentures and the dish by itself is light and easily digestible.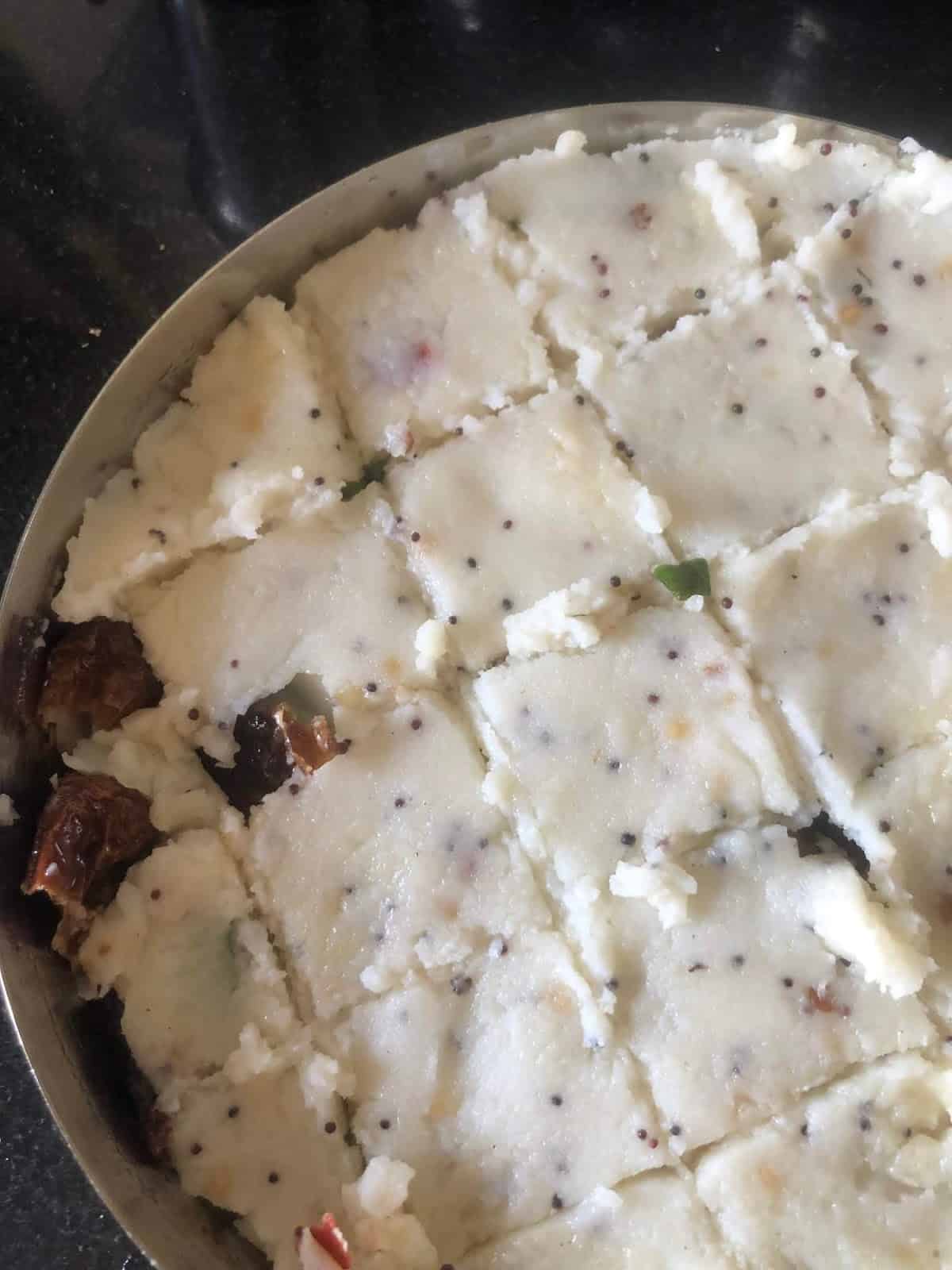 Pin
When Sandhya did the guestpost on my blog with Mor Koozh, I was really excited that the humble Morkali could be so beautifully presented like a cake with neatly cut squares. The taste was top notch and I thought I would present it this week as Morkali Squares – a modern , different take on the traditional dish. I have adapted her recipe with a few changes and presented it today !
Morkali Squares – a delicious South Indian snack (can be GF too!)
Cuisine : South Indian, Course : Snack / Evening Tiffin , Prep time – 5 mins, Cook time – 15 mins, serves – 2 / 3
Ingredients:
Rice flour – 1 cup
Sour thick buttermilk – 1.5 cups
salt – to taste
Gingelly / sesame oil – 3 TBSP + 1 tsp for greasing
Asafoetida – a generous pinch (skip for a GF version)
Fried Mor Milagai Vathal(sun dried chilli condiment) – few
Tempering : Mustard seeds, curry leaves, Urad dal (opt.)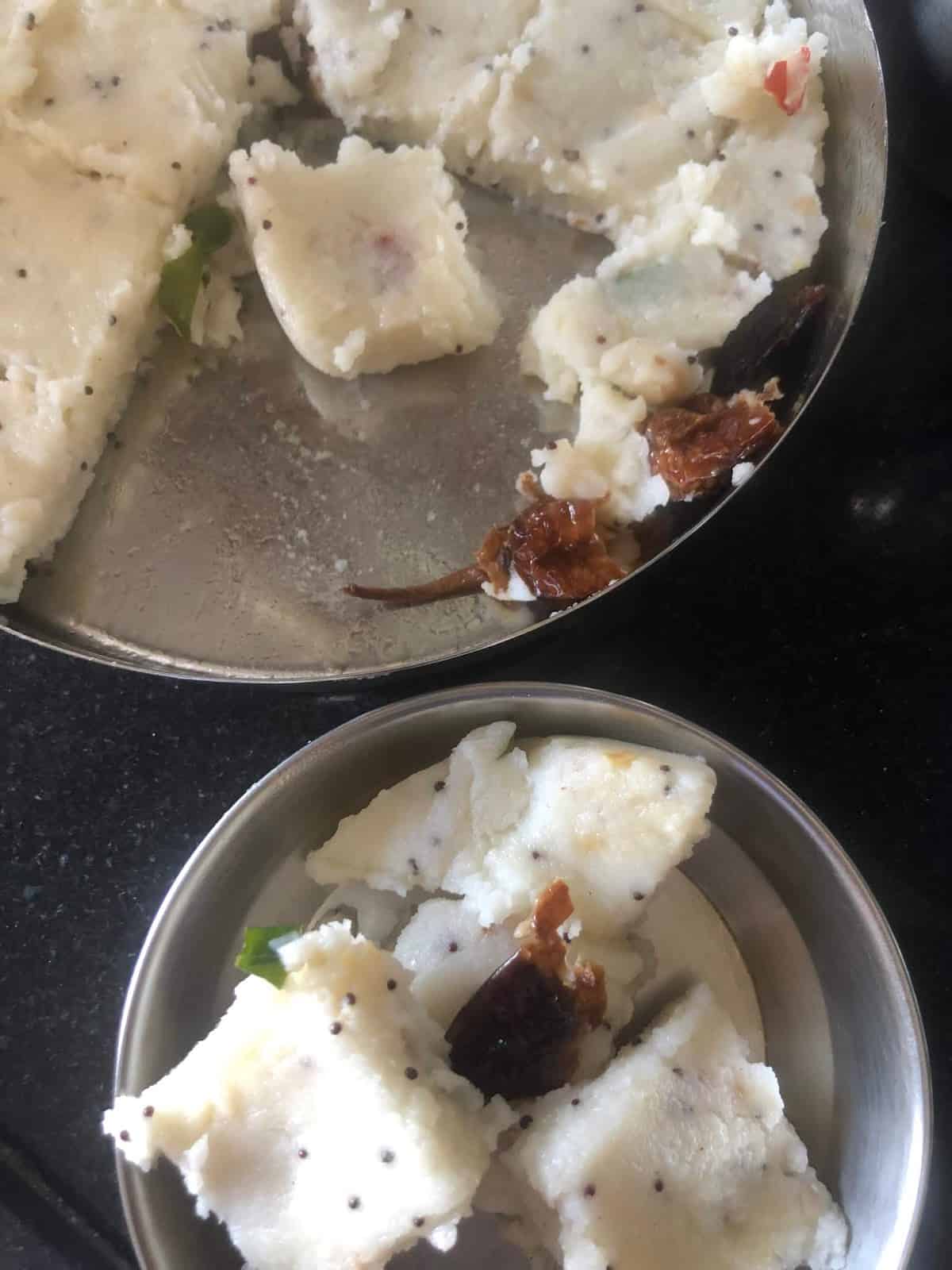 Pin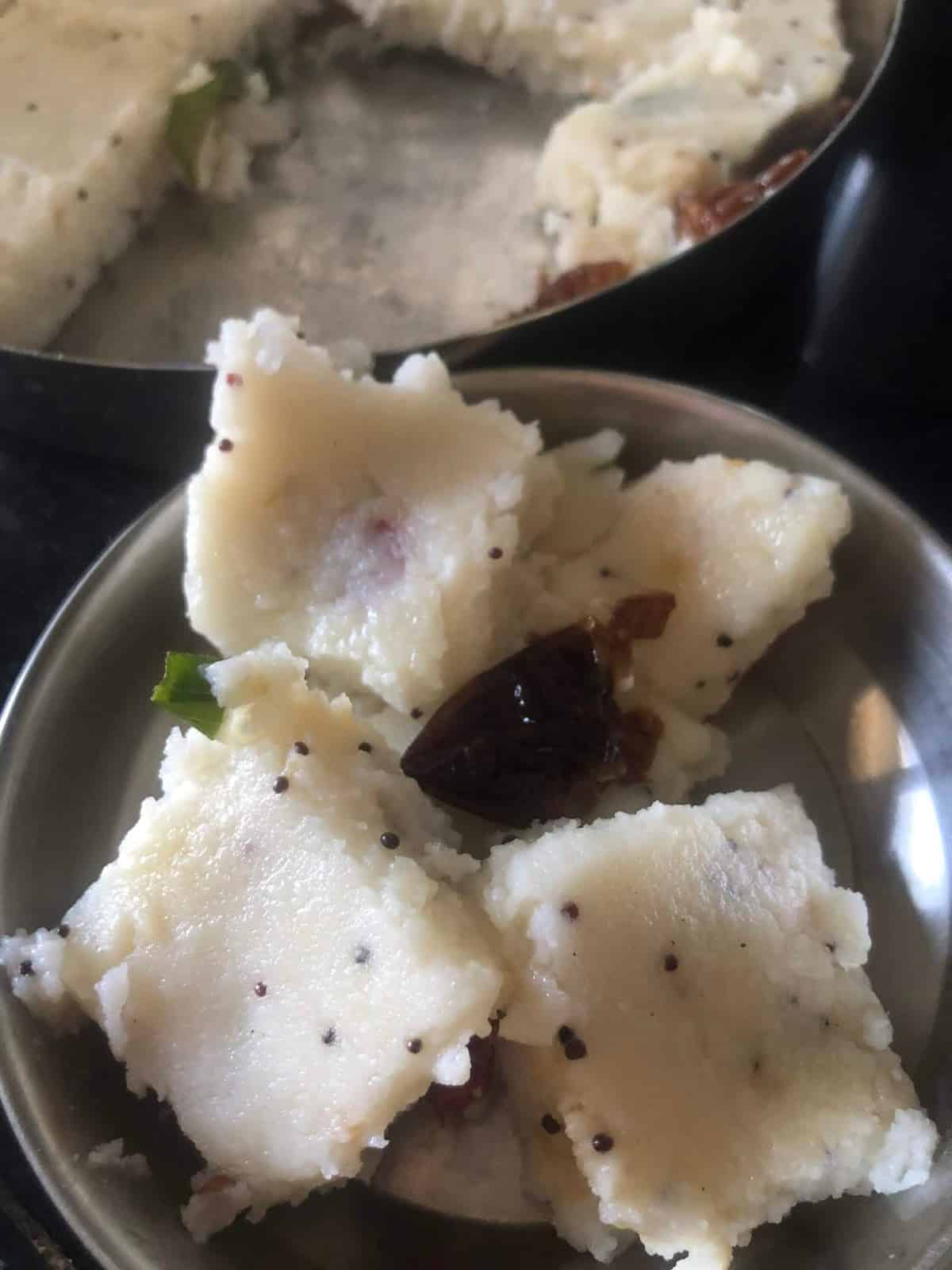 Pin
Method:
Mix the rice flour with salt and buttermilk to a thick flowing batter. In a thick bottomed pan, heat the gingelly oil. splutter the tempering and add the batter , keep stirring till it comes together as a mass, Sprinkle little water if needed, cover and cook for 9-10 mins on low flame till done (Test for checking doneness : wet your palms and touch the dough, it should not stick, and the cooked dough should appear glossy and an off-whitish colour). Spread to a greased flat plate and flatten it with a greased ladle / palms.
Wait for 10 mins to cool down (something I should have done :p). Cut into squares and serve with fried Mor Milagai on the side. The dish is spicy on its own and needs no accompaniment.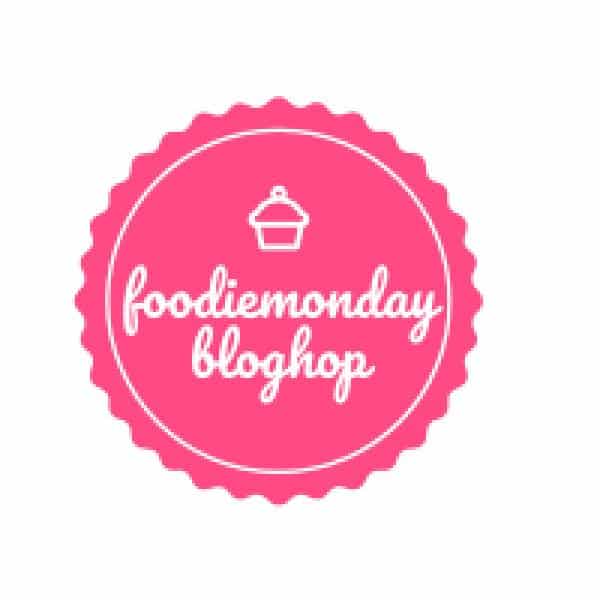 Pin