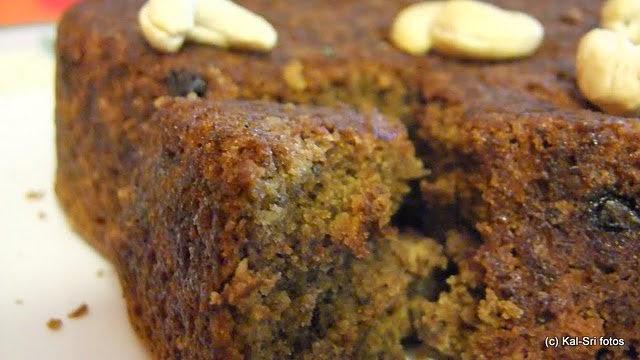 Pin

Adapting fromSanjeetha's blog, I made this Eggless Mocha Cinnamon Cake and the reviews were fabulous. Substituted half the Maida/ APF with wholewheat atta and Oats was a welcome change both in terms of texture and taste ! A great recipe for the sweet toothed , it doesn't require icing as well, thereby eliminating hundreds of more calories. Hope you make this and enjoy too !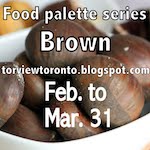 PinUpdate: Sending this to torviewtoronto's Food palette Series Brown event
Ingredients 
Maida / All Purpose Flour(APF) – ¾ cup

Quick rolled Oats  – ¼ cup ( I used Quaker)

Wholewheat Atta – ½ cup

White sugar and Demerera Sugar – ½ cup each, powdered

Vegetable oil – 6tbsp

PinInstant Mocha Coffee Powder – 1 ¼ tsp ( I used a Kenyan brand called Robert Timms)

Cinnamon Powder – 1 tsp

Baking Soda – 1 tsp

Salt – ½ tsp

Vanilla essence – 1 tsp

Sour curd – ½ cup (ensure its thick, not watery)

Strong coffee decoction – ½ cup

Choco chips – 2 tbsp (optional)
Method:
Preheat oven to 180 Degrees C and grease the pan

Sift flours , baking soda, coffee powder, cinnamon powder, salt. Once fully mixed, add oats and choco chips. Mix well and rest. Reserve some choco chips for topping.

Beat sugar powders with oil for 3 mins. Now blend the curd, coffee decoction, essence and mix well into a pouring consistency.

Make a well like depression in the flour-oats mixture and pour the above sugar mixture into it and fold gently. Do not use an electric beater for this. The resulting mixture should be a thick brown glazing mixture.

Pour into the greased pan and top with the remaining choco chips.

Bake for 20 mins. Cool and serve !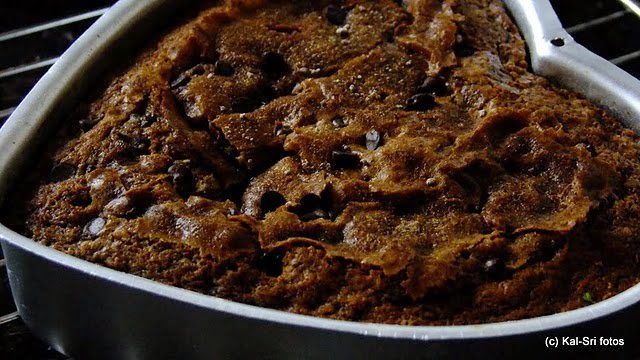 Pin