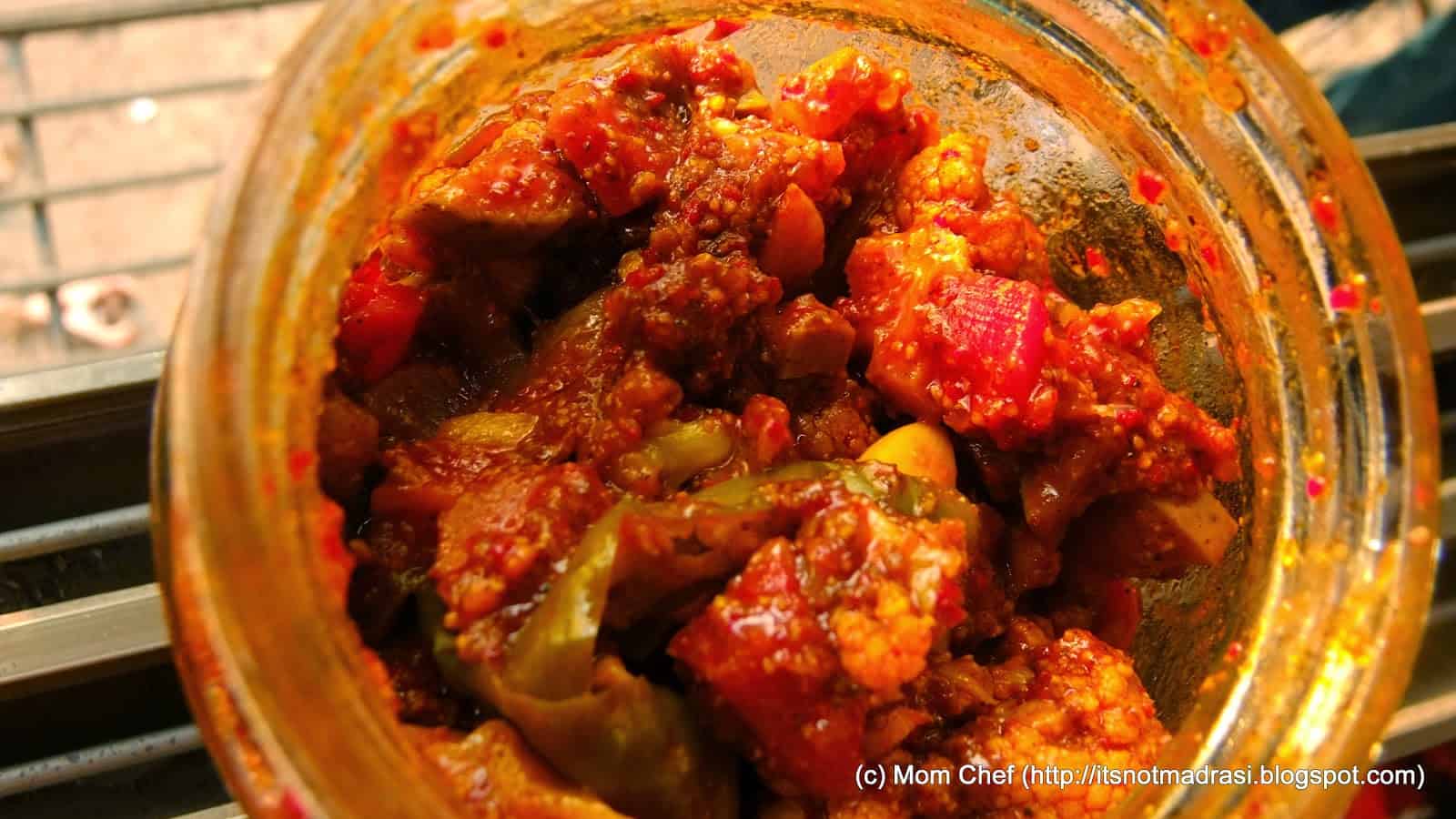 Pin
A long cherished dream to make Mixed Veg Pickle (North Indian style) came true early this week. S was asking for some, having missed his MIL's (my mom's) lemon pickle of late. I had seen mom and grandmom make jars of pickles for the year, but never attempted to make any beyond the 'instant mango' version on my own. Browsing throughLatha's veg pickle gave me respite that this is 'do-able' at home too..
I have slightly tweaked mine from the original version, and added in a few veggies of my own. Although this pickle can be made sans onion & garlic, a few pods of the latter stepped up the flavour enormously 🙂 See notes at the end of this post for more information.This bitter-sweet pickle goes well with curd rice or parathas or just about anything.
Preparation Time: 20 mins. Cooking time: 30 minutes. Makes: approx 150 gm and keeps for 3 months with refrigeration
Update : Sending this to Valli's Condiment Mela
Ingredients
(a) For the pickle:
Chopped veggies (each 1/4 cup) – Radish, Carrots, Cauliflower
Bitter Gourd – 2 (Cut into thick roundels)
Green chillies – 4 (slit lengthwise)
Garlic – 8 to 10 pods (whole & peeled)
Sesame Oil – 6 tbsp + 4 tbsp
Salt – approx 3 tbsp
Jaggery (grated) – 5 tsp
Lemon juice – 6 tbsp
(b) Pickle Masala:
Panch Phoran(Bengali Masala)- whole- 4 tbsp

Red chillies – whole (Kashmiri Variety) – 5nos

Whole black pepper – 10 to 15

Hing – 1 1/2 tsp

Turmeric – 2 tsp

Coriander seeds – 1 tsp

Methi Seeds – 1/2 tsp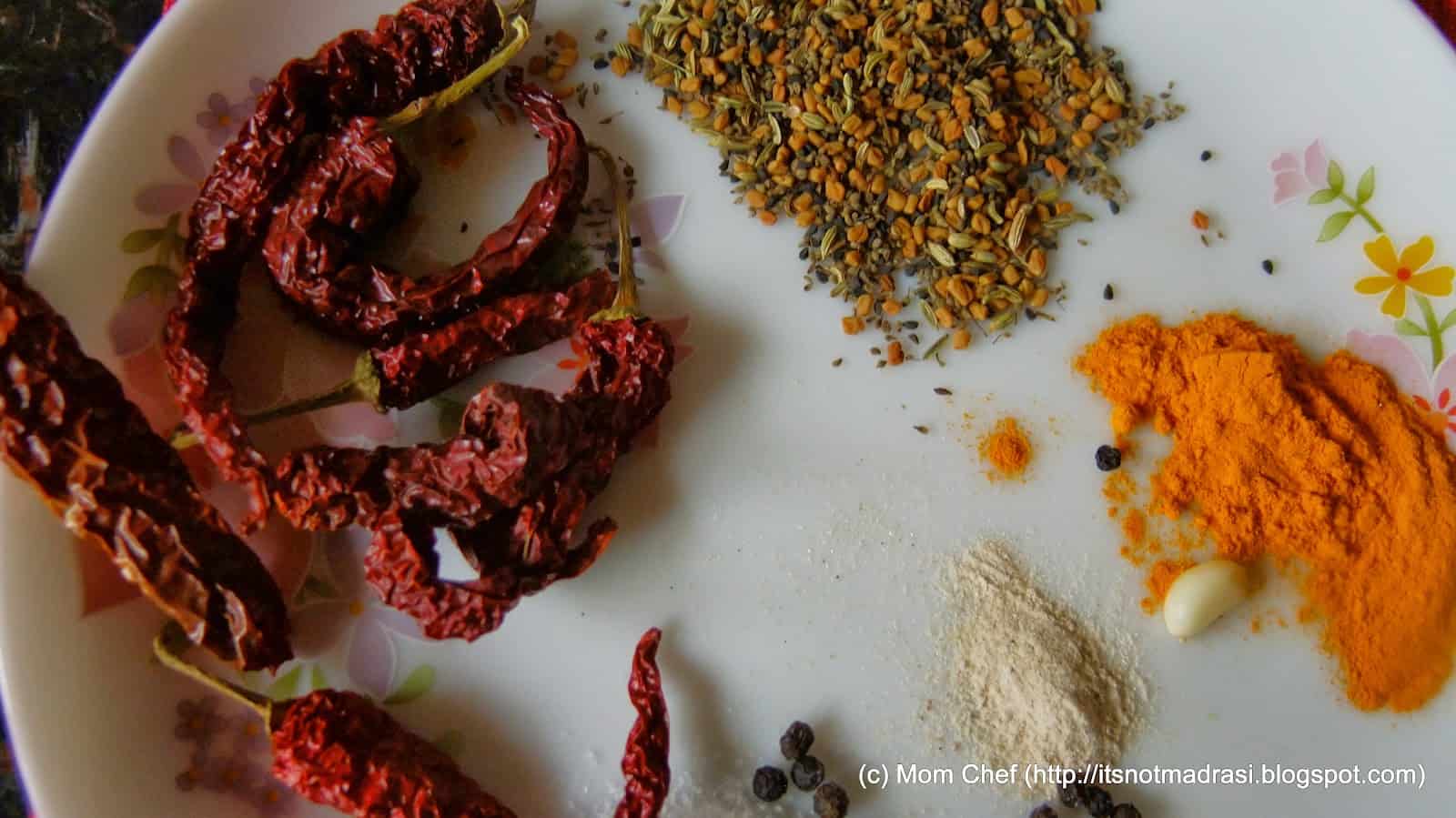 The photograph of masala indicated above is representative of ingredients, not actual quantities
Method
Masala Powder:
1) In a dry skillet, fry methi seeds, coriander seeds, hing, turmeric one after another without oil. Set aside
2) In the same pan, add 1/2 tsp of oil and fry red chillies and black pepper. Remove and cool.
3) Now in the oiled pan, fry the panch phoran till slightly roasted. Do not add any additional oil.
4) Cool all the masala thoroughly and grind into a fine powder.
For the pickle
1) In a thick deep skillet, heat 6 tbsp of sesame oil. Fry the vegetables one by one.
2) When the other veggies are almost 1/2 done, add the bitter gourd and fry further for 5 – 8 mins more.
3) Now add the garlic and again fry.
4) When the oil seeps from the veggies, add the masala powder and mix well on low heat.
5) Keep turning the veggies to prevent them from browning.
6) When almost done (you see a slight oil film developing), turn off the heat and cool.
7) Add jaggery and toss once more and cool.
8) When the pickle comes to room temperature, add the remaining 4 tbsp of oil, lemon juice and stir well.
9) Transfer to a clean and dry glass container and serve after 24 hours.
Notes and Tips
1) It is necessary to cool the whole pickle masala ingredients thoroughly before grinding
2) I have used sesame oil for this pickle. Mustard oil or sun flower oil may also be used.
3) Wash and pat dry the vegetables before chopping / slicing them. This way, water residue is avoided.
4) You may add/decrease the spice quantity based on your palate.
5) You may microwave the veggies with minimum water if required to avoid fry time. Be sure to drain all the water before use.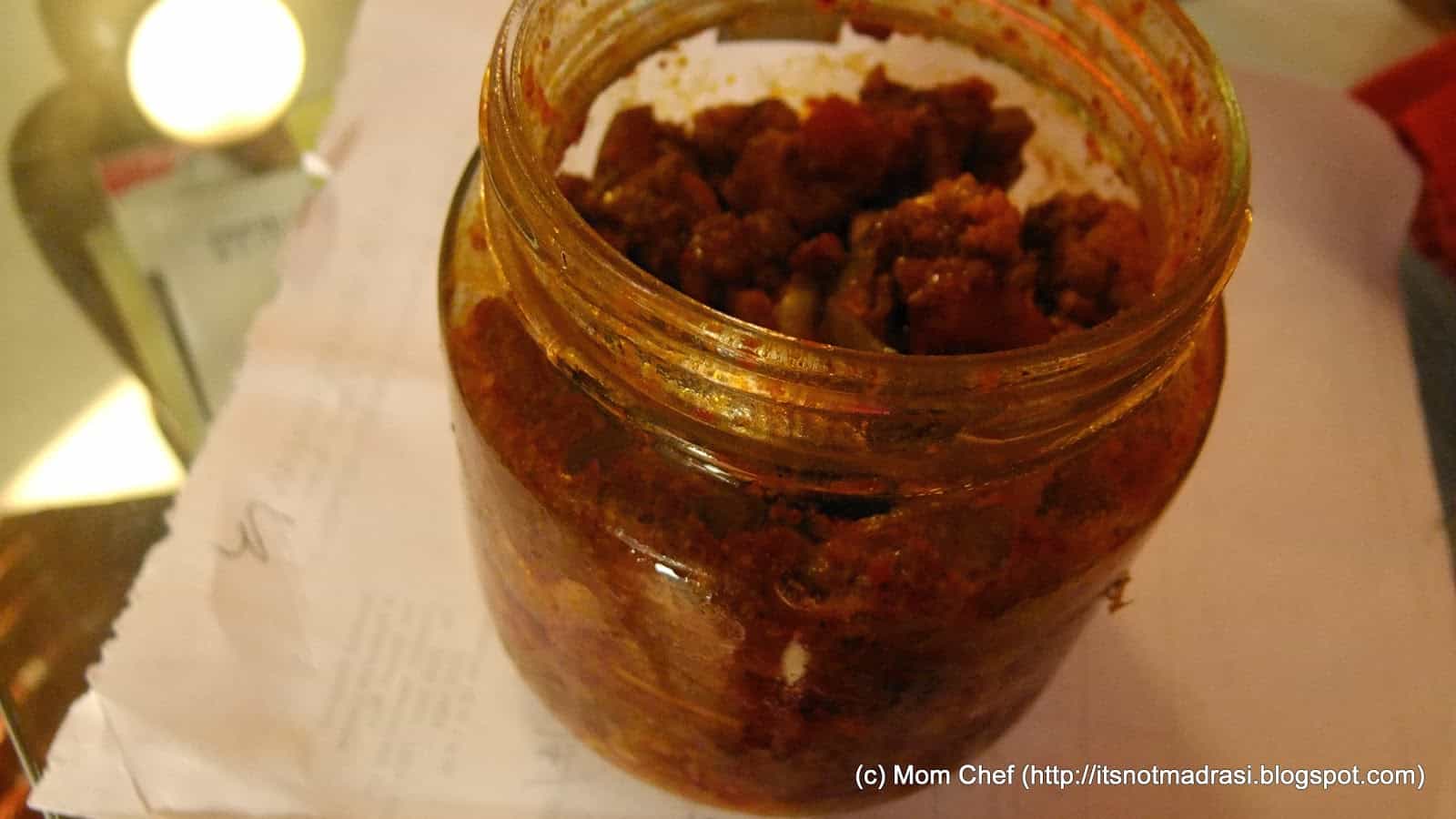 Pin