Come summers, and its pickling time at my house. Lemon Bittergourd Pickle, Instant Mango Pickle, Gooseberry (amla / nellikai) pickle, Mixed Veg Pickle and so on. I recall grand mom filling the ceramic jars with a year's supply of pickles during summers. As kids we were prohibited to touch these pickles with naked hands. With the passing of weeks, these pickles were taken – a little at a time, and served with clean sterile spoons, till the next batch was to be used.
There are at least 200-300 varieties of pickles made across india, perhaps more ! These condiments are in sweet, spicy, super hot, tangy and so many other lipsmacking flavours, each of them ranging from the Rajasthani Green Chilli pickle to the stuffed red chilly pickle to the Vadumaanga (baby mango) pickle of the South to the Carrot / radish pickles made during Nov / Dec winters (yes, that's another pickling season in North India).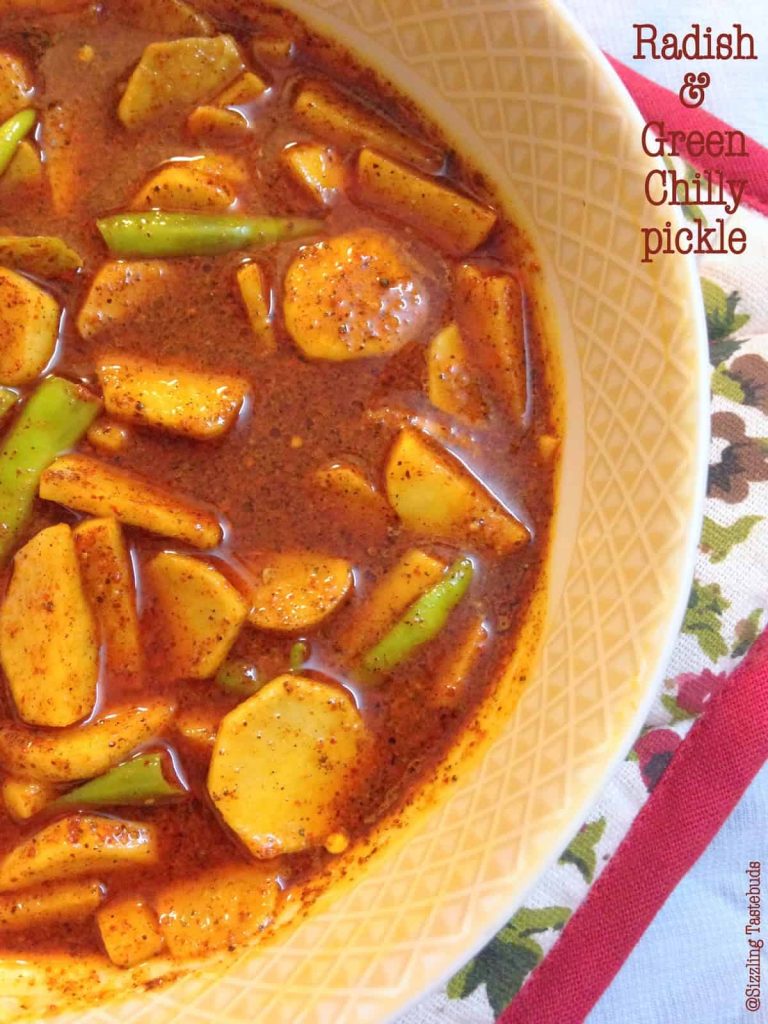 Most pickles use mustard (in both seed and oil forms) and turmeric for basic seasoning. Turmeric is a herb that is so versatile and is also said to prevent most forms of cancer and a painkiller too when used regularly in everyday cooking. In ancient times, a poultice of raw turmeric was said to have been placed on wounded soldiers to act as an anti inflammatory and antiseptic. These days, it's a rage in the West where everything from Smoothies to Carrot cakes are being churned out to add a pinch of health with a pinch of turmeric☺
Today's pickle is made with fresh daikon radish and green chillies, is vegan, grain free & can be made GF too .. Turmeric, fenugreek seeds and asafoetida along with lemon juice paprika make a lipsmacking condiments that keep well for 6-8 weeks on the countertop.
Like the Instant Cucumber Pickle or the Fenugreek sprouts pickle, this too can be made any time you have access to fresh veggies and is not season-specific, although the best juicy radish are found in the winters. Take care to select the best (non fibrous) radish for best results. With a standing time of 2 days, this is sure to take your Indian Thali (meal) several notches higher.
Prep time: 15-20 mins , Standing time : 3 days minimum ; makes : approx. 200 gms of pickle
Best served with : Curd rice / Parathas / Indian or Middle Eastern Flatbreads
Ingredients:
Fresh and tender daikon radish / Mooli – 200 gms (1 large or 2 medium ones)

Fresh, green, tender green chillies – 50 gms

Lemon juice – ¾ cup (or about 5-7 large lemons)

Salt – to taste (about 3 TBSP)

Oil – 6 TBSP (any neutral oil would do, although mustard oil or sesame oil taste best)
Spice powders:
Turmeric powder – 1/2 TBSP

Methi / fenugreek seeds / Vendayam – 2 tsp

Mustard seeds (black) – ½ TBSP

Asafoetida – 1 tsp (skip for GF version)

Red chilli powder – 2 TBSP (adjust spice)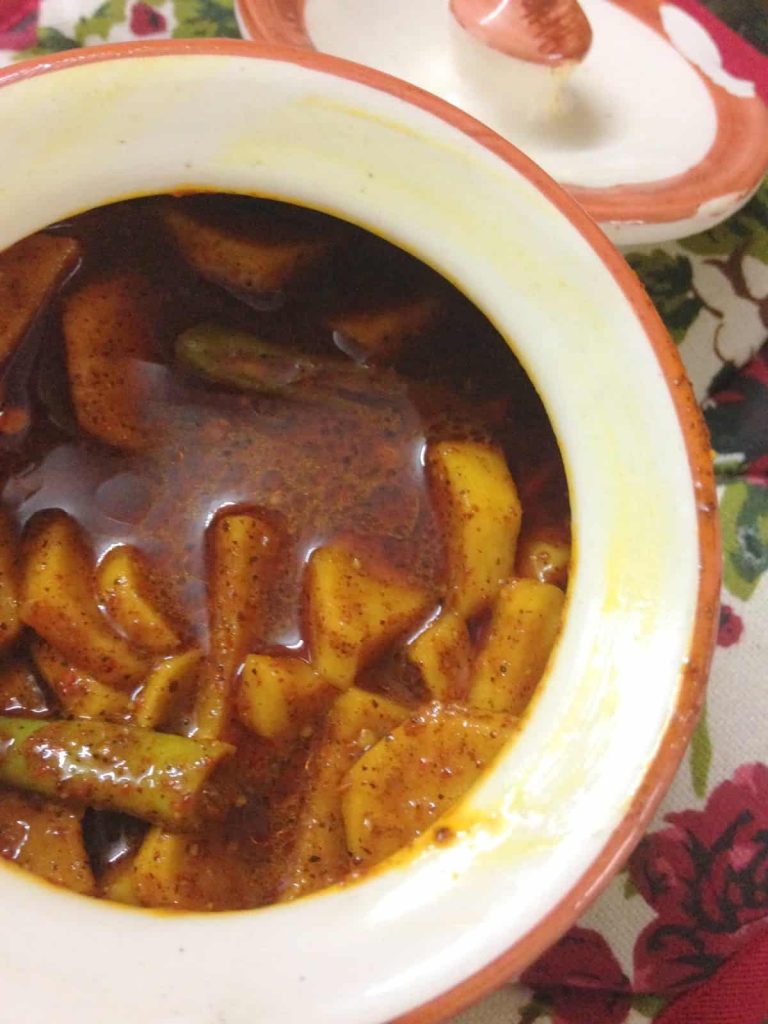 Prep:
Wash, peel and pat dry the radish, cut into ¼ inch thickish half moon shaped segments

Similarly wash, dry the chillies and cut into inch long pieces (with seeds on)

Dry roast fenugreek seeds, mustard seeds one by one and powder fine.

Switch off the pan, in the empty hot pan, add the turmeric, salt, red chilli powders and sauté for 30 secs (this roasting is optional, but recommended for longer shelf life of pickle as any moisture in the powders are also taken rid of during this process).

In a large dry bowl, add the radish, chillies, turmeric-chilli powder-salt , asafoetida & spice powder mix. Toss well. Add the lemon juice (using more juice if needed) mix again

Let it stand for 2-3 days, covered. Mix every 6 hours for the pickle to marinate well

On the last day, heat the oil to smoking and cool thoroughly. Add to the pickle and mix well with a dry spoon

Let it rest for 1 more day and serve as required