Its time for the next challenge of Magic Mingle. Now in its 15th
edition, the challenge is to use both the magic ingredients in the most
unusual of dishes. A combination that was never thought possible, a dish that
just pops into your head, a taste that lingers on .. thats the challenge, and
thats the magic of Magic Mingle. For previous challenges on Magic Mingle, head here
Meanwhile, for this month's challenge.
The ingredients are Pistachio & Tea. Pistachio can be used in dry form –
whole or powdered. Tea – white / oolong / green / black / any kind of tea can
be used. Please remember the final dish should have both these ingredients in
totality and cannot be used as garnish. Also, the final dish(es) – members can
send in more than one entry – can be of any region and course (appetiser to
dessert is the range you can work on) and should definitely be vegetarian and
eggless.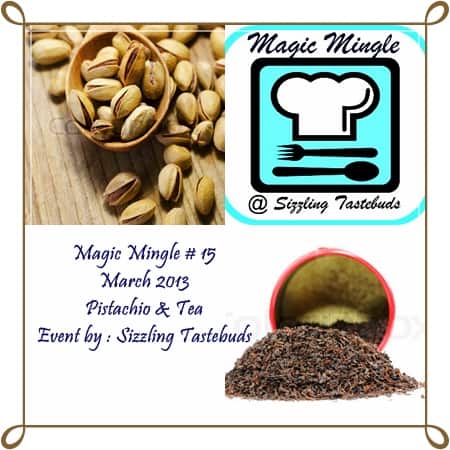 Pin
The challenge is on from 1st – 15th
March. Use the following linky tool to link up your entries. Only members are
allowed to link up their dishes. If you want to be part of this exciting
journey, dash me your blog URL to [email protected].
Cheers
Kalyani