When I made Pita for the Mediterranean meal we had, I had also bookmarked a few other bread recipes from that region. One of them was Laffa. So this month, Karen @Karenskitchenstories is hosting Middle Eastern Bread and it made perfect sense to make this ultra soft Israeli/ Palestinian-origin bread that's somewhere, as the recipe source rightly put, between a Naan and a Pita. 


I quartered the recipe and made about 3-4 breads, but they were all gone the first time I made them. 


So, made this exclusively for #Breadbakers with a mixture of Wholwheat Atta (stone ground wholwheat flour) and all purpose. Its amazing to note that with the same combination of flour, oil, yeast and salt , so many many different breads are made across the world.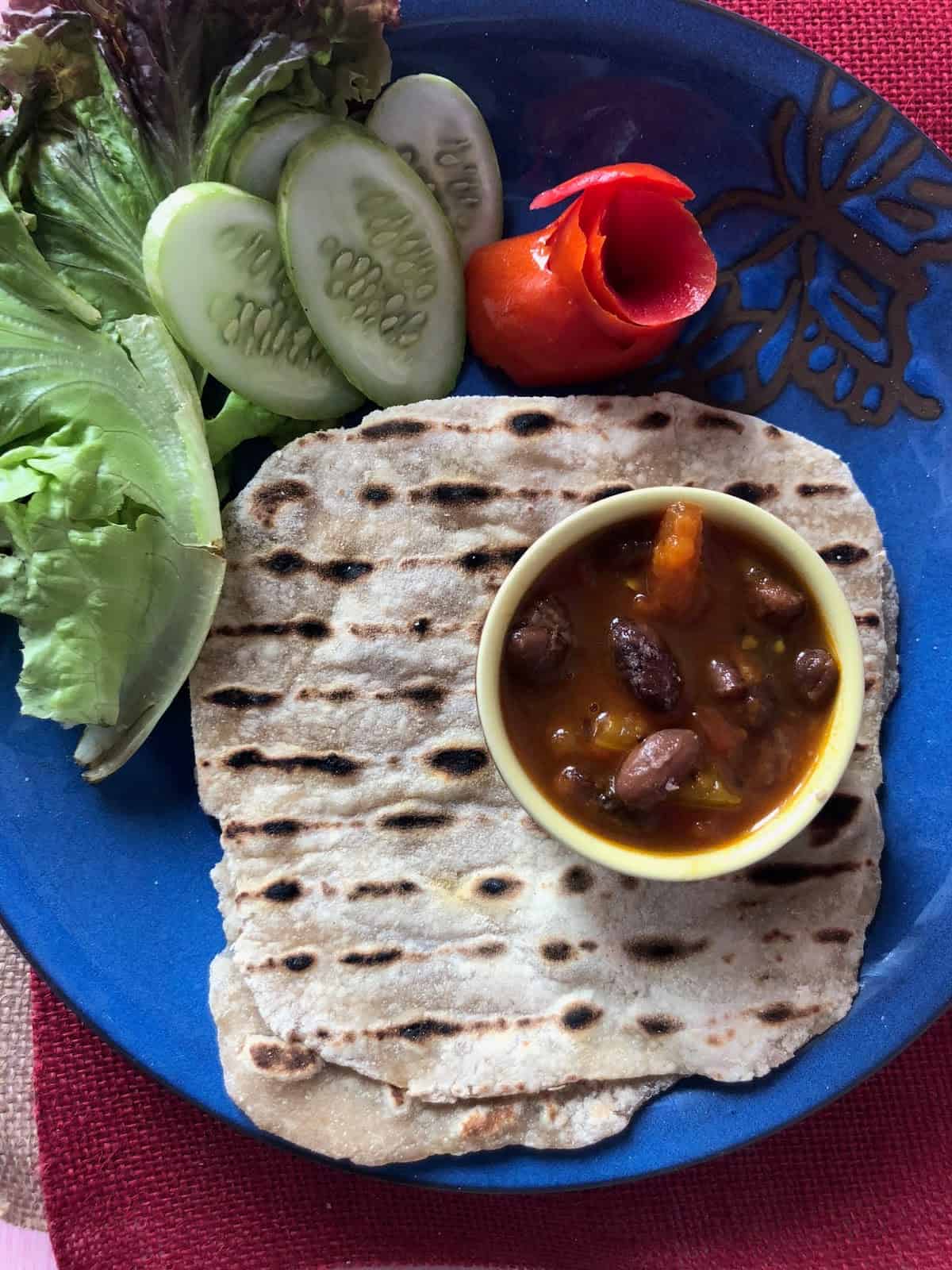 PinPin



Let's check this recipe out. This goes great wit hummus or even as a sandwich / wrap with hummus topped salad / veggies or even falafel. The char-grilled marks on this bread are a must-have so make sure your grill is super hot and watch it while its cooking coz over-cooking can immediately turn the bread rubbery and hard. This bread also would go brilliantly with Beetroot Hummus 

Prep time – 15 mins Rise time : 1 hour. Cook time : 15-20 mins, Makes : 6 pieces. 

Cuisine : Middle Eastern ; Course : Main course ; Difficulty level – Easy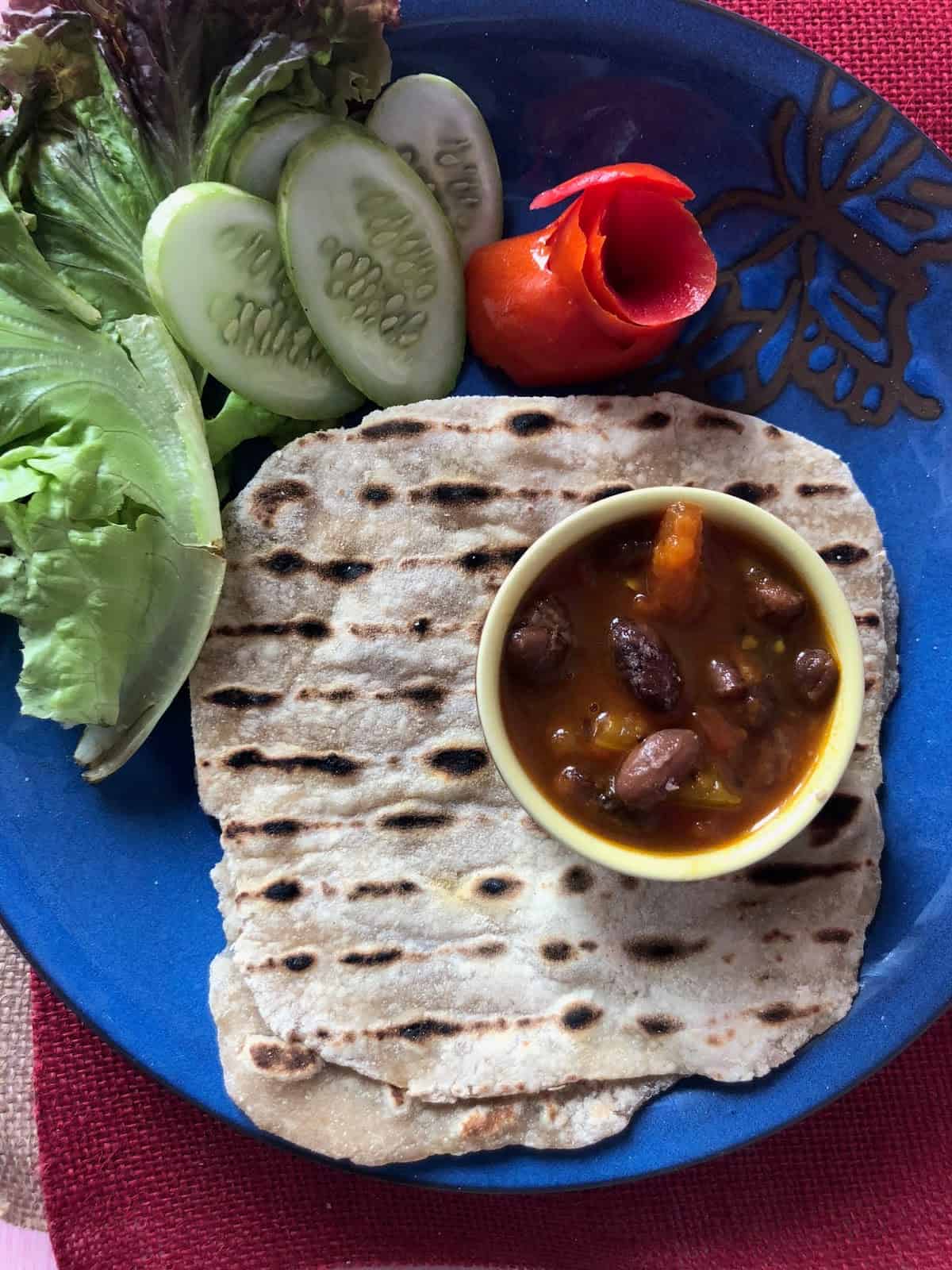 PinPin



Ingredients:
Bread flour – 1.5 cups
Wholewheat flour – 1.5 cup
Instant yeast – 7 grams
Sugar – 1 TBSP
Salt – 1/2 tsp 
Olive oil – 2 TBSP
Warm water – 2 cups + 3 TBSP (approx.)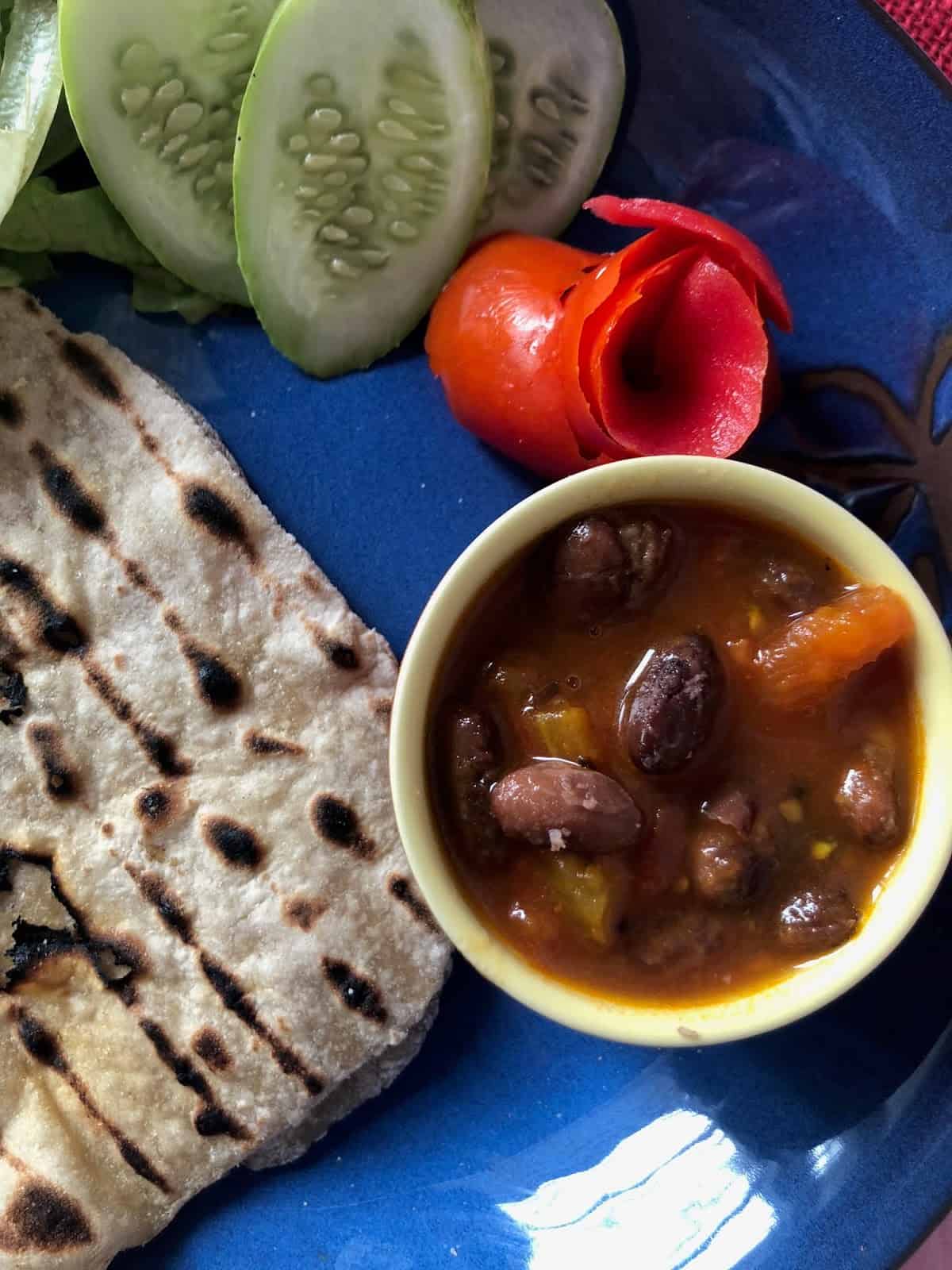 Pin


How to:
In a stand mixer, add the dry ingredients, mix well. Make a well, and add the proofed yeast (yeast + warm water + sugar dissolved and set aside for 7-10 mins till yeast 'blooms'). 
Mix well, add half the oil and knead till dough is smooth and pliable. Add the rest of the oil and knead again by hand for 4-5 mins. Rest in a greased bowl , covered with a kitchen towel for 1 hour (or till it doubles).
Once doubled, punch out the dough for any air pockets. knead for 3-4 mins again, and pinch out equal sized balls. Flatten them out slightly and leave them under a kitchen towel while the grill heats up. 
Roll into slightly thickish (and even haphazard shaped breads – it doesnt matter :p) and place on hot grill. Cook for 1-2 min till you see them puff , then flip them over and cook for another 30 seconds (make sure not to overcook or undercook them). 
Serve with hummus, and/ or use as a wrap with falafels / kebabs / shawarma. I served them with Fasolia (Vegan middle eastern curry made with Kidney beans)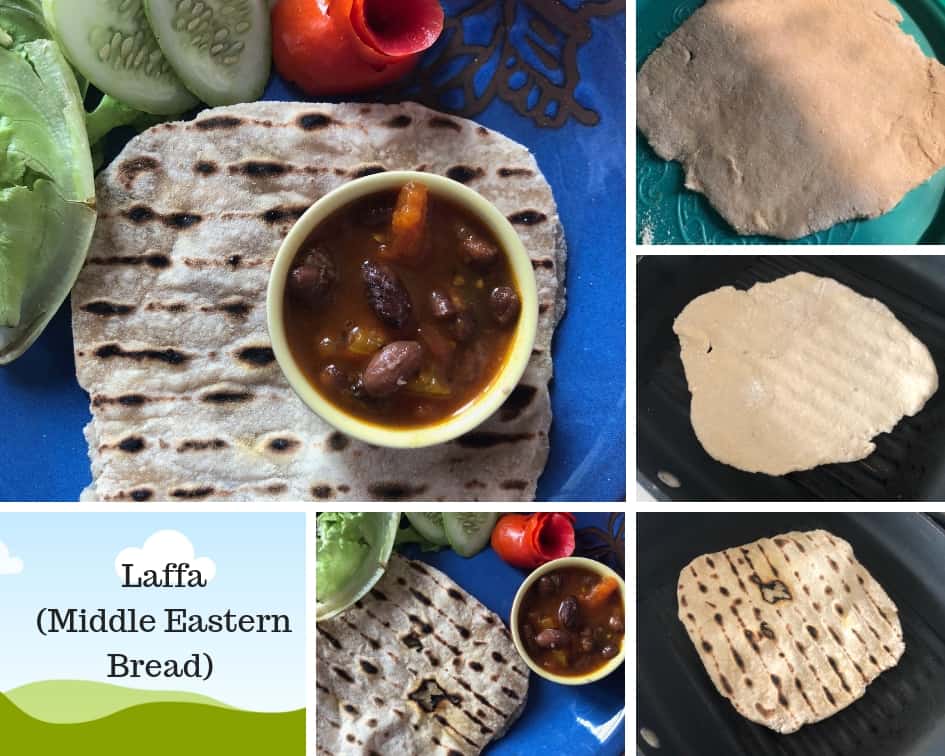 Pin
#BreadBakers is a group of bread loving bakers who get together once a month to bake bread with a common ingredient or theme. Follow our Pinterest board right here. Links are also updated each month on this home page.
We take turns hosting each month and choosing the theme/ingredient.
If you are a food blogger and would like to join us, just send Stacy an email with your blog URL to foodlustpeoplelove@gmail.com.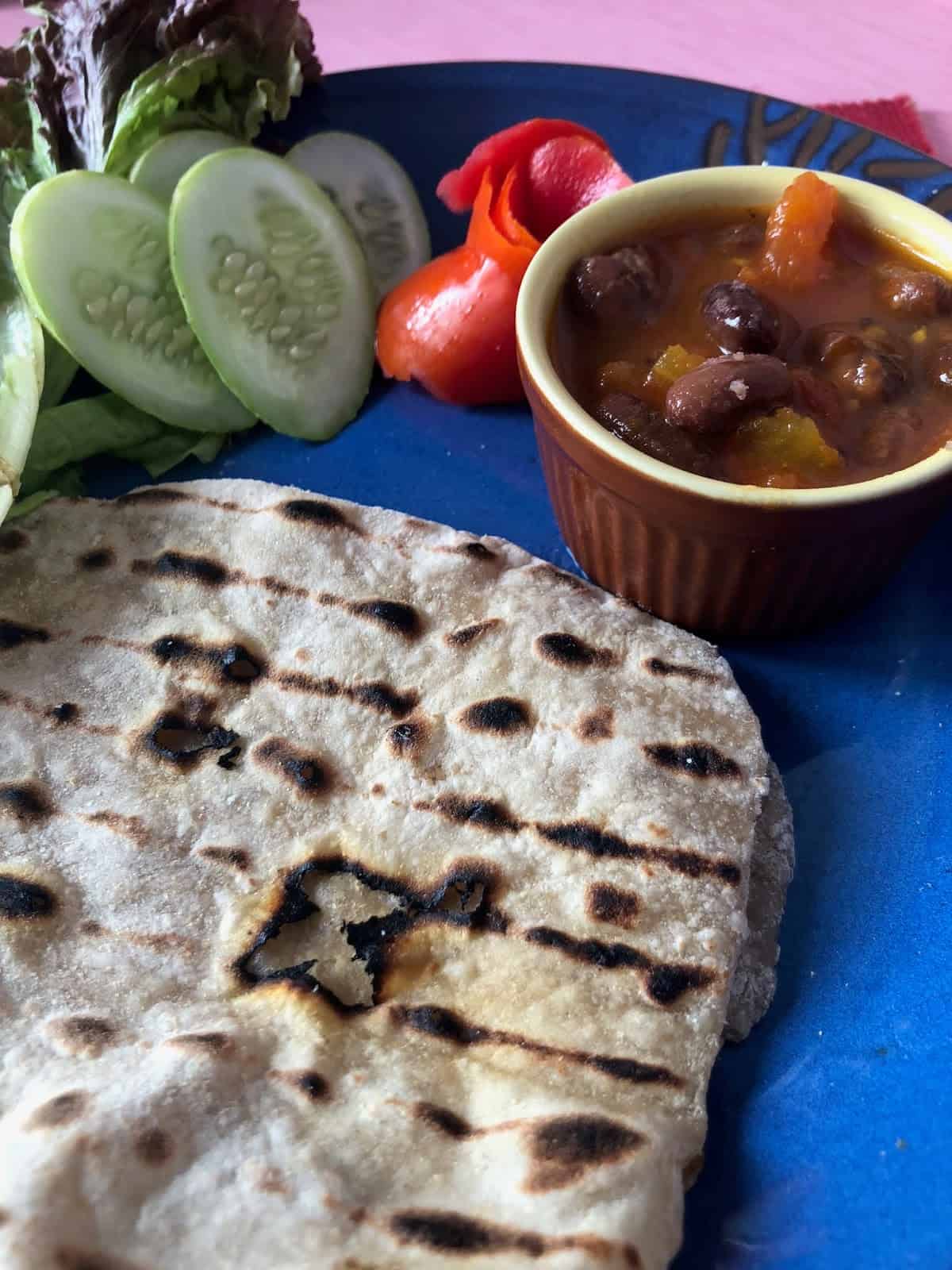 Pin
Let's see what breads we have from the Middle Eastern stable this month…