After last year's success of Monsoon Mojo, am back with Edition 2 of this popular event along with a giveaway !
The blue skies of Summer give way to the dark rain laden clouds… and most of the city loves to drench in the first rain. The Majestic Marine Drive (aka Queen's necklace) is a favourite haunt to take in the massive laden waves and watch the seas turn dark and the locals love to take in the spray of the waters during this season…
Monsoon here in mumbai means Hot n spicy Vada Pav, endless cups of Masala Chai (Spiced Milky Tea), Hot Parathas, Bhajias (deep fried fritters) and much more..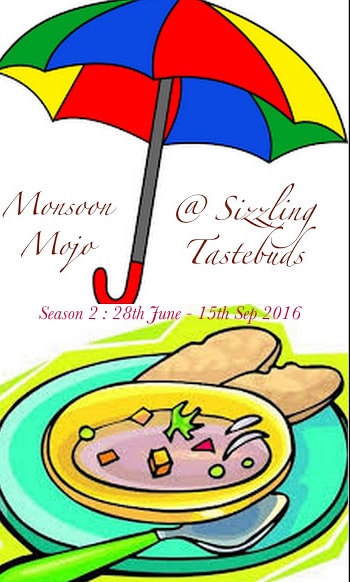 Pin

So, for the next 2 months+, lets celebrate this with food that's apt for the Indian Monsoon !

Do send in your entries, and stand a chance to win an exclusive giveaway too 🙂

Here's how to send your entries..

Here's how to participate:

1) Post your entries between 28th June – 15th Sep 2016 (Pacific time) with monsoon treats as a theme of any dish you would generally associate with monsoon, with a linkback to this event announcement. 


Important: The event is called #MonsoonMojo2 on the blogosphere – be sure to mention this hashtag in all your post (Title)  to qualify for an entry.. for eg: if you are sending an entry for Onion pakoras, make sure the title of your post says "Onion Pakoras #MonsoonMojo2 ".  

2) The entries have to be eggless , vegan or vegetarian. Any number of fresh entries per blogger is accepted

3) Max of two archived entries per blogger, updated with this link announcement is allowed.

4) use of the logo is optional in your post, although highly recommended

5) Use the linky code below to link your entries. Please note a link back in your post to this event announcement is mandatory to link up. 

6) If you have any issues / clarifications or you are a non-blogger and still would like to send in your entries, mail me at momchef77(at)gmail(dot)com 

{i.e momchef77@gmail.com}

Look forward to all your yummy entries.. 

Cheers

Kalyani