Winter is officially still on in major parts of the world, except perhaps in parts of the Southern Hemisphere (and of course the city I love in which has, say, exactly 4-5 weeks of chilly weather which we love to call winter :p)
We are looking at dishes from the Southern Hemishphere this week, and in the last of the series, we have this amazing stew / thick soup from Ecuador that's chock-o-block with quinoa and hearty winter veggies like carrots, turnips etc. We had this sometime last fortnight for supper and it was one hearty bowl of food. Hope you enjoyed the series of these dishes with Choclo Al Comino (Peruvian style Corn) and Gram Bouilli (a Mauritian black gram snack).
Although I prefer using local produce, quinoa is one grain(?) that I love to use often as its so versatile and lends itself in place of rice beautifully. I had to use a bag of quinoa that was lying in the kitchen and this soup for this theme fit like a glove.
Other dishes with Quinoa you may like:
Moroccan Chickpeas Curry with Quinoa and Coriander Curd
Colombian Quinoa-Mango-Avocado Salad
Mexican Sizzler with Quinoa Cakes
Watermelon Quinoa Salad with Lime and Chilli Vinaigerette
Quinoa Adai (healthy quinoa n lentil crepes)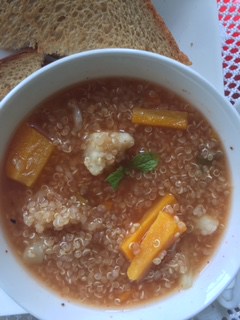 Today, we have Ecuadorian Quinoa Stew with veggies, adapted from here.
Let's get to the recipe:
Prep time – 15 mins, Cook time – 15 mins, Serves – 3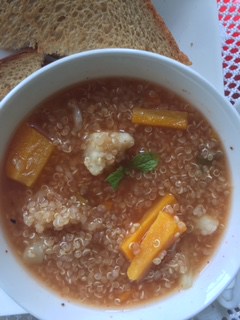 Ingredients:
Tri coloured quinoa – 1 cup (you could use any variety)
Winter veggies – cut into chunks (I used orange carrots, Turnips, cauliflower and sweet potatoes) ~ approx 1 cup – I microwaved them for 5 mins with a pinch of salt.
Veg stock – 2 cups
Salt and pepper – to taste
Tomato puree – 3 TBSP
Olive oil – 1 tsp
Dry Coriander powder – 1 TBSP
Onions – 1 medium (minced fine)
Garlic – 3 pods (medium) – grated
Smoked paprika – 1/2 tsp ( I used red chilli powder)
How to:
Wash quinoa in 3 changes of water. Soak for 5 mins. Drain.
In a soup pot, add the oil. Sauté Onions and garlic till onions turn slightly brownish. Add the soaked and drained quinoa, veggies and rest of the stuff except paprika.
Let it simmer away for 10 mins till veggies are cooked but not mushy.
Mash a few of the potatoes to give it a chunky, hearty texture like a soup (this step is completely optional, else the consistency would be like a normal soup)
Add paprika, adjust spices and serve hot/warm