Jammu & Kashmir – where
snow-white mountains are immersed into deep meditation from pre-historic times
Jammu & Kashmir – where mountain streams are flowing with sweet sounds, as
if little children are reciting their nursery rhymes.
Jammu & Kashmir – where green meadows, valleys of flowers and apple
orchards are eagerly waiting to welcome you
Jammu & Kashmir – where you encounter experiences that are so unique and
completely new.
Jammu & Kashmir – where you find colourful birds singing and chirping in dense
green forests
Jammu & Kashmir – where you find local people to be always warm and
smiling, looking gorgeous in their native dress.
Jammu & Kashmir – the place of magnificent Chinar trees, that stand so tall
Jammu & Kashmir – the land of Santoor (Indian musical instrument) and the
world famous Pashmina shawl.
Jammu & Kashmir – the confluence of three great religions – Hinduism,
Buddhism and Islam
Visit the place at least once, and get enamoured by its beauty, splendour and
charm.
——Raja Basu
The above poem
by Raja Basu epitomizes Kashmir in all its finery. Given that terrorism had
taken over that state for a while ago, things seem to be returning to normalcy
– atleast for the tourist.
For the foodie –  apples, lotus stem, saffron, walnuts, dry fruits
and meat make up most of the basic ingredients and even the Kashmiri Pandits
are known to eat both veg and non-veg food. The Kashmiri Wazwan (or Thali) apparently contains 36 decadent dishes which are sure to tickle the palate..
Today's post is the popular Dum
Aloo Kashmiri served with Jeera rice / Plain rice.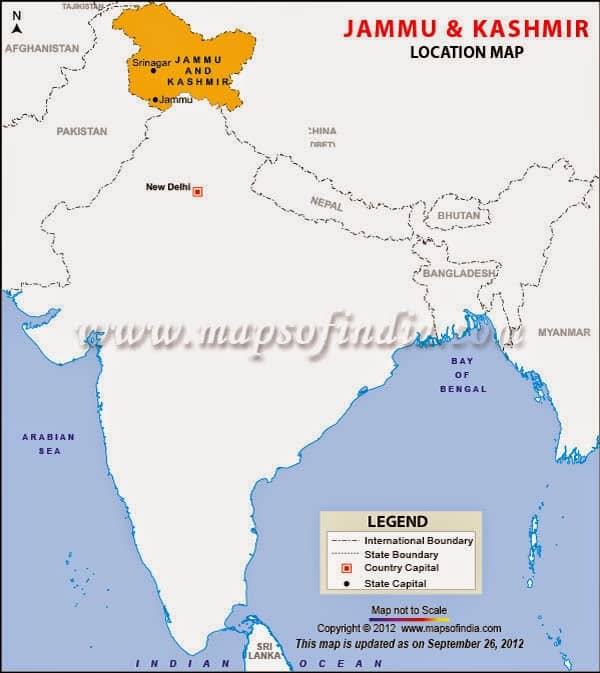 Pin

I followed Anjana's recipe, except for deep frying the potatoes. Instead I par boiled them in the
microwave, and pan fried them. Addition of Chana Masala took this recipe to a
different level.

———————————————————-

BM : 39 ~ Indian State : Jammu & Kashmir

Recipe : Dum Aloo Kashmiri

Dish type : Side Dish / Accompaniment

Served with : Tandoori Roti
or Kulcha or any flat bread or just steamed rice

Spice Level : Medium to
spicy

———————————————————-

Prep Time :15-20 mins, Cooking time
: 30 mins ; Serves : 4

Ingredients:
Baby potatoes – 500 gms (approx. 20)
Chana Masala – 3.5 tsp
Kashmiri chilli powder –
3.5 tsp
Turmeric – 1 tsp
Black salt – 1/2 tsp
Salt – 1/2 tsp
Bay leaves – 2
Asafoetida – 1/4 tsp
Coriander powder – 3 tsp
Tomato puree – 1.5 cup
Yoghurt – 3/4 cup
Cream – 2.5 TBSP
Oil or Ghee – 2 TBSP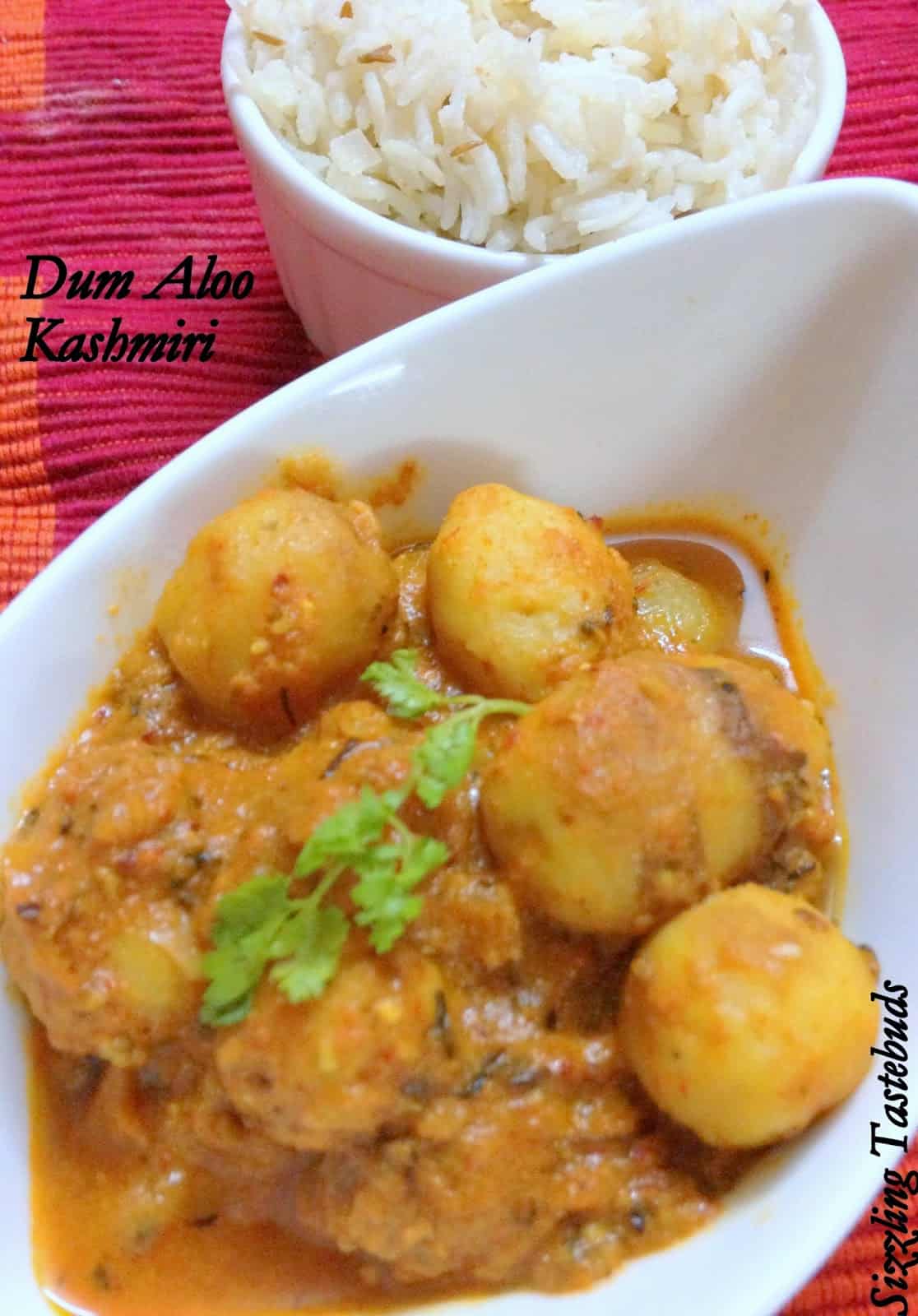 Pin

Method:

Par
boil the potatoes. Prick them all over and shallow fry or bake them till ¾ done

Sprinkle
black salt all over them.

Mix
the dry masalas – Kashmiri Chilli powder, Channa Masala, Turmeric, Coriander
powder in ¾ cup of water and keep aside

Heat
oil or ghee, sauté the bayleaf and asafetida. Now add the tomato puree and sauté
for 4-6 mins

Gently
add the masalas dissolved in the water and cream and salt and mix on low flame
so that the cream does not curdle. Add potatoes and mix well.

Add
1 cup more water and bring to a simmer – about 4-6 mins

Finish
with any remaining cream and coriander leaves

Serve
hot with Roti or Rice.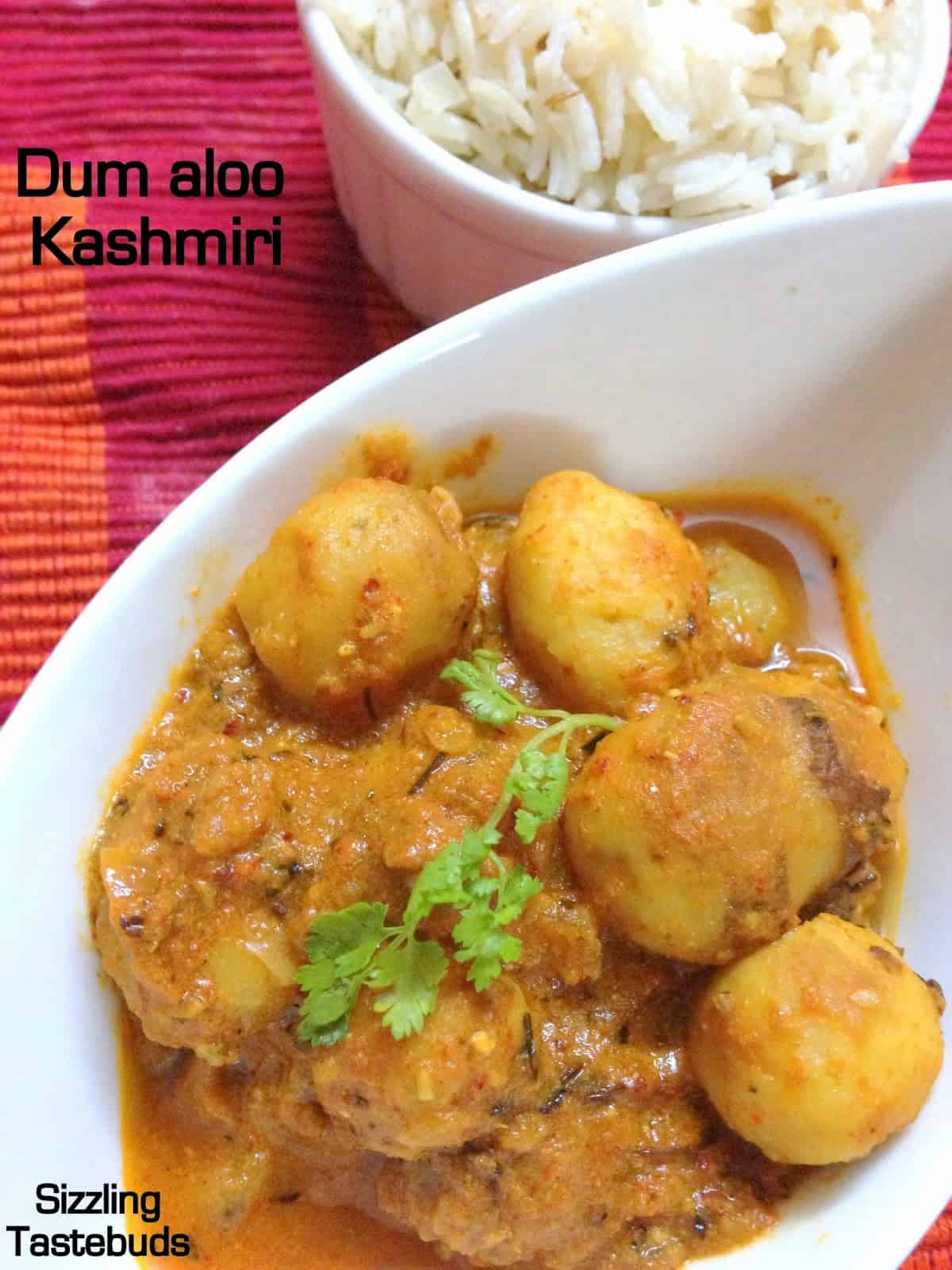 Pin
Pin
Check out the Blogging Marathon page for the other Blogging Marathoners doing BM# 39