Soon after we moved to our
new place early this year, Food Food Channel was one of the first channels I got used
to watching, more so coz I could watch it on mute too (and there's the recap).
And having eaten Dahi ke Kebab (the name itself was soooo appetising) at a
Jiggs Kalra restaurant, I was very happy to see this recipe by Chef
Rakesh Sethi and immediately noted this down.. This bookmark sees the light
of the day today although I made it a number of times since then. As in Nargisi Kofta, I
am a sucker for Mughlai Food, and this is one of the gems that I managed to
recreate in my kitchen.
The only drawback, if any,
is that the hung curd you get from almost 1/4 litre of thick curd is so
miniscule that we always wanted to eat some more kebabs. For a core vegetarian
like our family, biting into the juicy kebab – succulent and yet with a bite –
was probably the best thing to happen. So, dont be fooled by the large amount
of curd you need to make hung curd – its worth every bit of the effort, and am
sure you would love it. After Sesame Gold Coin, this is the 2nd entry to theBM#47under Appetisers / North Indian Starters.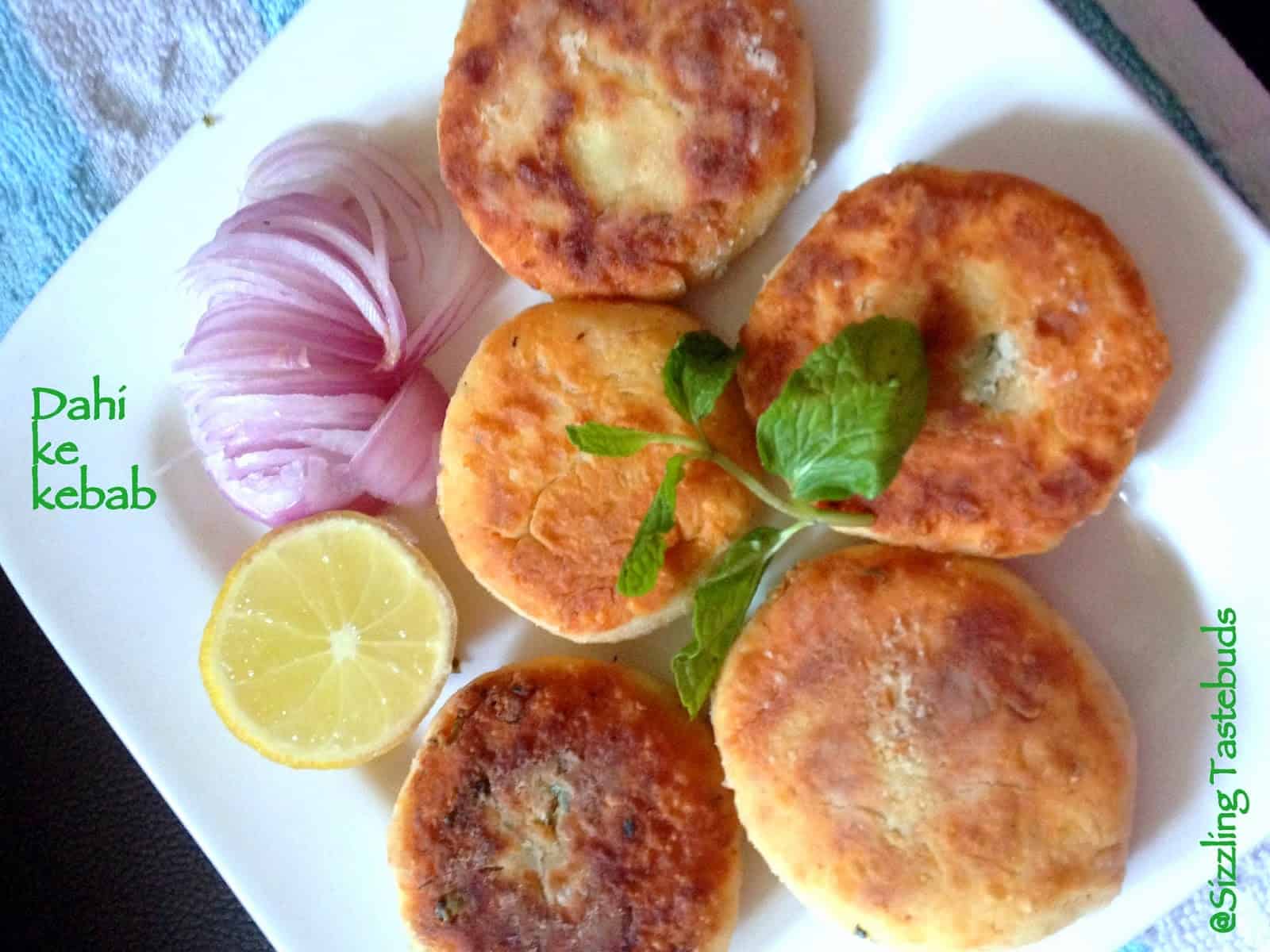 PinPin




Prep time : 1 hour (includes standing
time),

Cook time :20 mins

Makes : 8-10 medium/ large kebabs

Dahi Ke kebab (Yoghurt kebab / starter)

Cuisine : Mughlai , course : Appetiser

Spice level: medium – high

Difficulty level : Medium




Ingredients:
Thick yoghurt (or greek yoghurt) – 400 gms
(I used homemade curd)
Besan / Gramflour – 3 TBSP (or a little more if required)
Turmeric – 1/2 tsp
Garam Masala – 1/2 tsp
Oil – to shallow fry
Ginger paste – ½ TBSP
Chilli paste – ½ TBSP
Stuffing:
Raisins, cashews, almonds, pistachio – about 4 tsp (finely chopped)
Green chilies – to taste – finely minced
Coriander seeds – roasted and slightly pounded – 1/2 TBSP
Ajwain / Carrom seeds – slightly crushed – a pinch
Coriander leaves – finely chopped – 1/4 cup
Pomogranate pearls – a handful
Salt – a pinch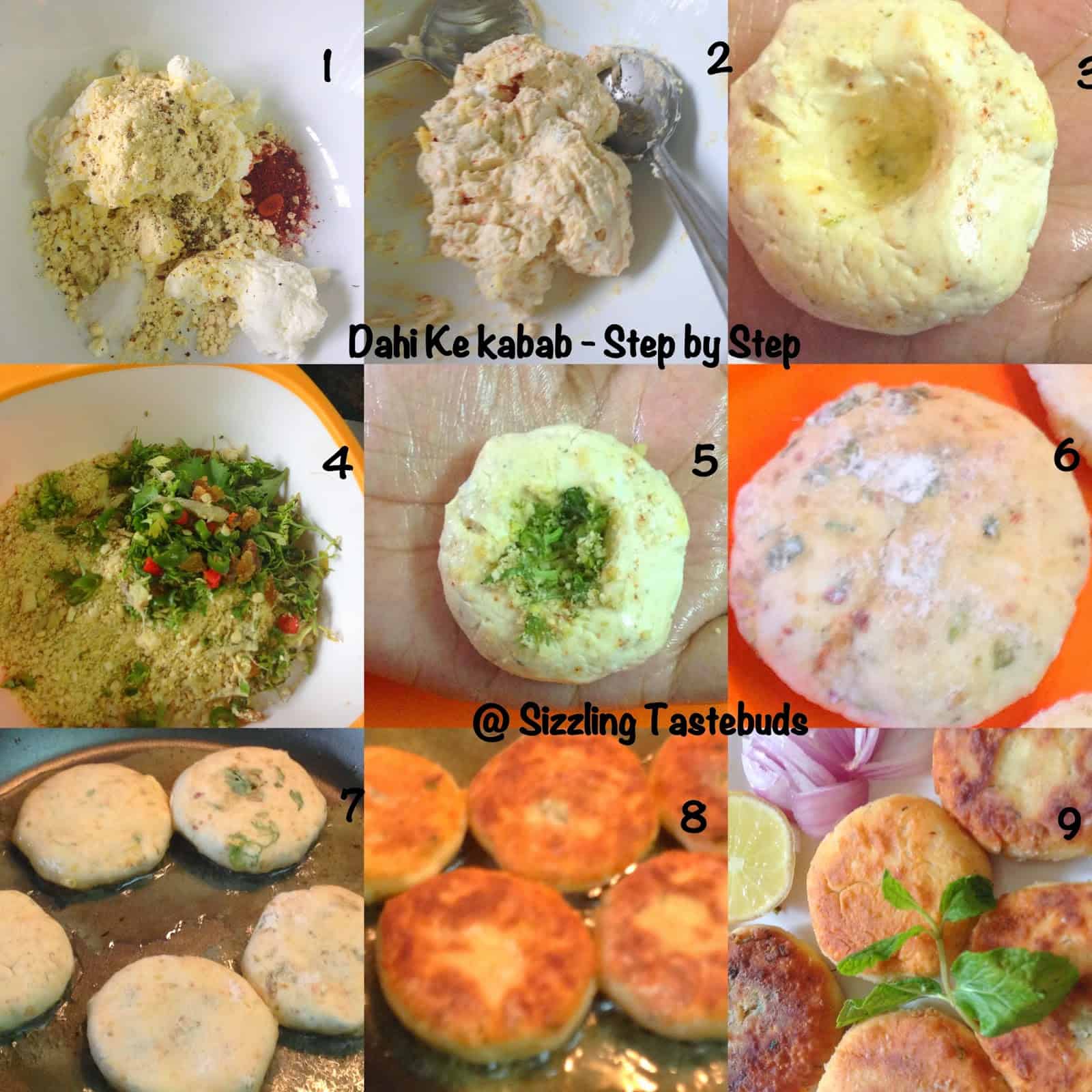 Pin




Method:
Line a bowl with a muslin cloth and pour
the yoghurt into it. Place the entire set up covered in the refrigerator for about an
hour till you get a thick hung curd (approx. 150-200 gms)

In a bowl, add besan, turmeric powder, Garam Masala and whisk well, Add hung curd, ginger paste, chilli paste, salt – one by one and
mix till you get a thickish dough (which is also pretty sticky – be sure to
wear your plastic gloves at this point or use oiled spoons to mix the dough). Let the dough rest covered for 5 mins.

Mix all the ingredients for the
stuffing, Pinch out small roundels, make a small indentation / well, and add a
tsp of the stuffing into it, close it well and with the help of oiled palms,
round the kebab to smooth edges. Repeat for rest of the dough.

Rest for 3-4 mins.

Shallow fry on medium heat till its
golden brown on both sides. Serve hot with onions rings and Green chutney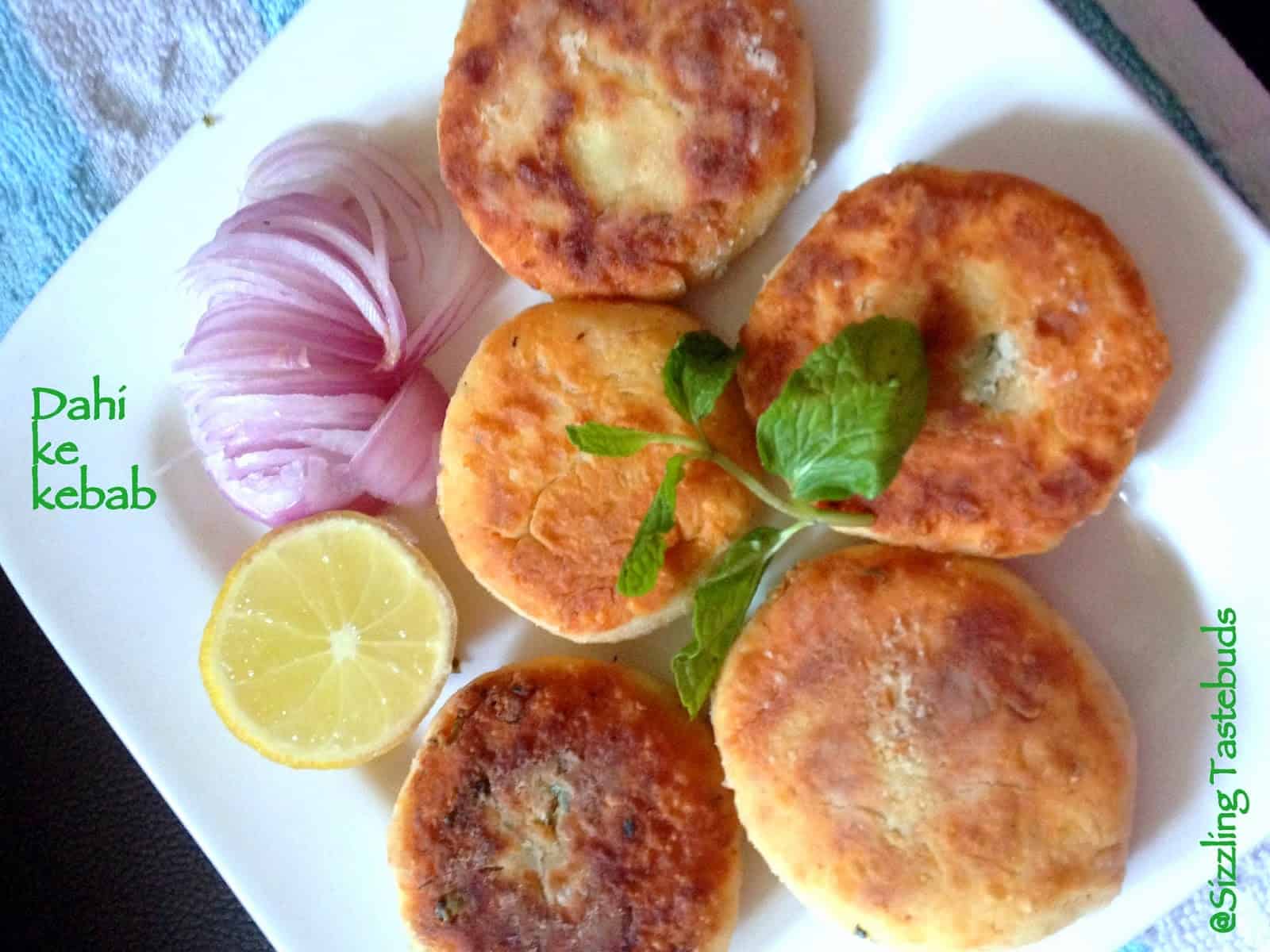 PinPin